Butterfly Design Template for Birthday Card
This gorgeous lacy butterfly design is perfect for a template for a birthday card - so pretty and delicate, it's just right for wishing someone special a very Happy Birthday! 
Perfect whether it's for a beloved daughter or grand-daughter, a mum, sister, or friend, or even a cherished grandma!
You can get creative with the colours and change them up a bit to suit the recipient and get a slightly different look every time you use the template! I'll share some ideas a bit later on...
Butterfly birthday card template including envelope
Here's a few things you need to know about using the butterfly design template for a birthday card:
The butterfly card is made from 3 sheets of A4 or Letter-sized cardstock.
The card has a finished size of around 12 x 12 cm (approx. 4.75 x 4.75 inches) when the SVG is used as-is in Cricut Design Space - the envelope is a little larger.
The card template uses the standard sticky mat with your Cricut machine (rather than the specialist card mat).
You will need to be able to score lines with your cutting machine (or delete these lines to score manually if you prefer) - the score lines make the card and the envelope fold. I have lots of help with setting up the score lines correctly in Cricut Design Space (step-by-step instructions) on this page - you may also find the page useful if you're using another type of cutting machine, or if you want to score the lines manually (without a machine).
When the card is cut and scored, I have a follow-on craft tutorial to help you fold and assemble the card - you can find that here.
Gorgeous butterfly birthday card - pretty in pink!
I created the butterfly design template for a birthday card in these really pretty pink tones, with a dark purple inner card.
I think that these colours are lovely and delicate and suggest the airy nature of the butterfly. The dark purple gives a great contrast and the colours stand out against each other beautifully which really highlights the gorgeous butterfly design.
I also like to do an alternative colour idea to inspire you to get creative with colour - my alternative colour idea for the butterfly birthday card template is a lovely rich yellow, teamed up with dramatic black for the inner card and a warm orange envelope...
Where the pink is definitely pretty, feminine, and delicate, I tried to make the yellow design look bright, summery and cheerful - with quite a contemporary feel...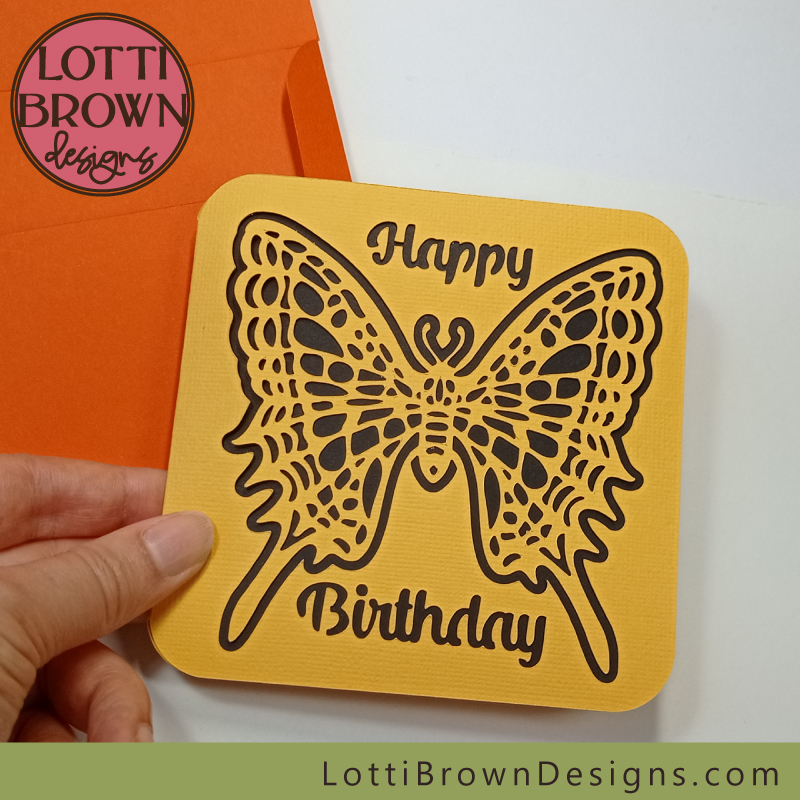 Lovely butterfly birthday card template - bright, bold and cheerful yellow and orange
I honestly can't decide which of these two colour ideas I like best!
Any pretty, pastel tones would suit the butterfly card template and give a look similar to the pink version - I'm loving the dark inner card I used, but you could definitely try a white inner card and it would still look brill!
If you like the bright version, try out some other bright colours of your own - think bold, summery colours, like bright flowers. Personally, I think black or white insert for the inner card will always look best against such bold tones and allow the design to take centre stage.
I love having a bit of fun with the envelope and going for a lovely colour combination - you can either opt for:
the 'similar' choice (example - the darker pink against the pink card)
the 'different' choice (example - strong orange against strong yellow - although these are still quite 'similar' - I could've tried a bright green or bright blue instead)
the 'neutral' choice - a plain white or cream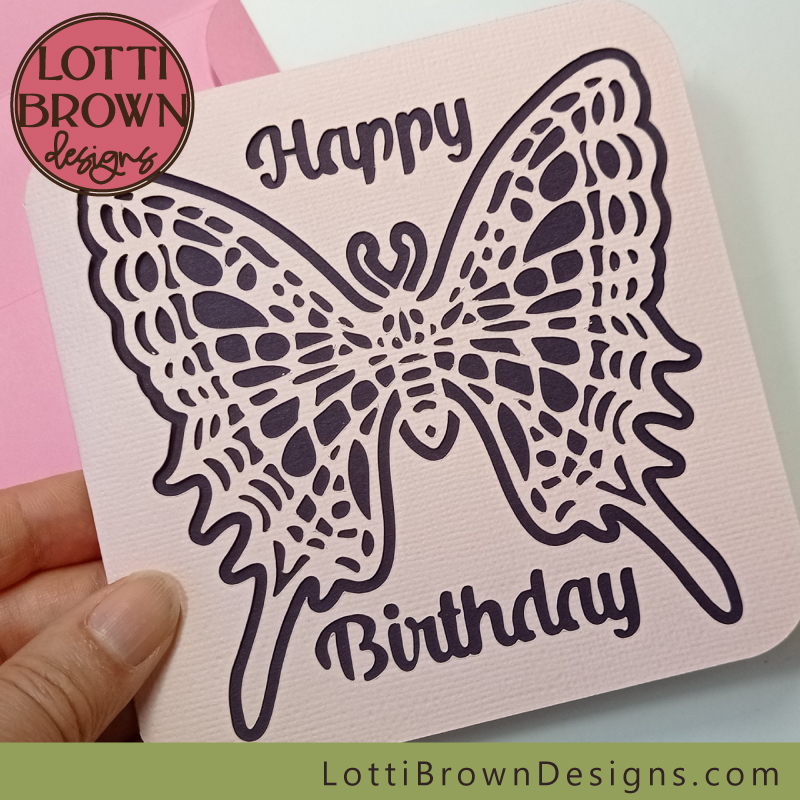 Sending pretty butterfly wishes with this pretty card template
I've made both of these butterfly birthday cards using Sizzix 'Surfacez' textured cardstock for the outer card (the part with the cut design).
The inner card and envelope for each are made using a generic coloured craft cardstock (lightweight - 160gsm).
I cut the outer cards using the 'Cardstock for intricate cuts' setting in Cricut Design Space.
I cut the inner cards and envelopes using the 'Light Card' setting in Cricut Design Space.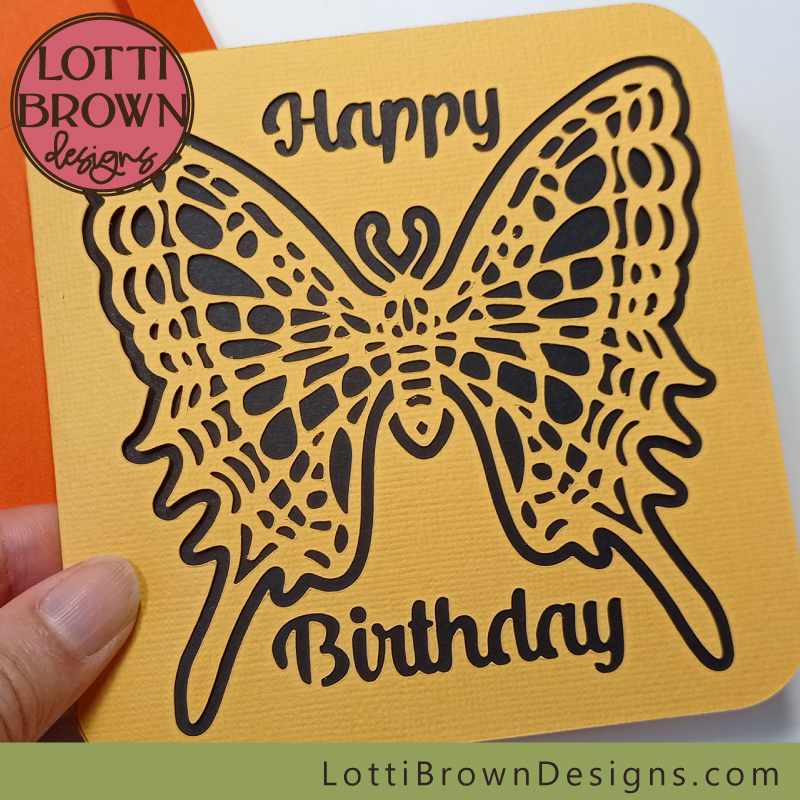 Pretty papercut design - butterfly template for birthday card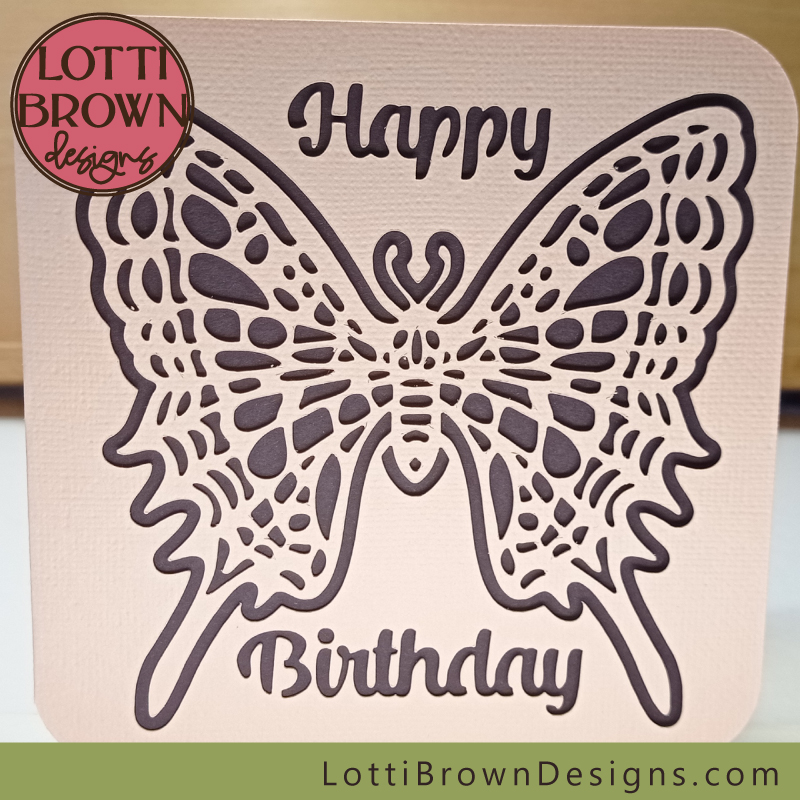 Cutting file template for a butterfly birthday card
If you like the butterfly design template for a birthday card, you can get the cutting files for your machine from my Etsy store with instant download worldwide, at the link right below...
The step-by-step instructions for setting up the score lines to score correctly in Cricut Design Space are here - also useful even if you aren't a Cricut user.
The craft tutorial for folding and assembling the card is here.
I also include both of these links with your download purchase for you.