Sunflower Inspiration
As you can see in the image above, I designed the sunflower happy birthday card SVG template in yellow with a dark orange inner card - I also tried it out in another colour to help inspire you to experiment with colours with your cardmaking...
I think the yellow and dark orange colour combination is a real classic for the sunflower theme - you definitely want something bright and cheerful!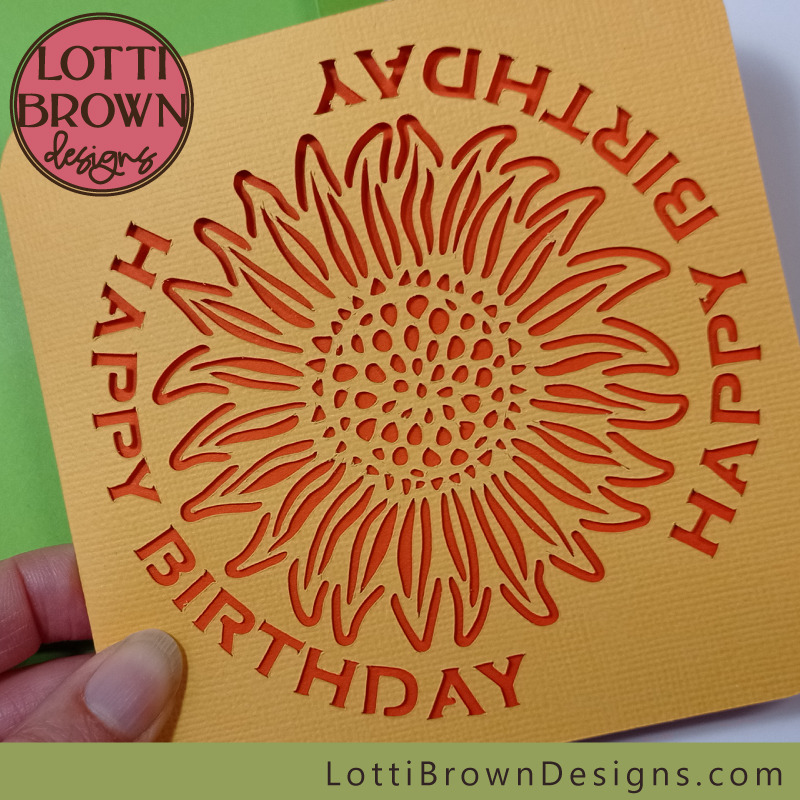 Love the cheerful yellow for the sunflower happy birthday card!
I also tried out the card with another really sunny and cheerful colour - bright orange! This time, I paired it up with a softer yellow (lemon).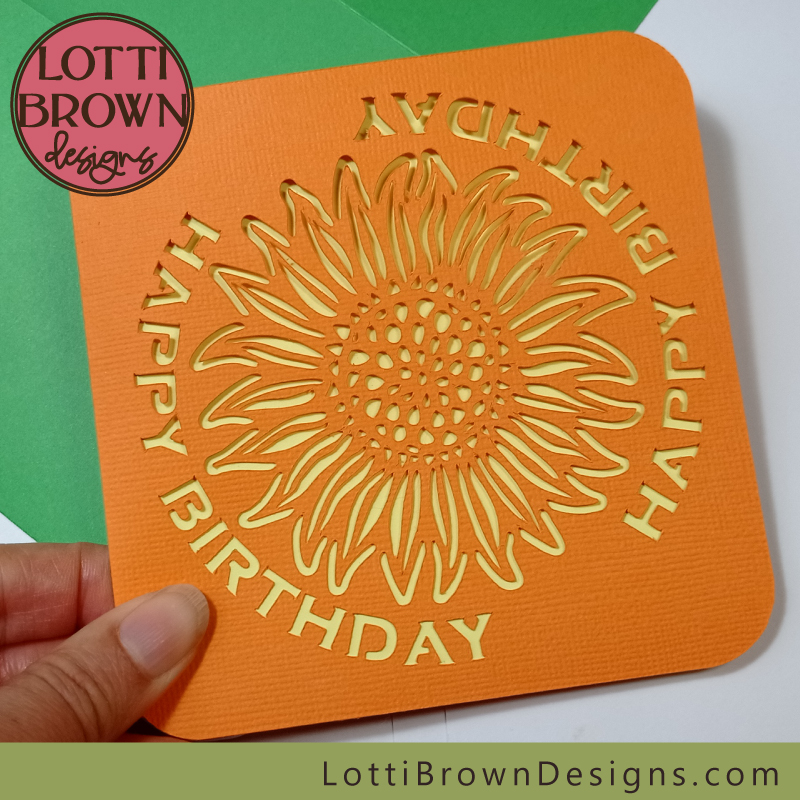 Summer vibes with the orange and lemon cardstock choices for the sunflower happy birthday card template!
I used a bright green for the envelope of each card - I used a slightly different green cardstock for each card I made, but I kept the colours lovely and bright - if you choose to go bright with your card, you may as well just go all in with the bright and keep the envelope in that bright tone too for lots more impact!
Do try and choose some contrast between the inner and outer card, though - that way, the design shows up more. So I chose a slightly darker orange to go with the yellow card - and a much paler lemon to go with the orange card - the contrast works best between light and dark and not just colour!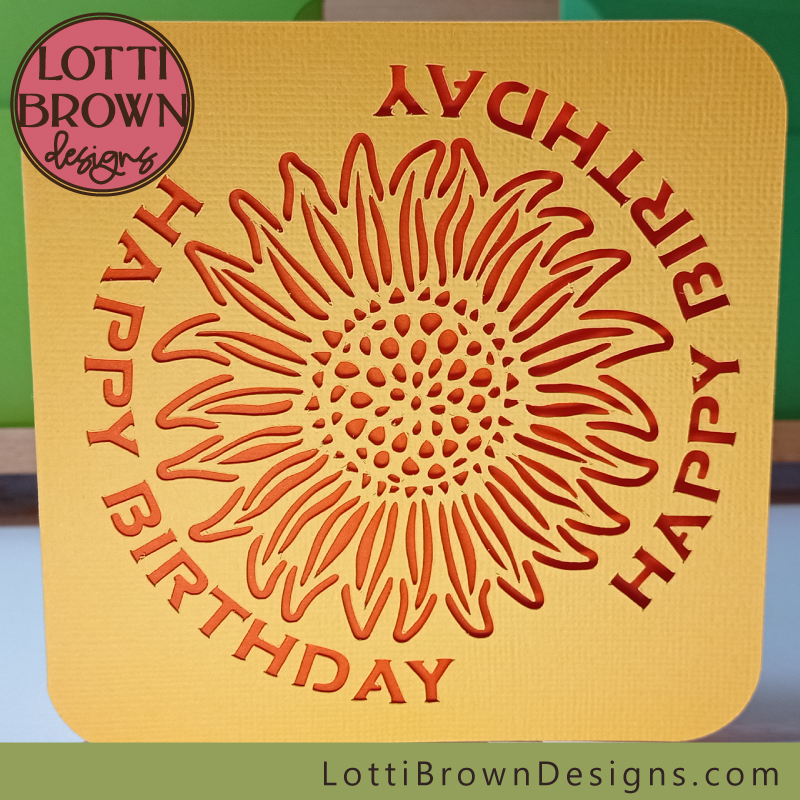 Fabulously floral sunflower design birthday card template
I used Sizzix textured cardstock for both the orange and yellow outer card (with the design). The inner card and envelope for each card is made of lightweight craft cardstock (160gsm) - it should be smooth and suitable for writing on.
Send some sunshine! Colourful sunflower happy birthday card template for Cricut etc.
I do hope you like my sunflower happy birthday card SVG template as much as I do! Sunflowers are one of my favourite flowers! 
If you'd like to make the sunflower birthday card, you can get the digital template from my Etsy store at the link right below, with instant download...
If you like sunflowers, you might also like my sunflower SVG designs that you can use with your papercrafts, vinyl-crafts etc...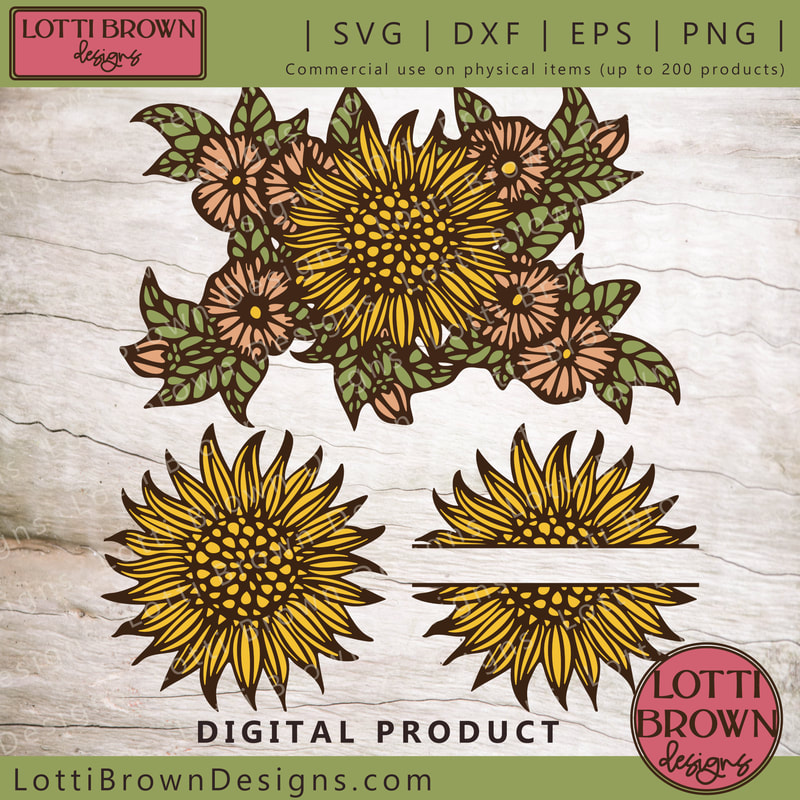 Sunflower SVG designs - click here to see them...
You might also like: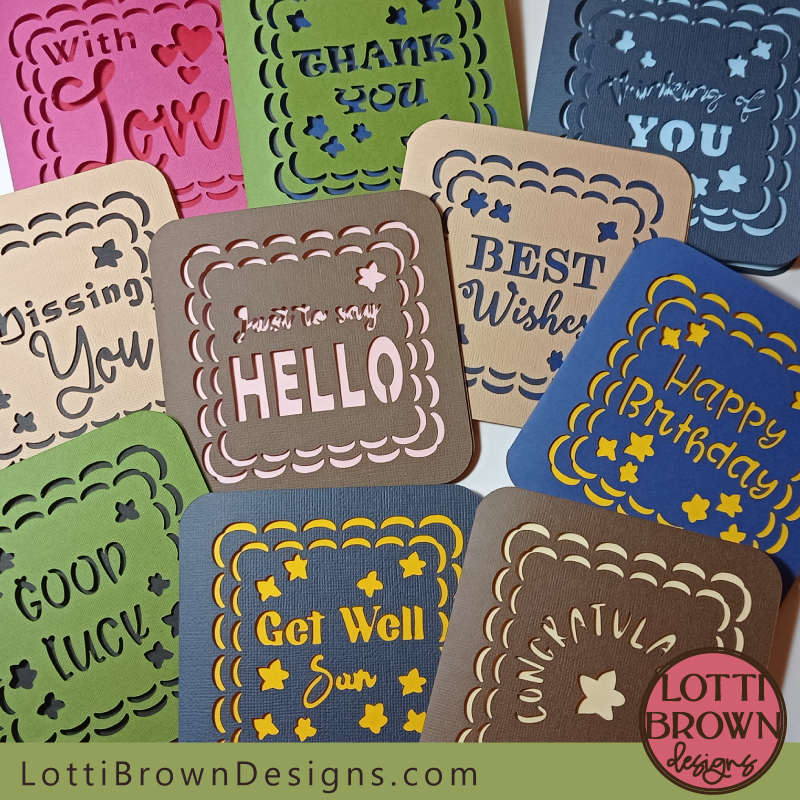 Greeting card SVG templates for Cricut and other cutting machines - click here to see them all!
Explore all my other card templates here - many use the same basic template and process, so they're easy to make!