More Butterfly Ideas
As well as paper or card, you can cut the butterflies from vinyl, thin wood, fabric, as a stencil - whatever your creativity calls for and your machine or trusty craft knife can handle!
Here are some more ideas to inspire you:
Butterfly tote bag craft idea - use iron-on (HTV) vinyl to get the designs onto fabric
For these two ideas, you would use iron-on vinyl (HTV) to get the design onto fabric. If you want a two-colour effect like this, you will need to layer up the vinyl - alternatively, you could just use the intricate top layer - or use several of the small silhouettes for another different look, maybe even in different colours.
Butterfly sweatshirt idea - use iron-on vinyl (HTV) to add the design to sweatshirts, T-shirts and other fabrics
For the doormat crafting idea, below, you would need to cut the design onto special stencil-vinyl and then use a paint to stencil in the design onto the doormat...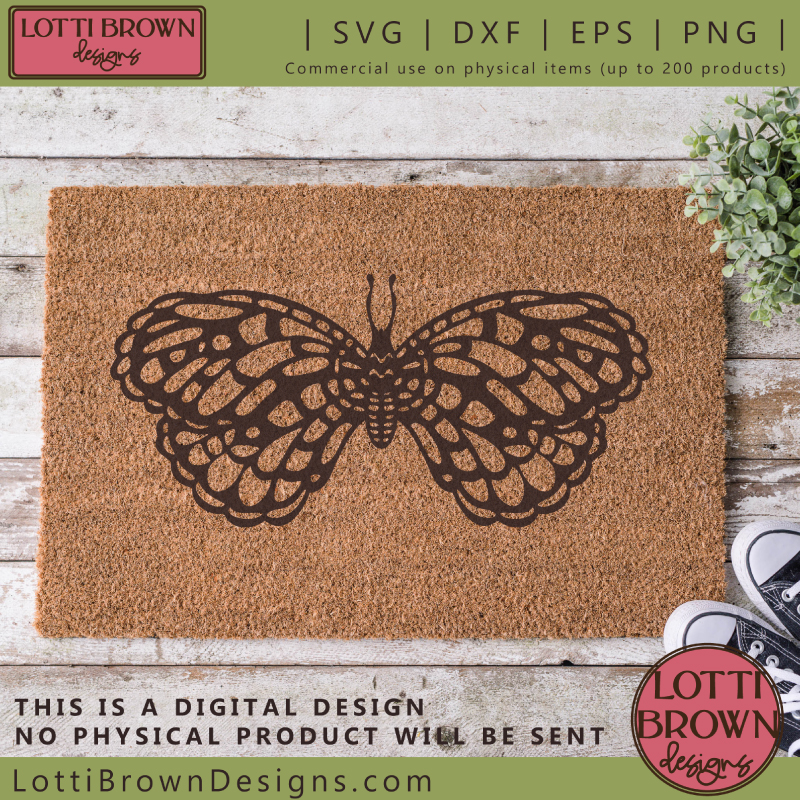 If you like this butterfly doormat, you could create a stencil from specialist stencil vinyl to paint the design onto the doormat
Are you feeling inspired to create your own butterfly crafting projects? 
You can buy my butterfly SVG files in my Etsy store at the links below - all files are available in SVG, EPS, DXF & PNG to suit your cutting project. There's more info in the Etsy descriptions to help you and you can also check out my SVG FAQs page and the T&Cs for file use.
Please check carefully that you are buying the one(s) you want, as they are very similar - please remember that they also come as a bundle of three, if you prefer to get all three and save some money too...
You might also like: