Getting Colourful & Creative with your Birthday Card
I make all my designs with my own Cricut Maker cutting machine, to make sure everything cuts well and as I expect it to.
I made the floral birthday card SVG template in two different colour combos - a very cheerful yellow and green, and then a striking teal with soft green - with envelopes in a soft peach card (for the yellow card) and a fresh lemon for the teal card...
Here, I paired teal with pale green and a lemon yellow - a striking look!
I used Sizzix textured cardstock (solid core) (216gsm/80lbs) for the outer card of each card (the bit with the design) - it has a nice satin finish, and a nice woven-look texture and cuts well, too...
Both the teal and the yellow Sizzix cardstock are from the Sizzix 'Eclectic Colors' cardstock pack.
For the inner card and the envelope of each card, I used a generic craft card, 160gsm (60lbs) with a softer, matte texture, that is suitable for writing on.
You can read more about cardstock choices on this page.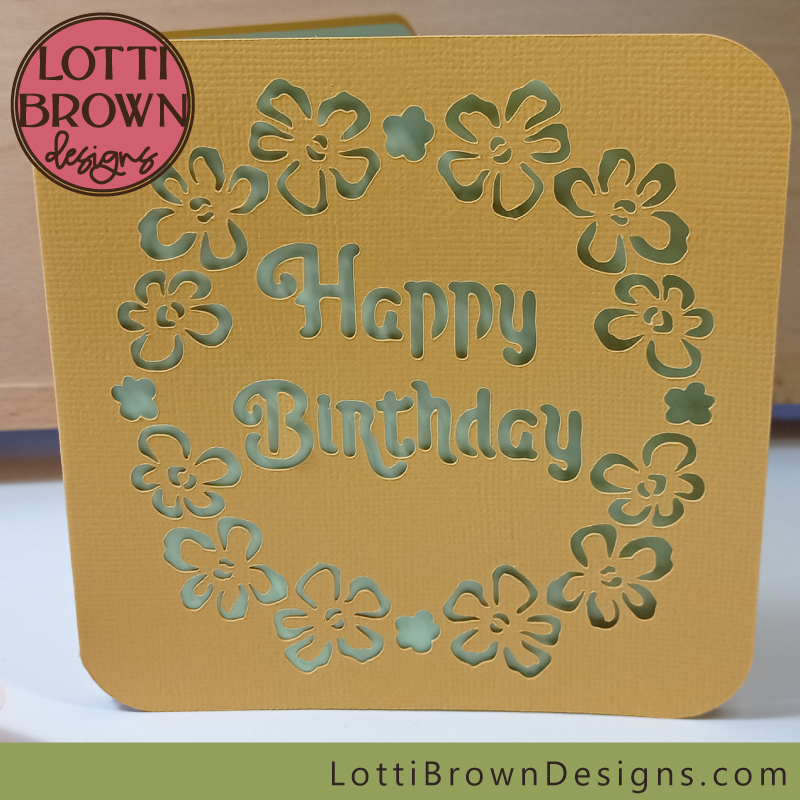 Papercut birthday card using Sizzix cardstock
I hope that you'll enjoy getting creative with your colour choices for your cardstock for the birthday card - I recommend getting some good contrast between the inner and outer card so that the design stands out well - this can be a contrast of colour or a contrast between light and dark.
I like to do the envelope in a third colour, just for fun, really - but you can do it in a similar colour, or plain white, whatever you like...
Just enjoy yourself and create something beautiful that you love to make and send just as much as the recipient loves to receive it!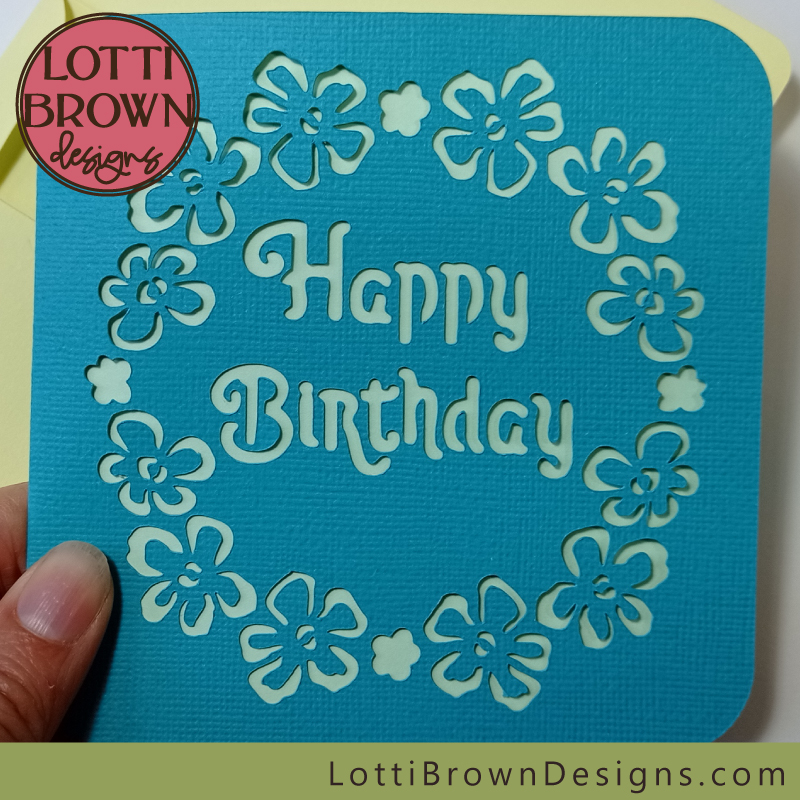 Happy birthday floral card cut file template
If you like the floral birthday card SVG template you can get the files in my Etsy store at the link right below...
Get the Happy Birthday card template here
SVG/DXF/PNG/EPS formats
For personal and small-business craft use
Physical craft products only - no digital products or sharing