Birthday Card Templates for all Different Ages
It's nice to be able to celebrate someone's milestone year, whether it's 18 or 80! So I've been busy designing some 'age' cards with the age number on the front, so that you can say it with a handmade card...
For each age, I've got two designs, one that's more traditionally feminine, with a floral style - and one that's more of a unisex look with some fun stars - ideal for both men and women - and of course, that all important number on the front!
Currently, I've only got adult age cards (starting at 18) but I will be adding in more ages over time, both to the adult age range and also adding in more ages for kids - it just takes a little time to design, make, and photograph the cards...
So if the age you want isn't currently available, I'm sorry, and please be assured I will be gradually adding more to the range, so please check back again later to see what's been added. You can also check this page where I've got loads more birthday card templates for you to browse, so hopefully you'll find one that's suitable.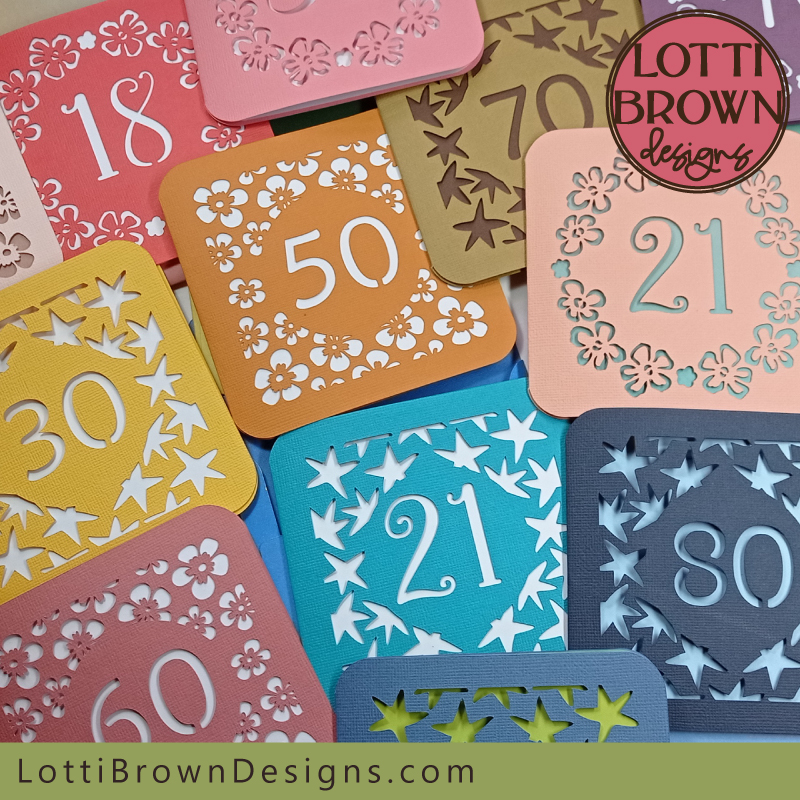 Birthday card SVGs for all ages! Number on the front!
The cards themselves are nice and easy to make - they cut from three sheets of flat A4 or Letter-sized cardstock (that includes the envelope) on the standard Cricut mat. This makes a card that's around 12 x 12 cm (approx. 4.75 x 4.75 inches) with an envelope that's a little bit bigger.
We need to add the score lines in (don't worry - they're already on the template) so that we can fold the card and envelope easily - I have the full instructions for a couple of easy steps you'll need to take in Cricut Design Space (or your own machine's program) before you send that card to cut. Find the full instructions here - that page also discusses choosing a scoring tool for your machine and how to score manually - please check out the instructions even if you're not using a Cricut machine, as I think you'll find them helpful for what steps to take on your own machine.
Card template with envelope - 'cut and score' project - SVG, DXF, EPS, PNG
When your card is cut and scored, I've got a nice little craft tutorial to help you fold and assemble it, along with the envelope - look here...