Restrictions on Use
Are there any restrictions on how I can use the SVG files? Can I use them to make things to sell?
The files are available to use both personally (for personal craft projects, gifts etc) and for commercial use for small businesses (up to 200 uses) on physical products only.
Here's what you can and can't do with the files:
YOU CAN:
Use the image files to create physical products for personal or commercial use (commercial use is intended for small-business use only – up to 200 units in total) - such as papercutting or papercrafts, vinyl crafts, T-shirts, sweaters and other clothing, mugs, signs, cushions, cards, phonecases, home décor and all similar.
YOU CAN:
Alter or personalize the image by recolouring, resizing, cropping, or adding additional elements.
YOU CAN NOT:
Use the image files to create digital end products of any type.
YOU CAN NOT:
Make the image file available digitally in any format, share, sell, give away, or redistribute the image in any format which allows others to download, extract or redistribute the image, whether you have made your own alterations or not.
YOU CAN NOT:
Use the image on print-on-demand, create-on-demand, or similar services including Redbubble, Society6, Café Press or similar.
YOU CAN NOT:
Claim the image or design as your own work or claim any copyright in the work, whether you have made your own alterations or not.
YOU CAN NOT:
Use the image as part of a trademark, design mark, service mark, trade-name or similar unless the image is significantly altered and not the predominant feature of a new design.
IMPORTANT
Please read the full licensing terms at www.lottibrowndesigns.com/svg-license.html. If you have any questions, or if you're unsure if your intended use is permitted, please just ask.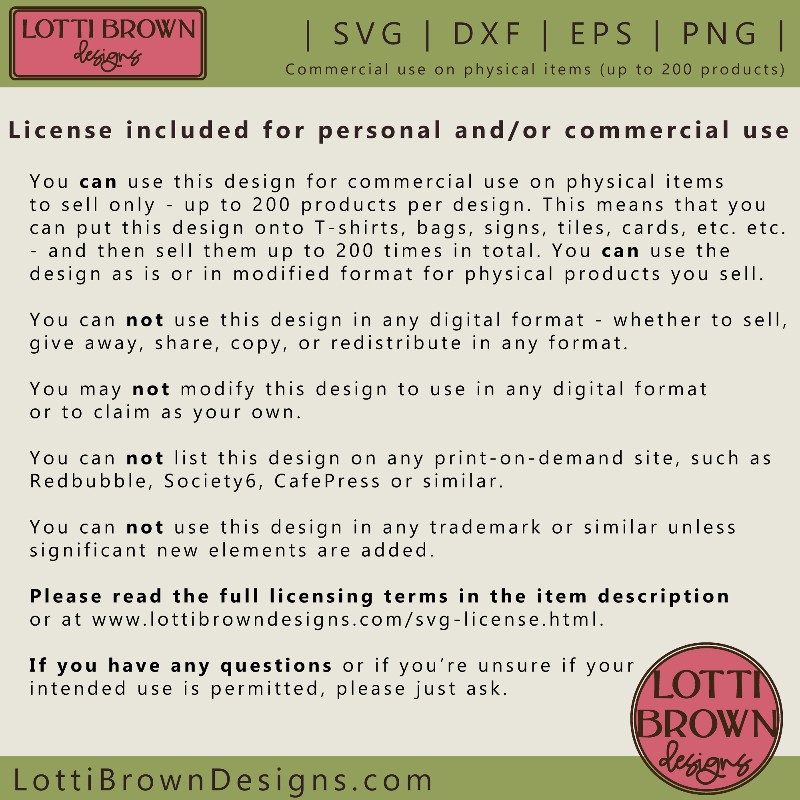 Where to go next?
There are lots of sections of my website to explore, with designs, projects, and help with a Cricut, too. Here are some I think you might like or find useful...
Another question or query?
I'm happy to take your questions and queries about using my files but I'm afraid that I can't provide technical help or instruction with your cutting machine or design programme. I have found the official help pages for a particular cutting machine are usually a good place to start if you need technical help. If you've got a question for me, contact me here or through my Etsy store if you've made an Etsy purchase.