Floral Happy Birthday Card Template for Cricut etc.
I think this is the perfect floral birthday card template to make with your Cricut and other cutting machine - so pretty and floral, with my hand-drawn designs and a cheery birthday greeting!
A very special card to send!
Pretty papercut card template for birthday
The card is made with an intricately cut outer card, plain inner card and plain envelope - all are included in your card template for Cricut and other machines.
It's the same basic design as I use for many of my other card designs - it's a cut and score design, which means that as well as cutting out the shapes, the fold lines do need to be scored either by hand or by your cutting machine...
I have a useful page here, where I discuss scoring tools for your Cricut, scoring manually (without a machine) and also how to set up the lines in Cricut Design Space so that they score correctly - you may also find the page helpful if you're making the card with a different cutting machine.
I then have a craft tutorial for you which takes you step-by-step through folding and assembling the card - you can find that here...
'Cut & score' floral birthday card craft project
The card is made using 3 sheets of cardstock, A4 or Letter-sized - and the finished card measures approximately 12 x 12 cm (approx. 4.7 x 4.7 inches).
You make the card using the standard Cricut mat (not the specialist card mat).
I always test-cut my design files to make sure everything works exactly as I want, so that I'm sure it will work for you, too!
I made the floral birthday card template for Cricut in a pretty pink and white with a zesty green envelope...
Birthday card template - pretty in pink!
I also made an alternate colour version, in a beautiful deep purple, with green interior and lilac envelope...
Alternate colour idea with a gorgeous rich purple teamed up with soft green and lilac
The outer card for each version is made from Sizzix 'Surfacez' textured cardstock with the interior card and envelope for each in a generic, lightweight, coloured craft card (160 gsm) that's smooth and suitable for writing on.
If you'd like to choose your own colours, I think anything goes for this very pretty card - floral colours will always work well for a floral card, but you could also use cream or grey with a splash of colour for the interior and I think it would look gorgeous!
As with all my card templates for Cricut, do look out for creating contrast between the inner and outer card - a contrast in colours works well, but also look for a contrast between pale and dark colours, or soft and bright colours.
As for the envelope, you can choose to co-ordinate (like the lilac and purple set) or contrast (like the zesty green and pink)! It's up to you!
Use contrasting inner and outer card colours to show off the papercut design for your birthday card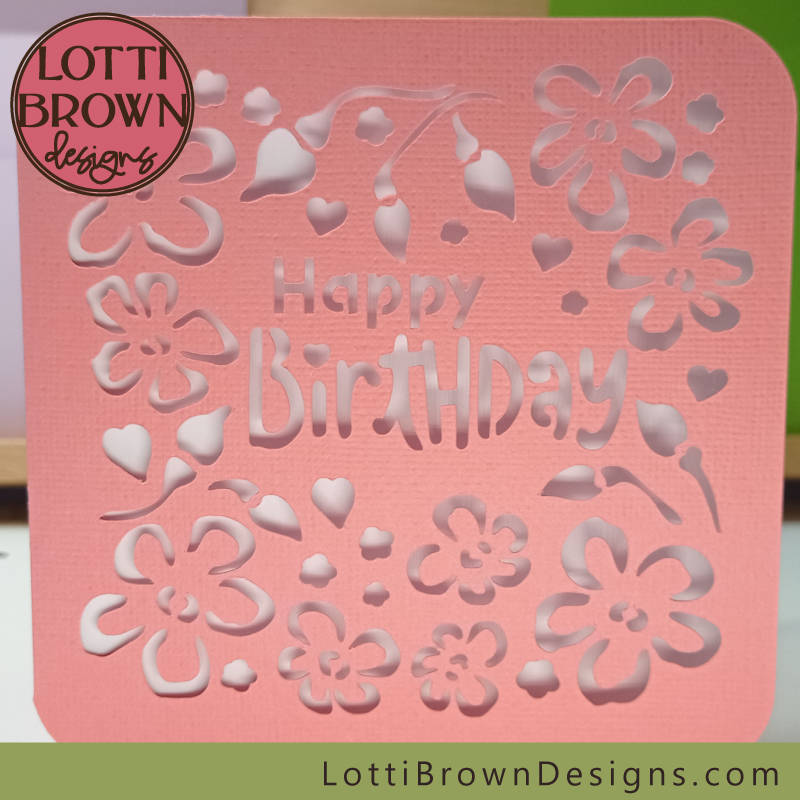 Pretty papercut birthday card template with floral design
If you like this card, and you'd like to make it with your own cutting machine, you can get the template in my Etsy store with instant download worldwide - see the link right below...
The tutorial for setting the lines to score correctly using Cricut Design Space is here - and the craft tutorial for folding and assembling your new card is here...
You might also like:
More birthday card templates for you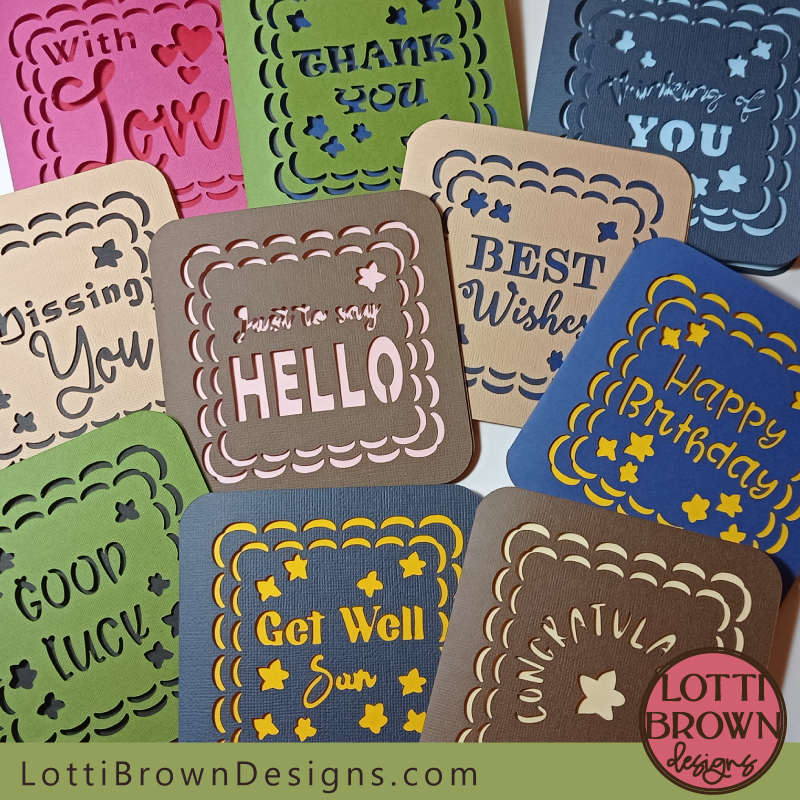 Greeting card templates for Cricut and other cutting machines
I also have lots more other card templates for your Cricut or other cutting machine, right here...