All About Cricut Mats
How to use a Cricut mat...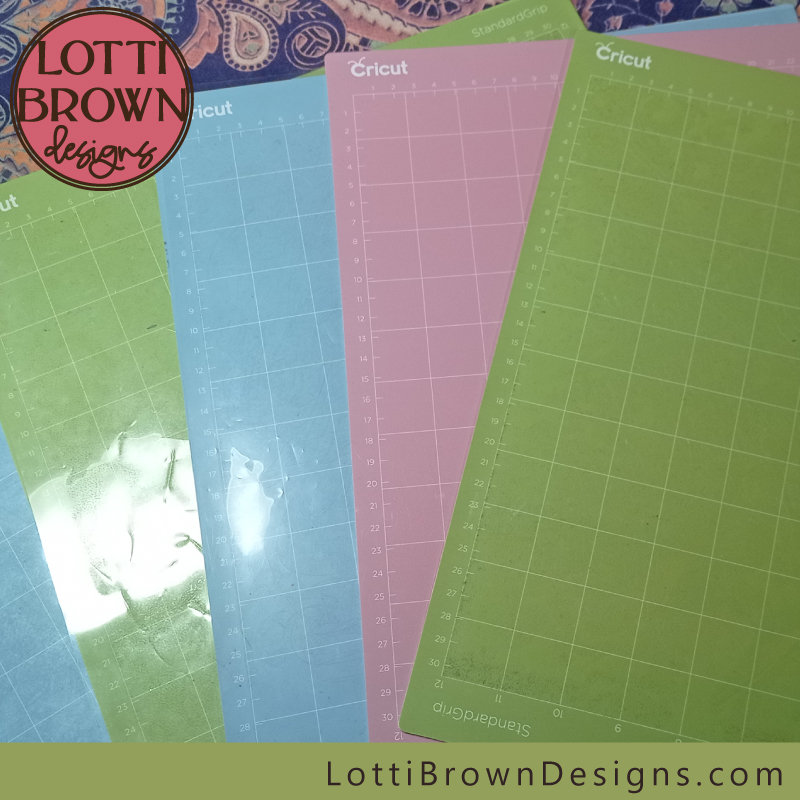 Cricut cutting mat selection - the different colours denote different strengths of stickiness - the blue is the least sticky, the green is classed as 'standard' stickiness, the pink here is the most sticky, intended for fabric. There is also a purple mat for strong hold projects like heavy cardstock.
If you have one of the older machines, you'll need to use a sticky mat when you cut - the newer range of Cricut cutting machines (Joy, Maker 3 and Explore 3) don't need the mat to cut, but you may need to get different materials...
Look out for 'smart materials' including vinyls and even a smart, sticky-backed paper.  You can still use a mat for cutting non-smart materials with your newer Cricut, as in the older machine range. (I don't have a newer machine, so my info includes all about mats, but not about smart materials used without mats).

Always use the correct mat for your cutting project. The mat has a sticky side where you place your material ready to cut. You need the mat to keep your material from sliding about when the machine cuts – just use a mat that's lost it's sticky and you'll see why it's a good idea to use a sticky mat!
It's not quite just as simple as that though, as you need the right amount of sticky – not sticky enough and your material slides around under the blade causing chaos… Too sticky and your material sticks too hard to the mat, you struggle to get it off and it could tear or break as you try to remove it or leave half of itself behind, ruining your project.
Cricut has cleverly got over this problem by introducing four different mats, all with different stickiness. They're also colour coded to help us!
Blue mat – the least sticky – use for lightweight items such as paper, normal vinyl or very thin card.
Green mat – standard stickiness – this is useful for many items you're likely to cut, such as standard or thicker card, heat-transfer vinyl (HTV), textured papers.
Purple mat – strong stickiness – useful for very thick card, wood materials, posterboard, leather and faux leather, glitter card.
Pink mat – for fabrics.
Once your mat loses a little of its stickiness, you will likely be able to use lighter-weight items on it. I can use my older green mats that have lost stickiness with light cardstock with no issue.
Treat your mat with respect – stickiness is not guaranteed! Keep pet hairs and fluffy jumpers away, else your mat will get covered with fluff and lose its stickiness.

Keep the plastic cover that comes with the mat and store it with the cover in place to protect it.
Go gently with your scraper tool when scraping scraps off your mat – don't scrape off the sticky layer!
Lift your mat off your cut project and not the other way around...
When you try to lift a paper or card from the sticky mat, it has a tendency to curl up. You could flatten it under a book, but try this easy hack instead…
Cover your cut project and the mat with the clear plastic sheet that's included with the mat (keep it, don't throw it away) – turn everything upside down and then carefully peel the mat away from your material (paper, card, etc), helping keep the material flat with your hand as you go. The mat is flexible and will bend gently back.
Go slow, and watch out for the delicate parts of the cut. You can just gently ease them off the mat as you go – your spatula tool can help with this.​
Keep the clear covers that come with the Cricut mats - they're incredibly useful!
How to Clean a Cricut Mat
Wash your mat when it loses stickiness and you can bring the stickiness back – scrape gently first to remove tiny bits, then wash it in warm water and mild dish-soap (washing-up liquid) with a lint-free cloth (I use a micro-fiber cloth). Let it air dry thoroughly before you use it again.
You may be able to apply a spray adhesive to your mat to resurface the stickiness – do some research before you start and look for a good quality 'repositionable' adhesive. Give your mat a good clean first (wash it as above) and mask off the edges so that the sticky stays in the right place!
I used 3M 'Re Mount' temporary adhesive spray on mine - I gave a light spray covering on the green mat and found that this worked really well to recover the stickiness. Holding up well so far, including after washes, and I intend to respray again when necessary.
If all else fails, you may need to buy a new mat. Cricut expect their mats to last between 20-40 cuts.