A Printer Saga!
So I started out with my HP ENVY 4505 printer. It's about 8 years old. I've been pretty happy with this printer. I printed all my print then cut designs for my first batch of print and cut card templates with this printer, on my usual lightweight white cardstock (Eastlight Premium, 160gsm) and I was very happy with the results. Until I tried to photograph them for my Etsy listings and website...
I thought that the artwork looked grainy close up...
Looks pretty good from this distance!
Still looks nice but you can see a little graining close up
A quick word about Cricut & high-resolution prints
A bit technical so ignore this bit if it's not your kind of thing!
I discovered while doing all this, that Cricut has a strange screen resolution in Cricut Design Space - it uses 144ppi. So when you load an image into Cricut Design Space, it will automatically resize to that resolution...
When I create my art digitally, I create it to print at a high-resolution 300ppi/dpi (for a high quality print) - so it appears to load into Cricut Design Space too large. I initially resized my artwork so that it came out the correct size when loading into Cricut Design Space, but when the print quality warning feature rolled out, I realised that this was a mistake - and I needed to create it as I had originally been doing, to print at a specific size at 300ppi/dpi and just resize it smaller to the correct size in Cricut Design Space while in this way keeping the high quality that I'd created.
Weirdly, I printed out both versions, the original 'low quality' version and the correct 'high quality' version (that needed resizing smaller in Cricut Design Space to give the high quality) and there didn't seem to be much/any difference, either to the naked eye or by camera, so don't worry too much about this unless you notice an issue in your particular print - and it does look like I might be right that it is, indeed, the paper or card type that makes the most difference in how your print looks when printed...
So this is when I wanted to experiment with some more cardstock types in my printer. I first of all wanted to try photo paper - but when I tried it in my printer, the printer didn't seem able to grab onto the paper, like it was too slippery, and couldn't print on it...
Initially, I thought it was because I was using budget photo paper. So I bought some more expensive photo paper, and it was still exactly the same. At this point, I was pretty annoyed, as my printer is supposed to be a photo printer!
So I thought maybe it was because the printer was old and perhaps needed a good clean. I looked online and found out how to clean the rollers to help it grip more easily - I did this and I don't recommend it as it didn't help and I actually broke the printer as it stopped being able to print double-sided sheets of print after this!
So I had to order a new printer - but in the meantime I did start my cardstock experiment with my tropical fish print then cut cardstock design - this was an experiment between my usual 160gsm lightweight cardstock (Eastlight Premium) and a watercolour printer paper I'd found and wanted to try as the artworks on the card are watercolours, so I thought they'd maybe look pretty nice on watercolour paper...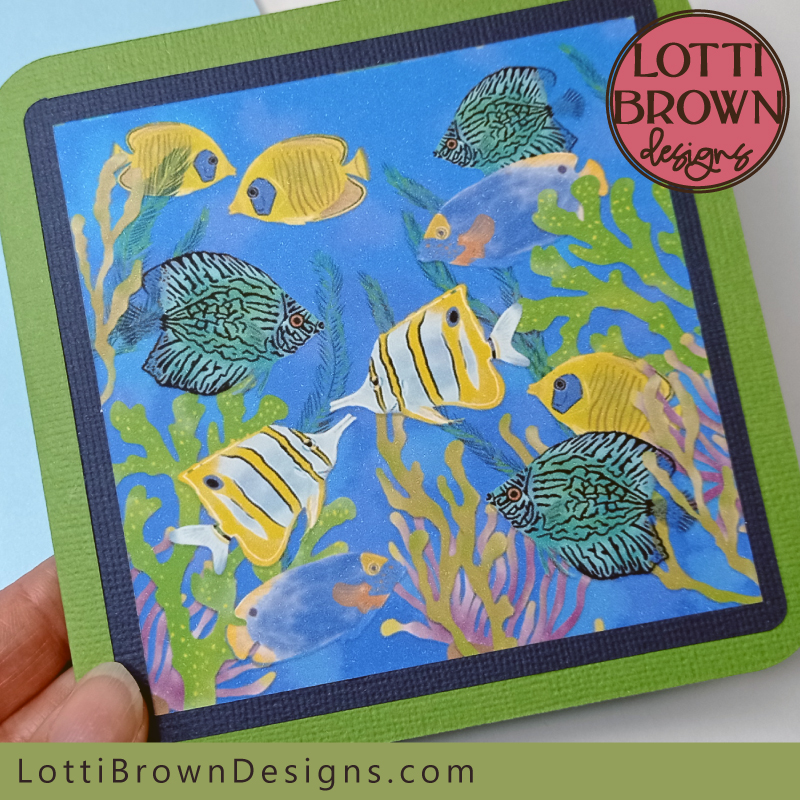 Eastlight Premium cardstock, lightweight smooth white cardstock, 160gsm
So the image above is with the usual Eastlight Premium, lightweight smooth white cardstock (160gsm) - and the image below is with the watercolour paper - Ecoline Liquid Water Colour Print Paper (150 gsm). I think the watercolour paper is definitely grainier - so at that point I decided to stick to the Eastlight Premium cardstock for future print and cut cards...
Watercolour paper - Ecoline Liquid Water Colour Print Paper (150 gsm)
Once again, the prints still looked nice in real life and from a little distance away, as you would normally look at them, but the graininess on the close up photos did bother me a little still.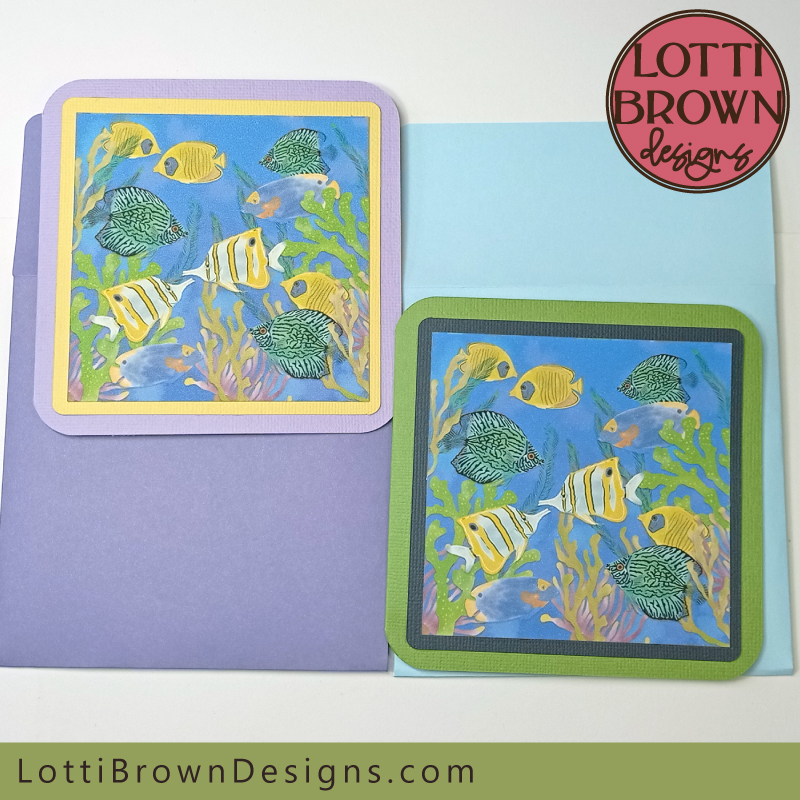 Looks better from a little distance away - but you can still see some graininess especially on the watercolour paper card (left, lilac) - this does also look less in real life than on the photo!
After breaking my printer, I started investigating which might be the best printer for Cricut and my artwork printing, and discovered that you really need a rear-loading printer to be able to print well on specialist papers (like photo paper) and thicker cardstocks...
A rear-loading tray allows thicker cardstocks to go through the printer without having to bend and curl - which happens in the normal integral tray where the paper bends through the rollers. So a rear-loading tray allows your printer to deal with slippery paper (like glossy photo paper) or thicker cardstocks that don't really bend.
I intend printing onto cardstocks and photo papers, so I definitely wanted to get a rear-loading printer that would accommodate the photo papers, sticker papers, watercolour cardstocks, and other specialist cardstocks that I might want to use.
The printer that I ended up choosing was the Canon TS9550 inkjet printer. This has a rear-loading tray so it can accommodate thicker cardstocks and glossy photo paper. It can also print up to A3 size, which means if I want to print at 12 x 12 inches, I'll be able to. Despite being an A3 printer, it was still a compact size (with an A4 scanner) which is perfect for a small office space like mine!
So once I'd got my new Canon printer, I wanted to immediately experiment with some nice watercolour cardstock I'd ordered specially. This is thicker than the watercolour paper I'd previously tried, and had a nice texture so that it looked more like the watercolour texture I expected - Belle Vous cold press watercolour cardstock (200 gsm). This is a nice thick cardstock, with a distinct ripple texture, and an ivory colour (even though it was called white when I ordered it).
So I created my new print and cut Christmas card designs using this watercolour cardstock - and I loved the results! I really liked the texture of the cardstock which really suited the watercolour artwork - and the ivory colour and the printing gave a lovely old-fashioned feel to the art, which I liked...
Print then cut card on textured ivory watercolour cardstock (200gsm)
At this point, I was pretty happy - but I still hadn't tested out my posh glossy photo paper with my new printer - so I decided to do an unscientific scientific test with all my cardstock options - I was a little bit shocked at the results, but all is not as straight-forward as it seems...
So here's what happened...