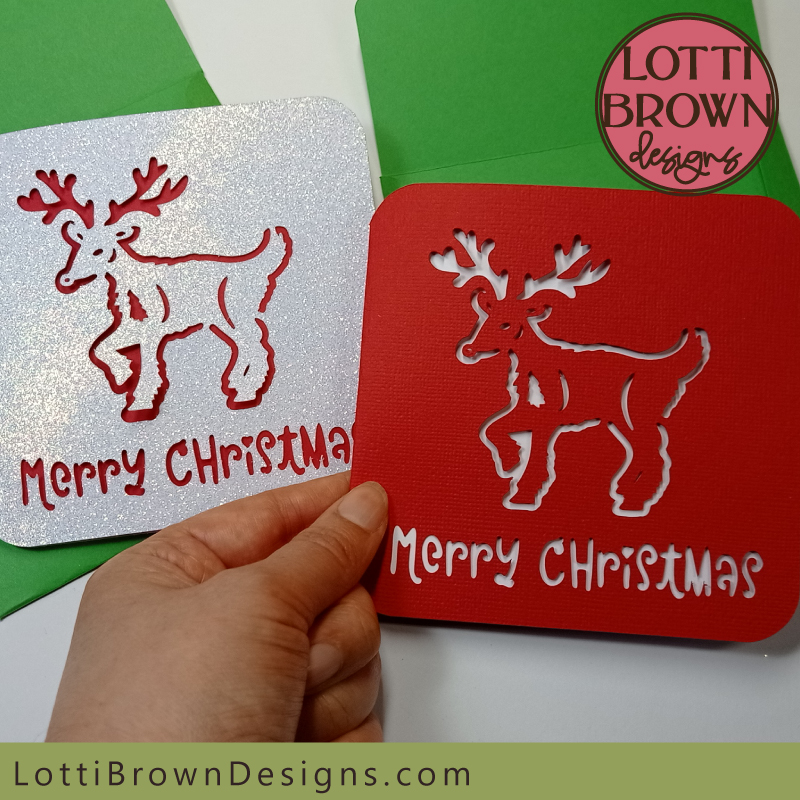 Cute reindeer Christmas card template
Seasons Greetings card template with pretty mistletoe design
One of the most fun things about the run-up to the festive season is getting on with your Christmas crafting - and one of the best and most useful crafts to make are your own Christmas cards - I think people really like to receive a Christmas card that's a bit special, one that's been made with love and care - I know I certainly do!
Snowman Christmas card SVG file template
So that's why I've designed this beautiful selection of Cricut Christmas card templates for you to have fun with! They're made to use with your Cricut but you can certainly use them on most other popular cutting machines too.

All the Christmas card templates are designed using my own drawings (hand-drawn with pen and paper and then transferred digitally onto the card and adapted for cutting) so they all feel really special to me.
I've created Christmas card designs with a Christmas tree, Santa, a snowman, mistletoe, a snowflake, reindeer, a polar bear, a snowy winter scene, and pretty Christmas ornaments, so there's sure to be a design that suits your style - and if you like them all, I have them bundled up into a value bundle so that you can get on with your Christmas card crafting, make and send lots of cards, and save money!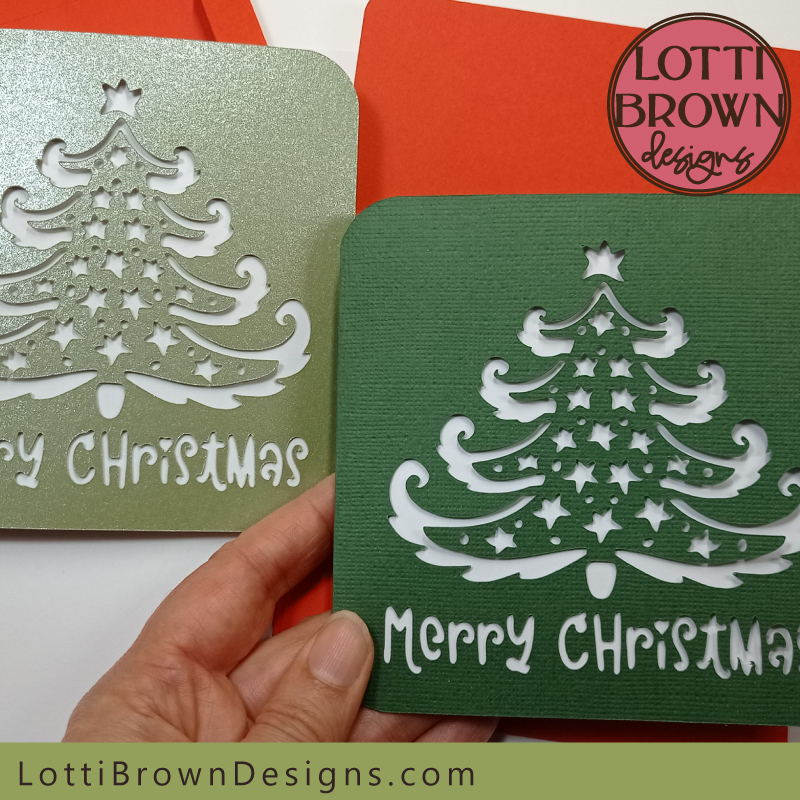 Pretty Christmas tree cards to make with Cricut or another cutting machine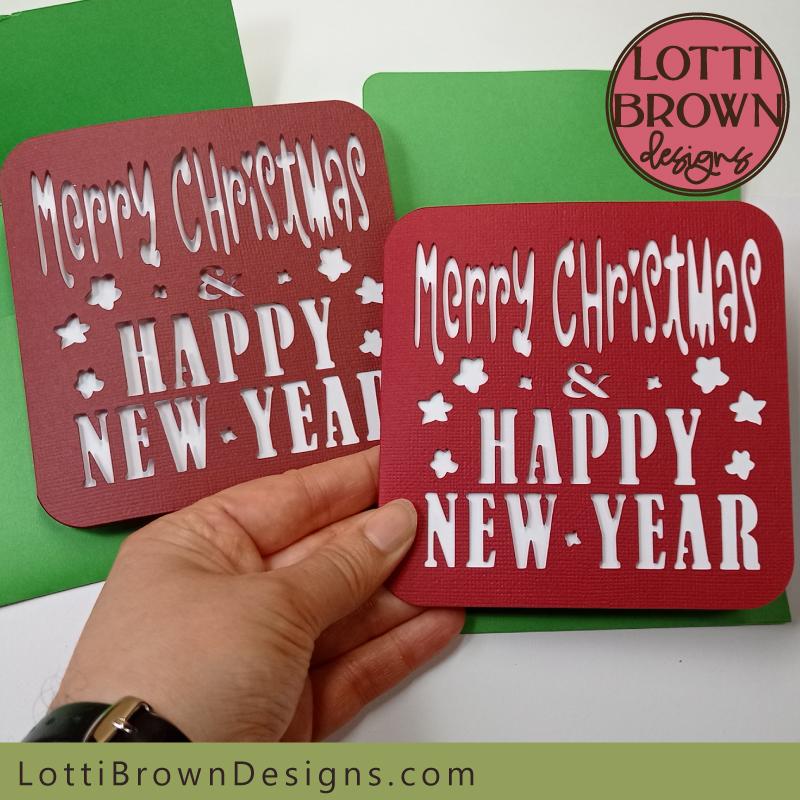 Wish your friends and family a Merry Christmas and Happy New Year - card template to make
Winter scene Christmas card SVG template with fir trees and stars
Snowman Christmas card template cut using pearl-effect cardstock
Christmas ornament card template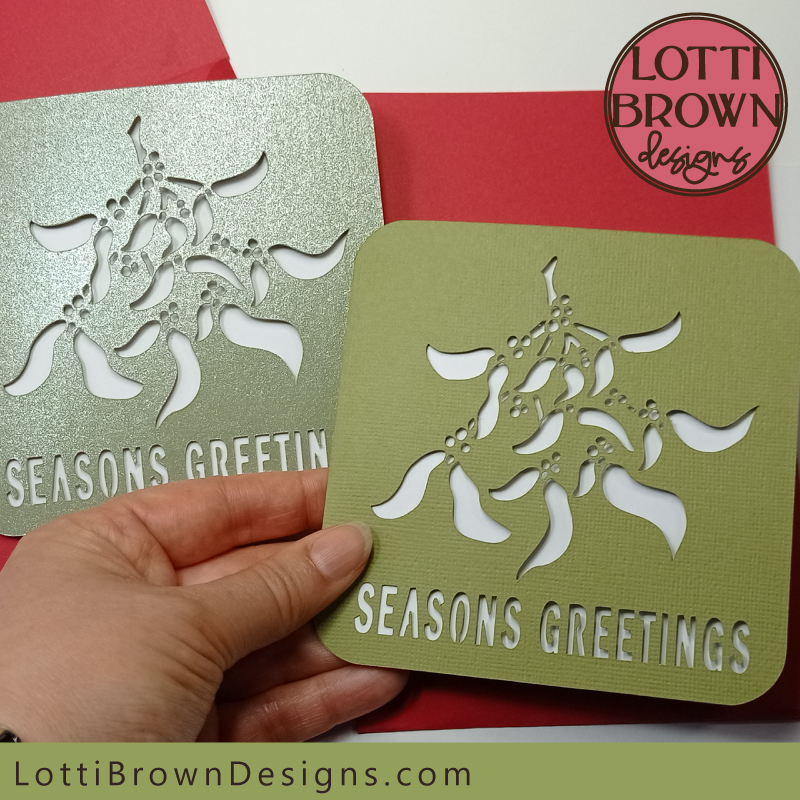 Mistletoe-design Seasons Greetings card SVG template
The Cricut Christmas card templates are designed on the same basic card design as most of my other cards. They're easy to make and I give you full instructions!
They're made using the 'cut and score' function on your cutting machine. This cuts the card and design and also creates a score line along the fold lines.
You can do this manually or do it using your cutting machine. I have a page here that covers the scoring tool for Cricut, cutting manually (without a cutting machine) and also the step-by-step instructions for how to set up your card file correctly in Cricut Design Space so that the score lines work correctly (you might also find it useful if you're using another cutting machine programme). You can find all that here!
I also have a craft tutorial that goes over folding and assembling your card once cut - you can find that here...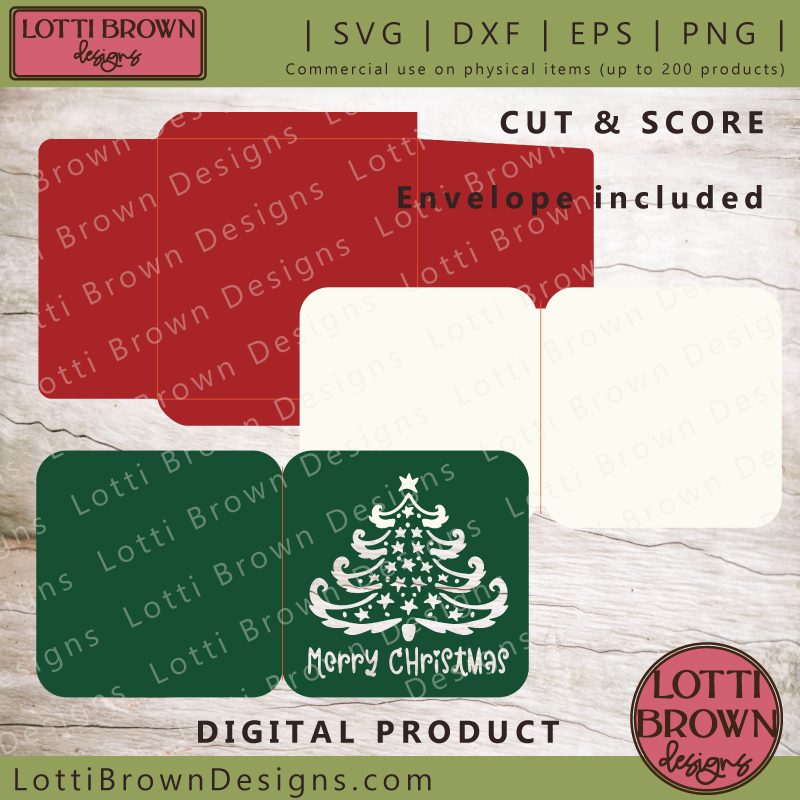 The Cricut Christmas card templates include a intricately-cut outer card, a plain inner card, and plain envelope to cut and score with your cutting machine
The Cricut Christmas card template makes a finished card of around 12 x 12 cm (approx. 4.7 x 4.7 inches) when used as is in Cricut Design Space. The finished envelope is a little larger.
The template cuts on the standard Cricut mat (not the specialist card one) and cuts from three sheets of A4 or Letter-sized cardstock.
Papercut Christmas card template - Christmas tree design - pearl cardstock (Sizzix)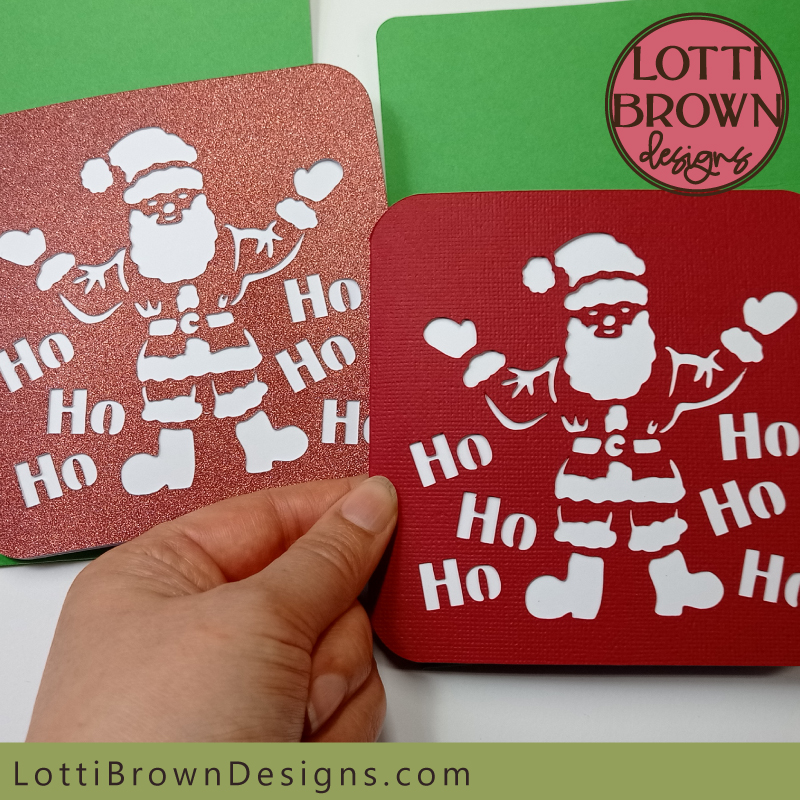 'Ho Ho Ho' - jolly Santa Christmas card SVG file - glitter card and standard cardstock (Sizzix)
I use a thicker cardstock for the intricately cut outer card - usually Sizzix 'Surfacez' textured cardstock (Cricut cardstock also works well). For some of the cards, I've used Sizzix 'Surfacez' Opulent cardstock pack (Festive colours) with pearl and glitter effect cardstock.
For the inner card and envelope I use a lightweight cardstock (160gsm) - a generic coloured craft cardstock or white card. This should be smooth and suitable for writing on. If you choose a dark card for the inner card and/or envelope, you can write on it with a white or silver gel pen, which is quite a nice Christmas effect, too!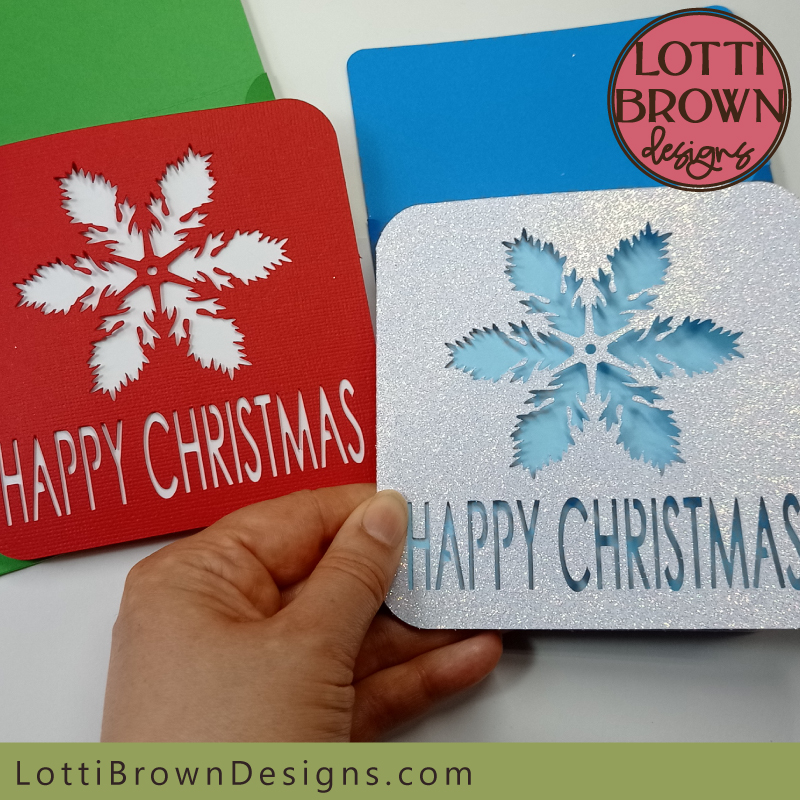 Snowflake Christmas card template
I've cut all the cards you see on this page with my own Cricut Maker:

For the standard Sizzix 'Surfacez' cardstock, I used

'intricate cardstock'

setting in Cricut Design Space
For the Sizzix 'Opulent' glitter and pearl cardstock, I used the

'glitter cardstock'

setting in Cricut Design Space - I needed to

score again manually on this thicker glitter card (the pearl effect scored fine with the scoring tool) - if you have a double-scoring wheel this should work well in the machine, otherwise I recommend just scoring again manually after cutting - use your scoring tool or something like a knitting needle (info here on how to do this). I also recommend cleaning your blade after cutting glitter cardstock - it gets everywhere!
For the lightweight (160 gsm) cardstock, I used

'lightweight cardstock'

setting in Cricut Design Space
Cute reindeer Christmas card template - using Sizzix glitter card
Cricut Christmas card template with polar bear design