Cricut Christmas Card Templates
Partridge in a pear tree Christmas card template for Cricut and other cutting machines (you can also make with your home printer and a craft knife or scissors)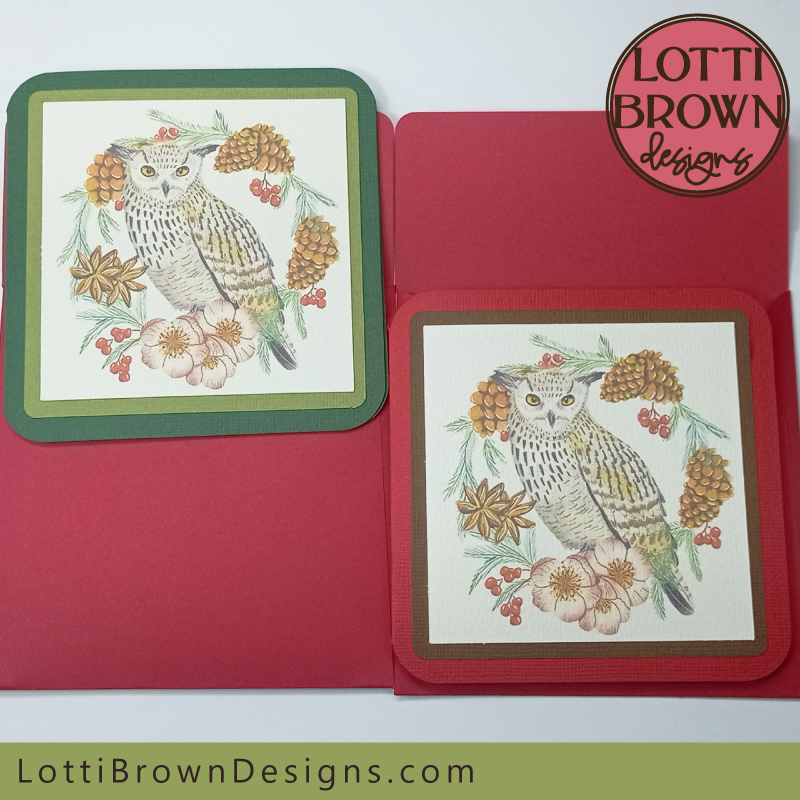 Beautiful owl Christmas card template - 'print then cut'
These 'print & cut' Cricut Christmas card templates feature my hand-drawn art of woodland animals and festive birds. I love drawing so I really wanted to make these Christmas card templates for you to easily make and send lovely cards with a nostalgic feel...
If you haven't used the print then cut feature on your cutting machine before, don't worry, it's very easy - and if you don't have this feature on your machine, you can just print the topper with the design using your home printer (you will need a home printer, even if you're using your cutting machine).
I provide full instructions for both the 'print & cut' part of making the card and then the 'cut & score' process, starting on this page here... - the instructions are specifically for Cricut users, but should also be helpful for other cutting machine users.
If you've made any of my other card templates, you'll find this process is very similar, but just with the addition of the topper squares (one plain and one with an artwork design).
You can also use my detailed instructions for folding and assembling the card that are here... 
Cricut Christmas card templates - SVG, DXF, EPS, PNG
For the Christmas card templates I've made on this page, I've used my Cricut Maker and:
Sizzix 'Surfacez' textured cardstock for the outer card and topper square (I used the Medium cardstock setting in Cricut Design Space to cut the cardstock)
Eastlight Premium white cardstock (160 gsm) for the inner card - cut using 'Light cardstock' setting
Generic coloured crafting cardstock (red, 160 gsm) for the envelope - cut using 'Light cardstock' setting
Belle Vous watercolour card, 200gsm (suitable for printers) for the topper with the artwork - cut using the 'Medium cardstock' setting
Robin Christmas card template with holly design
I also used my new printer - a Canon TS9550 printer. Please remember that the quality of your print will depend on your own home printer and your paper or cardstock choices - and unless you have a professional printer will likely not be professional print quality. The square with the artwork has been sized to print at high quality at a size of 9.7 x 9.7cm (around 3.82 x 3.82 inches) - if you resize any larger than this, the quality of the print may suffer.
I've used print and cut with my old home printer (a cheap one about 8 years old) and my brand new home printer - for both, the quality was pretty good and of a quality I'm happy to send out to people and show here - I find it doesn't photograph quite as well as it looks in real life, though.
I've since done a test of printing onto a range of different cardstocks and photo papers (using print and cut) - you can see the results of that here which might help you decide which cardstock or paper type to use for your own creations.
Woodland deer Christmas card template for Cricut and other cutting machines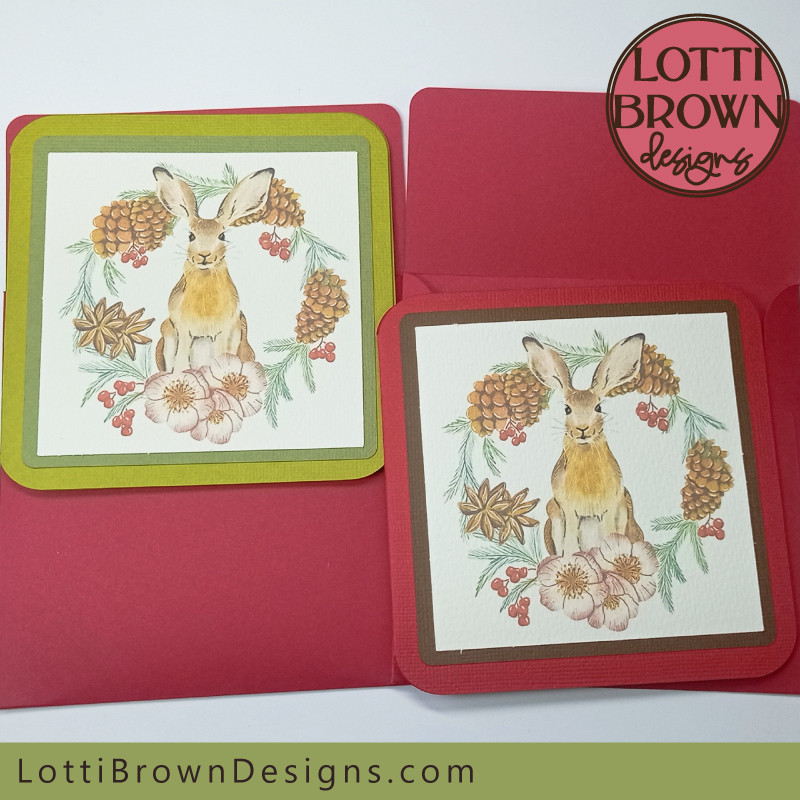 Hare Cricut Christmas card template