On Christmas Day itself, or at Christmas-time, a Christmas birthday can be very special... or sometimes it can feel quite hard for the birthday boy or girl!
My husband has a Christmas birthday - and although he's gotten used to it more over the years, it's still difficult that your birthday can be a little bit overshadowed by the big day (Christmas) itself! Who wants their special day, their one day in the year for everything to be about them, to be played down in the excitement of everyone else's celebration?
That's why I always like to make special birthday plans for my husband, including special Christmas birthday cards and gifts - because a Christmas birthday is very special and it should be a special double celebration for the lucky birthday boy or girl!
A Christmas birthday deserves a little extra celebration - just to make up for having to share its big moment with Christmas time!
That's why I think my special Christmas birthday card SVG templates are a lovely way to mark the occasion, sending birthday wishes and also recognising that a Christmas birthday is actually an extra-special birthday because it's at this extra-special time of the year!
Crafting with your Christmas Birthday Card SVG Template
'Have a Happy Christmas Birthday' card template - with snowflake design
My Christmas birthday card SVG design is a 'cut and score' project for Cricut and similar cutting machines - this means that in addition to cutting the design, you will also need to score lines to make the card and envelope.
I have full instructions for how to set up the file in Cricut Design Space for Cricut users - you can find those here - the page also discusses scoring tools, and manual scoring. If you're not a Cricut user and you're using the score function on another type of cutting machine, you may also like to look at the instructions, as you may find it useful to adapt them to your own machine.
Once the design is cut and scored, I have a craft tutorial here which will help you fold and assemble your card and envelope.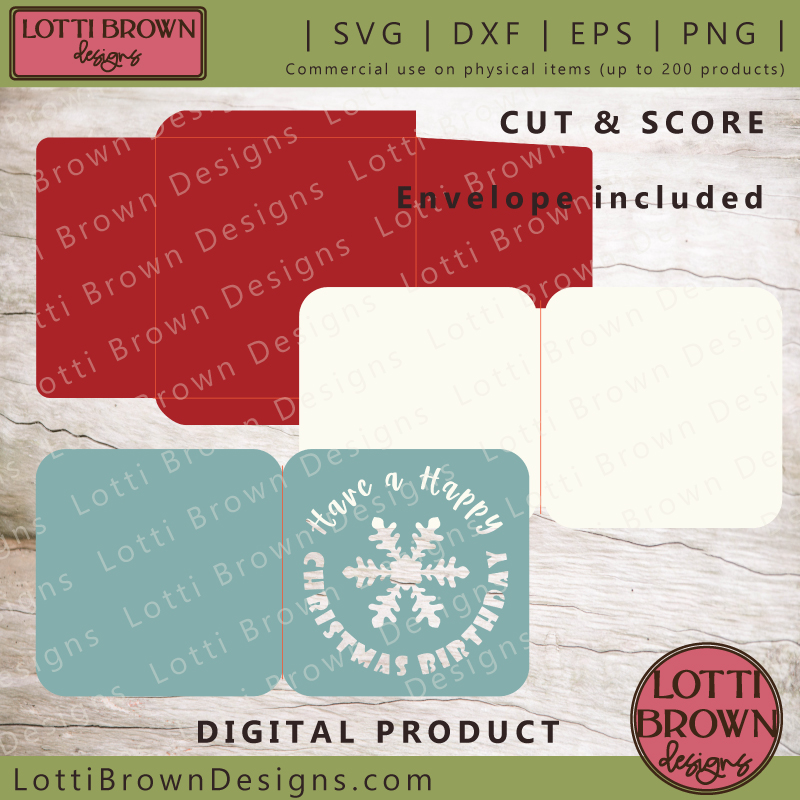 Your digital Christmas birthday card template comes with a plain inner card, an outer card with the design, and a plain envelope, all to make on your cutting machine using the cut and score functions
When used as-is in Cricut Design Space, your Christmas birthday card template makes a finished card that is around 12 x 12 cm (around 4.75 x 4.75 inches) with an envelope that's a little larger.
Your card template cuts onto three A4 or Letter-sized sheets of cardstock.
Your card template uses the standard Cricut mat, not the specialist card mat.
I chose a snowflake design for the Christmas birthday card, so that it's not 'too much' or exclusively Christmas - but it certainly gives a nod to the season as we can't ignore that and it is, after all, part of what makes a Christmas birthday so special!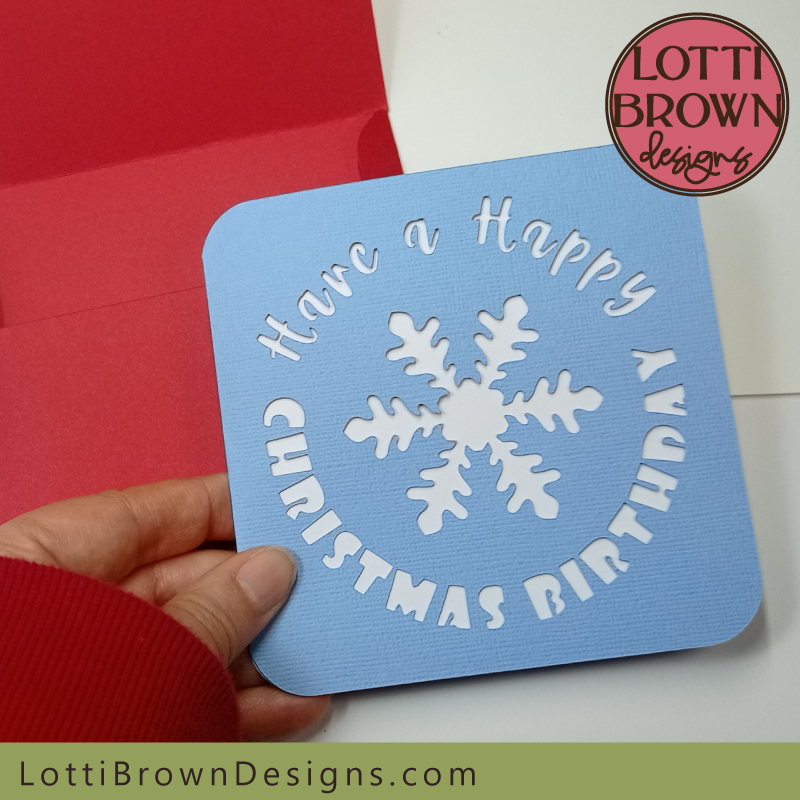 Pale blue, red, and white Christmas birthday card SVG template with snowflake design
Just like for the design, for the colours for the Christmas birthday card SVG template, I picked colours that are seasonal but not too Christmassy - steering away from the traditional red and green for the Christmas season!
I think that the pale blue and white card with the red envelope (see image above) certainly fit with the festive season but don't absolutely smother the birthday bit with Christmas! I showed my husband, who does have a Christmas birthday, and he approved!
You could send this to anyone - male or female, young or old or inbetween, and the colours would still be suitable!
I also wanted to make the card in an alternative colour idea for you - again, I wanted it to feel festive, but avoiding the too-Christmassy red and green or red and white...
This is what I came up with - see below...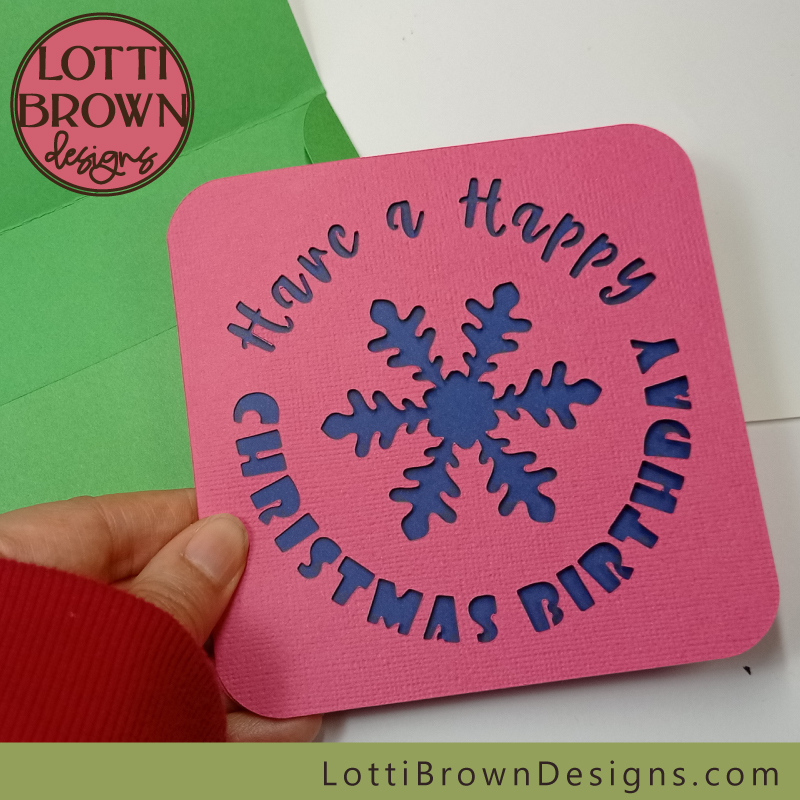 'Have a Happy Christmas Birthday' card template - pink and dark blue with a green envelope
The pink and green is a twist on the traditional red and green - with a lovely hot pink that's very on trend for Christmas teamed with a luxurious dark blue. The bright green is a contemporary pop. I think the whole looks bright, cheerful, and quite contemporary and opulent.
For each of the colour ideas, the outer card (the bit with the design cut out) is cut from Sizzix 'Surfacez' textured cardstock, using the 'medium cardstock' setting with my Cricut Maker.
The inner card and envelope for each are cut from lightweight 160gsm craft card, white or coloured. The dark blue is Clairefontaine's 'Midnight Blue'. These are all cut using the 'lightweight cardstock' setting with my Cricut Maker.
Pretty in pale blue with a snowflake design - a close up look at the Christmas birthday card
If you've need a nice card for a Christmas birthday, then you can get my Christmas birthday card SVG template with instant download at my Etsy store - link right below...
Get your Christmas birthday card SVG template from my Etsy store here!
Digital card template for Cricut and similar cutting machines
SVG, DXF, EPS & PNG file formats
For personal crafting or small-business commercial use (up to 200 products)
For physical (craft) products only - no digital products, use, or sharing
Uses the standard Cricut mat (not the specialist card mat)
Envelope included in the template
The instructions for setting the line to score correctly in Cricut Design Space are here (you may also find this helpful, even if you're using another cutting machine or intend to score the lines manually).
The craft tutorial to help you fold and assemble the card is here!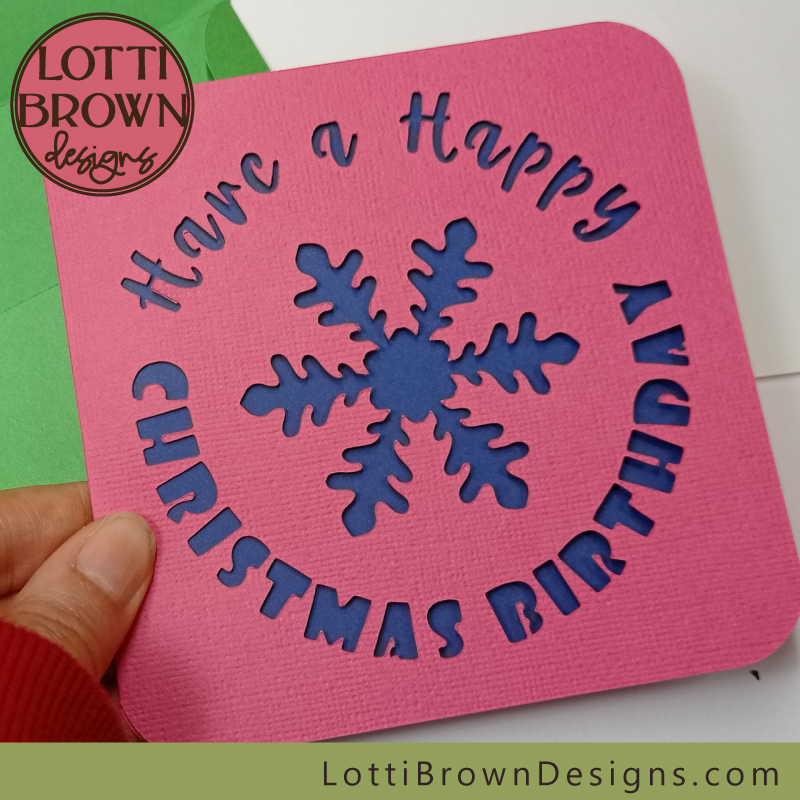 A colourful Christmas birthday card to make with your Cricut or similar cutting machine!
You might also like:
Christmas card templates to make
If you want to make Christmas cards with your cutting machine, I have lots of templates on this page, which you can buy individually or save money with a bundle of 10 different designs.
I also have lots of different card templates for other times of the year and other occasions - you can see all of those, here...
And if you want more Christmassy designs and projects, they're all here!