Using the Romantic Christmas Card SVG Template
Romantic mistletoe card design for 'the one I love'
I like sending a special Christmas card to my husband, because I think it's important to cherish those we love the most at Christmas...
So this romantic Christmas card SVG template is for you if you want to use your cutting machine to handmake a special card for the one you love - whether that's your husband, wife, boyfriend, girlfriend or fiance/fiancee.
I used a mistletoe design for the card because of the Christmas tradition of stealing a special kiss under the mistletoe with your sweetheart!
The card is easy to make with a cutting machine like a Cricut...
'Cut and score' Christmas card template - SVG, DXF, EPS, PNG - envelope included
The Christmas card template is:
made using 3 sheets of A4 or Letter-sized cardstock
made using the standard Cricut mat (not the specialist card mat)
intended to create a finished card 12 x 12 cm (4.75 x 4.75 inches) when the SVG is used as-is in Cricut Design Space - the envelope is included in the template and ends up a little larger than the card
made using the 'cut and score' functions on your cutting machine - if you're a Cricut user, I have some information about how to set up your template correctly in Cricut Design Space so that the correct lines score (rather than cut) - you can see that here - you may also find it useful to follow if you use another cutting machine programme or if you want to score the lines manually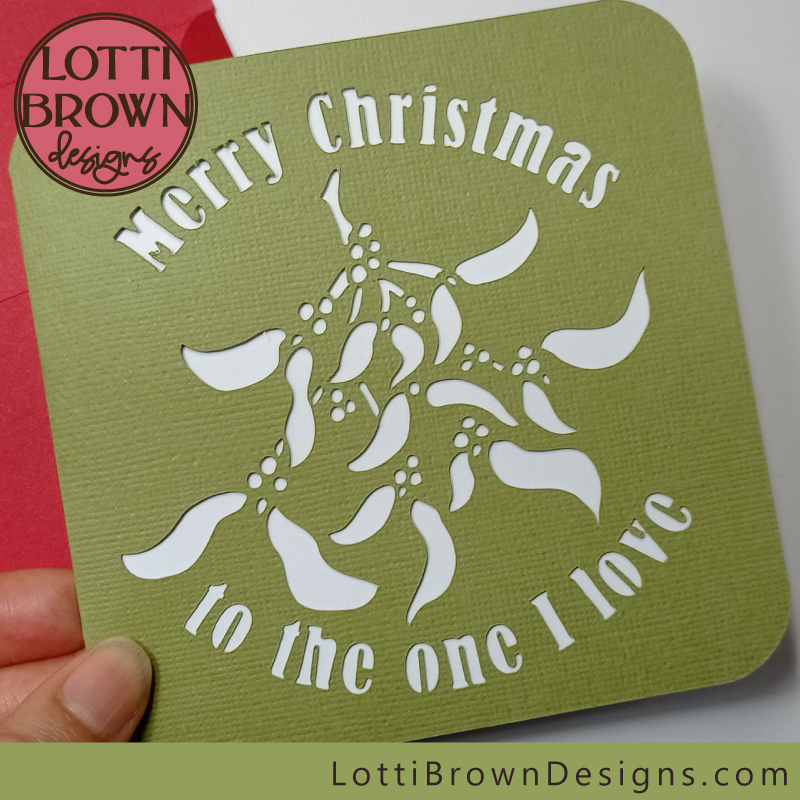 Mistletoe Merry Christmas to the one I love! Card template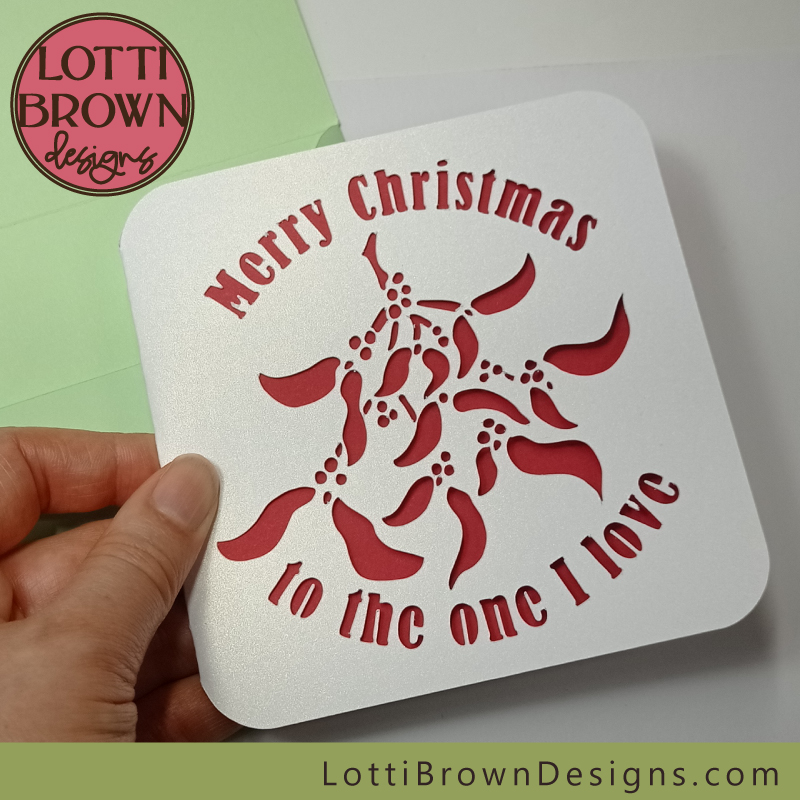 Romantic Christmas card template for husband or wife, boyfriend or girlfriend - pearl cardstock with red inner and pale green envelope
I made my mistletoe romantic Christmas card template in white for the outer card with a festive red inner card and pretty pale green envelope - I used Sizzix 'Surfacez' white pearl cardstock (from the Opulent Festive cardstock pack) for the outer card, with generic, lightweight, coloured crafting cardstock (l60gsm) for both the inner card and envelope (see image above)...
I like the shimmery white that gives it a real look of luxury! And also the bright red design which denotes the colour of love and passion, as this is a card for the one we love - and it's, of course, a classic Christmas colour too!
I chose the pale green envelope to be a little softer and more romantic than the traditional Christmas dark or bright green - it's still got a Christmassy feel though, but I do think it helps the card have that essential romantic touch.
I cut the white card with the 'glitter cardstock' setting in Cricut Design Space - and I cut the red and pale green cardstock with the 'lightweight cardstock' setting.
I also tried out another colour combination for you to help inspire you with your own colour choices for the card - the alternative colour idea is a mistletoe-green, with white inner card and red envelope (see image below)...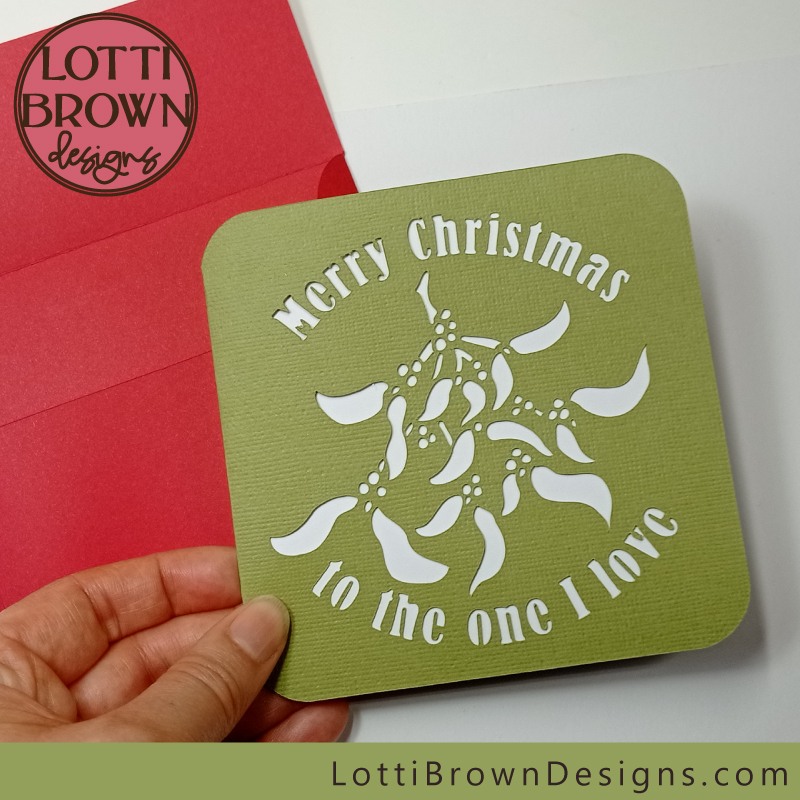 Romantic Christmas card SVG design in mistletoe-green with bright red envelope
I chose this green as it's the perfect mistletoe-green colour - and it recalls the plant, even though the plant design is white on the card - the white inner card shows up well against the green and reminds me of snow! The red envelope keeps it Christmassy and passionate too!
The green card is from the Sizzix 'Sufacez' Festive cardstock pack - and the white and red card are, again, generic lightweight crafting cardstocks (160gsm).
I cut the green cardstock with the 'intricate cardstock' setting in Cricut Design Space - and used the 'lightweight cardstock' setting for the white and red cardstocks.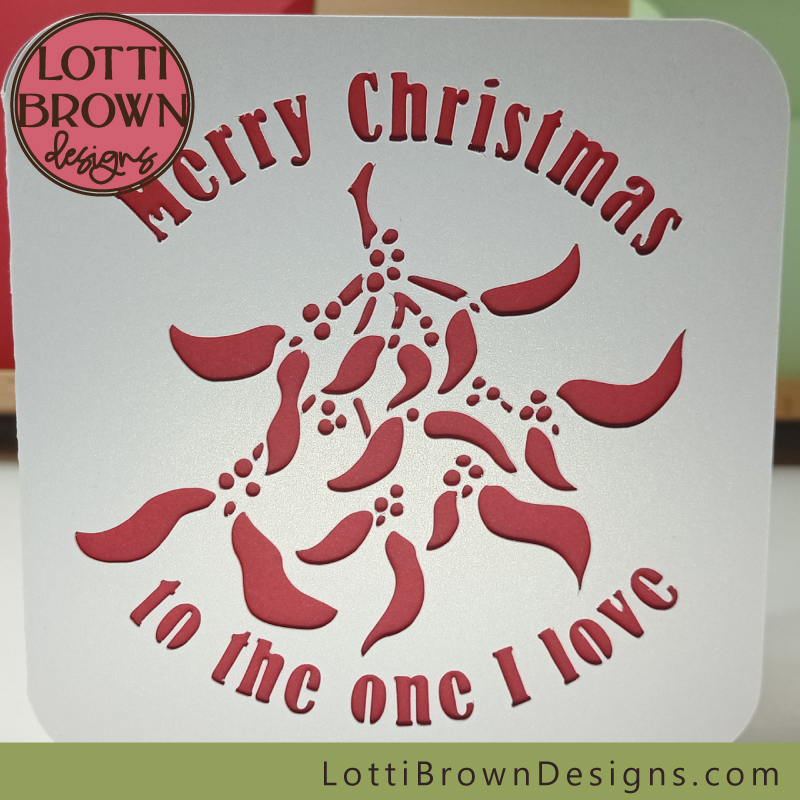 Kisses under the mistletoe! Sending Christmas wishes to the one you love!
If you'd like to send my romantic Christmas card SVG template to the one you love this Christmas, you can get the template from my Etsy store at the link right below with instant download worldwide...
The tutorial for setting the lines to score in Cricut Designs Space is here - you might also find it useful, even if you're not using a Cricut cutting machine.
The instructions for how to fold and assemble the card and envelope are here...
You might also like: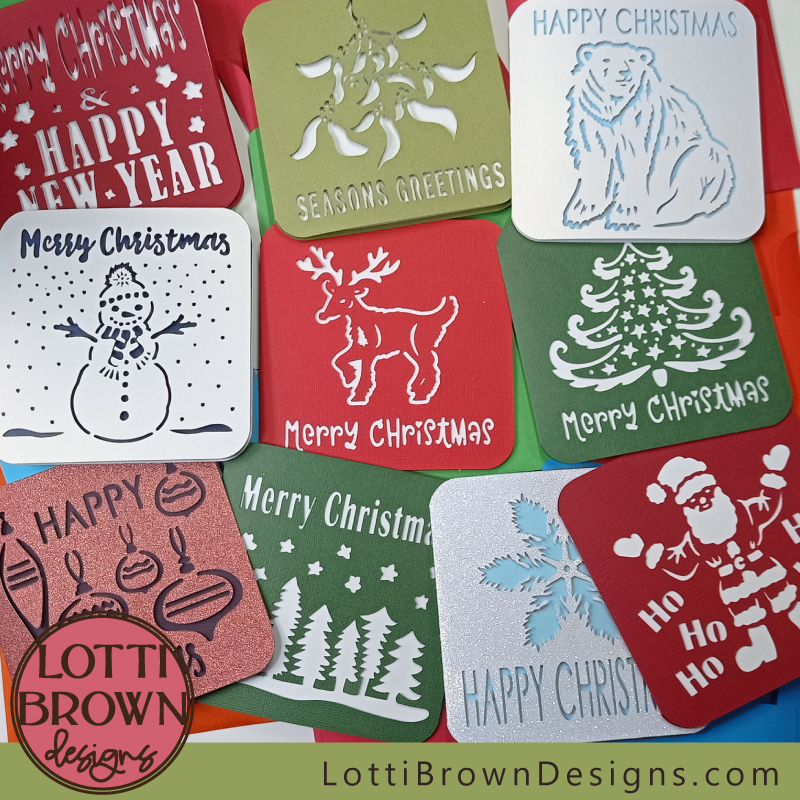 Christmas card SVG templates for Christmas cardmaking with your cutting machine
I've got lots more Christmas card templates for you to make and send too - you can find them all here!
And if you need card templates for non-Christmassy occasions, I have loads on this page, here!
If you're looking for more Christmas SVG files, designs, and crafty projects - take a look at this page!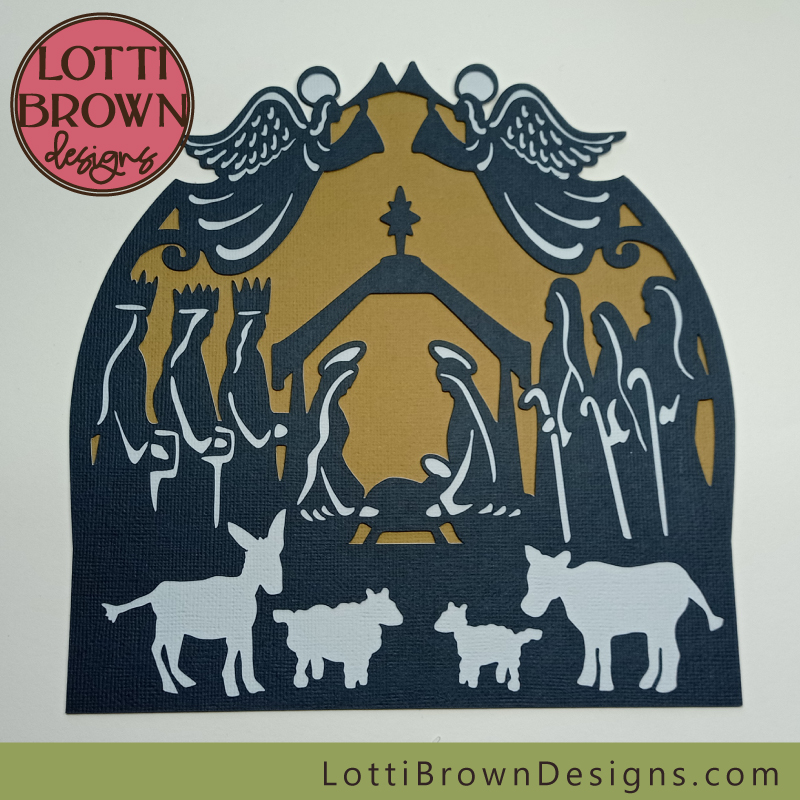 More Christmas craft projects and SVG designs here!