Cut File Template for Sympathy Card
If there's any occasion that requires a heartfelt, meaningful gesture it's a bereavement - and sending your love and sympathy in a hand-made card is a lovely way to show you care at this difficult time...
If you're in the sad position of needing to send a sympathy card, I have a beautiful, easy-to-make template for you to use with your cutting machine.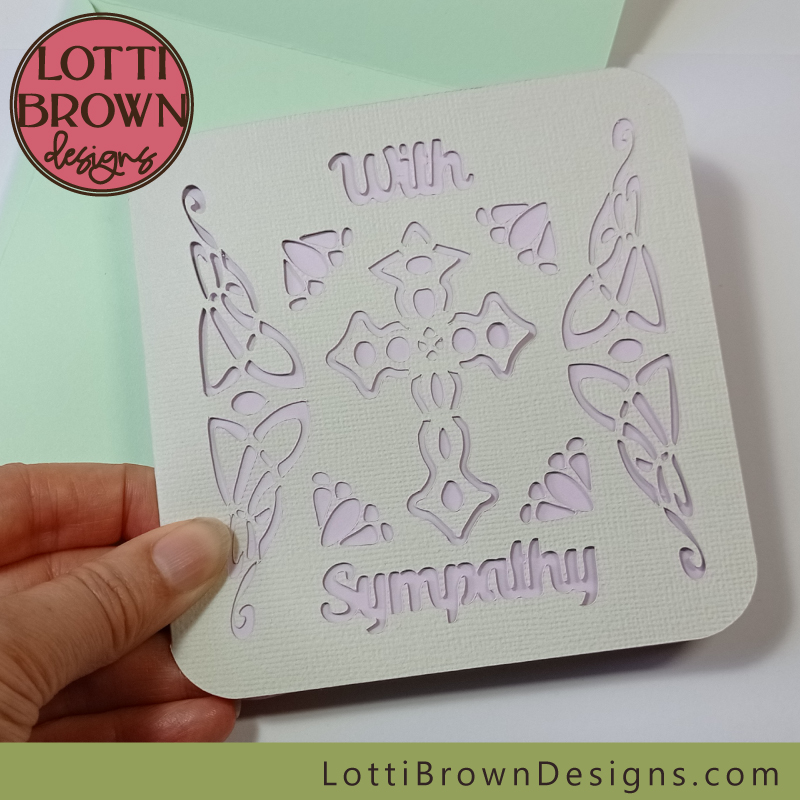 Pretty papercut sympathy card - SVG, PNG, DXF, EPS template
The finished card measures approximately 12 x 12 cm (approx. 4.7 x 4.7 inches) with an envelope that's a little larger also included in the template.
The card and envelope cuts from 3 sheets of A4 or Letter-sized cardstock - and cuts on a standard Cricut mat (not the special card one).
The sympathy card template includes:
outer card with intricate cut-out design
plain inner card
plain envelope
It features some of my own hand-drawn artwork and designs with a Christian cross and ornate Celtic knotwork.
Sympathy card template - 'cut and score' project
The sympathy card SVG is a 'cut and score' project - this means that you'll need to add the score lines (either with your cutting machine, or manually) as well as cut the design. I have some easy step-by-step help for you to score your card, either with your machine, or manually, as well as instructions for how to set the lines to score correctly in Cricut Design Space - you can find that here...
Once you've cut and scored the project, I have a follow-on tutorial to help you fold and assemble the card - you can find that on this page...
Christian sympathy card template
I always test cut my designs with my own Cricut Maker cutting machine, to make sure that everything works well and as expected. I've made the template for the sympathy card in two different colours to inspire you...
The one in the template is the soft white and lilac sympathy card, which I think is a beautiful, classic look - very gentle in feel (see above). I paired that with a soft green envelope.
I also made the card in a pretty periwinkle blue cardstock, with white inner card - this is just as pretty and soft but with a more contemporary look (see below). I teamed up the soft blue with a lilac envelope.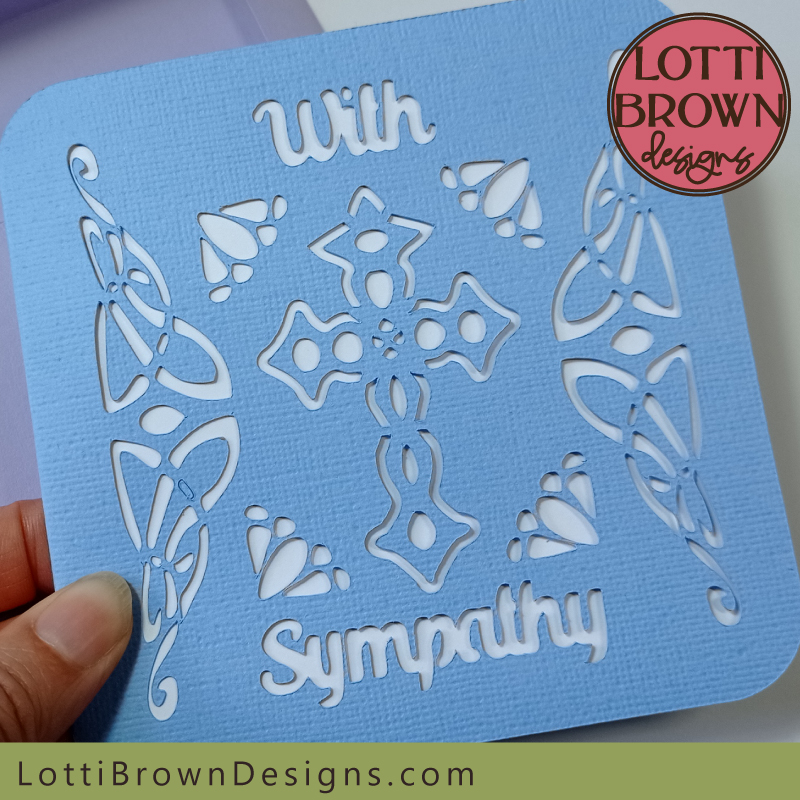 Sympathy card cut file template - soft blue
Pretty blue card with lilac envelope - Christian cross design with Celtic knotwork decoration
I've used Sizzix 'Surfacez' textured cardstock for both outer cards - soft blue from the main coloured cardstock pack and palest grey from the neutrals pack.
I used a lightweight 160 gsm generic coloured and/or white cardstock for the inner card and envelope for each card - this needs to be smooth enough to write on.
I used 'intricate cardstock' setting in Cricut Design Space for the outer card each time, and 'lightweight card' setting for the inner card and envelope, for my Cricut Maker machine.
If you're choosing your own colours for the sympathy card template, soft colours tend to work well for this type of card - you can't go wrong with white, cream, or soft grey for the main card, and another soft colour or neutral colour for the inner card and envelope.
Lilac, green, cool lemon, or soft blue are all good colours for the occasion - but just keep the colouring soft and gentle or very sombre - nothing at all bright or cheerful is appropriate!
Pretty template for a papercut sympathy card
If you need to make your own sympathy card, you can download my template from my Etsy store - available worldwide with instant download - the link is right below...
The instructions for setting the lines to score are here - and the tutorial for folding and assembling the card is here...
You might also like:
Christian card templates for any occasion
You might prefer my Christian cross card templates that have no wording so can be used for all different occasions - Christenings and Baptisms, Confirmations, Easter, Sympathy, or to send prayers and well wishes to friends and family - you can see them here...
I also have lots of other greeting card templates that use this same basic card and envelope design (with different cut designs on the outer card) - you can find them all here...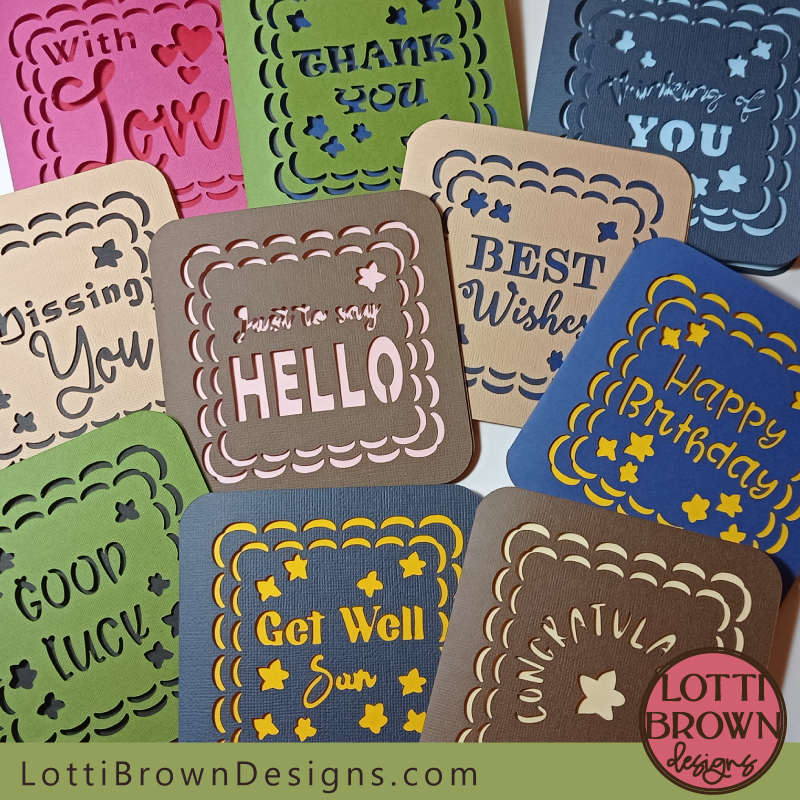 Greeting card templates for Cricut and other cutting machines