Christian Greeting Cards Templates
I have two different Christian greeting cards templates for you - they're both suitable for multiple religious occasions, so you can use them for different occasions such as Easter, Christenings and Baptisms, Confirmations, or sad occasions such as for funerals or as a sympathy card.
They both feature a Christian cross design - but one has pretty flowers and the other has a Celtic design. 
I do have separate religious card template designs for Easter, Christenings, Confirmations and Sympathy cards, using the same kind of cross design, but I thought you might like these, too, that you can get and keep for any or all of these occasions.
Religious card templates with Christian cross design
The cards are easy to make with your cutting machine (but you can cut by hand if you prefer) - they follow the same basic process of making as most of the other cards I have...
The cards are made using three A4 or Letter-sized sheets of cardstock and create a card that's approximately 12 x 12 cm (around 4.75 x 4.75 inches) with the envelope being a little larger.
The cards cut flat (using the standard Cricut mat, not the specialist card mat) and use the 'cut and score' function on your cutting machine. This allows us to make the fold lines for the card and envelope.
If you've not used the 'cut and score' function on your cutting machine before, I take a little look at this, discuss choosing the scoring tool, options to score manually instead and also give you step-by-step instructions for how to set up the score lines to score correctly, in Cricut Design Space - if you're using another type of cutting machine, you will likely still find this useful to help you get things set up right in your own machine. That's all on this page here...
Once the card is all cut and scored, the craft tutorial to help you fold and assemble the card and envelope is here...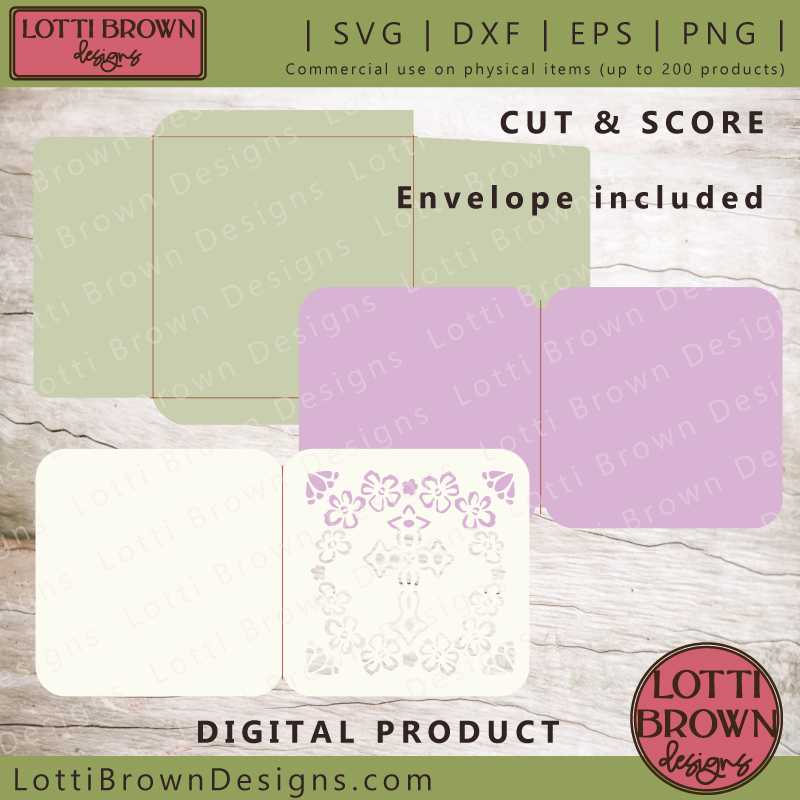 Christian card SVG, DXF, EPS, PNG
I'll share some photos of both of the Christian card template designs in the sections below, to help you decide...
All of the cards you'll see have been:
Made with my Cricut Maker cutting machine
Made using Sizzix 'Surfacez' textured cardstock for the outer card (the main bit with the cut design) - I used 'Cardstock for intricate cuts' setting in Cricut Design Space to cut the outer card
Made using generic white or coloured lightweight crafting cardstock (160 gsm) for the inner card and envelope - I used 'Light cardstock' setting in Cricut Design Space for these