Make with Cricut - Halloween Card SVG Template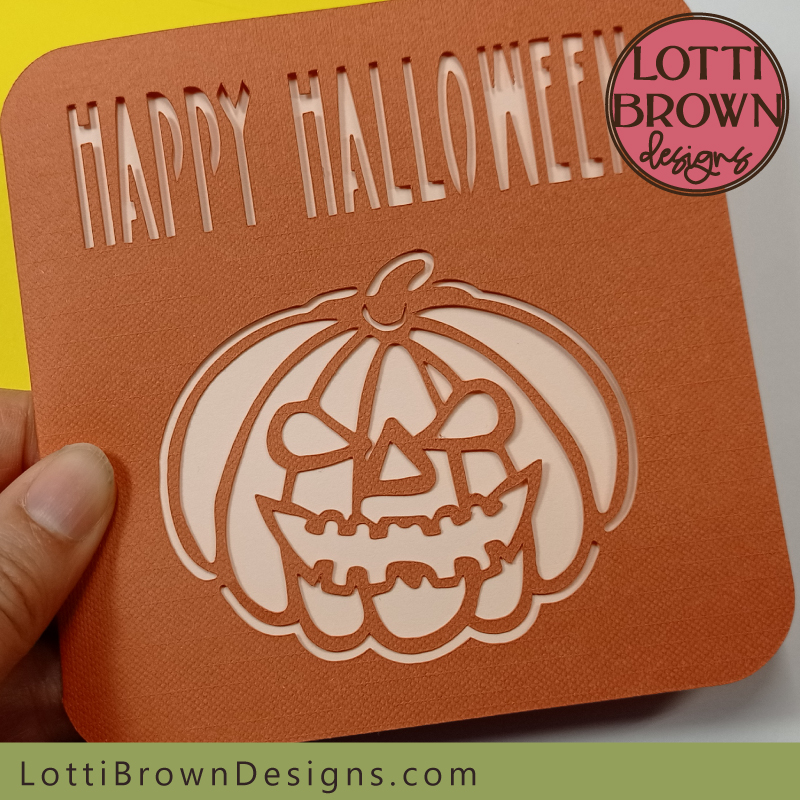 Pumpkin face Halloween card template
Send a fun Halloween card to celebrate Halloween - this card is easy to make with your Cricut or similar cutting machine...
Used as is in Cricut Design Space, the template makes a finished card that's 12 x 12 cm (approx 4.7 x 4.7 inches) with an envelope that's a little larger.
The project is made on the standard Cricut mat (not the special card one) and cuts from 3 sheets of A4 or Letter-sized cardstock.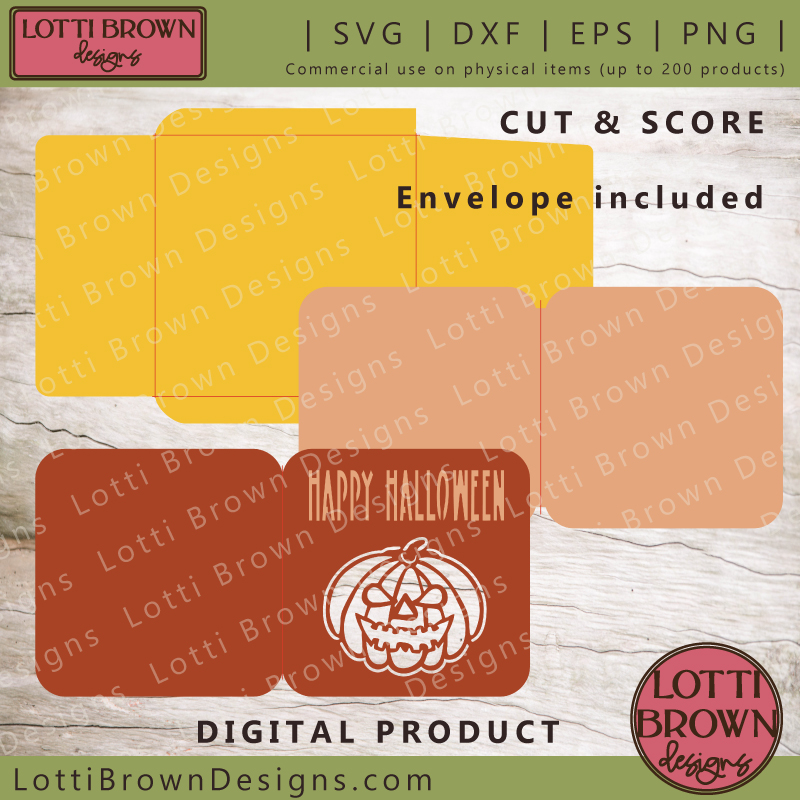 Halloween card cut and score project for Cricut and other cutting machines - envelope included in template
The Halloween card template is a cut and score project that you can make on your Cricut (or similar cutting machine) - you will need to score the fold lines on the inner and outer cards and on the envelope.
I have a page discussing scoring tools, manual scoring (without a cutting machine tool) plus all the steps to set up the lines to score correctly in Cricut Design Space - you can read that page here - you may also find it useful if you're using another type of cutting machine to make the card.
I also have a further page with a craft tutorial showing how to make one of my cards to help you with folding and assembling the card once it's cut - you can find that here...
Happy Halloween card in orange
I always make my SVG designs and card templates on my own Cricut Maker cutting machine, to make sure everything works well and you're getting a quality product.
The colours included in the template are this dark pumpkin orange, with peach interior and a yellow envelope (like in the image above).
I also created the card in a spooky purple, with grey interior and lilac card (see below)...
I think these are lovely colours for Halloween (I didn't want to make it too scary as it's supposed to be 'Happy' Halloween!) - you could play about a bit and see what other spooky combinations you can come up with!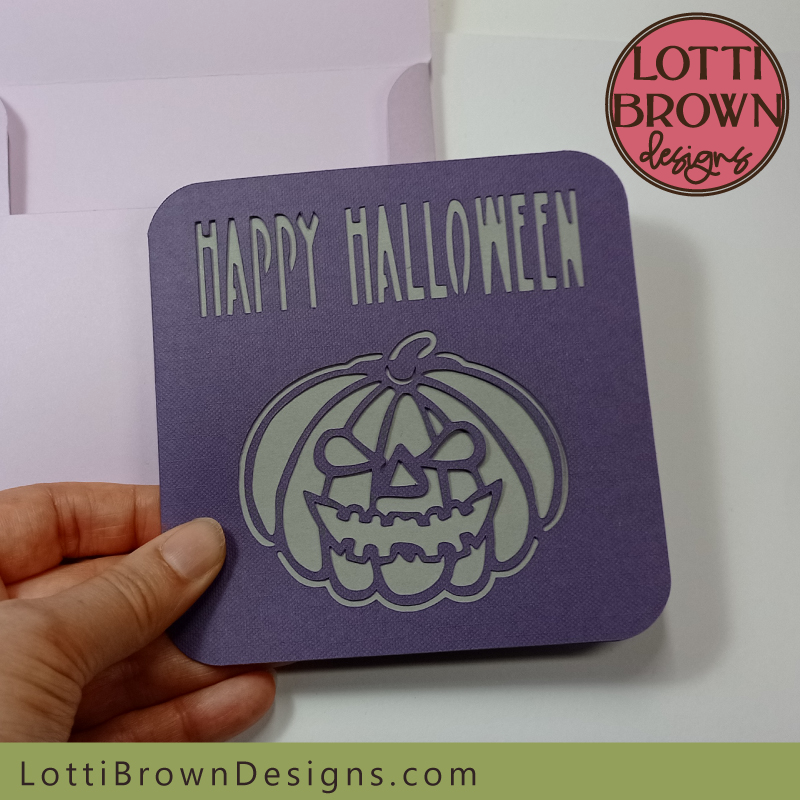 Spooky purple Halloween card with grey and lilac
Both cards are made with Cricut cardstock (from the Jewel tone pack) for the outer card with the intricate cut design - the inner card and envelope are both made with a generic lightweight cardstock (160gsm) that's smooth and suitable for writing on.
I used the 'intricate cardstock' setting in Cricut Design Space for the outer card, and 'lightweight cardstock' setting for the inner card and envelope each time.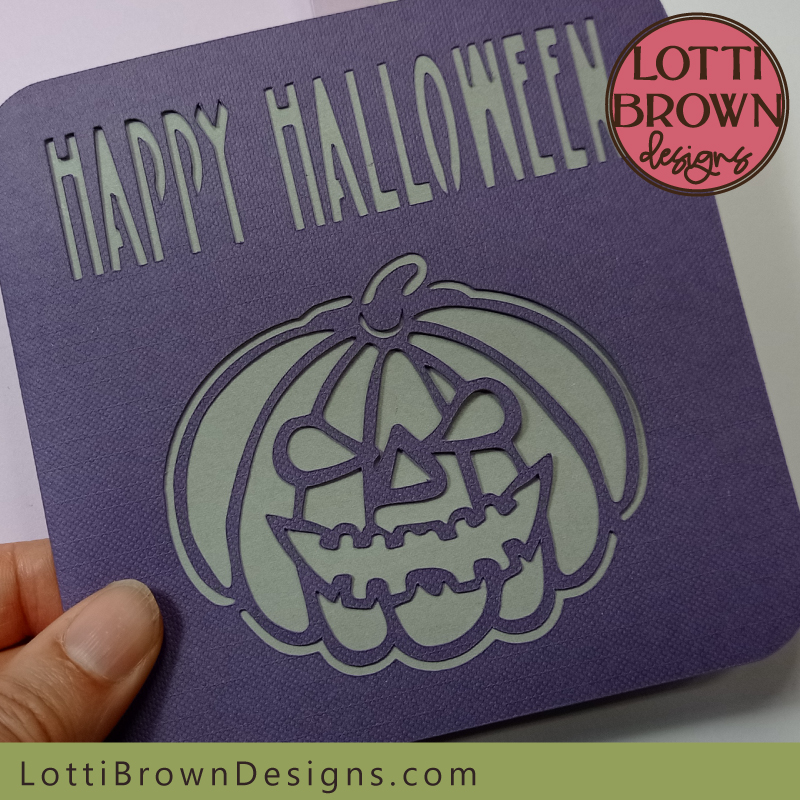 Happy Halloween card SVG template - close up look at purple card
Scary pumpkin face Halloween card - the light and shadows give the card an extra dimension!
If you want to make and send my Halloween card template for Cricut and other cutting machines, you can get the SVG template from my Etsy store - find the link right below...
Get your Halloween card template from my Etsy store here...
Digital download
SVG, DXF, EPS & PNG file formats
Outer card, inner card and envelope all included in the template
Make with the standard Cricut mat
For personal crafting use and small-business commercial use (up to 200 products/units)
Physical (craft) products only - no digital products, use, or sharing
The tutorial for setting up the line to score in Cricut is here - and the craft tutorial to help you fold and assemble the card is here...
You might also like: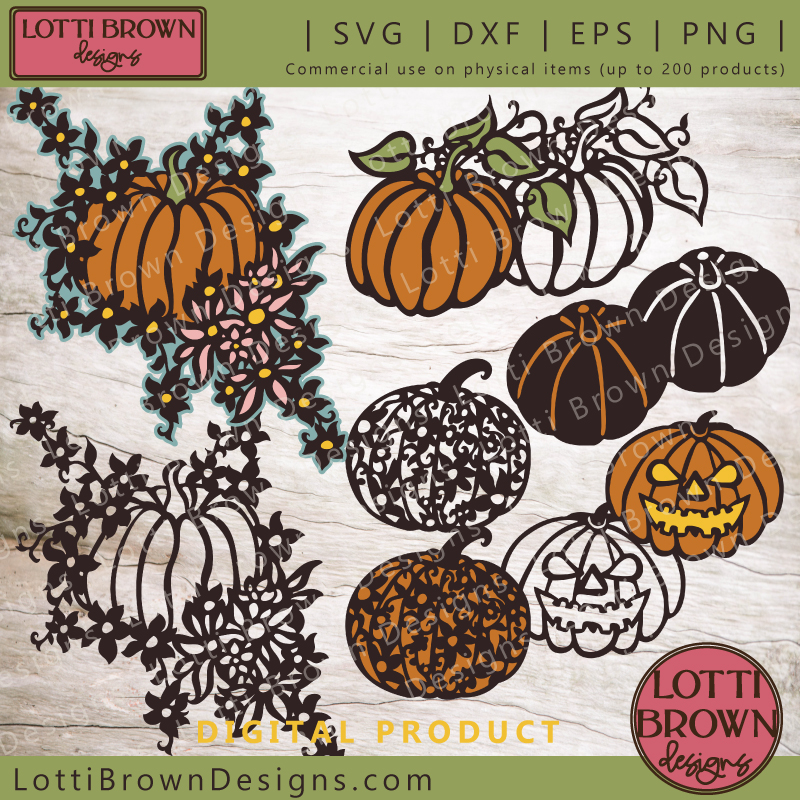 Lots more Halloween SVG designs
I've got lots more pumpkin and Halloween SVG designs and craft projects to inspire you this spooky season, right here...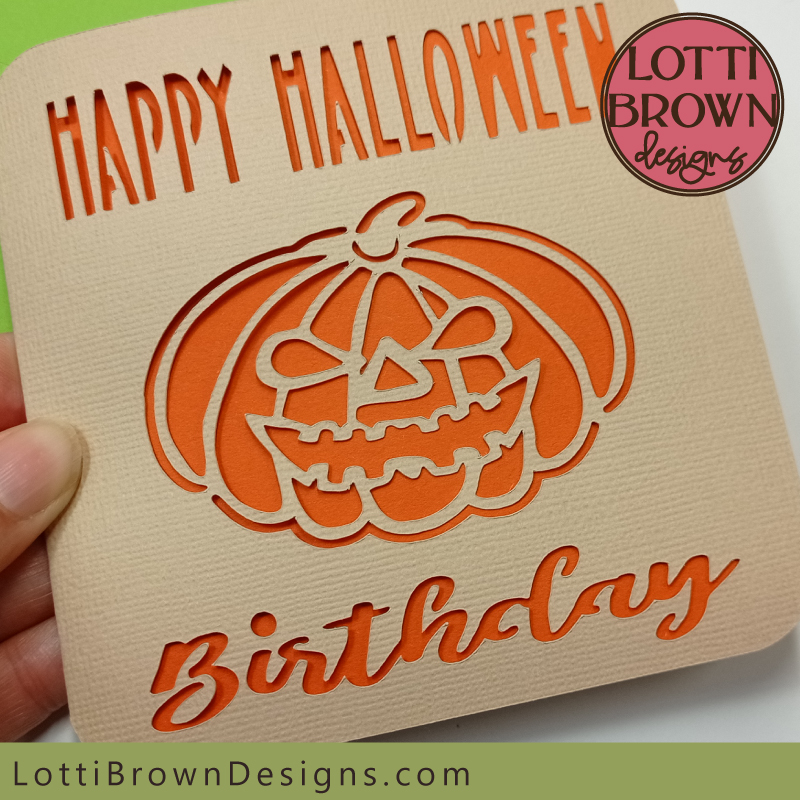 Halloween birthday card template
Do you know a lucky someone with a Halloween birthday? Then send them this special Halloween Birthday card!
Fun sugar skull craft project for Halloween and Day of the Dead