Sugar Skull SVG Crafting
The sugar skull SVG project is created using my hand-drawn cut file which you can get from my Etsy store here...
It's a layered file with five layers - that includes the intricate top layer, a full base-silhouette layer (use if you want to make a simple two-colour sugar skull) plus three more middle layers that give you all the different colours in the design.
Sugar skull cut file - showing all layers (left) and top layer only (right)
Showing all five layers to make the colorful sugar skull SVG (plus all layers together)
It's a really fun project, so I tried out an alternative colour too - one with a white (soft grey) skull/face (like in the template file) and one with a black skull/face - the other colours are all different too...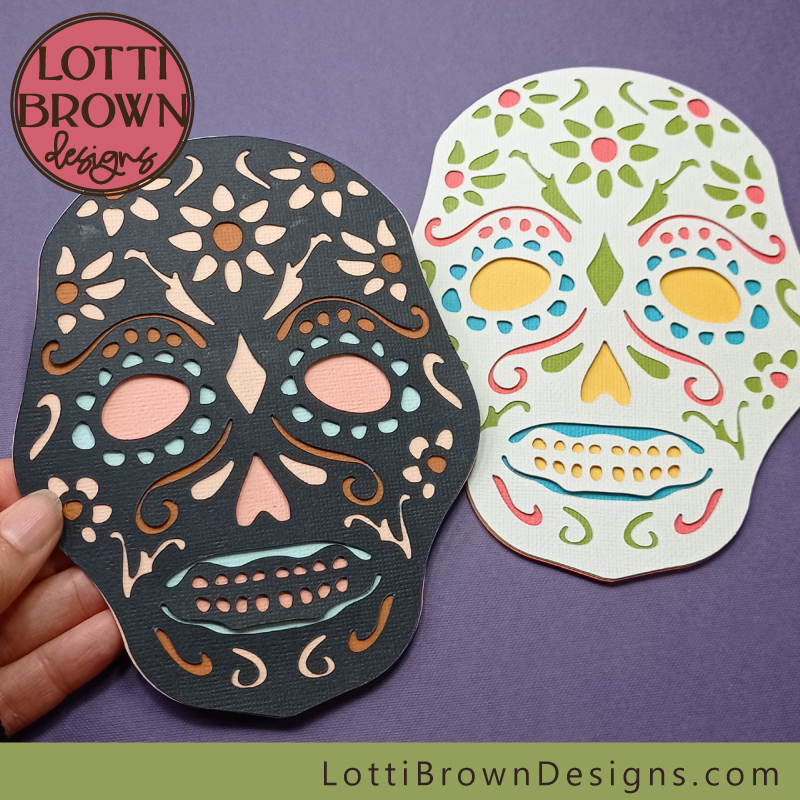 Trying out different colour ideas - black sugar skull and white sugar skull - and lots of other colours!
I wanted to create lots of contrast so that the colours really stand out well, as the Day of the Dead is a really colourful celebration - so I added bright colours with the white skull/face and I added some softer and paler colours with the black skull/face which I think gives the sugar skull SVG quite a pretty and feminine look!
The white version with bright colours is included in the template - if you like the black version too (I really do) the colours I used are listed just below...
Black sugar skull version
Top layer - black
Layer 2 - pale-peach
Layer 3 - dark orange
Layer 4 - soft blue
Layer 5 (bottom) - pinky-peach
The cardstock I used for both the black and white versions is Sizzix 'Surfacez' textured cardstock - if you like the purple cardstock they're photographed on, that's Cricut cardstock from the Jewel tone set.
I'll be making the sugar skull SVG project in cardstock, but you can use another crafting material that's compatible with your cutting machine, if you wish.
What you'll need for your sugar skull project
Cardstock - in five different colours (see template for the colours for the white version, or the list above for the black version)
Paper glue - I'm using a glue stick - you could use glue dots, or double-sided sticky tabs if you want to make a 3D version
A way of cutting the design - I'm using my Cricut Maker. I cut the design using the 'intricate cardstock' setting on Cricut Design Space
Once you have your layers all cut out and ready to go, please follow along with the instructions just below...