Cricut Anniversary Card Cut File
Before I got into my Cricut, an anniversary card was always one of the cards I found most difficult to find - something that's cute and romantic, but not rude - and not too soppy either...

Now I get to make my own - so I designed my anniversary card template exactly how I'd like it to look like to send an anniversary card to my own husband - sweet, but not soppy, and definitely full of love!
I made the card so that you can send it to your significant other - husband, wife, boyfriend, girlfriend - to celebrate your own anniversary, or you can send it to your mum and dad or your friends, another couple celebrating their anniversary.
Cute elephants and lots of love - anniversary card template for your Cricut
The anniversary card template uses the same making-process as most of my other greeting card templates - it's pretty easy to make, even if you're new to Cricut and cutting machines...
There's the outer card with the cut design, an inner card, and an envelope. You will need to be able to make a score line (or lines) in each of these. You can do this manually or you can use a cutting machine in 'score' mode to make the score line - I have some help for making the score line manually, and setting the line to score with a Cricut machine on this page...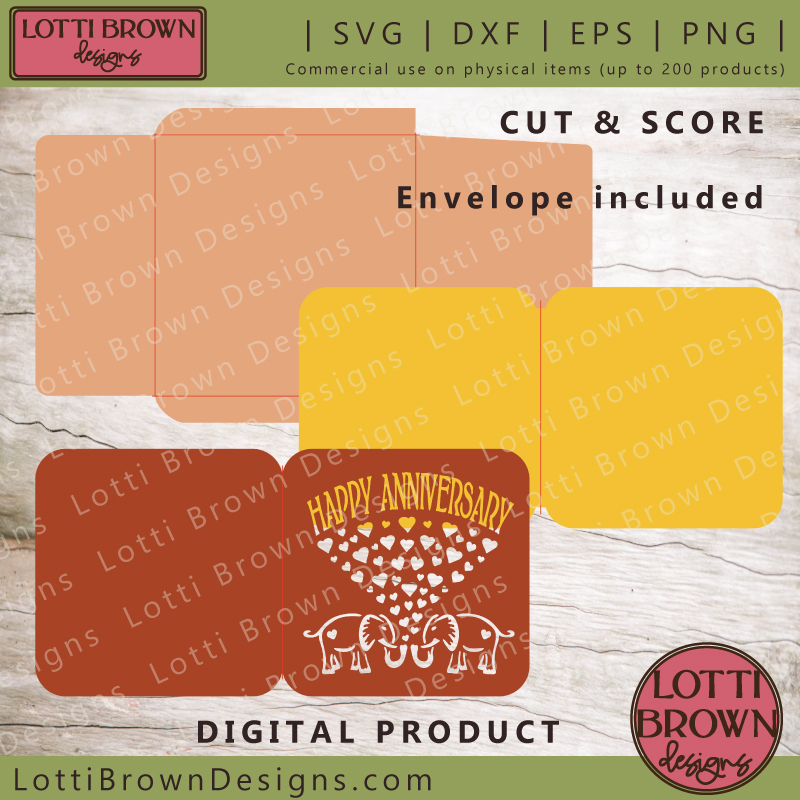 Outer card, inner card, envelope templates - using cut and score functions
Once the card and envelope are all cut out, I have a craft tutorial showing you how to fold and make the card, here...
The anniversary card template is the orange/rust and yellow card shown above, but you can make your card in any colour card you want, so I encourage you to get creative and experiment with colours, but also to make it to your recipients' colour preferences, too...
I've made the card in the template colours but also in a lovely teal and blue as well - both colour combinations look colourful and fun, I think - you could also make it in soft, romantic colours if you liked...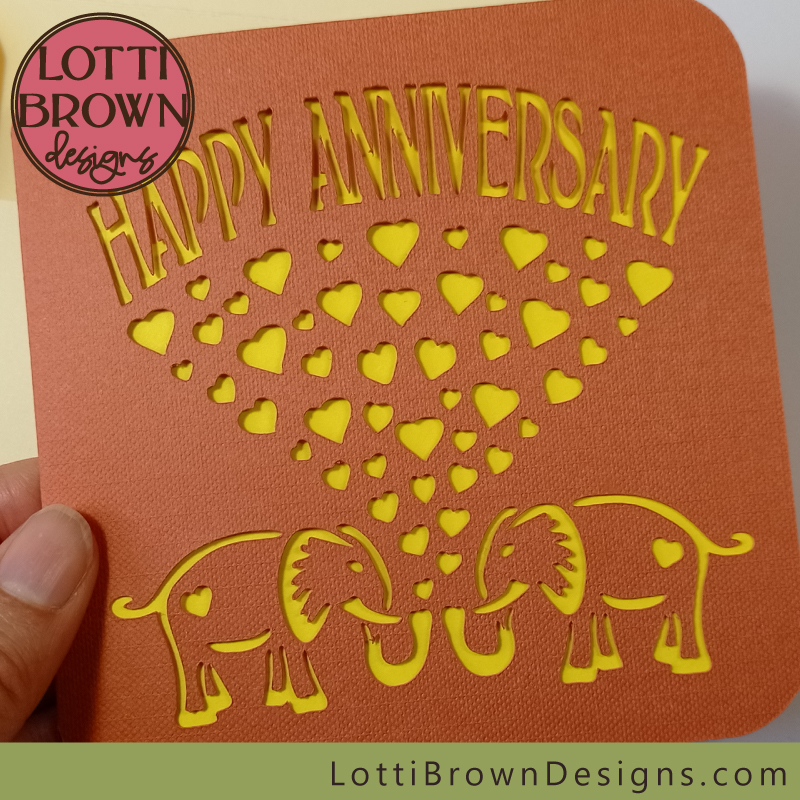 Papercut anniversary card - colourful orange/rust and yellow
For the orange and yellow anniversary card, I used Cricut cardstock for the outer card (from the Jewel pack). The inner card (yellow) and the envelope (peach/cream) are a lightweight (160gsm) coloured craft card from a generic multi-pack. 
For the teal and blue anniversary card, I used Sizzix textured cardstock for the outer card. The inner card (dark blue) is a lightweight (160gsm) Clairefontaine card. The envelope (green) is from my 160gsm coloured cardstock multipack.
If you choose to use darker colours like these, please make sure that you have a suitable pen to write on them and show up - I have a white gel pen and a metallic silver pen that would write on a surface like this dark blue cardstock.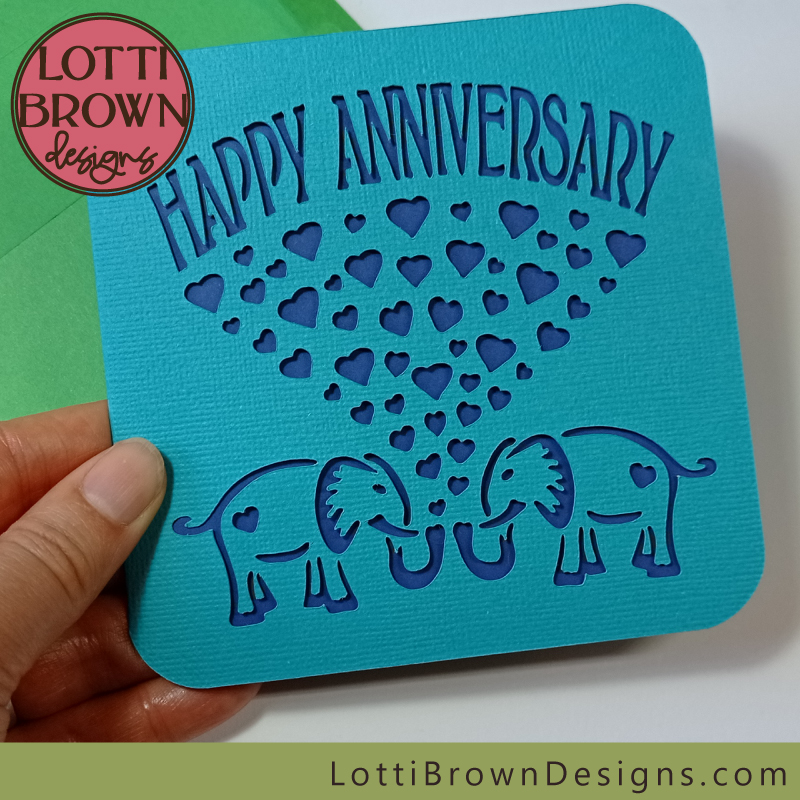 Teal and blue card with bright green envelope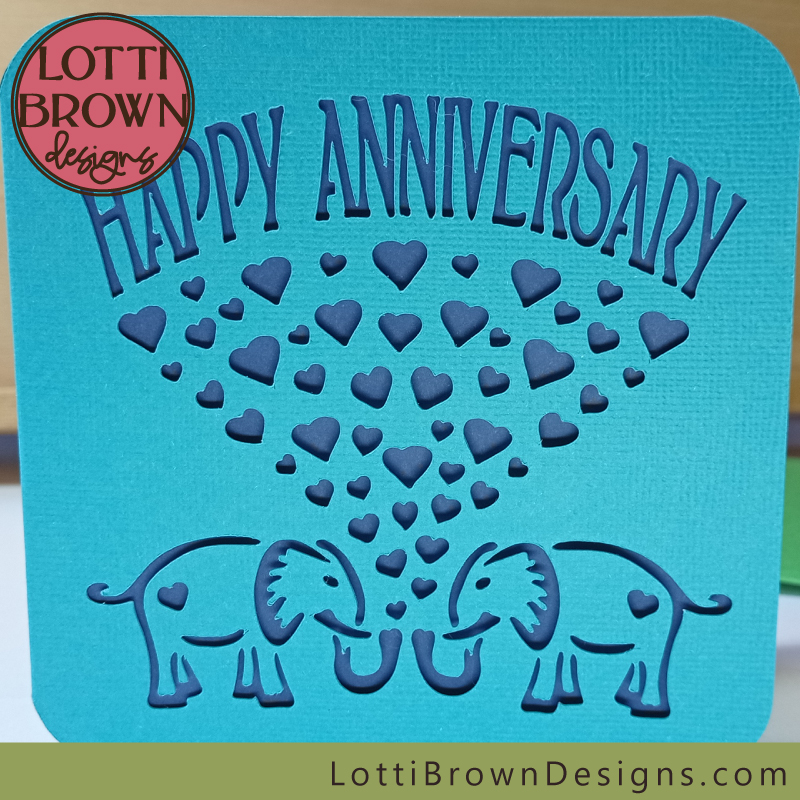 Elephant design cute anniversary card