Cats Anniversary Card Template
Love cats anniversary card design
I actually made this pretty cats anniversary card template for my mum and dad's 54th wedding anniversary - particularly because my mum likes cats (...my dad does too, but pretends not to!).
I wanted to make something cute and fun - so I hope they like it and you do too!
Cats anniversary card SVG, DXF, EPS, PNG - cut and score with your machine
Like all my card templates, the cats anniversary card template is easy to make!
You will need three sheets of cardstock (A4 or Letter-sized) and you'll make the card flat on the standard Cricut sticky mat.
We'll need to create score lines in the card (and envelope) to guide where to fold. These are included in the card template, you'll just need to tell the Cricut to score them and not cut them. This is easy to do - I have full instructions for setting up the file in Cricut Design Space on this page. This also includes a discussion about choosing a scoring tool, and what to do if you don't have a scoring tool - I think you'll also find it useful, even if you're not a Cricut owner, as you can follow through the steps you need to make it on your own machine.
Once you've got the card cut and scored, all the instructions you need for folding and assembling the card and envelope are right here on this page.
Cute cats papercut anniversary card for Cricut - lilac and pink
The finished card is 12 x 12 cm (around 4.75 x 4.75 inches) with the envelope coming out a little larger.
The colours I chose for your anniversary card template are the pretty lilac and pink you can see above - I thought these colours were sweet and pretty and the sort of colours you could choose to send either to your partner or another couple, family or friends, who are celebrating their anniversary. It's always nice when friends and family remember your anniversary!
You can definitely change up the colours however you like. The alternative card I made was a fun yellow and pink design - see it just below...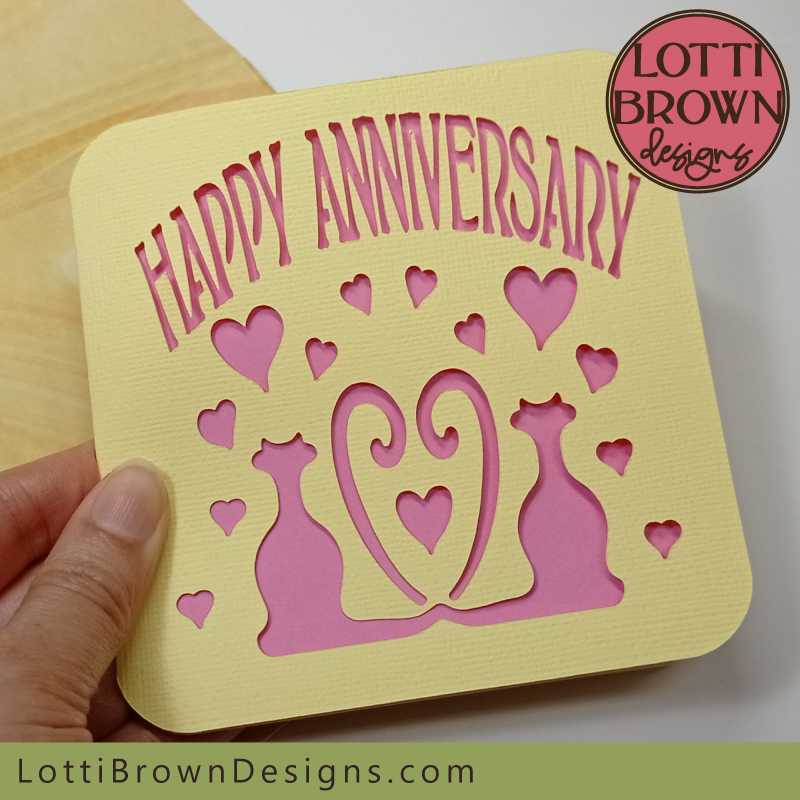 Yellow and pink cats anniversary card
I thought the yellow and pink felt really fun, carefree, and happy - note how I've teamed up a lemon yellow (quite pale) with a darker pink. This can be easier that choosing a really bright yellow alongside a really bright pink. I also thought these bold colours were quite enough and picked a darker yellow for the envelope rather than going for a third colour. 
The paper I chose for the envelope for the yellow version is a pretty yellow craft paper with a marbled effect that I've had in my craft stash for a couple of years now.
For the yellow card, I also used:
For the lilac card, I used:
Sizzix Surfacez textured cardstock for the outer card (lilac) - cut with 'Cardstock for intricate cuts' setting 
Eastlight Premium lightweight cardstock for the inner card (white) - 160gsm - cut with 'Light cardstock' setting
Dovecraft Essentials Colours Paper for the envelope (pink) - 120gsm - cut with 'Copy Paper' setting
Both the pink and yellow craft papers used have the colour on the front side only.
Anniversary card with cute cats design
If you wanted to choose something darker or more neutral, I think this cats design would suit that really well, too. If you go for a darker outer card, perhaps go for a contrasting bright white for the inner card - likewise, if you choose a pale or subtle colour for the outer card, you could go for a dark inner card or even something bright and colourful!
The envelope is always a good place to add a splash of colour if you've kept the card itself quite conservative - or to sober things up a bit if you've gone colour crazy with the rest of the card, too!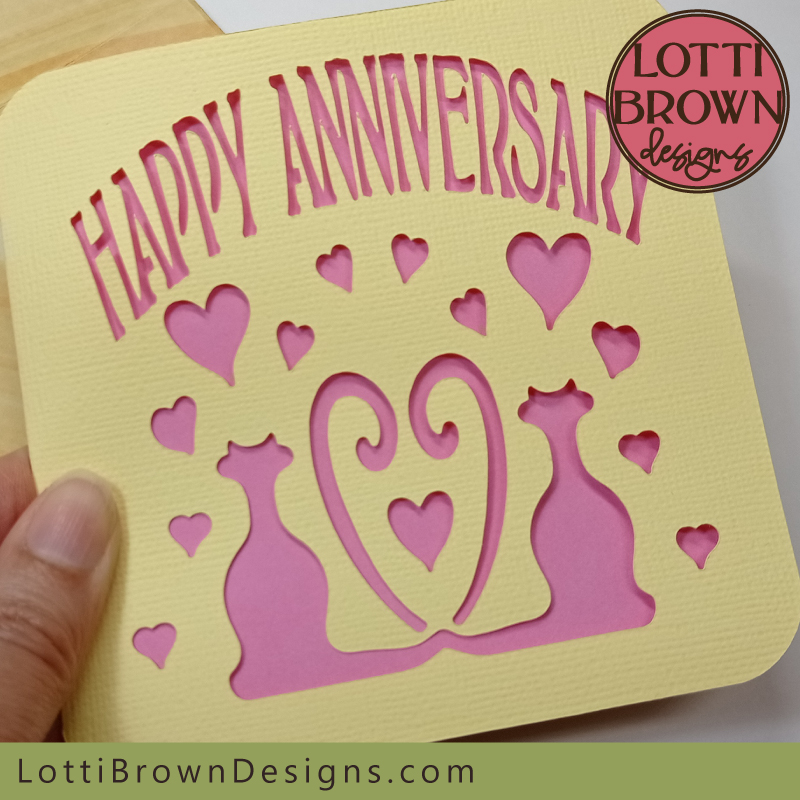 Are you feeling colourful today?
If you like my cats anniversary card template, you can get the cut files from my Etsy store - at the link right below...
Cats anniversary card template - SVG, DXF, EPS, PNG
Get your template for the cats anniversary card from my Etsy store right here...
SVG, DXF, EPS, PNG file formats
For personal craft projects and small-business commercial use (up to 200 products)
For physical (craft) products only - no digital products, use, or sharing
The instructions for how to set the score lines up correctly in Cricut Design Space are here - you may also find this useful even if you're not using a Cricut.
The craft tutorial for how to fold and assemble the card and envelope is here.
If you need help with downloading and opening your SVG file or other file types (and other general help) - that's here!
You might also like:
Cute elephants anniversary card SVG template
You might prefer this cute elephants anniversary card? If so, you can find that here...
If you like my way of making cards, you might like to see my whole collection of card templates - birthdays, Christmas, weddings, Easter, sympathy, Best Wishes and all sorts of other occasions - all here...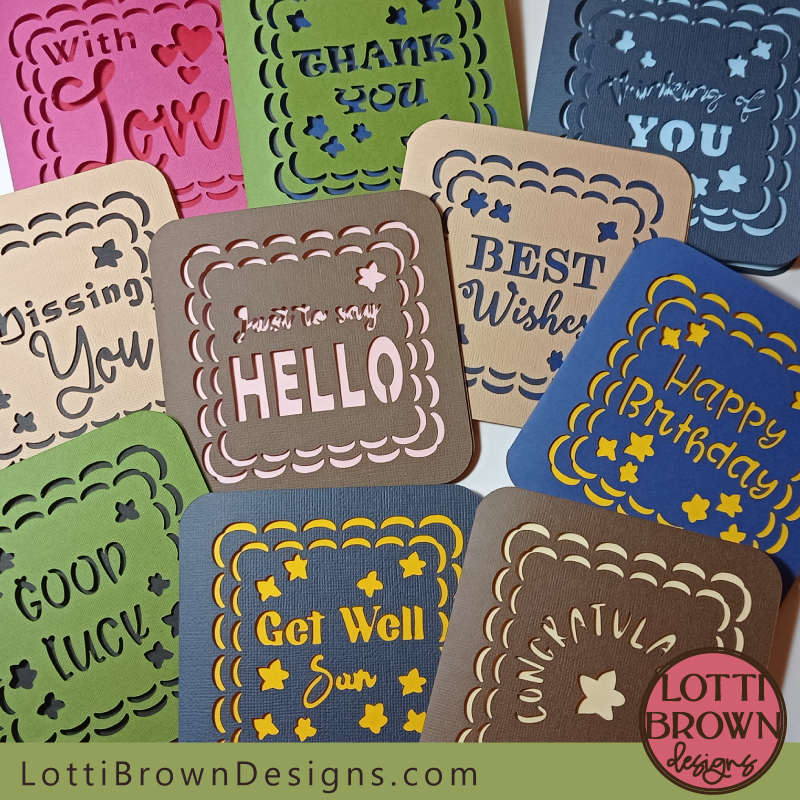 Card templates for Cricut - I have over 90 and I'm making more designs all the time!