Choosing Colours for Your Easter Card
The colour of Easter feels like yellow for me - it really does feel like a must for your Easter card, even if you only use it in a small amount. So I've made two cards showcasing yellow for the Easter Blessings SVG template - but I've tried to show you how you can use yellow in slightly different ways as I have two looks to inspire you...
The template for the Easter Blessings card is the one below, with the white/cream outer card, yellow inner card and pale green envelope...
Christian 'Easter Blessings' card in cream and yellow
This is my personal favourite look for the card - I've used a soft cream cardstock for the outer card (with the design cut out) and a bright yellow for the inner card. I think that the cream gives a softer and warmer look than white, if you have it. The really bold yellow is needed to provide a good contrast so that the design stands out well.
I chose a pale green cardstock for the envelope as I think that Easter is a time for new life, and the green makes me think of new leaves on the trees and new shoots in the ground - colours of Springtime!
The second card, I also made in yellow, but a softer yellow...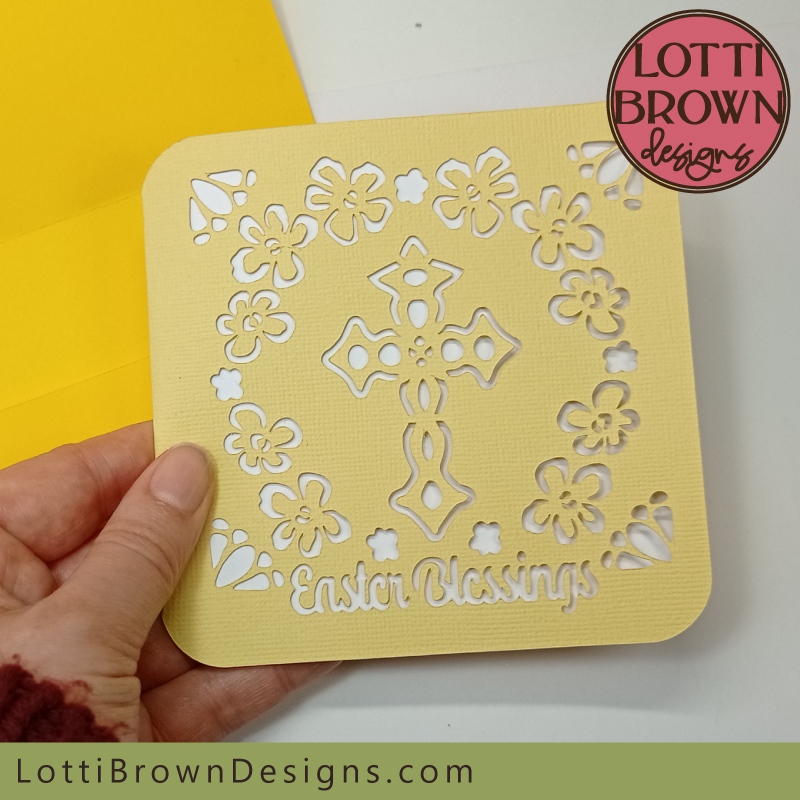 Pretty Easter Blessings card in soft yellow
I paired up the softer yellow outer card (it makes me think of primroses) with a white inner card - this provides the contrast so that the design shows up well and it does look such a pretty colour.
I went with the bright yellow envelope for this one, as I liked the idea of that cheerful yellow winging its way through the postal system and looking so jolly as it ends up in the recipient's hand - I think they'd feel happy before they even opened it...
But, you could just as easily use the soft green envelope for this card, which would give an overall softer look, or go for another pretty pastel colour - pink, lilac, blue, etc - or just plain white, as you prefer.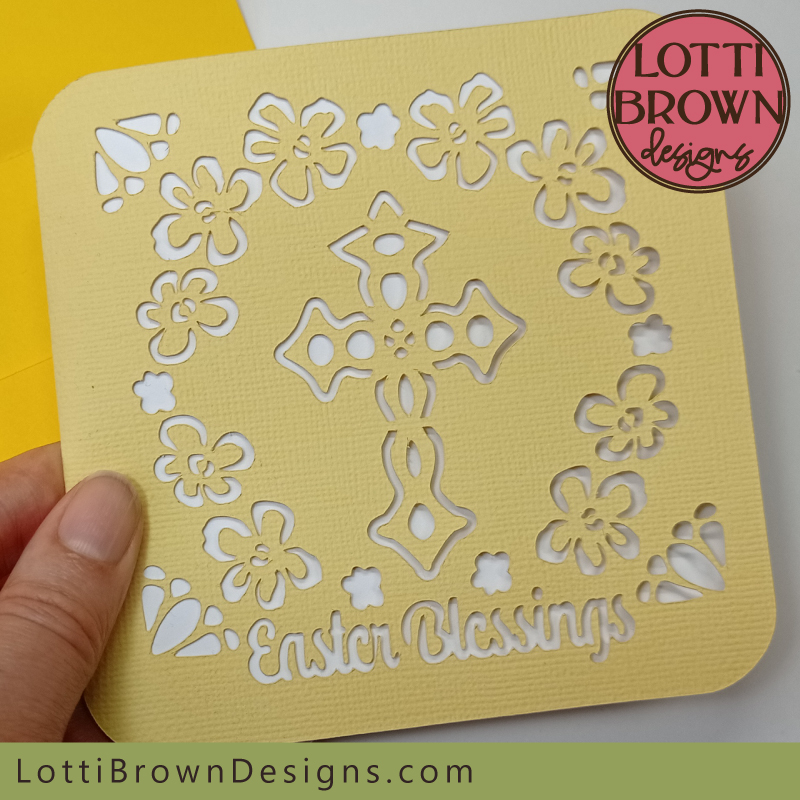 Pretty Christian Easter card template with cross and flowers
Both of the cards have been made:
Using Sixxiz 'Surfacez' textured cardstock for the outer card (the main card with the cut-out design)
Using generic lightweight coloured and white crafting cardstock (160 gsm) for the inner card and the envelope
Using my Cricut Maker cutting machine