I created this pretty Christening card SVG template from my confirmation card design - it uses the same hand-drawn crucifix and Celtic knotwork designs with a Christening message, ready to celebrate a special Christening with a card that can be cherished...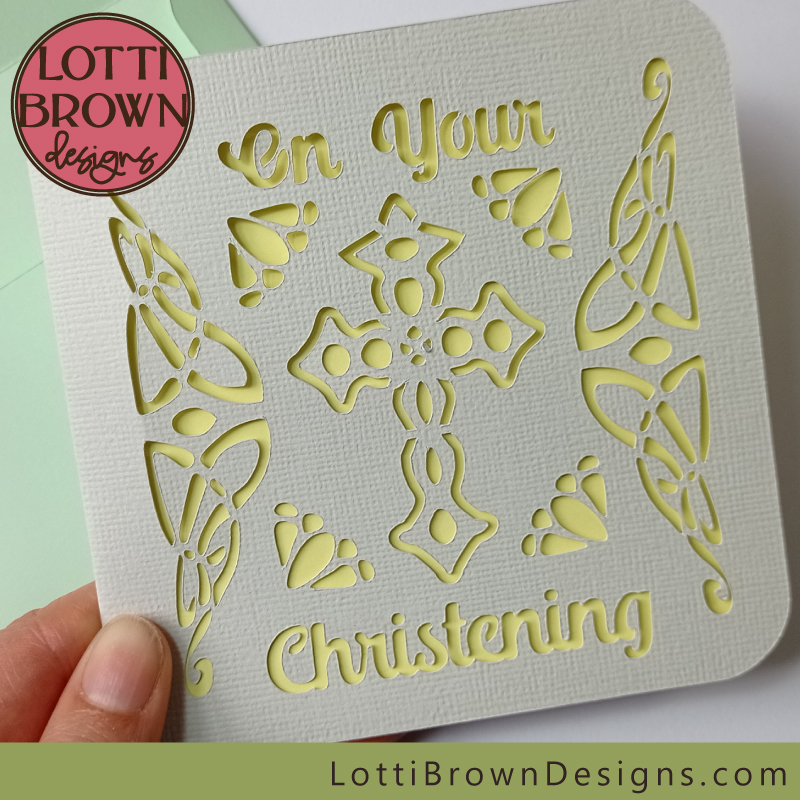 Christening card design
Making with the Christening Card Template
The Christening card is a cut and score design that can be used in your Cricut cutting machine, a similar cutting machine (such as Silhouette, ScanNCut, etc.) or even cut by hand using the PNG file...
Cut and score Christening card design file
The card is easy to make - with an intricately-cut outer card with the Christening design, a plain inner card, and the template for a plain envelope.
You will need to score each of the parts of the design - this is easily done with the cut and score function of your cutting machine or you can also cut and/or score manually (by hand). I've got some information about the scoring tools and scoring function for Cricut, as well as scoring manually here (this may also help you understand how to proceed even if you're using a different cutting machine brand).
I also have the craft tutorial for folding and making the card here - this uses a simple birthday card design to show you the process, but it works just the same for this Christening card template, and the majority of my other card templates.
SVG template for Christening card - soft white (very light grey), lemon, and green
I always make each one of my designs, to test everything works as I think it should, so I made this Christening card template in two different colour combinations - I've kept everything very simple and soft for these designs as Christening cards are often for babies - and also kept the colours neutral (ie not pink for a girl and blue for a boy) - you might still prefer to choose pink or blue though...
I've used Sizzix textured cardstock for both examples - for the outer cards which need to be nice and sturdy - and cut it with intricate cardstock setting on my Cricut Maker.
The inner cards and envelopes for both cards are from a lightweight craft card (160gsm) which is smooth and suitable for writing on.
I've used a soft white (very light grey), lemon, and green colour combination and also a soft green, lemon and lilac combination - the template included in the files is the soft white, lemon, and green version - but of course, you can make the card in any colour cardstock you like...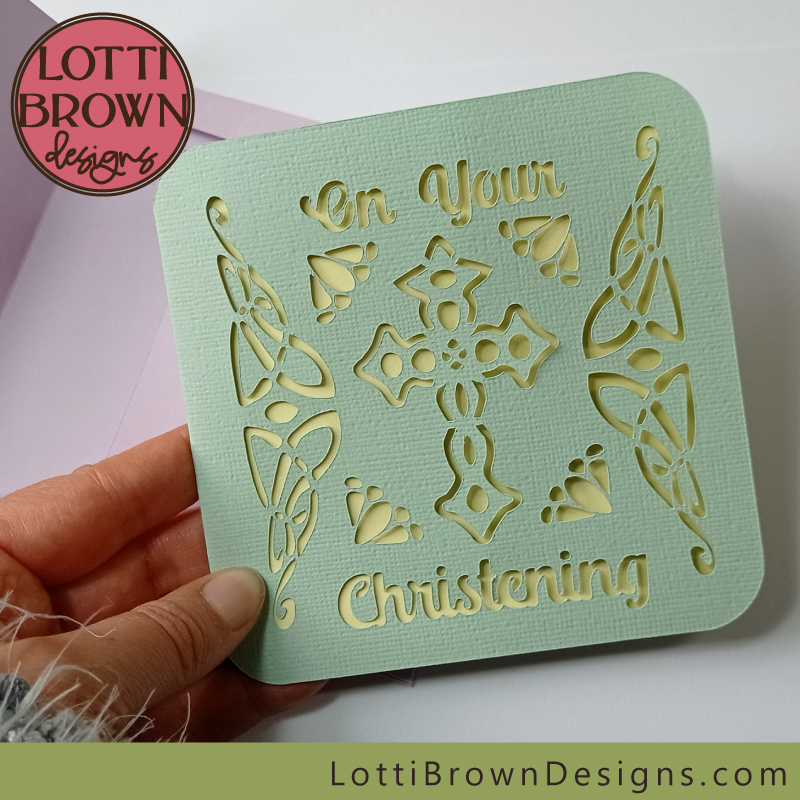 Christening card design in soft green, lemon and lilac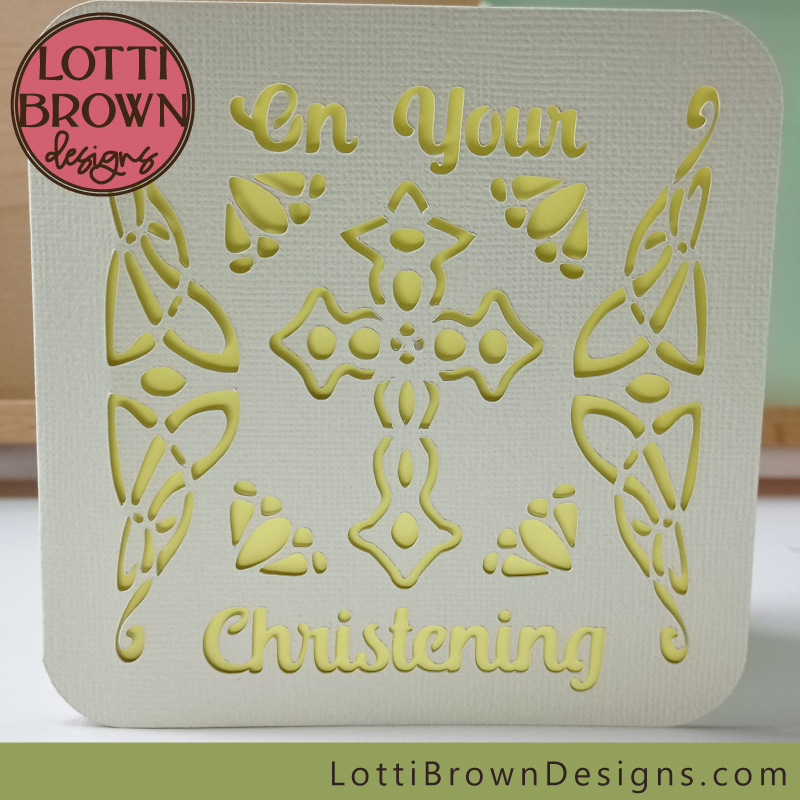 Christening day card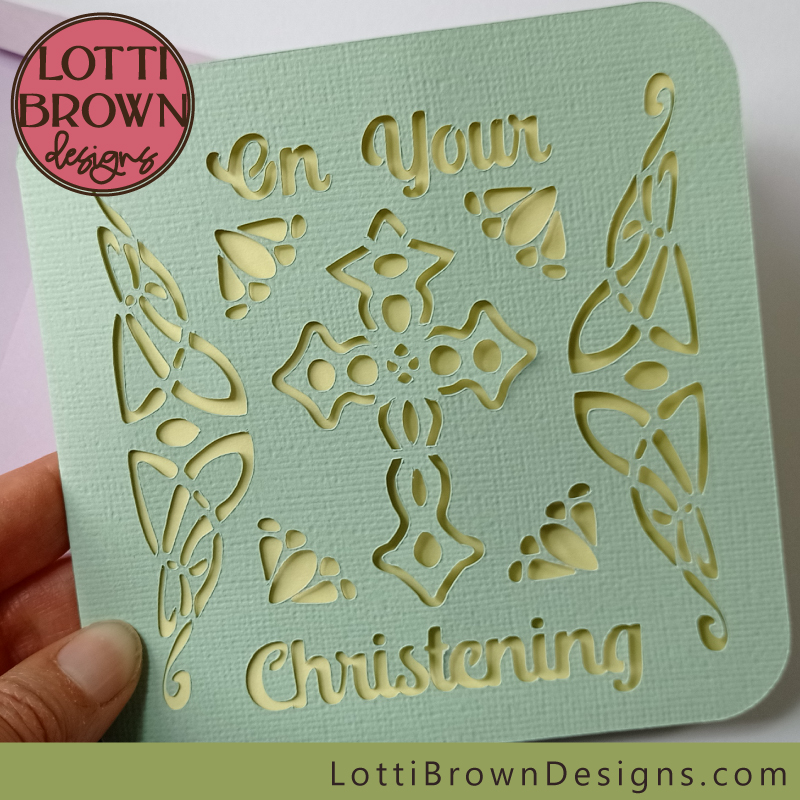 Card for Christening celebration
If you'd like to make my Christening card design, you can get the cut file for your machine from my Etsy store at the link right below...
Papercut Christening card to make
The instructions for how to set everything up in Cricut Design Space for the card template to score correctly are here - you may also find it useful even if you're using another kind of cutting machine or choosing to score by hand.
The craft tutorial to help you to fold and assemble the card and envelope is right here...
You might also like: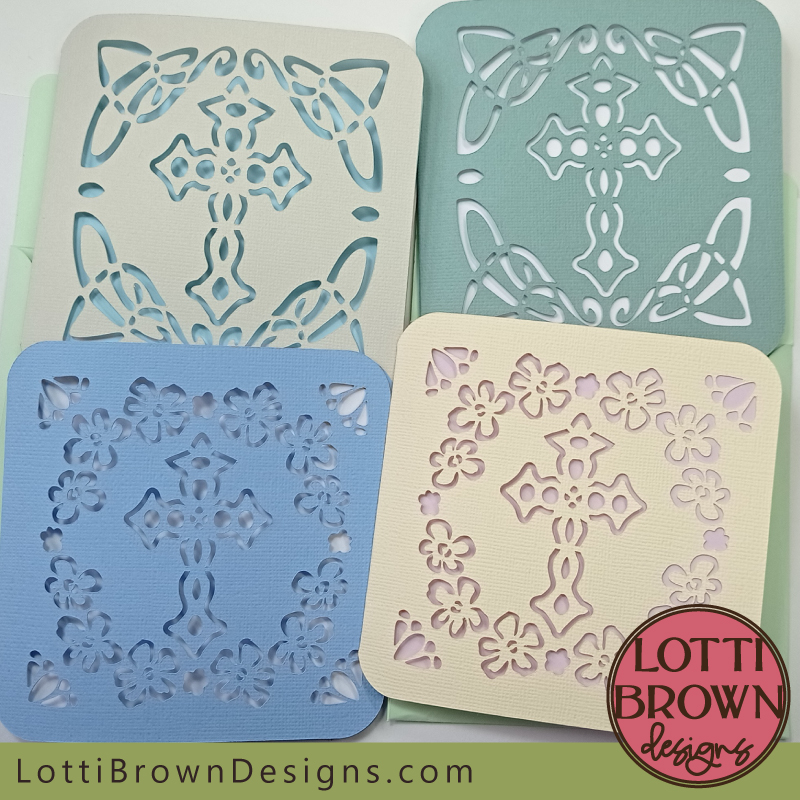 Christian card templates with no wording - suitable for all occasions
You might prefer these two Christian card templates - a floral cross one and a Celtic cross one - which have no wording so could be used as a Christening card, but also as a Confirmation card, Easter card, sympathy card, or just for those occasions when you want to send your love and prayers to someone who needs them - you can find both designs here...
I also have lots more card templates for you - you can find them all here...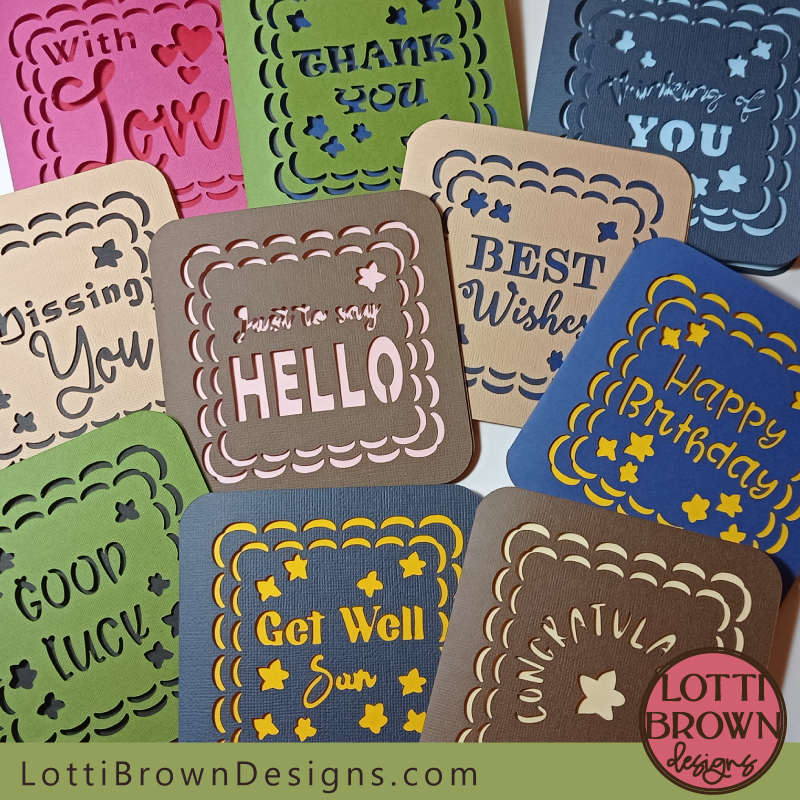 Card templates for Cricut and other cutting machines