30th & 40th Birthday Card SVG Templates
I've created cards for both of those special 30th and 40th birthdays - and for each age I've created two designs - one that's floral, primarily designed for women - and one that's a fun unisex stars design that's equally lovely for men and/or women...
So there's four designs in total on this page - two ages (30 & 40) and two designs (floral and stars) for each age. You'll also see photos of 8 different cards, as I like to make each card twice, to make doubly-sure everything works as it should and also to give you an alternative colour idea for your own makes - so you'll see lots of different colour inspiration on this page that I hope will help you make your own lovely card.
First, a little more about the cards - the basic card template is the one that most of the cards on this page are based on - it's easy to make and you'll need three A4 or Letter-sized sheets of cardstock to make one 12 x 12 cm (4.75 x 4.75 card) card and envelope.
The card templates cut on the standard Cricut sticky mats (rather than the specialist card mats) and use the cut and score functions on your cutting machine to get the score lines in place ready to fold. You can follow the instructions here to help you get everything set up on your Cricut correctly - the page is also useful if you want to cut manually instead or even if you have another brand of cutting machine as it will allow you to follow the same steps on your own machine.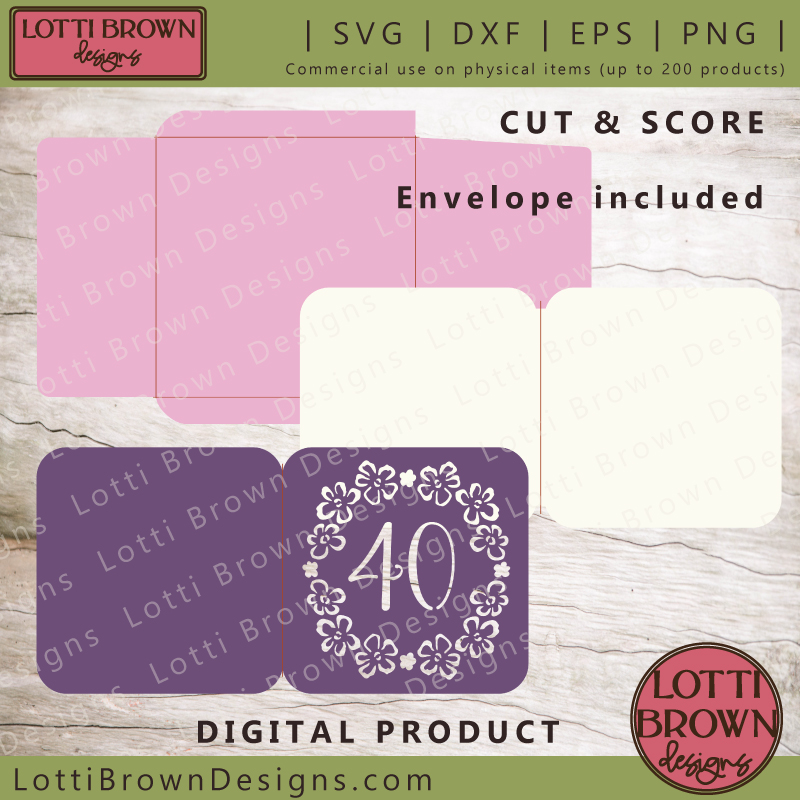 40th birthday card template with envelope - SVG, DXF, EPS, PNG - cut and score on Cricut
I also have a craft tutorial to help you fold and assemble the card and envelope - that's here...
So let's take a closer look at the cards below - I've made each card a different colour so you can get lots of ideas from this page to help you with what kind of feel you'd like for your card...
For the cards, I used my Cricut Maker cutting machine and:
Sizzix 'Surfacez' textured cardstock for each of the outer cards - cut using the 'Cardstock for intricate cuts' setting in Cricut
Eastlight Premium lightweight white cardstock (160 gsm) for the white inner cards (most of the cards) - cut using the 'Light cardstock' setting
Dovecraft 12 x 12" Colours Paper Pack (120gsm) craft paper for most of the envelopes (except the envelopes for the stars-design 40th birthday cards - see below) - cut using the 'Copy Paper' setting
Craft Sensations DesignPad Brights (250gsm) for the yellow envelope for the green and white stars-design 40th birthday card - it has red on the reverse (and a white core) - cut with the 'Medium Cardstock' setting
Craft Sensations Ombre Designs Brights (250gsm) for the green envelope and lime green inner card for the dark grey and green stars-design 40th birthday card - it has a green gradient 'ombre' effect with purple on the reverse (and a white core) - cut with the 'Medium Cardstock' setting - I was able to use one 12 x 12" (30 x 30cm) sheet to cut both the inner card and envelope together