Tropical Fish Card to Print then Cut on Cricut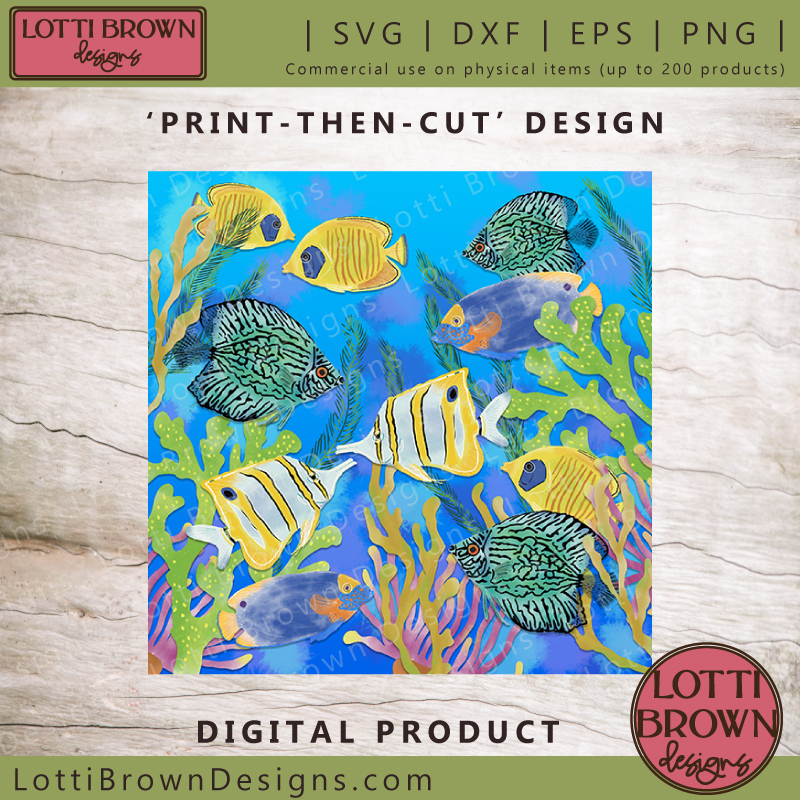 Print then cut tropical fish artwork for cardmaking with Cricut
I love the bright colours of tropical fish and when I created this artwork, I knew that I wanted to make it into a card to print then cut on Cricut... So here it is!
If you've not made a print and cut card before, don't worry - it's not as difficult as it sounds! You will just need a home printer along with a cutting machine like a Cricut - if you don't have a cutting machine or if your machine doesn't do 'print then cut' you can cut the template by hand with a craft knife and just print the front image with your home printer.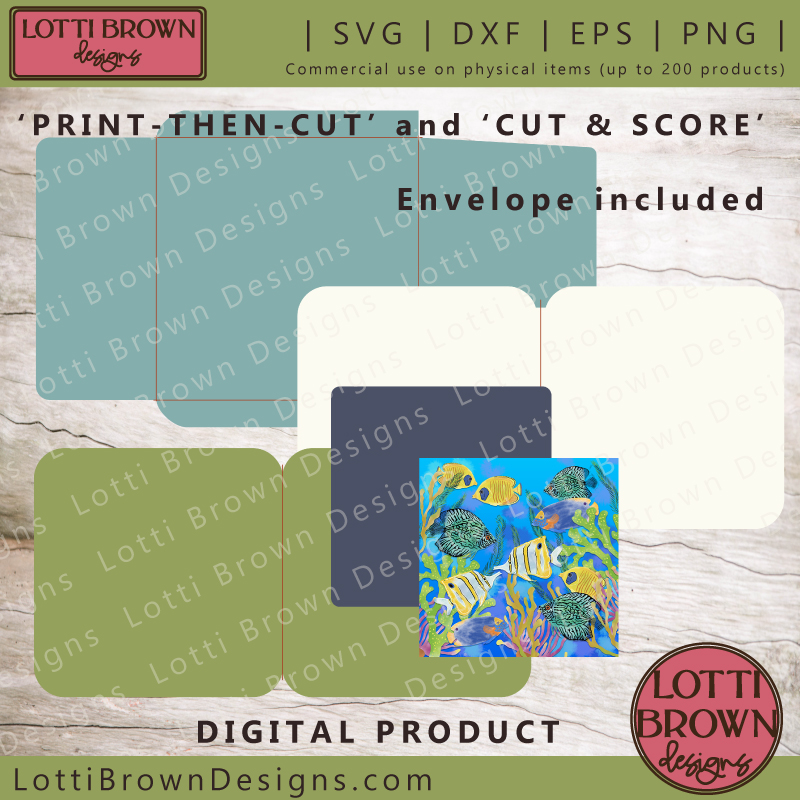 Card template with envelope included - 'print then cut' and 'cut and score'
The finished print then cut card is 12 x 12 cm (around 4.75 x 4.75 inches) - with the tropical fish front design at 9.7 x 9.7 cm (3.82 x 3.82 inches).
You will need:
three sheets of A4 or Letter-sized cardstock for the main card template including the envelope
plus an extra square of card for the topper square
and one sheet of A4 or Letter-sized printable cardstock for the print then cut design (the tropical fish part) 
I have full instructions for using print then cut on Cricut on my instruction page here, along with the further instructions for printing and scoring the card and envelope and making the card.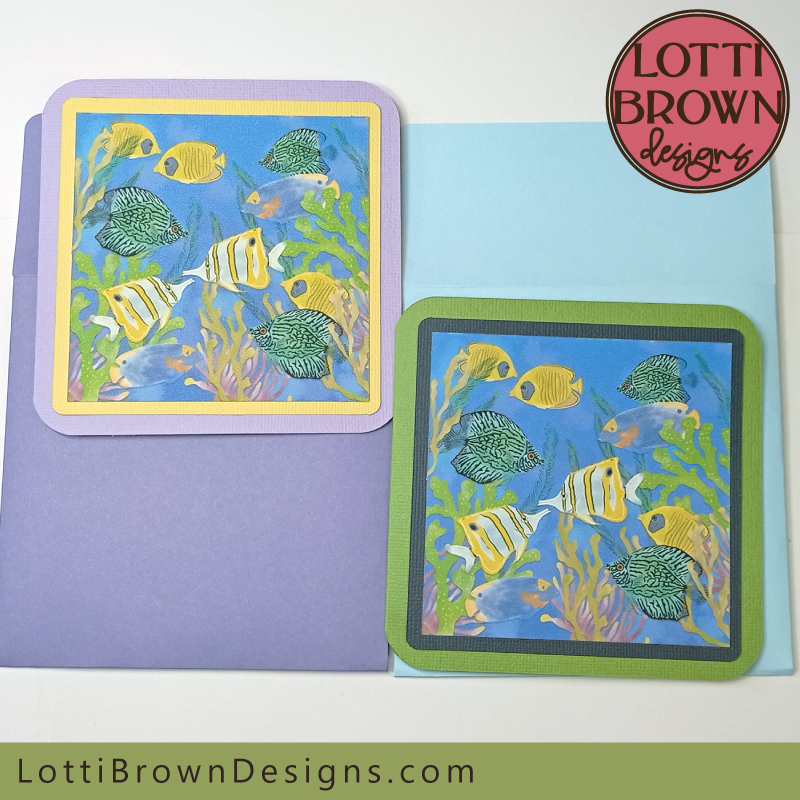 Colourful tropical fish card template to print and cut
Please remember that the artwork will only print as well as your own home printer will allow, which may not be to a professional standard. I've used my standard home printer for these cards (it's quite basic and about 8 years old) and I'm happy with the quality to send (although I don't think they photograph as well as they look in real life)...
I did a little experiment with cardstock with this card and tried out a watercolour card for printers, as well as my usual lightweight card - I'll share the photos below and talk you through it...
I also tried to print on glossy photo paper, but my printer wasn't happy with that as the paper was too slippery to curl around the mechanism properly - I'm getting a back loading home printer, soon, so that I can try printing on glossy surfaces and thicker crafting cardstock, too.
EDIT: I got the new printer and did a further test of different cardstock and paper types (including the glossy photo paper) - you can see the test and all the results here....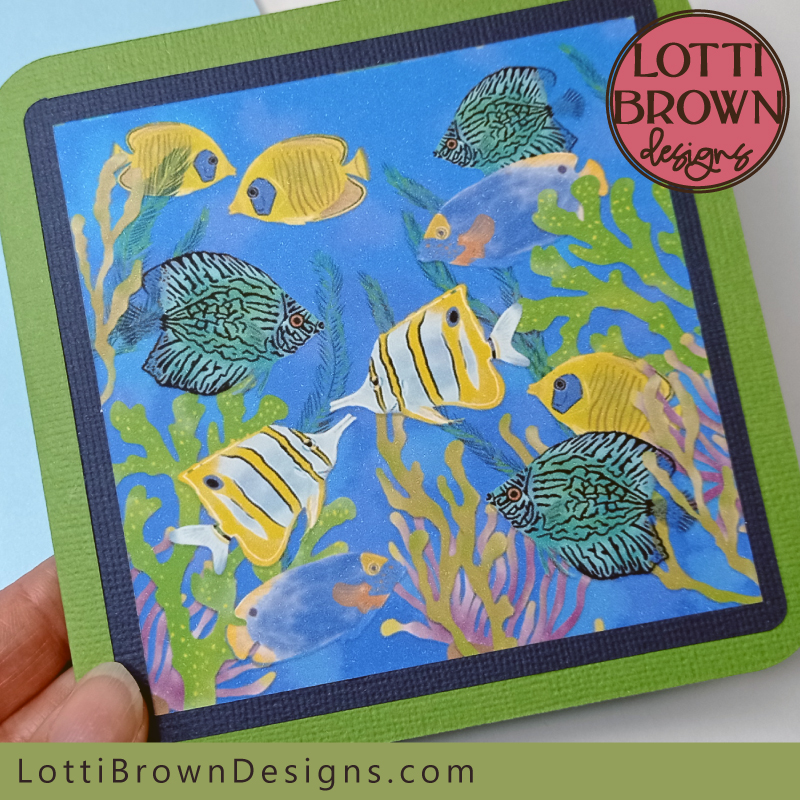 Artwork printed on Eastlight Premium white cardstock (160 gsm)
So for the card above, I used Eastlight Premium white cardstock (lightweight smooth cardstock - 160 gsm) to print onto - this is my usual crafting cardstock and the card I chose for my recent floral print then cut cards. I was happy with the print (although it does look slightly speckly when you photograph close up) but I wanted to try a watercolour printer paper and see if it was any different...
So that's what I tried for the card below - Ecoline Liquid Water Colour Print Paper (lightweight card/paper, smooth surface -150 gsm). It turned out pretty similar to my eye!
For me, I think I actually prefer the print on the Eastlight Premium cardstock (above). The Ecoline cardstock (below) looks to have more of a speckly effect when printed, which I think you can also tell on the photographs (not quite as noticeable to the naked eye, though) which must be due to the slightly more textured, and perhaps absorbent, nature of the watercolour paper. It does, arguably, give more of a watercolour effect to the artwork though.
I thought the comparison was quite interesting though. I'll mainly be using the Eastlight Premium cardstock for similar print then cut projects in the future - although I will be doing further comparison tests with other cardstocks and papers, too.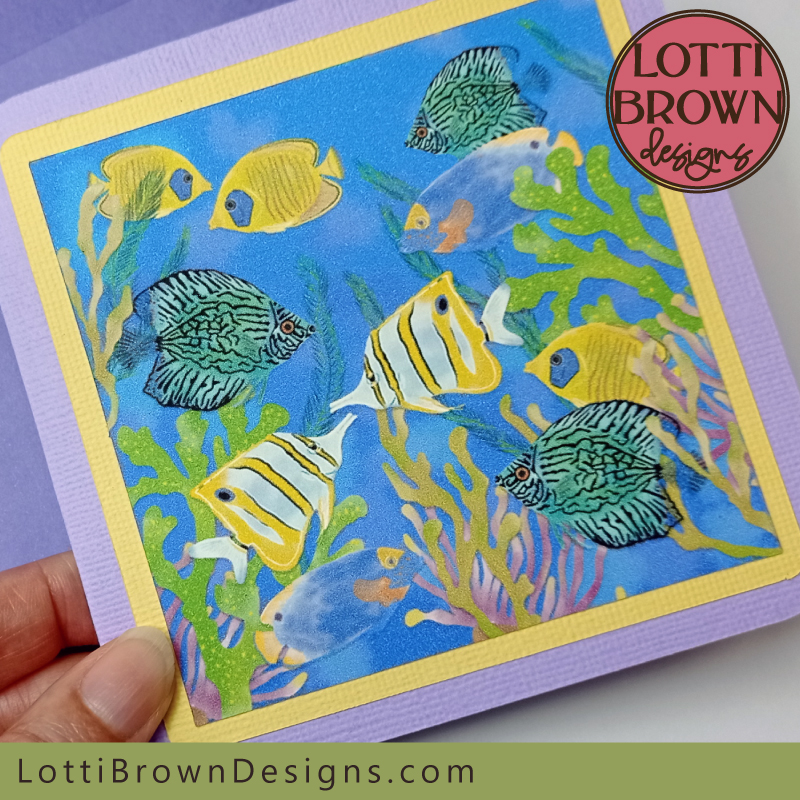 Artwork printed on Ecoline Liquid Water Colour Print Paper (150 gsm)
For both the cards, I also used:
Sizzix 'Surfacez' textured cardstock for the outer card and topper square for both cards - cut using the 'Medium Cardstock' setting in Cricut Design Space
Eastlight Premium white cardstock (160 gsm) for the inner card for both cards - cut using the 'Light cardstock' setting
Dovecraft 12 x 12" Colours Paper Pack (120 gm) for both envelopes - cut using the 'Copy Paper' setting
I cut both 'print then cut' designs with the 'Light Cardstock' setting (see the paragraph just above the photo above to see which cardstock/papers I used).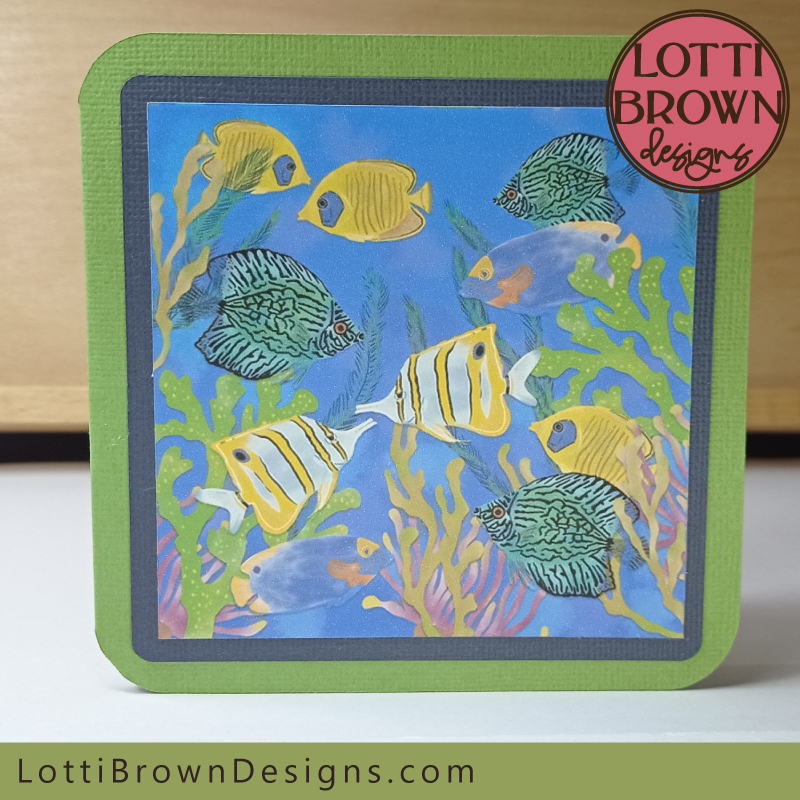 Print then cut tropical fish design for Cricut
For both cards, I tried to select colours from the tropical fish artwork - this is always a really good idea for choosing which colours of cardstock you want to use with the design...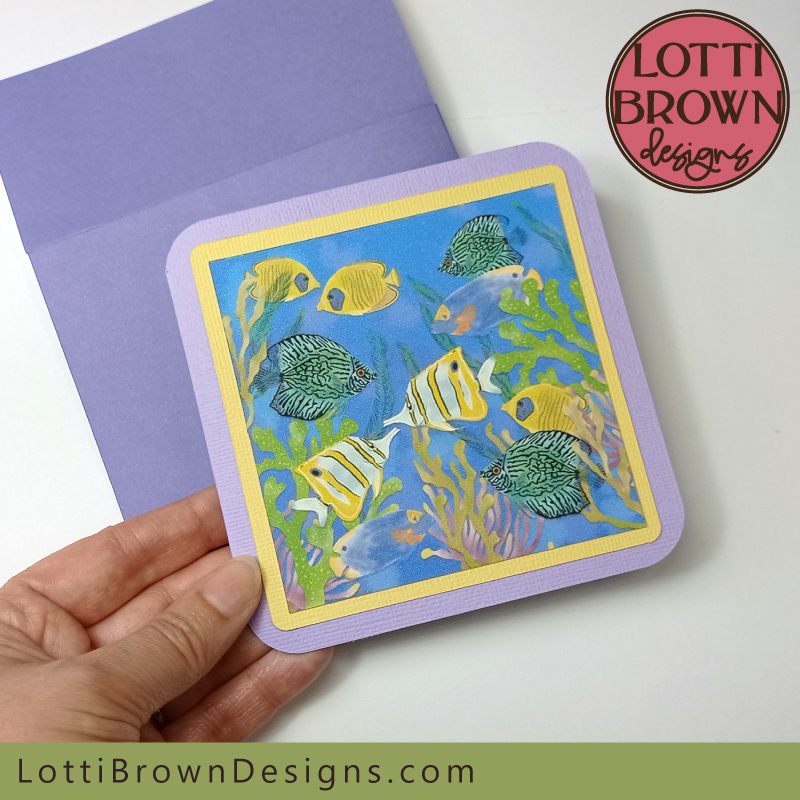 Pretty purples and yellows
So for the template for the card, I actually chose the green and blue colour scheme that you can see in the photo below - this is a really easy scheme to choose for a tropical fish card, with the blue of the water and the green of the weeds giving it that nice watery look...
For my alternative version (above) I wanted something a little different so I've gone for combining the yellow of the fish with a pretty lilac, which is actually just a touch of colour in some of the weeds, and finishing with a richer purple for the envelope. I think it looks fun, colourful, and more feminine.
Blue and green tropical fish card
Hopefully, you can have lots of fun choosing colours for your own tropical fish card and also in making the card.
---
Paper and cardstock printing test for print and cut
EDIT: After creating this page, I got a new printer and did a test to see how this design (and a further design) printed onto a range of different cardstock types - you can see my unscientific scientific experiment and the results here...