Mermaid Birthday Card SVG Template
I decided to use my mermaid tail design to create a fun mermaid birthday card design for you - I think it would be lovely for a kid's birthday card or even an adult's birthday card as mermaids are definitely not just for kids!
The card template includes the envelope and uses three A4 or Letter-sized sheets of cardstock - it cuts flat on the standard Cricut sticky mat...
So we need to add the score lines to help us fold both the card and envelope. You can easily do this using the scoring tool on your cutting machine if you have one, or score manually with a metal ruler and a blunt point like a knitting needle. I have lots of help with choosing a scoring tool, setting things up correctly with Cricut, or using manual scoring - all on this page - the instructions will also be helpful for you, even if you have a different type of machine, as it will help you understand the process of setting up ready to cut and score that you can apply to your own machine.
Mermaid tail birthday card template - SVG, DXF, EPS, PNG
Once your card is cut and scored, the tutorial for how to fold and assemble your mermaid birthday card and envelope is here...
The template makes a 12 x 12 cm (4.75 x 4.75 inches) card with an envelope that's a little larger.
Cute mermaid tail card template
The template for the mermaid card has a pink outer card, green inner card, and blue envelope - like the card in my photo just above...
I wanted to create a really cute, really girly feel for the card, so that's why I chose this pretty pink for the outer card. I paired it with watery colours for the mermaid theme - I think the pink and green colour combination looks fun and summery! I tried to keep it to pastels with a fresh feel to keep to the cute, pretty, girly style.
My alternative colour idea for the mermaid birthday card SVG concentrates just on those watery mermaid colours - so blues and greens. I used a pale green for the outer card and a dark blue for the inner card which creates a really nice contrast to show up the design well - and a bright, mid-toned blue for the envelope - see it in the photo below....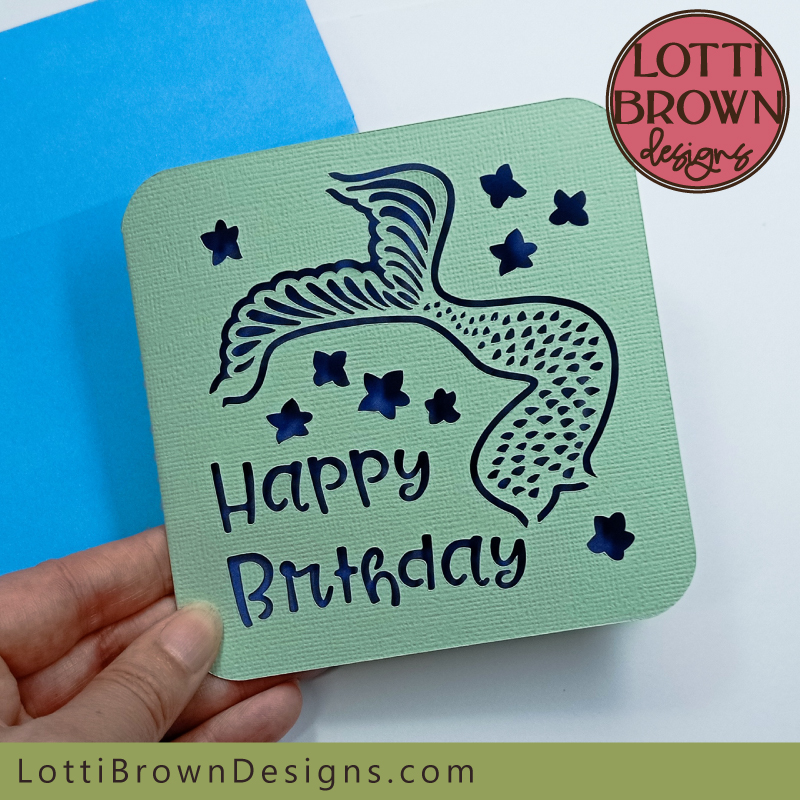 Blue and green for a mermaid theme!
You can also experiment with other colour ideas to see what effect you get!
For both of these cards, I used:
Sizzix 'Surfacez' textured cardstock for the outer cards - cut using the 'Cardstock for intricate cuts' setting with my Cricut Maker
Craft Sensations Ombre Designs Pastels for the inner card and envelope for the pink card - this is a 2-sided cardstock (with a white core) with a different gradient colour shift on each side. So I cut the inner card and envelope from one sheet and used the top part (palest, lime green) for the inner card and the lower part, (blue-green) for the envelope. The reverse of each is a purpley-pink colour. I cut the cardstock with the 'Medium cardstock' setting.
Craft Sensations DesignPad Brights for the blue inner card and envelope for the pale green card. This is also a 2-sided cardstock with one side dark blue and one a mid blue. I was able to cut both the inner card and envelope from one sheet of this cardstock (12 x 12 inches) and use one side for each. Again, I used the 'Medium cardstock' setting to cut with my Cricut Maker.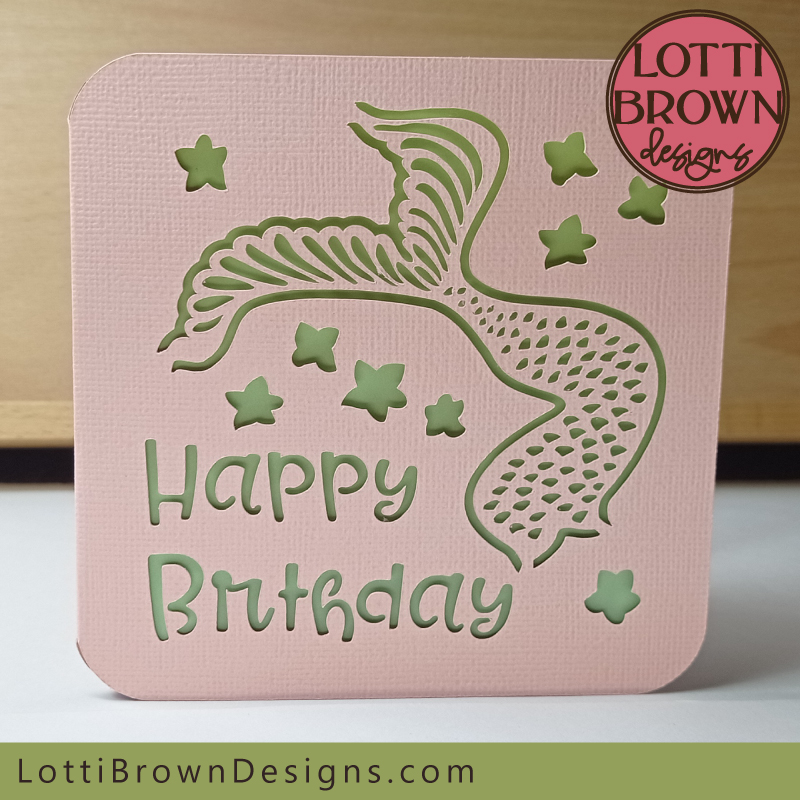 Splash! Cute mermaid tail card template for birthdays
Want to buy the mermaid card template?
You can get my mermaid birthday card template from my Etsy store at the link just below...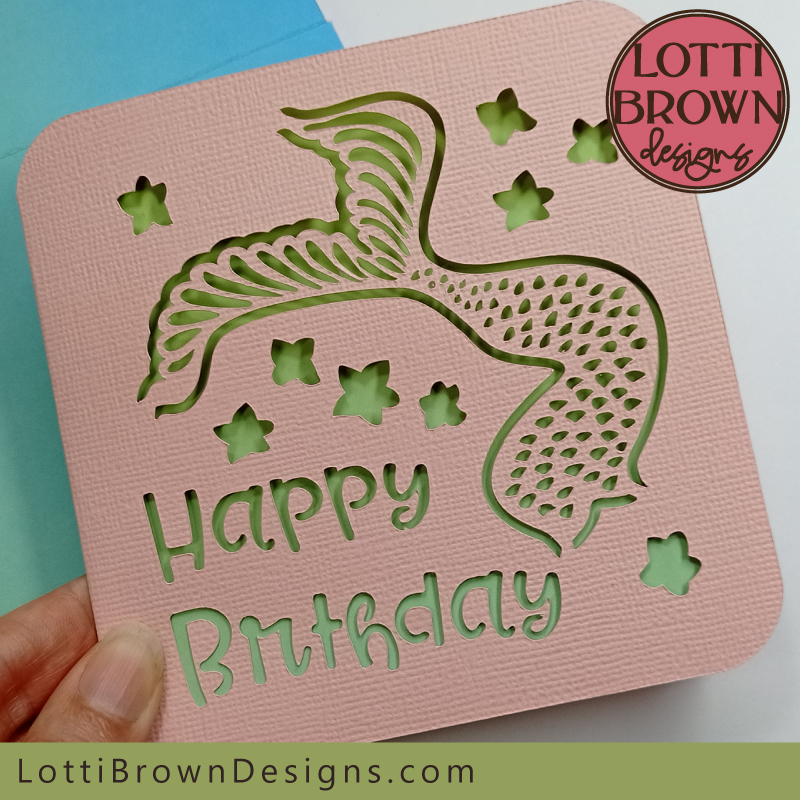 Papercut mermaid birthday card template
Get the mermaid birthday card template from my Etsy store here...
SVG, DXF, EPS & PNG file formats
For personal craft projects and small-business commercial use (up to 200 products)
For physical (craft) products only - no digital products, use, or sharing
For help setting up the score lines in Cricut click here (may also be helpful even if you're not using a Cricut machine)
For help with folding and assembling the card and envelope click here...
For help with accessing, downloading, opening and using the files, click here...
You might also like: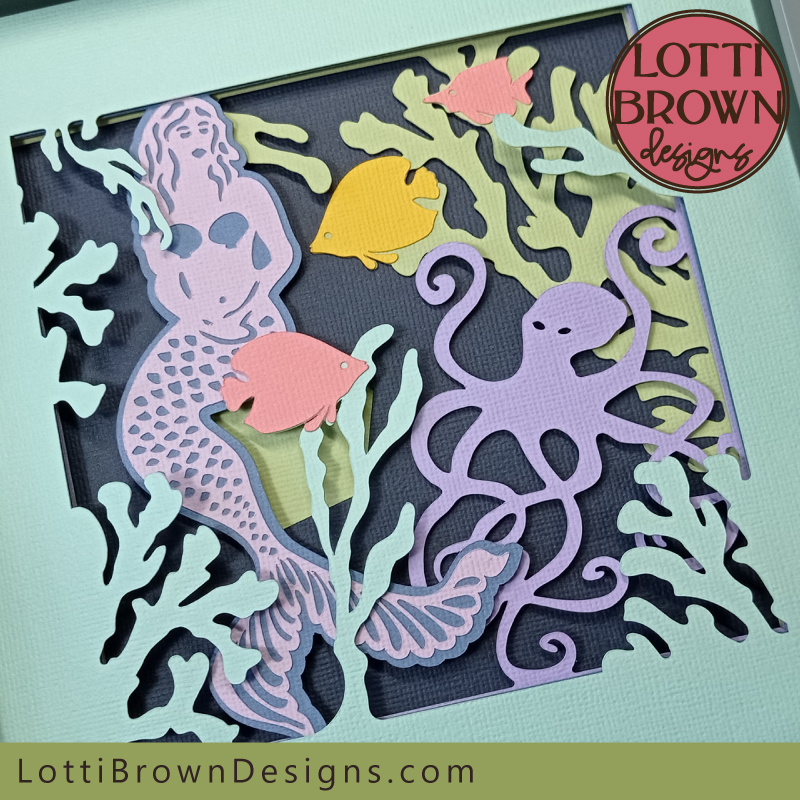 Mermaid shadow box template
If you or someone you love likes mermaids, you might also like to make this gorgeous mermaid shadow box - find out all about it here...
I also have two individual mermaid SVG files, that you can use to put a mermaid on a T-shirt, bag, cushion, or lots more craft projects - see the mermaids here...
Mermaid SVG files
And also two cute mermaid tail SVG files that you can see here...
Two mermaid tail SVG files (set of 2 designs)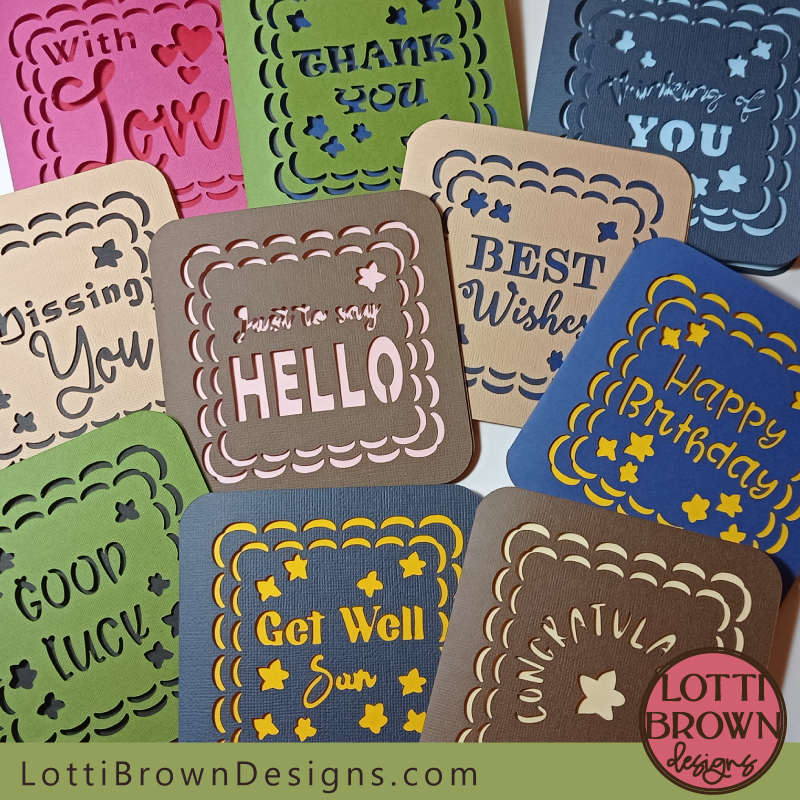 Cricut greeting card templates
For more card templates using the same basic process, take a look at this page which has designs for birthdays, Easter, Christmas, Halloween, Get Well, Sympathy, Congratulations and more - all here...