Christmas Snowflake SVG Files
Do you wish it would snow at Christmas? Guess what! You can make it happen!
Decorate your home and life with pretty snowflakes and you'll enjoy all the beauty of snow, but without the chill and damp of real snow!
Use my Christmas snowflake SVG files to create papercut snowflakes to hang from windows, the Christmas tree, the walls of your home...
Or create snowflake gifts for friends and family - use cut vinyl either directly on glasses, placemats and cutting boards, trays etc. or make a stencil for paint, etching solutions or pyrography gel.
You can even cut my snowflake SVG files in HTV to make snowflake T-shirts or Christmas sweaters - or tablecloths, cushions and more - your own imagination is the limit!
I've created three different Christmas snowflake SVG designs for you so that you can hopefully find one that suits your intended project...
Or if you like them all, you can buy them together in one bundle and save money.
Snowflake bundle of all 3 designs in my Etsy store here
All of my Christmas snowflake SVG designs are easy to cut and make, even the most intricate one - but I did design the 'Simple snowflake SVG file' to be particularly simple to cut and suitable for cutting at a smaller size...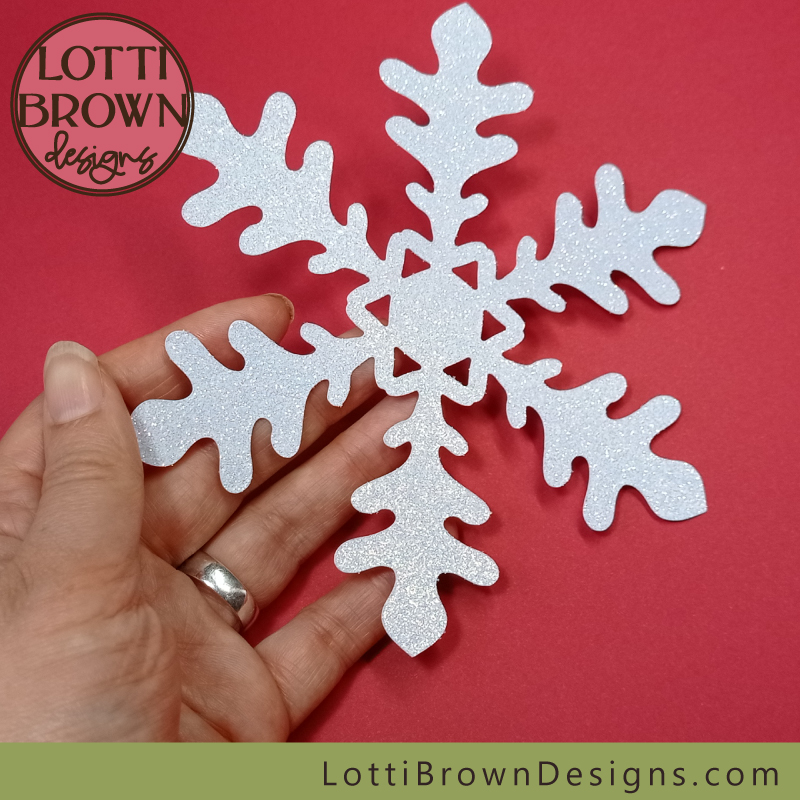 Simple snowflake template - showing the size supplied in the template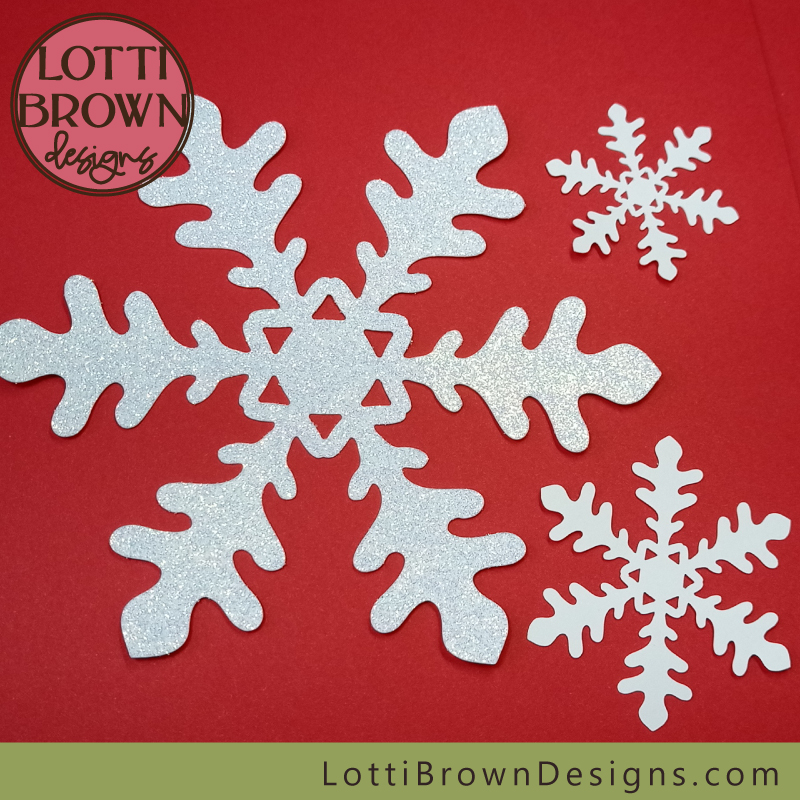 Simple snowflake SVG - the largest snowflake is the size supplied in the template
Simple snowflake design - this image shows the smallest two snowflakes from the image just above - both smaller than the size provided in the template
In the images above, you can see how small I cut the simple snowflake SVG design to experiment - I didn't try any smaller than this so it may or may not cut smaller...
Your results will depend on your own machine and equipment and the materials you choose to cut with - it's also always best if your cutting blade is clean and sharp and your mat is clean and sticky.
These very small snowflake designs (that are in my hand in the image above) I cut in lightweight cardstock (160gsm).
Some of the other snowflakes, I've cut in Sizzix 'Surfacez' textured cardstock and in Sizzix glitter cardstock (from the festive pack).
The glitter cardstock does look fantastic - and really gives a lovely touch of seasonal sparkle!
The snowflake below is my intricate snowflake - with lots of detail to give a festive frosty look - don't worry, it's not too intricate and it's still easy to cut!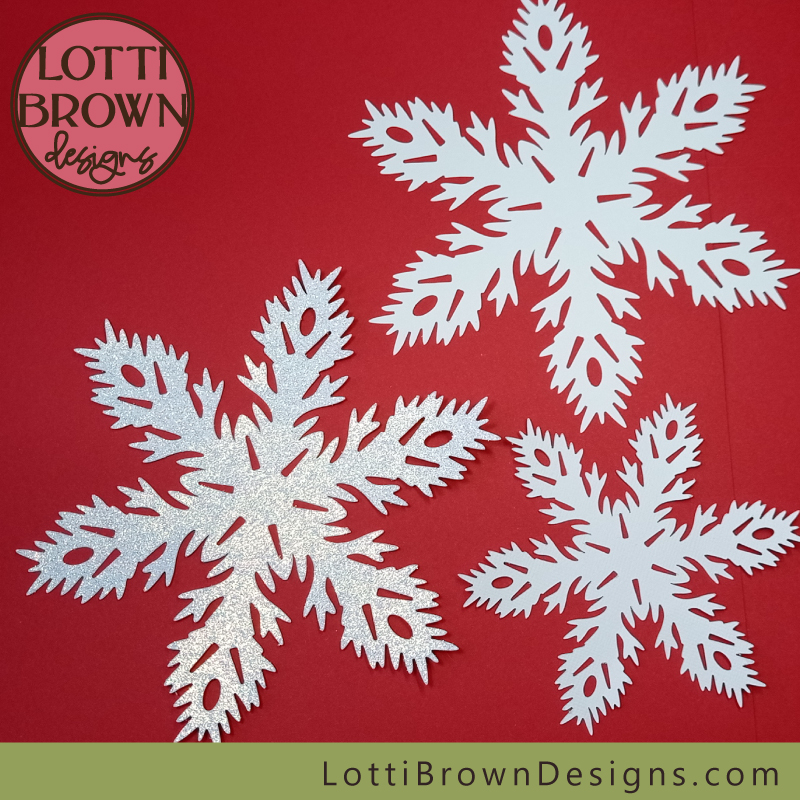 The two larger snowflakes are the size provided in the template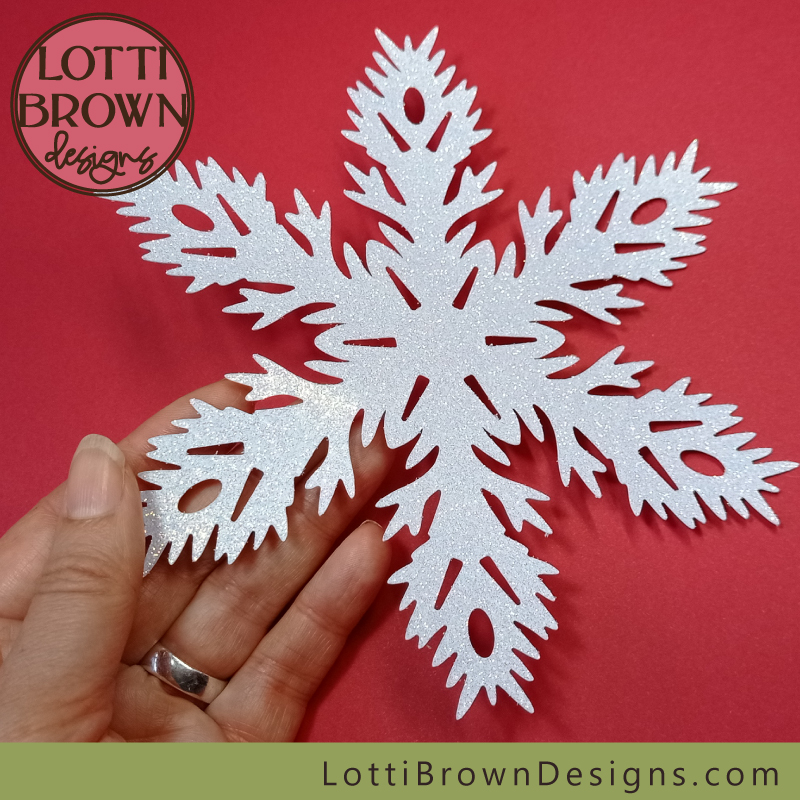 Intricate snowflake SVG template - cut in Sizzix glitter cardstock to the size in the template
The solid snowflake SVG file (below) is great for projects where you just need a basic snowflake outline or where you prefer a solid snowflake...
I also think this one would double up really nicely as a Christmas star!
Easy snowflake SVG template - solid snowflake design - this is the size provided in the template
The two largest snowflakes are the size supplied in the SVG template
You can cut your snowflake to whichever size you wish using the SVG, DXF or EPS files - the PNG files, which can be used to print out and cut by hand, will size up to around 24 x 27 inches (62 x 68 cm) if you want to create an extra-large snowflake.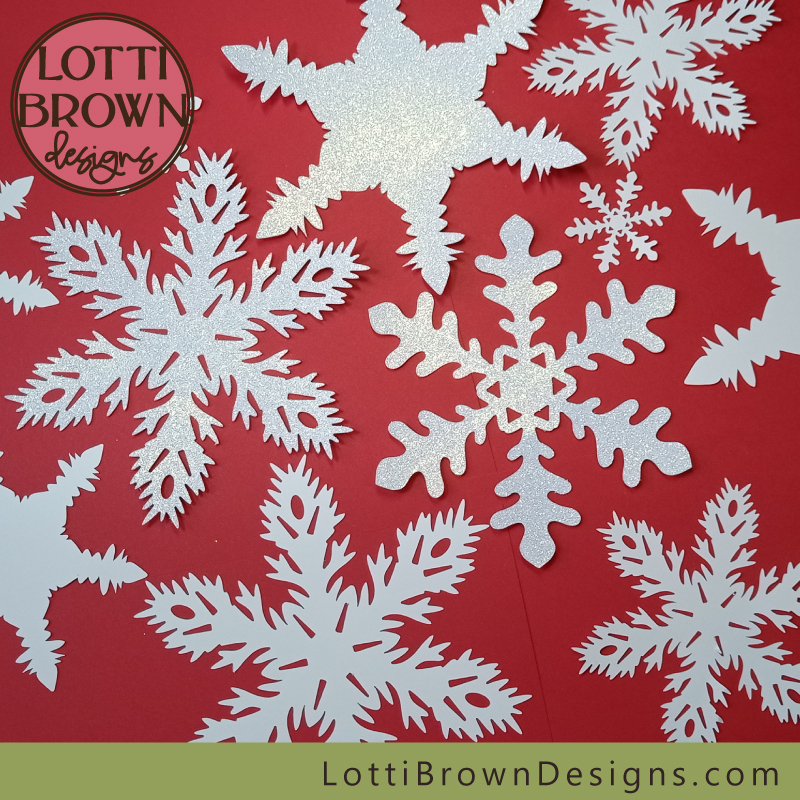 Pretty papercut Christmas snowflakes