Pumpkin Thanksgiving Card Template
I used my hand-drawn swirly pumpkin and leaves design to create this pretty thanksgiving card template for you to make with your Cricut (or similar cutting machine)...
Perfect to celebrate this special time of the year!
Pretty pumpkin design for Thanksgiving
This is a 'cut and score' project for your cutting machine, which means you'll need to score the fold lines, using your machine, or score manually. I have a page here, discussing scoring tools for Cricut, scoring manually (without a tool), and all importantly, how to set the lines up correctly to score with Cricut (you may also find it useful if you're cutting with another machine).
I also have a craft tutorial for folding and assembling the card, which you might also like - you can find that here...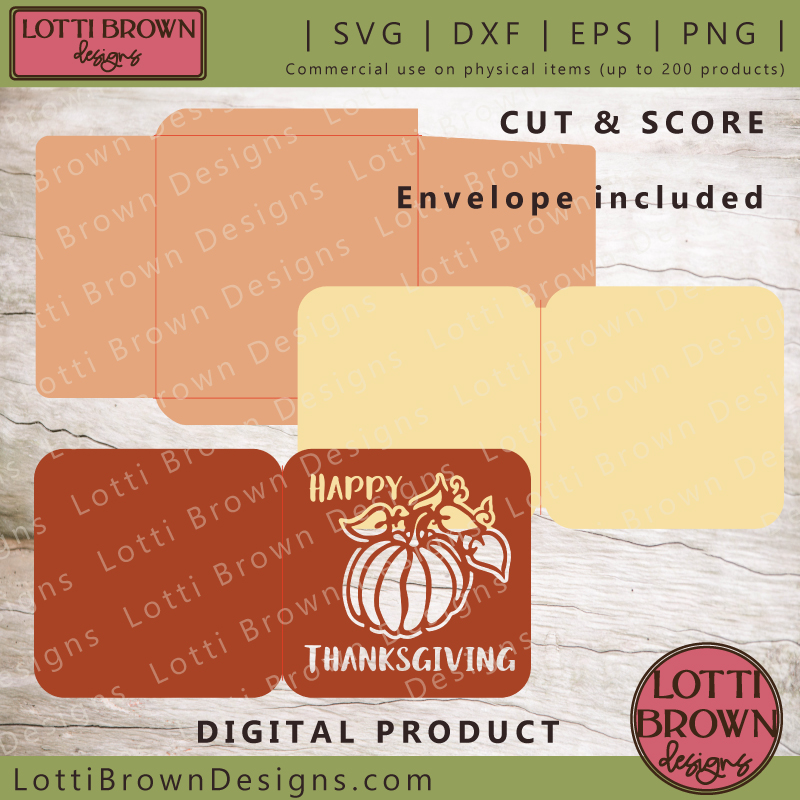 Make your Thanksgiving card as a cut and score project with Cricut or another cutting machine
Used as is in Cricut Design Space, the Thanksgiving card template makes a finished card of 12 x 12 cm (approx. 4.7 x 4.7 inches) with an envelope a little larger.
It cuts on the standard Cricut mat (not the specialist card one) and cuts on 3 A4 or Letter-sized sheets of cardstock.
Make this pretty Thanksgiving card - deep rust orange with soft lemon/cream and pretty peach
The Thanksgiving card template uses typical Fall colors for the card (see the card just above) - a deep orange for the intricate-cut outer card, a pale lemon/cream for the inner card, and a pretty peach for the envelope.
I also made an alternate card color choice to inspire you, with a pale taupe/beige for the outer card, a cheerful orange for the inner card, and a spicy red for the envelope (see the card just below)...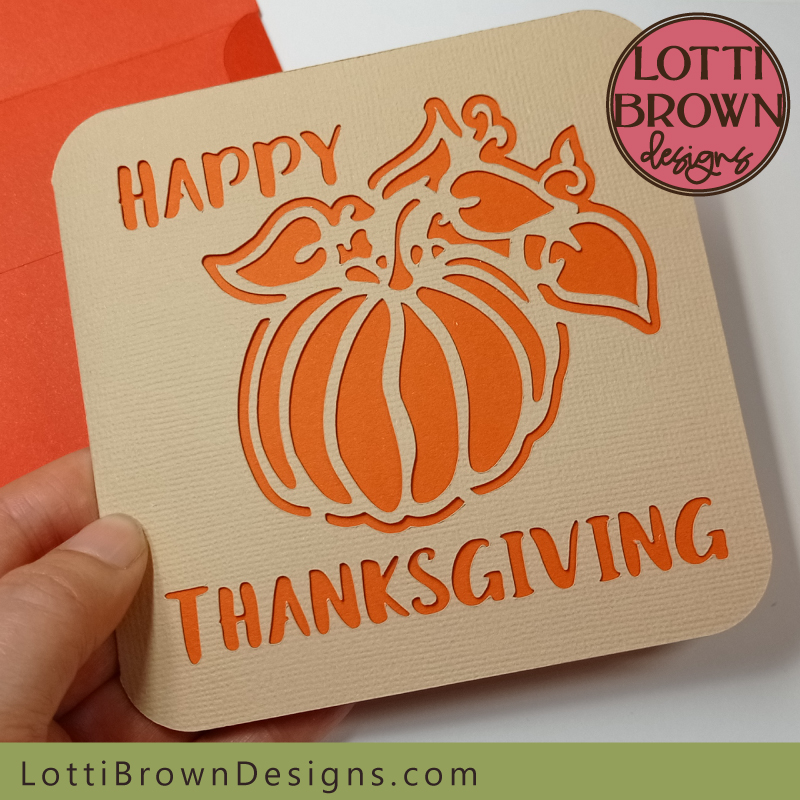 Cheerful Thanksgiving card colors - taupe/beige and spicy orange and red
I hope the colors will inspire you to make your own Thanksgiving card in your own color choices - traditional Thanksgiving colors are all the warm Fall colors, oranges, reds, browns, yellows - and you could definitely add in a splash of green.
Try and get some nice contrast between the colors for the inner and outer card - a contrast between light and dark tones is often most effective - this means the cut design will stand out really well.
DIY Thanksgiving card to make with an electronic cutting machine (like Cricut)
Materials
I used Cricut cardstock for the dark orange outer card (from the Jewel tone pack)
I used Sizzix Surfacez textured cardstock for the taupe/beiger inner card (from the neutrals pack)
The inner card and envelope for both are a generic lightweight coloured cardstock (160gsm)
I cut the Thanksgiving card template with my Cricut Maker cutting machine, using 'intricate' cardstock setting in Cricut Design Space for the outer card and 'lightweight cardstock' setting for the inner card and envelope.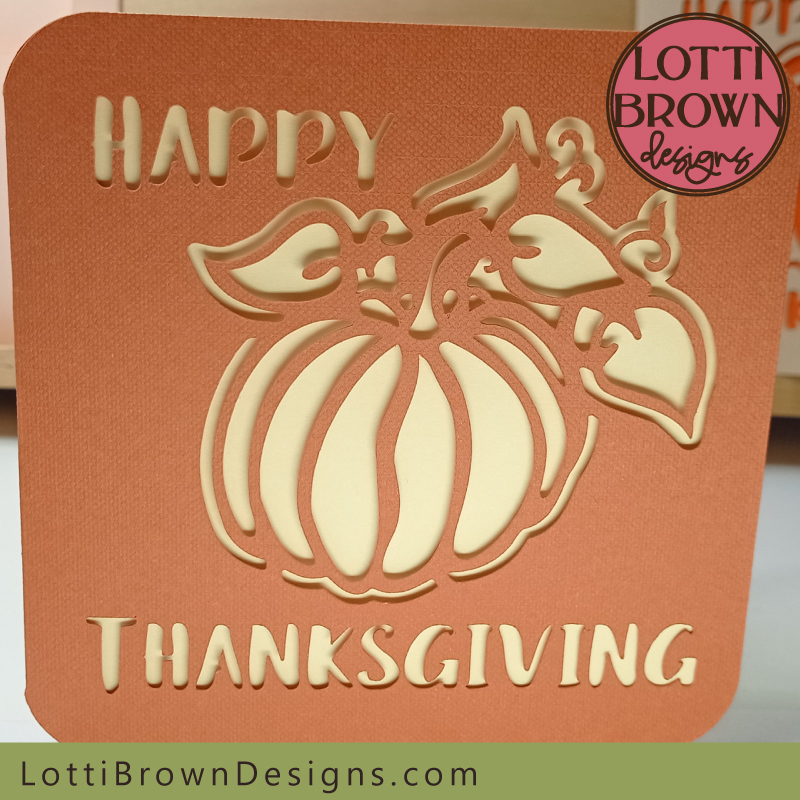 Digital download Thanksgiving card SVG template for Cricut and other cutting machines
If you'd like to make the Thanksgiving card template yourself, at home, you can get the cut file from my Etsy store with instant download, link right below...
Get your Thanksgiving card template from my Etsy store here
Digital download to make a papercut thanksgiving card
SVG, DXF, EPS & PNG file formats all included
Suitable for Cricut and many other cutting machines
Templates for papercut outer card, plain inner card and plain envelope all included
Uses the standard Cricut mat
For personal craft use and small-business commercial use (up to 200 products/units)
Physical (craft) products only - no digital products, use, or sharing
The tutorial for setting the score lines correctly is here - and the instructions for folding and assembling the card are here...
You might also like: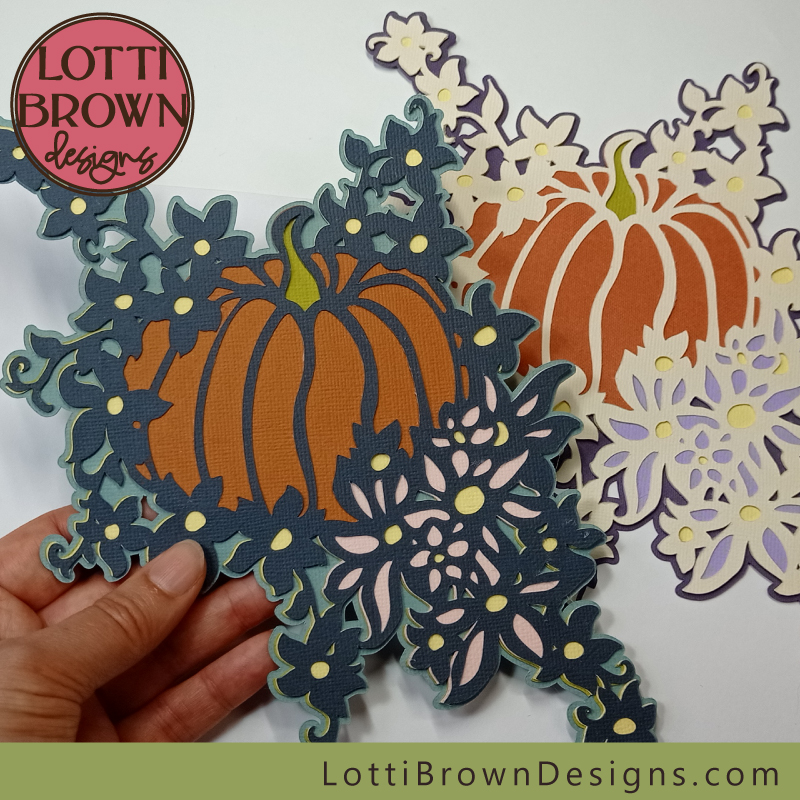 Thanksgiving pumpkin craft project idea for you!
This is a pretty pumpkin and flowers craft project for you to try - perfect for Thanksgiving or Fall - take a look here...
I also have lots of other pumpkin and Fall-themed SVG designs for you to craft with, right here...
Fall pumpkin SVG design for crafting