SVG Birthday Card Template - Dragonfly Design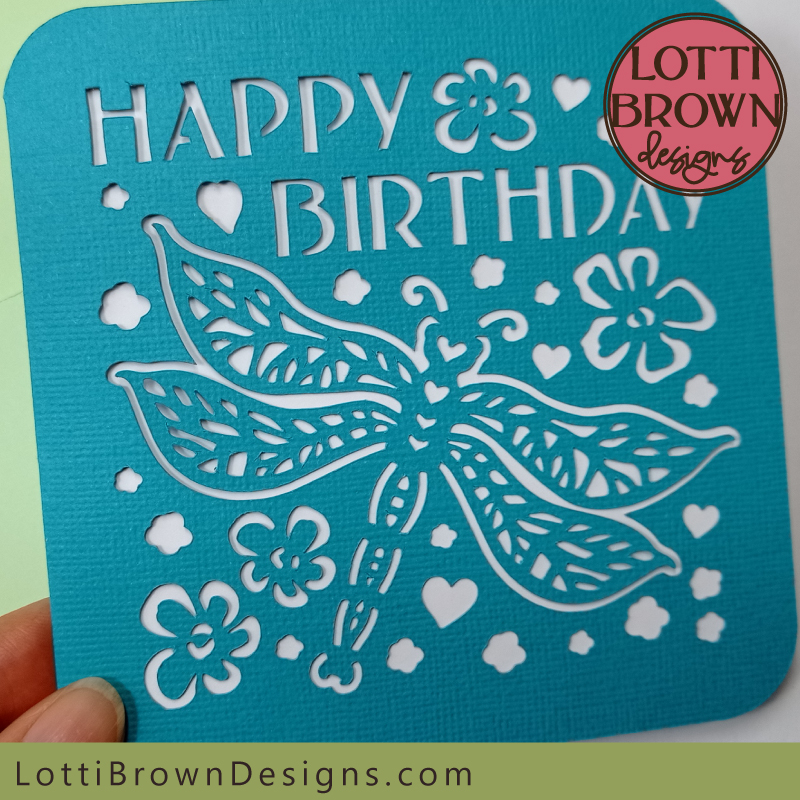 Papercut dragonfly birthday card - SVG, EPS, DXF and PNG file formats
This gorgeous SVG birthday card template has an intricate papercut design with a beautiful dragonfly and floral decoration - it's a pretty and classic design that you can use for recipients of any age.
It's also easy to make with your Cricut or other cutting machine - you could also use the PNG format to cut by hand if you prefer.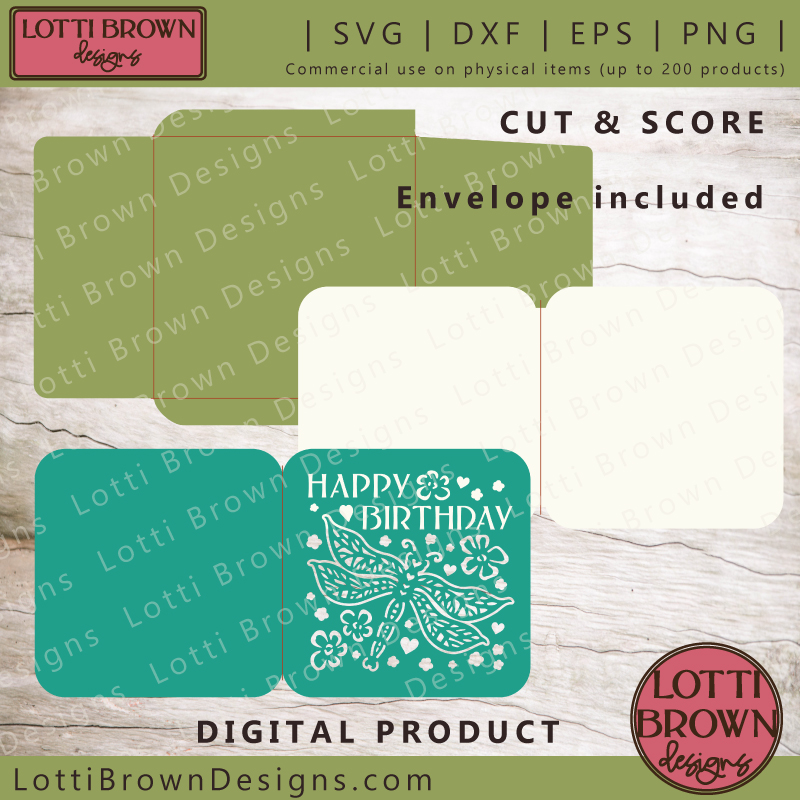 Digital dragonfly SVG birthday card template - 'cut and score' project including envelope
You will need to use the 'cut and score' functions on your cutting machine to make the card - you can also score by hand if you don't have a scoring tool. If you are a Cricut user, I have all the instructions to help you set up the line properly to score, in Cricut Design Space - you can see that here - you might also find it useful if you're using another type of cutting machine or if you want to score by hand.
Once the card is all cut (and scored) I have a full craft tutorial to help you fold and assemble the card here - it's super easy!
Used as-is in Cricut Design Space, the SVG is set up to create a finished card that's approximately 12 x 12 cm (around 4.75 x 4.75 inches) with an envelope that's a little larger.
The card needs three A4 or Letter-sized sheets of cardstock (total for card and envelope).
The card cuts on the standard Cricut mat (not the specialist card mat).
Gorgeous, intricate-look dragonfly birthday card template - totally teal with green envelope
I made my dragonfly design SVG birthday card template this lovely teal colour (above), teamed up with a white inner card and a green envelope. I think that it's quite a contemporary and very striking look...
The pretty design stands out really well with this colour combination and I think that the teal and green colours indicate the colour of the dragonfly, as I always do think of those stunning blue and green shimmering colours of dragonflies!
I also like to create an alternate colour for my card templates and designs - I wanted to make my alternate colour idea for the dragonfly birthday card SVG template in lovely lilac (see below)...
A pretty look for the dragonfly card - lovely lilac with a soft blue-green envelope
I always think lilac suits dragonflies really well - it's a delicate and airy colour, very spiritual, just like the enigmatic dragonfly! I made the inner card white so that the design would stand out well, and paired the card with a soft blue-green envelope.
This is a pretty and feminine look - a bit more classic in style than the teal.
Lots of other colours would work really well for the dragonfly card template - soft pastel colours would look pretty and soft, like the lilac version above - and brighter colours teamed with white or other neutrals will look more contemporary. It's up to you! I hope these two examples will start to inspire you, though...
I cut the dragonfly SVG birthday card templates with my Cricut Maker:
The outer cards are both Sizzix 'Surfacez' textured cardstock
The inner cards and envelopes are a generic lightweight crafting cardstock (160 gsm)
I used the 'cardstock for intricate cuts' setting for the outer card
I used the 'lightweight cardstock' setting for the inner card and envelope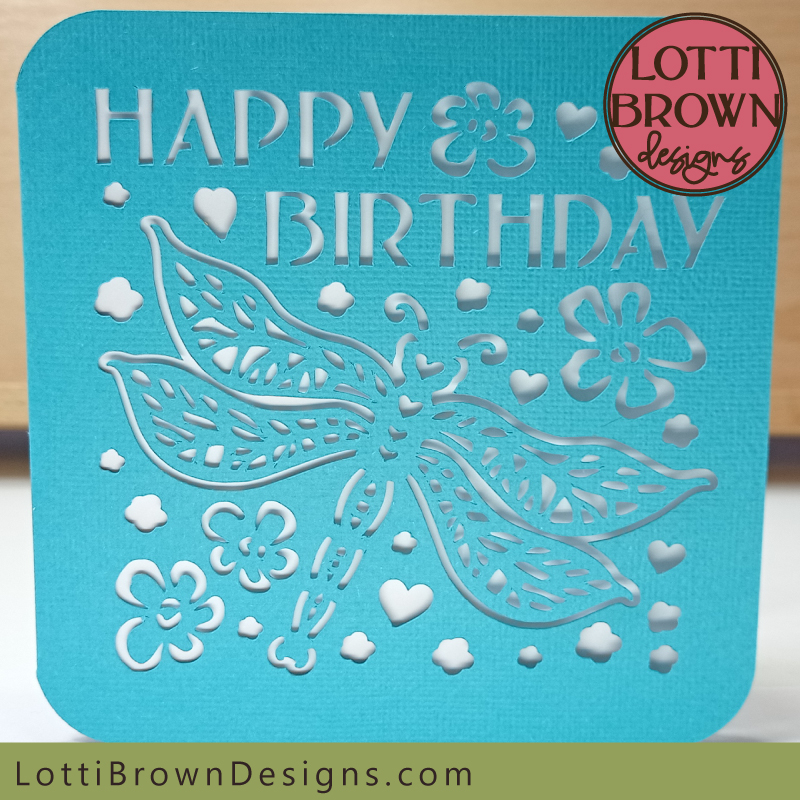 Pretty papercut birthday card SVG template with dragonfly design
If you like my dragonfly birthday card SVG template you can get the files (SVG, DXF, EPS, PNG) from my Etsy store at the link right below...
Get the dragonfly birthday card template from my Etsy store here...
Digital download SVG birthday card template for Cricut and other cutting machines
SVG, DXF, EPS & PNG file formats all included
Template includes outer card, inner card and envelope
Cuts on the standard Cricut mat (NOT the specialist card mat)
For personal crafting or small-business commercial use (up to 200 products)
For physical (craft) products only - no digital products, use, or sharing
You can also get the card as one of 5 designs in my pretty birthday card bundle #1 - here!
The instructions for setting the score line up correctly in Cricut Design Space are here - will likely also be useful if you're using a different cutting machine or if you want to score manually.
The craft tutorial for folding and assembling your card is here - have fun!
'Happy Birthday' card template - SVG, EPS, DXF, PNG file formats - dragonfly design
You might also like: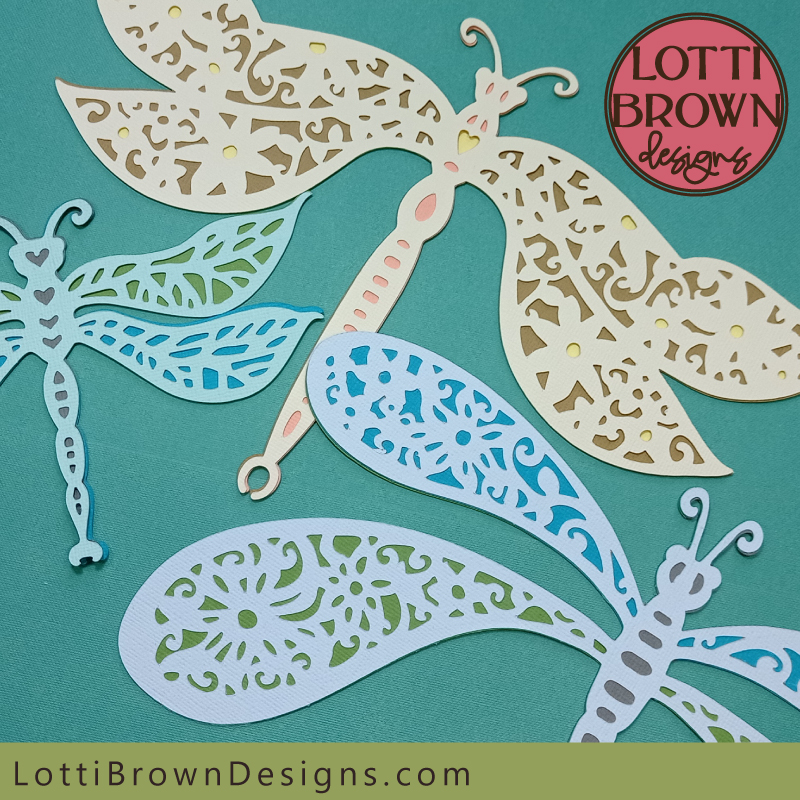 If you love dragonflies, I think you'll love my dragonfly SVG files that you can use for vinyl crafting, paper crafting, stencil crafts and other cutting machine crafts - there are three different dragonfly designs which you can get individually or in a bundle of three designs - see them all here!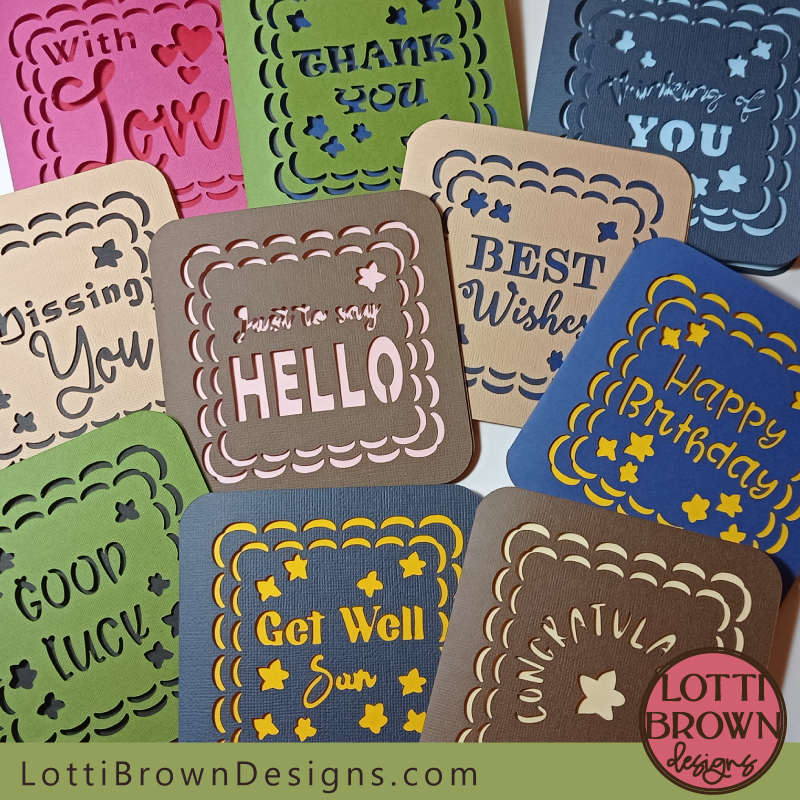 Lots more greeting card templates for Cricut and other machines - SVG, DXF, EPS, PNG
If you like my way of making a card with your Cricut (or other machine) you can see all my other card templates that are made in the same way - take a look here!