HTV or 'Iron-on' vinyl
This is 'heat transfer vinyl' aka 'iron-on' vinyl. It's the vinyl to use for craft projects on softer or more porous surfaces such as fabric, card, paper, wood, or leather.
It comes in regular finishes, but also lots of fun finishes such as glitter, foil, holographic, flock, and glow-in-the-dark.
This vinyl is applied with heat, which helps it to stick to your surface. You can use the Cricut Easy Press or heat press – but you can also use a household iron.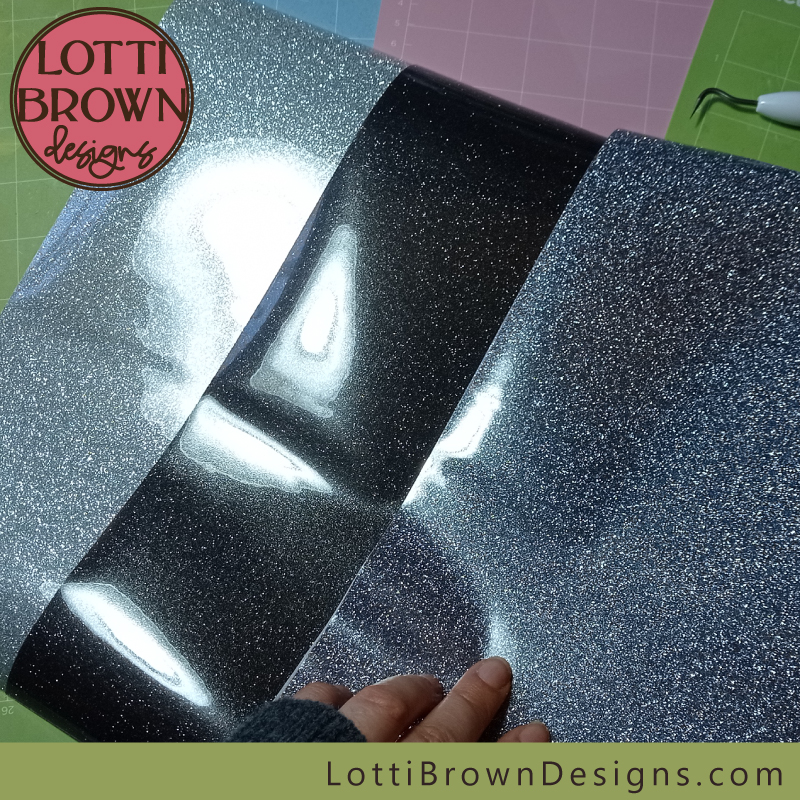 HTV or iron-on vinyl in glitter effect - the shininess you can see is actually the backing sheet or liner - this side will stick on the mat for cutting and will be face up when applying heat (beneath a protective sheet)
How to use iron-on vinyl (HTV)
Take your time when crafting with HTV as it's easy to make mistakes.
You need to:
Pre-wash any fabric, without using fabric softener. This serves two purposes, to pre-shrink the fabric so that it doesn't shrink the first time you wash it (fabric often does), leaving the vinyl wrinkly. And also to remove any chemical residue that may be left from its manufacture, which could affect how well the vinyl adheres.
'Mirror' or 'flip' the design so it's in reverse or 'mirror image'. Do this when you're in Design Space. This is especially important for text.
Cut with the backing/liner sheet side down on the mat – the machine should just cut the vinyl and not the backing sheet.
Use a protective mat under your project to protect your surface. Cricut do the Easy Press mat, you could just use a towel.
Apply heat to your material (such as fabric) before you apply the vinyl.
Apply your vinyl so that it looks the right way around on your item, with the vinyl touching your fabric and the shiny liner side facing up. Pop the protective sheeting that comes with your vinyl over the top of everything, or use a tea-towel or similar.
Check the instructions that came with your chosen vinyl for if you need low, medium or high heat, and how long to apply heat for – don't just wing it! You can always apply a bit more heat, but once you've overdone it, you can't take it away!
Apply heat to the protective sheet with an iron or heat press – this protective sheet protects your vinyl from too much heat and also allows the heat to distribute more evenly over your vinyl so that it sticks evenly.
Remove the protective sheet and check your vinyl. Again, read the instructions for your specific vinyl type, as sometimes you should remove the protective sheet straight away, and sometimes you should allow it to cool a little first (especially for effects like foil or holographic vinyl).
The HTV should have bonded with the fabric - and with a regular HTV, you should be able to just see the texture of the fabric beneath (not so much for heavier HTVs like flock and other effects).
You can always pop the protective sheet back over and apply a little more heat if you consider it not quite 'done'.
HTV is great for:
T-shirts and sweatshirts
Bags, cushions and other fabrics
Paper, card, wood and other porous surfaces
Cricut has some useful instructions here - make sure you check down the list for more specialist vinyl types, if applicable to your project.
You can also watch the video below which guides you through all the steps for making an iron-on project.
Removing HTV vinyl
Try heating the reverse of the fabric where the HTV vinyl you want to remove is – then start carefully peeling and picking at it with tweezers or a craft knife to remove it.
You may need to use an adhesive removal product to get the final bits off – check it's compatible with your fabric type first, and wash your item before trying again with more vinyl.
Printable vinyl
This is a vinyl that you can print your design onto. It comes in regular or HTV/iron-on vinyl.
With Cricut, they have a removable, printable matt vinyl, ideal for making your own decals. You will need to use an inkjet printer and the 'print-and-cut' feature on Explore and Maker machines.
Printable vinyl is great for projects where you want to print your own design onto vinyl.
Cricut's instructions for using printable vinyl with your cutting machine are here...