Gingerbread House SVG Crafting
I love, love, love little gingerbread houses - they feel so Christmassy to me! So I was very happy to start creating my hand-drawn gingerbread house design to make into a cut file for you! (I also made a 3D light-up papercraft version - you can see that here!)
I wanted to make my gingerbread house into a cute cottage - very sweet and pretty - and I wanted to add lots of 'icing' decoration to it, to make it very ornate and beautiful - this is a certainly case for 'more is more'!!
I also added a chimney with candyfloss smoke coming out - luckily, with a gingerbread house SVG design, we're not confined to physical confectionary creations that hold together well, so I can let my imagination take the reins!
I love cutting paper and card, so I made my gingerbread house in cardstock - but if you love to craft with vinyl or HTV, this would work too, as well as other crafting materials that suit your machine, including light woods...
You could also make a stencil and create the design with paint, etching solution or pyrography gel - lots of ideas for you to use the gingerbread cottage SVG design in your own way!
If you want a paper gingerbread house template to cut by hand, use the PNG file format to print out the design as a template and cut carefully with a craft knife.
Cute gingerbread cottage cut in cardstock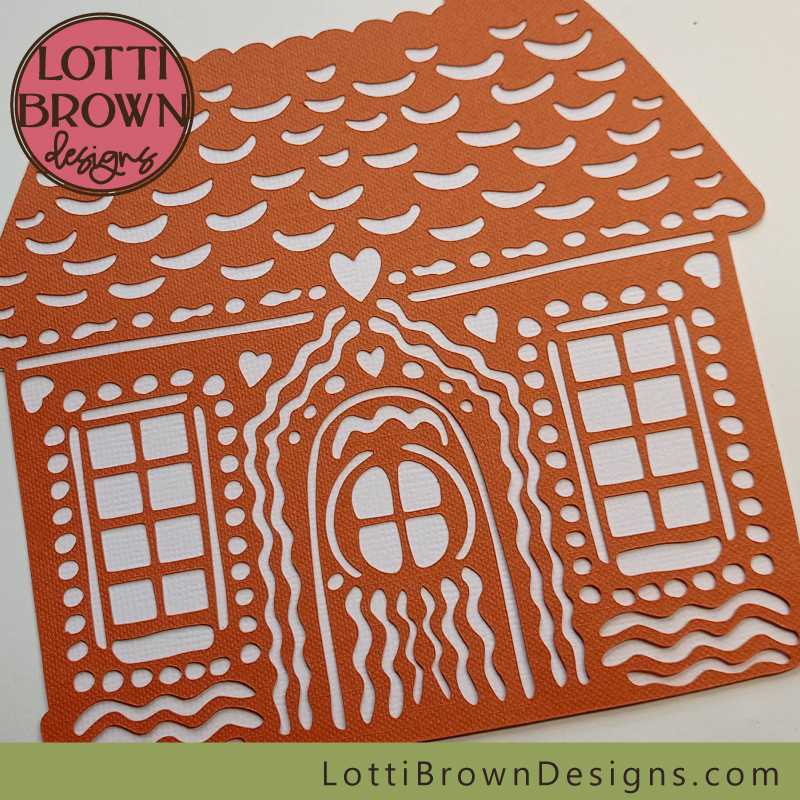 Taking a close-up look at the gingerbread house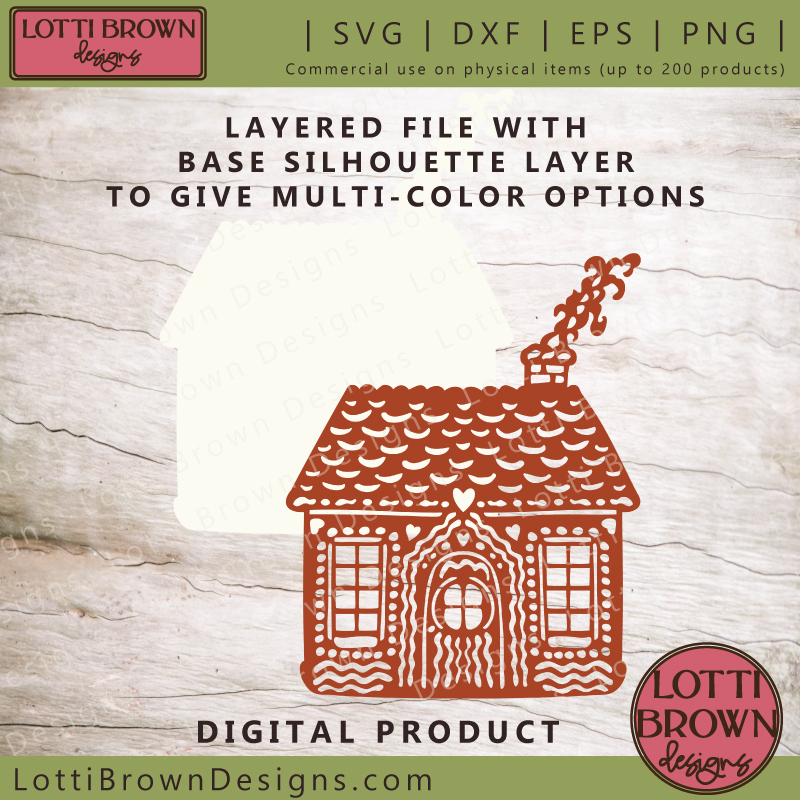 Gingerbread house - simple two-layered design
My gingerbread house SVG design has two layers - the intricate top layer with the cottage design, and a simple base layer that allows you to add a second colour to the design if you wish - you can also use the top layer just on its own if that suits your project better...
As you can see in the images above, I designed my gingerbread cottage in a gingery orange and white, which I thought looked nicely like gingerbread and icing...
I love to cut paper and cardstock with my Cricut Maker, so I thought I'd try it out in some other colours too...
Alternative colour ideas for my gingerbread house
Good enough to eat! This cardstock is a perfect biscuity colour!
This biscuit-coloured cardstock by Sizzix (Sizzix 'Surfacez' textured cardstock) is perfect for the gingerbread house SVG design and truly looks good enough to eat! The image above shows just the top layer of the design, but in the image above that one (with the two cottages) I paired up this card with a white cardstock background (also Sizzix).
The ginger/orange cardstock is Cricut cardstock (from the Jewel tones cardstock pack) - as well as the white background (Sizzix cardstock) which you've already seen, I tried out a pale blue background as I thought it would be fun and also give lots of contrast (and blue icing is very cool, too)!
I cut both using the 'intricate cardstock' setting on my Cricut Maker.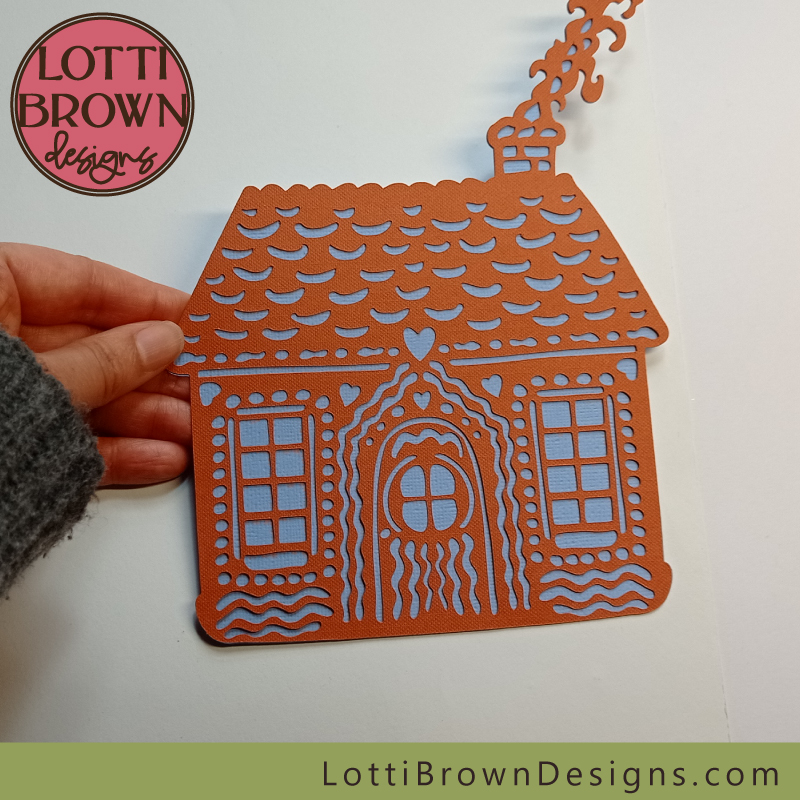 Colourful gingerbread cottage creation in orange and blue cardstock!
I think the orange and blue version is fun - but personally, I still prefer either of the two versions with the white background - do have a little experiment with colours though and see what combinations you come up with and what you like - I always love seeing the unique colour combinations that people use my designs with! 
Cute gingerbread cottage - template for papercutting and cutting machine crafts
If my gingerbread house SVG design inspires you for your own Christmas crafting, you can get the cut files from my Etsy store - see the link right below - there's instant download with worldwide availability.
Gingerlicious! A biscuit-beautiful gingerbread house papercut in cardstock. Do not eat! This is made of paper!
You might also like: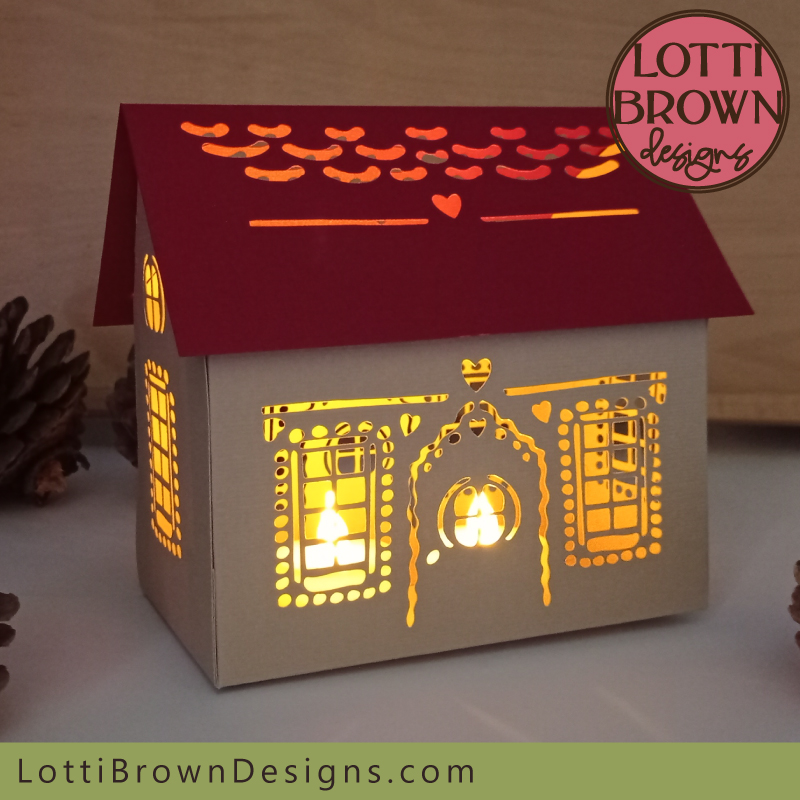 3D light-up paper gingerbread house template
I liked my gingerbread house design so much, I decided to make it into a 3D version - a pretty light-up paper gingerbread house to make - you can see it on this page...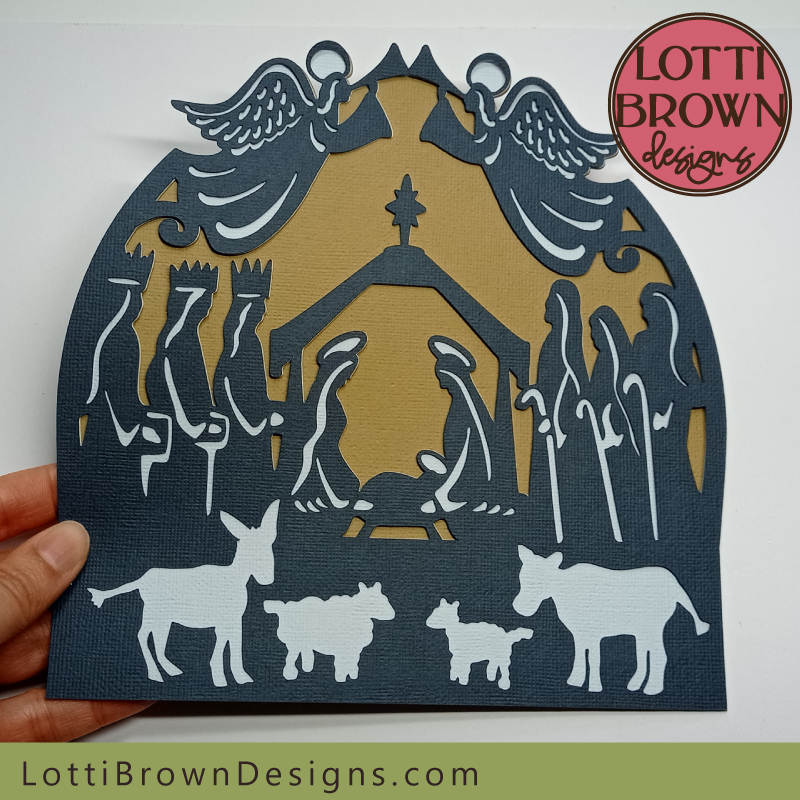 Another Christmas cardstock project to inspire you!
I've got lots more Christmas SVG designs and projects for you on this page!
Including lots of Christmas card templates to make with your Cricut or similar cutting machine - click here to see!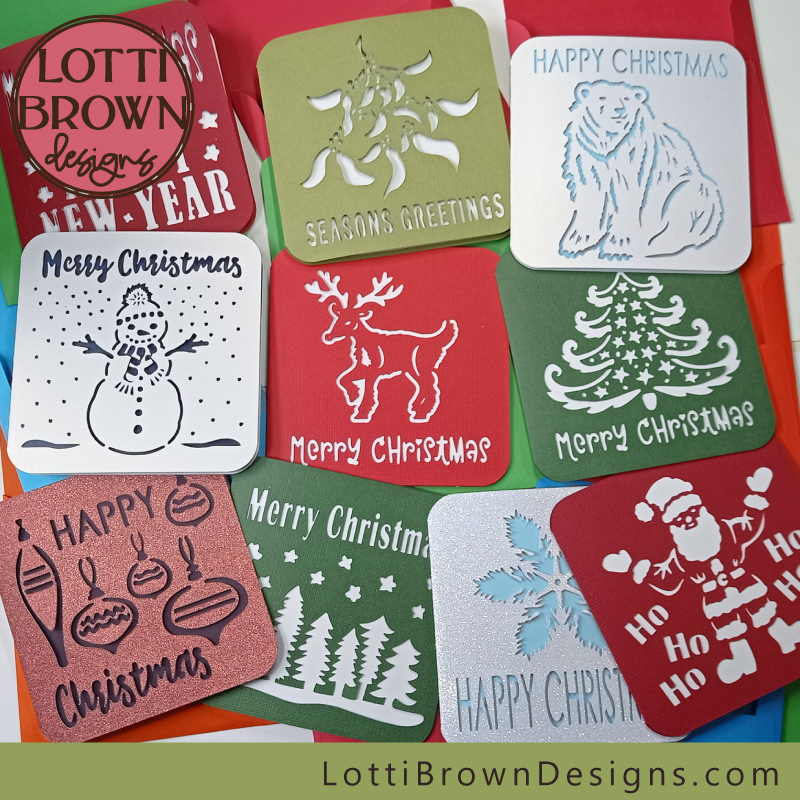 Christmas card templates for your cutting machine