How to Make Your Stars Gift Box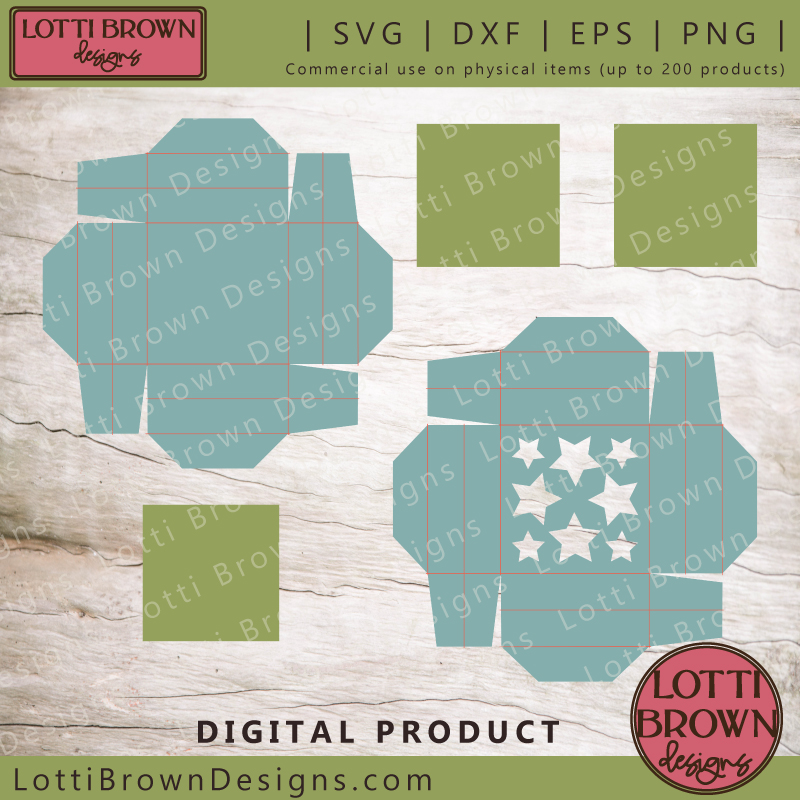 Template to make the stars gift box - SVG, DXF, EPS, PNG
The stars gift box is made in (almost exactly) the same way as my basic square gift box - it's a cut and score project, which means that you will need to use a scoring tool to score the fold lines on the cardstock gift box template, or score them manually - you can use a knitting needle (or other blunt point) if you want to score manually.
To score with your cutting machine, you will need to set the red lines in the image above to score - this page shows you the steps to do this in Cricut Design Space. You may also find it useful, even with another brand of cutting machine, as it breaks down the individual steps that need to be taken to set the lines up to score.
Once your box is cut and scored, I have a craft tutorial to help you fold and assemble the box here - it's the same tutorial for all the boxes of this shape, with extra instructions for gift box templates with the patterned (cut-out) lids, like this one. Read the instructions here...
Gift box template with stars design
The SVG used as-is in Cricut Design Space makes a finished box that's approximately 8 x 8 x 2 cm (approx. 3.15 x 3.15 x 0.79 inches) - it uses three sheets of A4 cardstock in total.
I used my Cricut Maker cutting machine to make the boxes, using the Medium Cardstock setting for the lid and base (Sizzix 'Surfacez' textured cardstock) and Light Cardstock setting for the inserts (blue: Clairefontaine smooth card 185gsm, green: BCreativetolearn smooth card 160gsm).
Cute and colourful gift boxes
I made the stars box template in this really colourful teal and green colour combination - I think it's a fun and cheerful look for the gift box - bold and happy with a celebratory feel!
The alternative gift box colour combination I did was this simpler and more sophisticated grey and dark blue - ideal for a more sophisticated or serious recipient.
I actually can't decide which of the colour combinations I like the most!
Cardstock gift box template - sophisticated and simple grey and navy or bold and beautiful green and teal?
My first thought was to make the box a dark colour with gold stars, which I think would look quite nice and sparkly if you used a metallic or glitter card as the insert for the stars...
You could also make the box look very pretty and feminine if you wanted, with pretty pinks or pastel colours - there's so few craft design suitable for men, though, that I always like to try and create something that you can gift to the men in your life, and try out colour schemes for men, too, so I stuck with these blues, greens, and greys for my colour choices for this template.
If you're looking for more colour ideas for the gift boxes, you can see what I selected for the other cardstock gift box templates in my collection on this page - if you click through to see more about a particular design, you'll see my alternative colour idea for it too!