Hearts Gift Box SVG Template
This is a pretty love hearts gift box template that's based around my basic square gift box (that I show you how to build here) - it's the same basic design and construction (nice and sturdy and strong) but with a cut-out love hearts design on the lid that makes it that extra little bit special...
So it's perfect for little gifts for Valentines Day, anniversaries, or birthdays and Christmas for your romantic other!
It's even great for gifts for sisters, daughters, mums, friends, and family - I'll give you some ideas about how to use the colours depending on who the recipient is, later...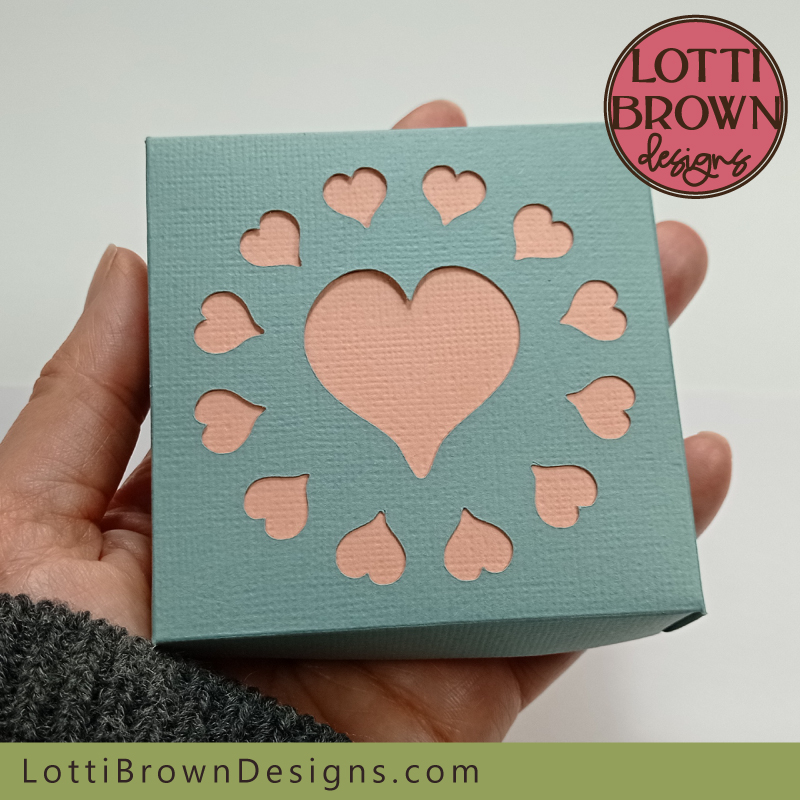 Love hearts gift box SVG file
The gift box even opens up with a special pop of colour inside to make it feel luxurious for the gift opener...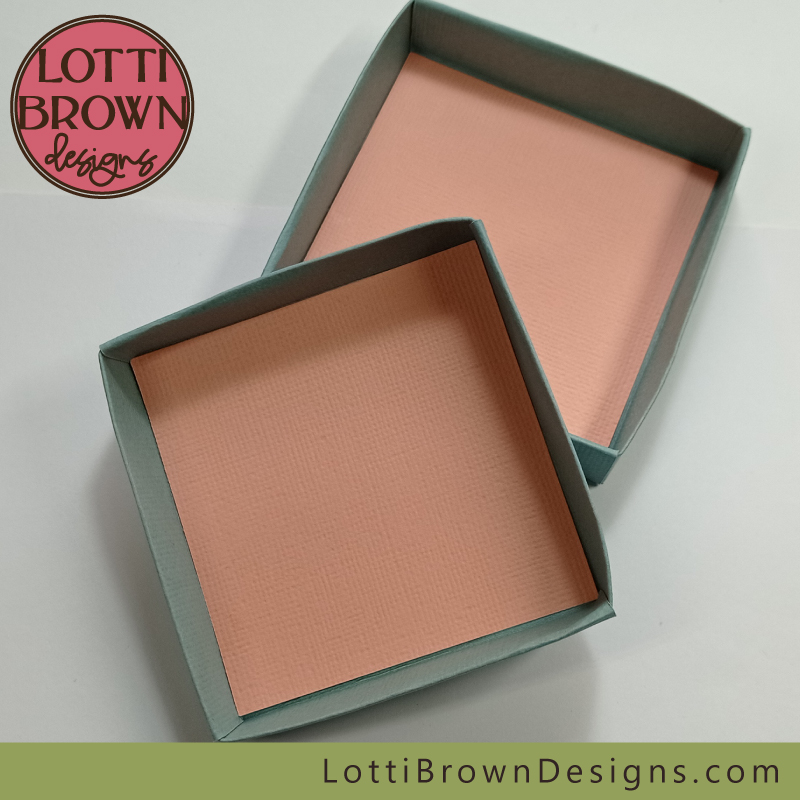 A pretty pop of colour inside!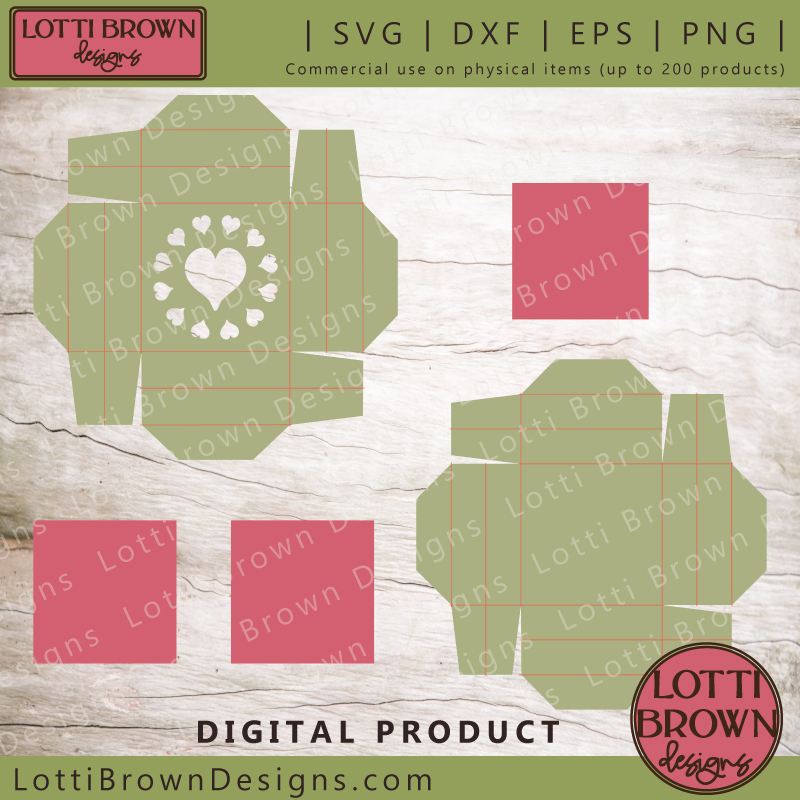 Love hearts gift box cut file - SVG, DXF, EPS, PNG
Gift Box SVG Template Instructions
The hearts gift box SVG is easy to make - you will just need to follow the same instructions as for the other gift box templates, which you can find at the links just below...
Part two - shows you how to fold and assemble the gift box to get it looking lovely. I cover the folds you need to make and how to put it all together, including how to get the cut out pattern showing against the insert in the lid - follow part two of the tutorial here...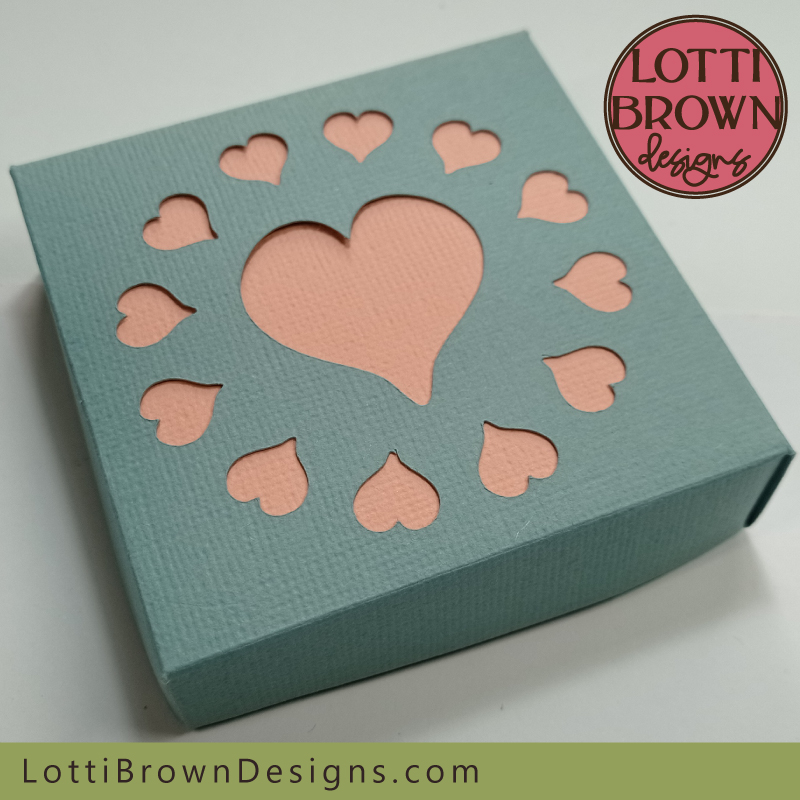 Make this pretty love hearts gift box at home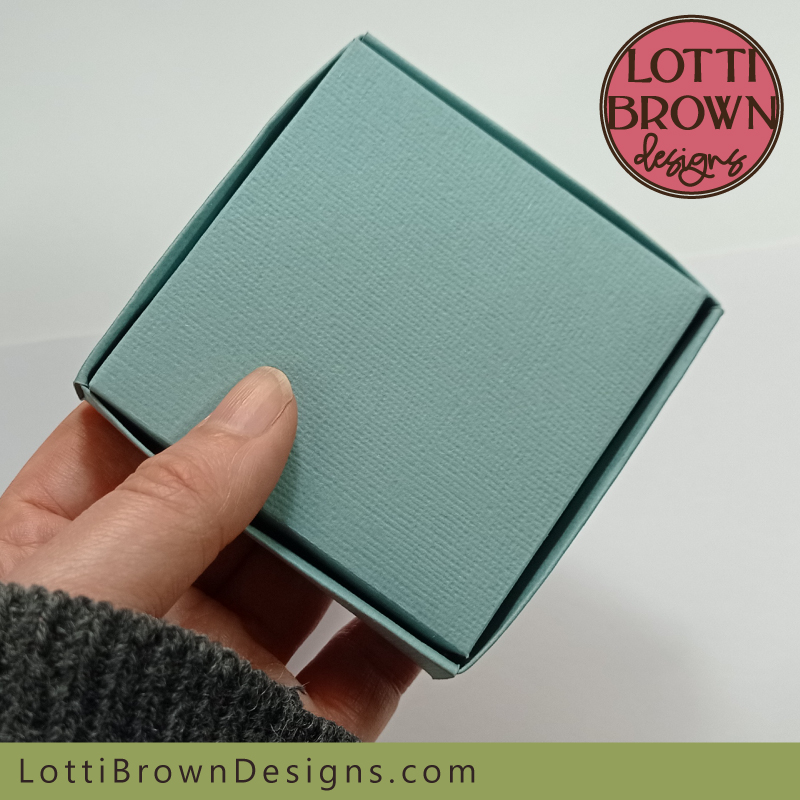 Showing the underside of the gift box
Used as-is in Cricut Design Space, the SVG file makes a finished gift box that's around 8 x 8 x 2 cm (approx. 3.15 x 3.15 x 0.79 inches) - you can resize it as you wish but it works better at a fairly small size. This size uses three A4 or Letter-sized sheets of cardstock.
I've made my love hearts gift box with Sizzix 'Surfacez' textured cardstock for all parts - I cut it using the 'Medium Cardstock' setting with my Cricut Maker...
I made this in pretty green and pink as I think it's a pretty colour scheme that can be used for any occasion, especially if you want to give this little gift box to a friend or family member as it's cute and pretty but not too romantic...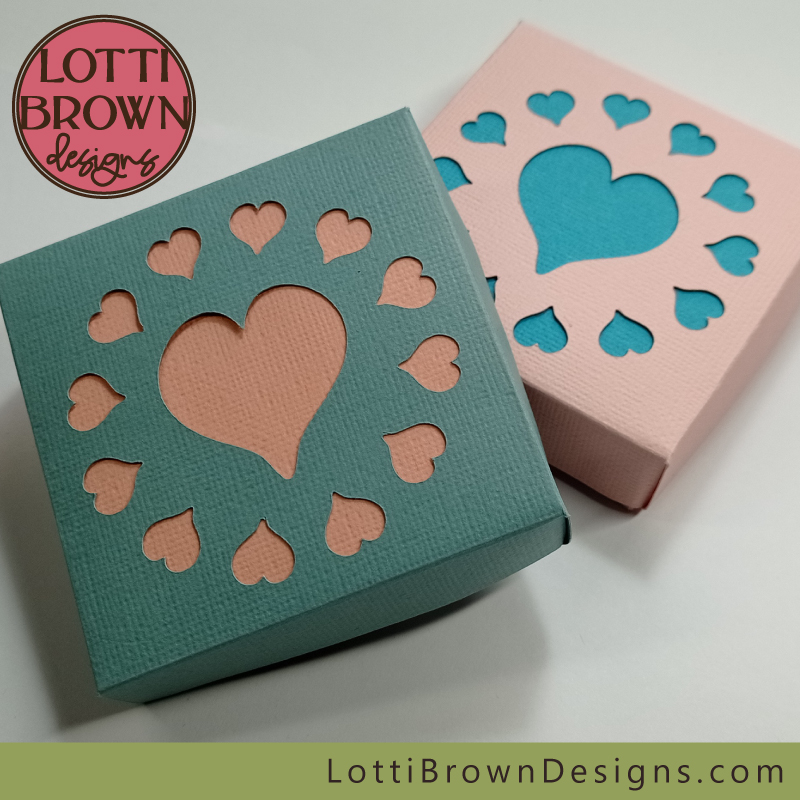 Colour ideas for your love hearts gift box
As you can see, I also made the gift box SVG template in a pale pink and teal - this is another pretty colour combination that I think looks rather nice and contemporary - the pink gives this a slightly more romantic air - but it's certainly not too romantic to give to a friend or family member...
If you really want a romantic feel or a declaration of true love, we're thinking about traditional Valentines Day colours for your gift box - mix together any red and pink for a little gift to declare your passion, or red and white (red box, white insert)...
Take care to look for some contrast when you're choosing your colours - I always say this, and I mean make sure that the colour you choose for the insert stands out really well against the main box colour - in this way, the design will stand out nicely too. Contrasts like pink and green or pink and teal look lovely (like in my boxes) but also think about contrasts between light and dark colours too (like red and white)...
Get creative and have some fun with your little gift boxes!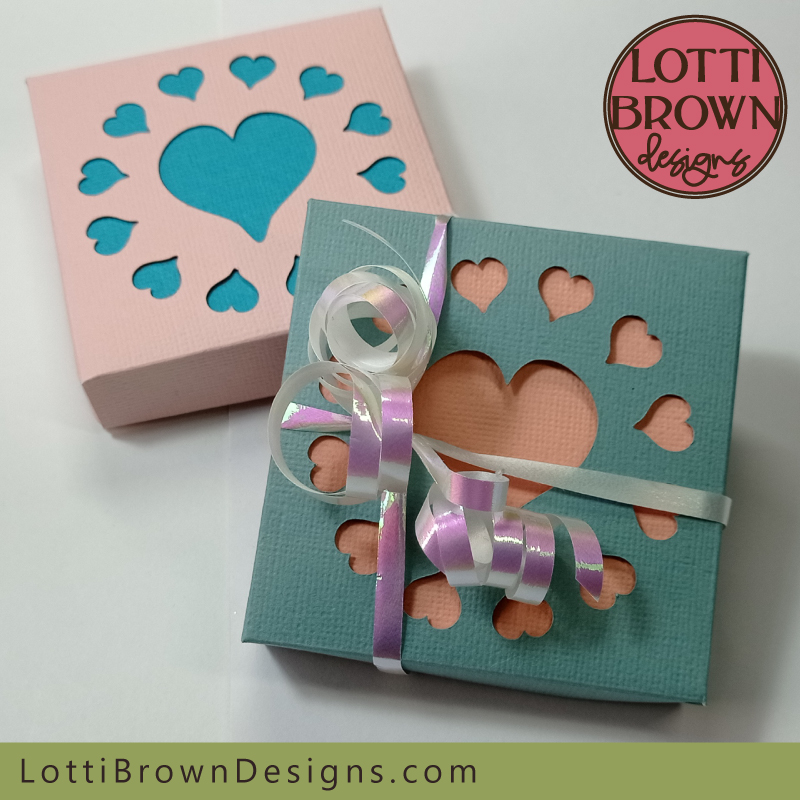 Gift boxes with presentation ribbon and hearts design
I tried tying some florists ribbon to the love hearts box, just to see how it looked - while I love it on my basic square box template that I use in this tutorial, I'm not convinced it adds anything to the heart box, more obscures the pretty design...
I tried to tie it to one side to leave the design showing - perhaps it's the colour that's not ideal (it's photographed a lot more mauve/purple-looking than it is in real life - it's sort of white, pink, and yellow-green shimmer) - but personally, I feel like it's better without the ribbon - what do you think? 
Get your Hearts Gift Box Template
You can get your love hearts gift box template from my Etsy store with instant download at the link just below...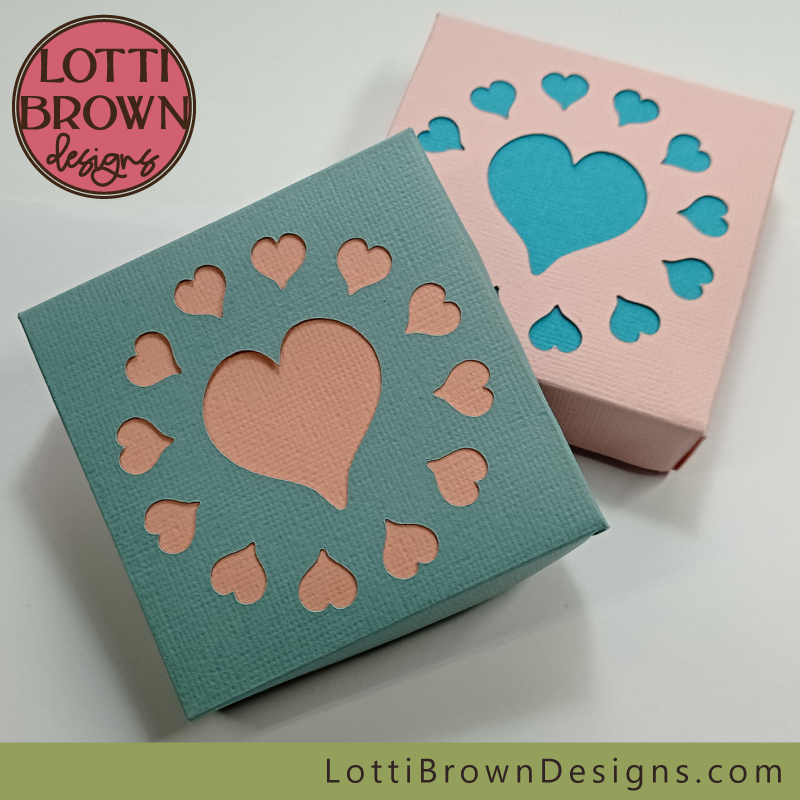 Love hearts gift box template - SVG, DXF, EPS, PNG
Get your love hearts gift box template from my Etsy store here
SVG, DXF, EPS, PNG file formats
Suitable for Cricut & similar cutting machines or cutting by hand
For personal craft projects and small-business commercial use (up to 200 products)
For physical (craft) products only - no digital products, use, or sharing
If you'd like to choose from more gift box templates - browse my designs here - all with the same basic set up and assembly process...
You might also like: