Cute Cardstock Box Template
It's a floral fun-time for this cute cardstock box template with my flower and heart designs all over the lid in a pretty cut-out pattern!
Pretty hearts and flowers gift box template
The template is based on my basic square gift box template - but with a pretty cut-out lid to add some floral pattern to make the box extra special!
The box also has fab coloured inserts in a contrasting colour inside - so that it's lovely inside when you open it up too!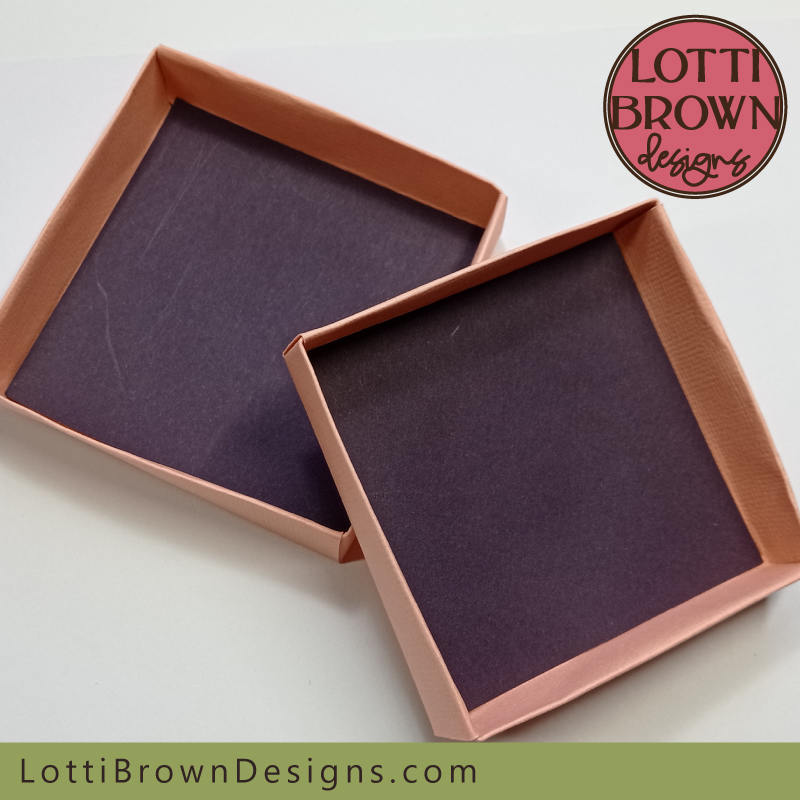 A contrast colour makes the box extra lovely (you can use the same colour if you prefer)
Showing the base of the gift box
I designed these little boxes to be pretty and sturdy, with a strong construction which will help them live up to the 'rigours' of gifting (but please do try and be gentle with your little box, it's only made of cardstock, after all)!

The template is a cut and score project for your cutting machine - or you can choose to cut and/or score by hand if you prefer (using the PNG file). We need to score the lines for folding, so that you (and the box) both know where to fold!
Many cutting machines can score with a specialist scoring tool - if you don't have a scoring tool, you can use a knitting needle or other blunt point to score by hand (you will need to delete the score lines, if you're using a cutting machine to cut but not to score). I show you how to set up the file in Cricut Design Space so that everything scores correctly on this page. You may find it useful, even if you're using another cutting machine program, as the basic steps are likely still the same.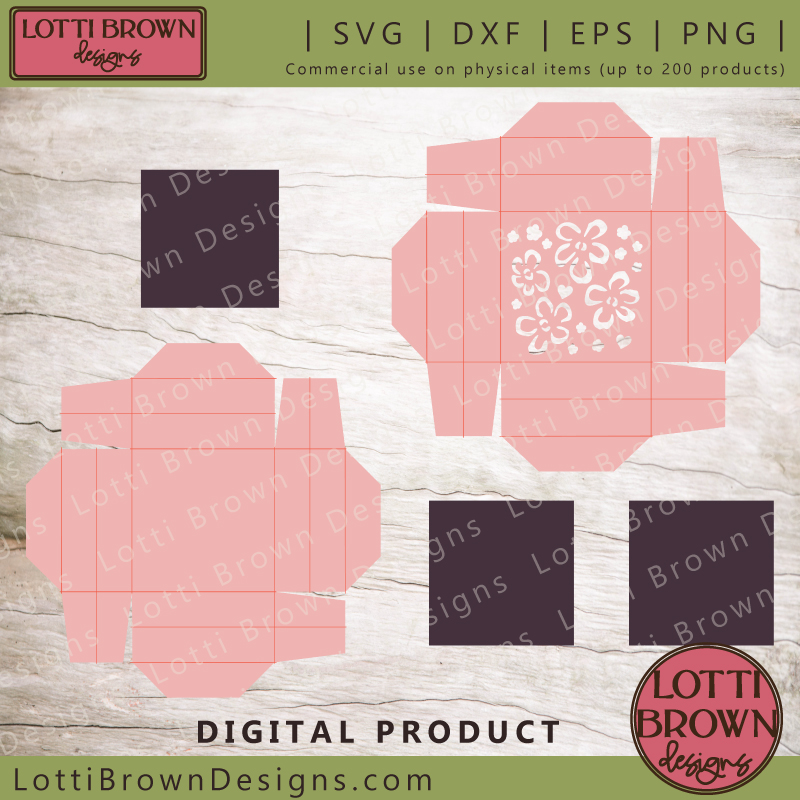 Template to make a floral gift box - SVG, DXF, EPS, PNG
Once you've cut and scored your cardstock box template, you will need these instructions for folding and assembling your box. The instructions (and the ones for setting up the score lines, above) are the same for all of the gift box templates on this page - the basic process of folding and assembling is the same for all these gift boxes...
The boxes with the patterned (cut-out) lids, like this floral gift box, have one extra step, which is putting the extra insert square behind the cut out design - please look out for this in the instructions - I've put it in a coloured box to try and make it clear.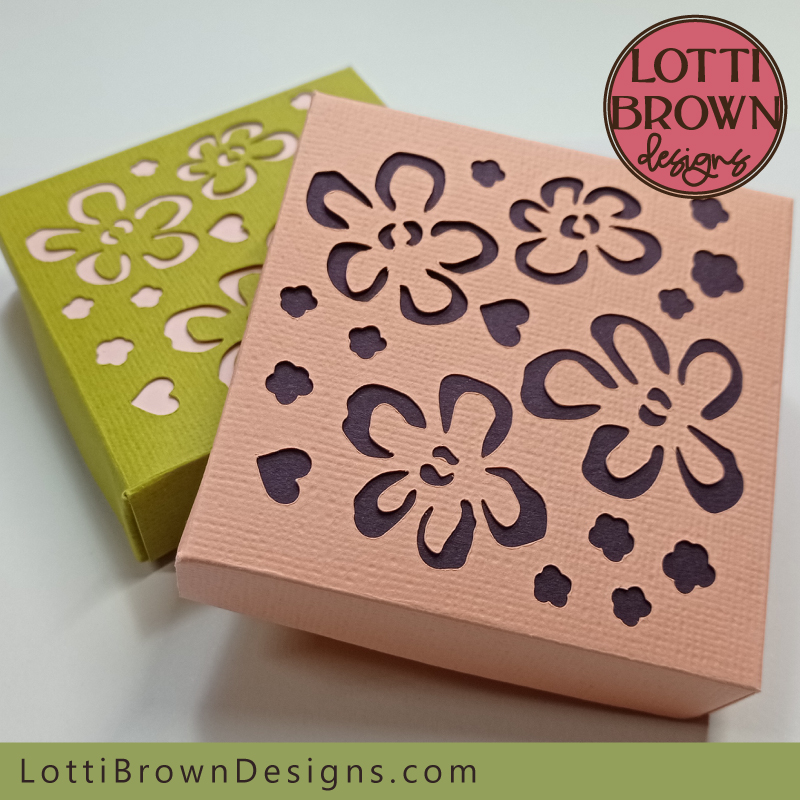 Make this pretty floral box from cardstock
The finished gift box will be around  8 x 8 x 2 cm (that's approx. 3.15 x 3.15 x 0.79 inches) - that's using the SVG as-is in Cricut. You can resize the template as you wish.
I made my cardstock box template with my Cricut Maker.
I used Sizzix 'Surfacez' textured cardstock for the main boxes.
I used generic coloured crafting cardstock (160 gsm) for the inserts (

you could use Sizzix 'Surfacez' instead if you want - I changed for the colours not the thickness of the card

).
I used the 'Cardstock for Intricate Cuts' setting in Cricut Design Space for the lid.
I used the 'Medium Cardstock' setting for the base.
I used the 'Light Cardstock' setting for the inserts.
The template is the pink and dark purple colour combination - I loved using the pretty pink for the box, but I wanted a colour with really good contrast for the insert, to show the pattern off.
Because it's a floral design, floral colours will really work well for this template - so pinks, yellows, greens, pale blues, pastel and fresh tones. You can team them up with a darker colour, like I've done, or perhaps a white, or a paler tone, depending on the colours you choose. Get some good contrast, though, to show the pattern off!
I think a dark grey or black box might look really nice, with a really zingy colour insert to make the flowers really 'pop'! What do you think?
The alternative colour choice that I actually chose for my floral gift box template is this lovely lime green, which I paired up with a very pretty, very pale pink - I think it looks really fresh and pretty!
Zesty lime and palest pink make a fresh and pretty gift box idea to make with your cutting machine
How to Get the Floral Gift Box Template
You can get your floral gift box cut file template from my Etsy store, with worldwide instant download, at the link right below...
Pretty floral gift box cut file template - SVG, DXF, EPS, PNG
Get your floral gift box template from my Etsy store here
SVG, DXF, EPS, PNG file formats
Suitable for Cricut & similar cutting machines or cutting by hand
For personal craft projects and small-business commercial use (up to 200 products)
For physical (craft) products only - no digital products, use, or sharing
You can see more cardstock box template designs here...
For the score line setting up instructions, go to this page...
For the folding and assembly craft tutorial, check out this page...
You might also like:
How about a floral birthday card to match..?
How about a floral birthday card template to match the gift box? Take a look here...
I've also got lots more card ideas here!