Ballerina Birthday Card Cut File
I was inspired to design this pretty ballerina card while creating my three ballerina SVG files - I thought it would be a lovely idea for a birthday card and I wanted to make it intricate and beautiful with lots of detail and flowers...
I hope the ballerina birthday card will appeal to ballet lovers of all ages, from little girls (and boys) to the more mature ballet lover.
I also think the card is perfect just to send that wonderful freeing feeling of dancing for pure joy! I definitely think my ballerina is loving her dancing and enjoying her art. And when to dance for joy if not your birthday!
Dancing for pure joy! Beautiful ballerina card template...
Ballerina card template - 'cut and score' - SVG, DXF, EPS, PNG
The ballerina card template is a 'cut and score' project for your cutting machine - the card cuts flat on the standard Cricut mat (or in another cutting machine) using three sheets of A4 or Letter-sized cardstock (one for the outer card, one for the inner card, and one for the envelope)...
You then need to create score lines along the fold marks of the card. The score/fold lines are already on the template - you can delete them and score by hand if you like, but if you have a cutting machine that also scores, you will need to set these lines to score in your design programme, and then score them on your machine...
If you're a Cricut user, I have full step-by-step instructions for how to do this right here - you might also find these instructions useful to follow even if you use another cutting machine. And if you need help choosing which score tool to use (Cricut) or have decided to score by hand, there's help for that on that same page, too.
Once your card is fully cut and scored, I have a craft tutorial to help you fold and assemble your ballerina birthday card here.
Your finished card will be around 12 x 12 cm (approximately 4.75 x 4.75 inches) with the envelope that's a little larger (that's how the template turns out when you use the SVG as-is in Cricut Design Space).
Ballerina 'Happy Birthday' card cut file template
I tried out my ballerina birthday card template in two different colour combinations - a pretty pink and a fresh green & blue...
And I decided to make the template in the pale green and blue combination (see above) - I think it's really pretty and fresh, and provides something a little different than the standard pink for ballet-themed cards...
I teamed that up with a soft blue envelope, too, that really complements both the blue inner card and soft green outer card.
If you prefer pink, though, I think that's a lovely look, too (see below) - I've gone for a soft and subtle look with a salmon pink outer card and a soft peachy-pink inner card and a rich lemon/cream envelope.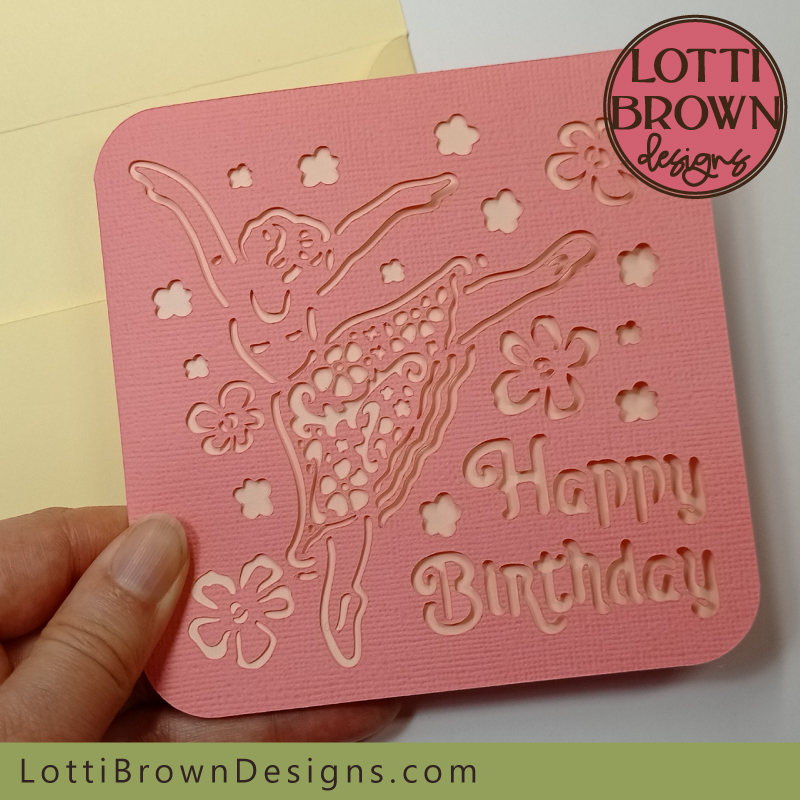 Pretty in pink! Happy birthday ballerina card template.
If you want to choose your own colours (which I definitely recommend having some fun with) look for some contrast between the inner and outer cards, so that the ballerina design stands out well.
I've given you a couple of nice colour ideas on this page - I also think a cream outer card would look lovely, and you could experiment with what colour you wanted the inner card to be - stronger/brighter colours or pretty pinks and pastels - all lovely!
I also think a really nice mid grey could work well for the outer card - then you could try a dark blue or purple for the inner card for a really contemporary and dramatic look - or something softer and paler for a subtle, sophisticated style.
Don't forget to have some fun with the envelope colour too!
I cut both these cards using my Cricut Maker - and:
Sizzix 'Surfacez' textured cardstock for the outer card of each - cut using the 'Cardstock for intricate cuts' setting in Cricut Design Space
Generic coloured crafting cardstock (160 gsm) for the inner card and envelope of each - cut using the 'Light cardstock' setting in Cricut Design Space
Be gentle peeling this card off the sticky cutting mat - the detail in the skirt in particular is quite intricate so just go slow and ease it off!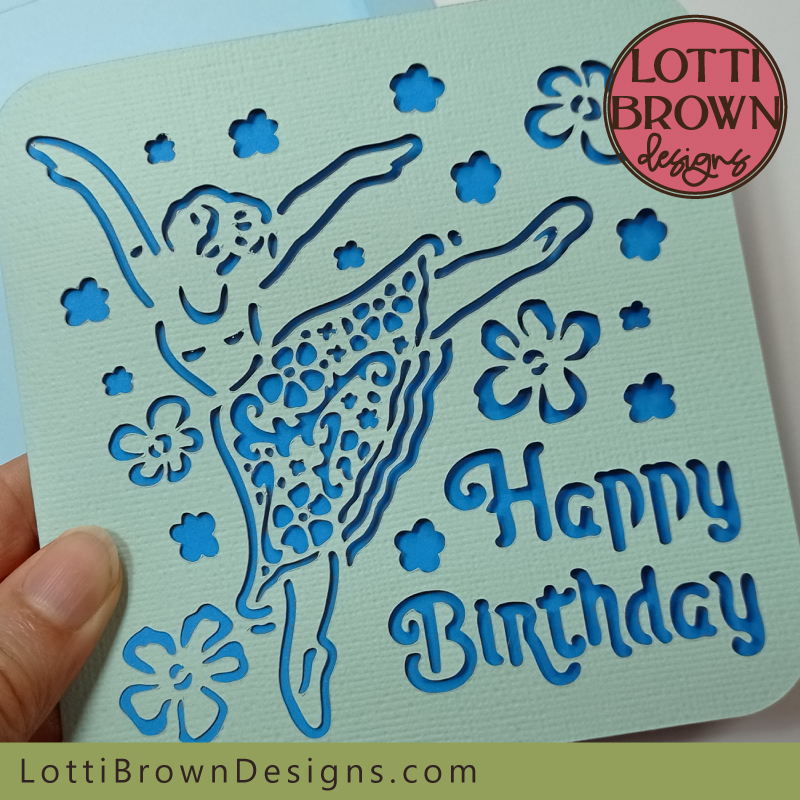 Pretty ballerina card template with 'Happy Birthday' wording - SVG, DXF, EPS, PNG file formats to download
Get the ballerina birthday card cut file from my Etsy store here
SVG, DXF, EPS and PNG file formats
For personal use and small-business commercial use (up to 200 products)
For physical (craft) products only - no digital products, use, or sharing
You can also get the card template as part of a 5-card bundle here
You might also like:
Ballerina layered SVG files
You might also like these lovely ballerina layered SVG files - there's three and you can get them individually or all together as a bundle of three designs (SVG, DXF, EPS, PNG).
I also made them into a ballet shadow box design - you can see that here...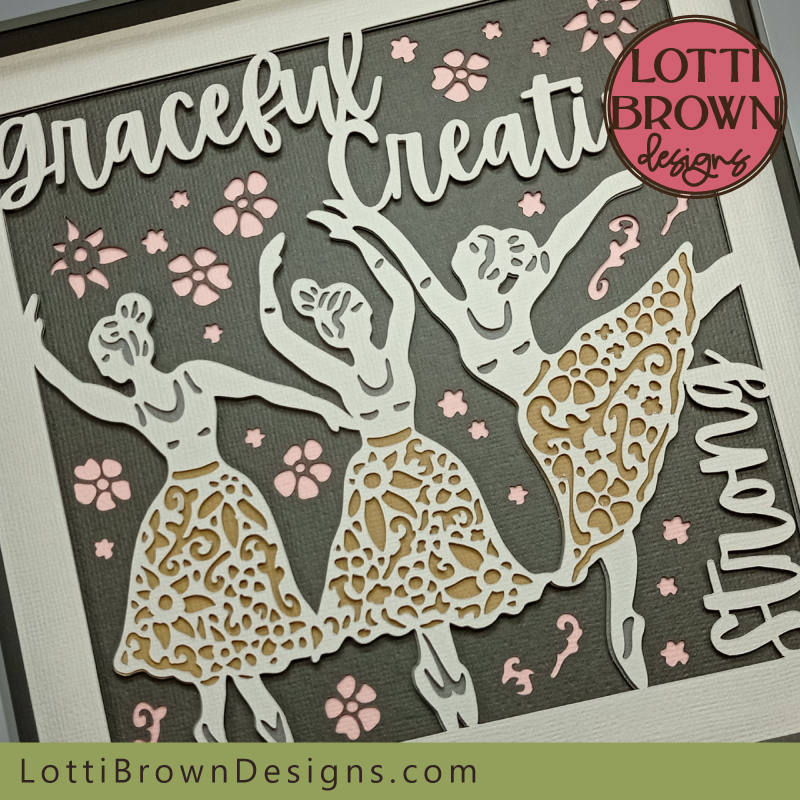 Ballerinas shadow box template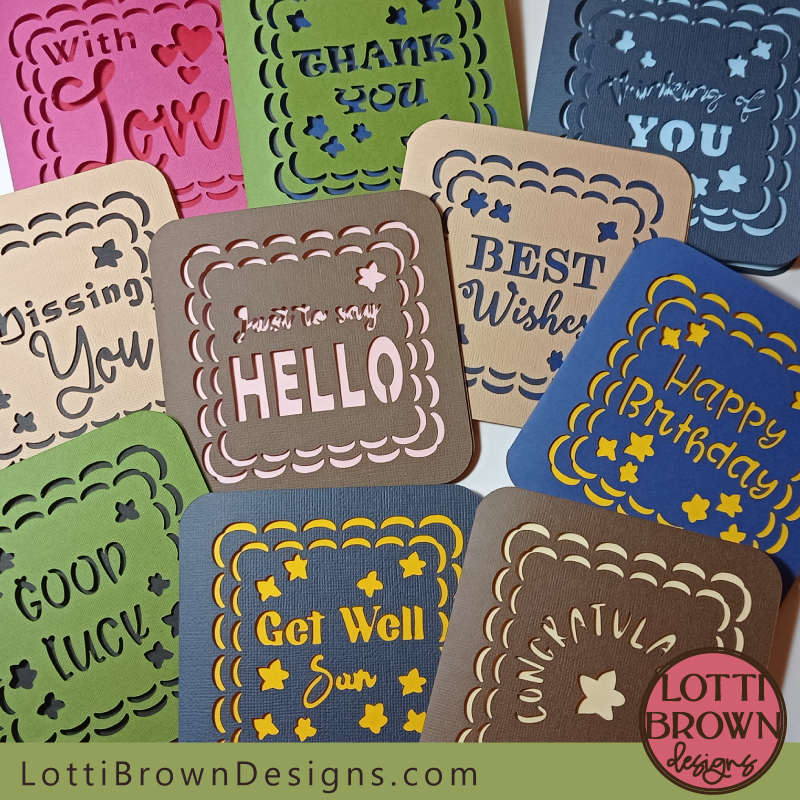 Card templates for Cricut and other cutting machines
If you like my way of making cards, do take a look at more of my card templates - I've got lots for lots of different occasions - birthdays, Christmas, life events, and even non-events! See them all here...