'Graceful', 'Creative' & 'Strong' - Ballerinas Shadow Box Template
Beautiful ballet SVG wall art template with three dancing ballerinas and wording 'Graceful', 'Creative' and 'Strong'...
Ballet is a beautiful and graceful art so I wanted my shadow box template to capture that for ballet lovers - so I wanted to celebrate the grace, creativity, and incredible strength of ballerinas...
I could go on with their qualities - agility, endurance, poise, elegance, commitment to name just a few - but there's only so much space on the wall art template, so I picked what I felt were the most important reflections, for me, of the artistry of ballets and ballerinas - I hope you agree!
My ballet SVG shadow box is easy to make but looks beautifully intricate - it would be a wonderful gift for a ballet lover.
Showing the layers for the ballet shadow box project - SVG, DXF, EPS, and PNG file formats included in the template
The ballet shadow box has just five layers, including one that's a plain background square - so it's not too difficult to cut and put together... 
The top layer is very intricately cut and contains all the main design - so you could use just this top layer if you wanted a simple project with just one layer.
If you want to use all the layers, I've got a craft tutorial just below to guide you through assembling the layers - it's easy to do and won't take too long, but does look lovely!
You will need:
Cardstock in five different colours - I've used Sizzix 'Surfacez' textured cardstock for each of these layers. I have some colour ideas and recommendations for you in the section below
Double-sided sticky pads (or similar) - these help to separate the layers while sticking them together - you can double-up if you want the layers further apart
Paper glue - for the skirt layer 
A way of cutting the template - I recommend a digital cutting machine and accessories - I use a Cricut Maker. You can use the PNG to cut by hand if you prefer
Shadow box frame - this is slightly deeper than a standard frame so that you can make your shadow box 3D (to create the shadow effects). I'm using a 20 x 20 cm shadow box frame (approx. 8 x 8 inches)
Choosing Colours for Your Ballet Shadow Box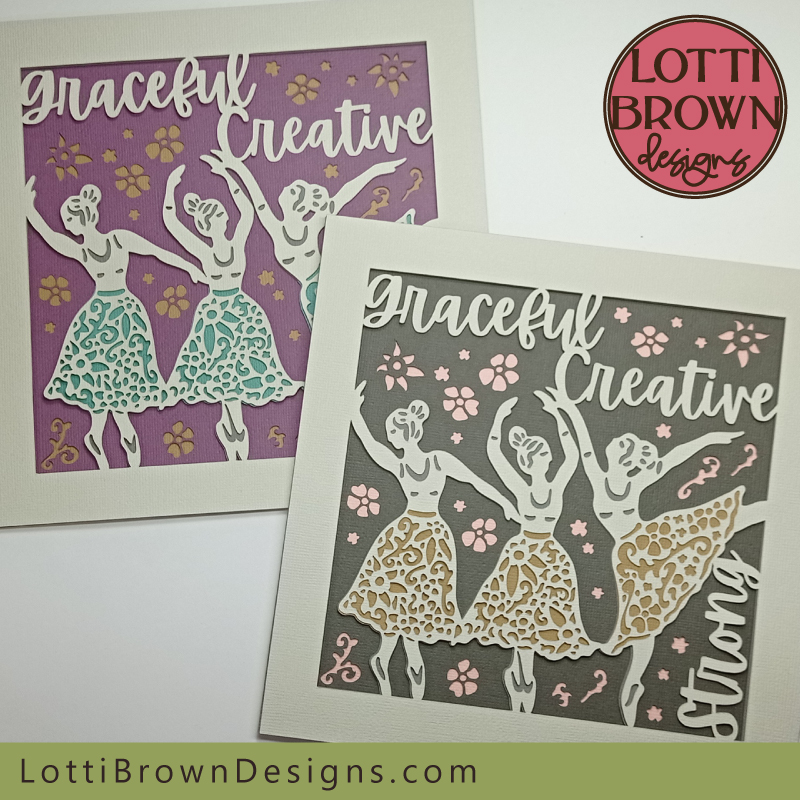 Colour inspiration for your ballerinas shadow box
I made the template for my ballerinas shadow box in soft white with a dark grey background (I wanted to use the deep cool grey card I have with a blue tone, but I've run out so this is a slightly paler grey) and pretty splashes of colour in pink and gold - it gives lovely contrast between the light and dark areas so that the figures of the ballet dancers stand out really well - that's one of the things to look out for when you're choosing your own colours for this project...
So a light or dark colour for the top layer will work well, with the contrasting light/dark colour for the layer with the little flower cut-outs - this gives the main contrast for the design...
Then you get to choose colours for the skirts, the flowers and a colour for the ballerina silhouette layer which gives the detail in the figures. Pretty floral colours can work well here - due to the floral pattern in the skirts and the background - or nice bright colours, whichever you prefer!
You can see my alternate idea for the ballet dancers shadow box below - a lovely rich purple for the background with contrasting gold flowers and teal-green for the skirts - I think it looks a pretty colour combination, creative, and also gives a surprisingly different feel to the project than my original grey, gold and pink template.
Please do get creative and have some fun choosing colours - and I'd love to see your creations too!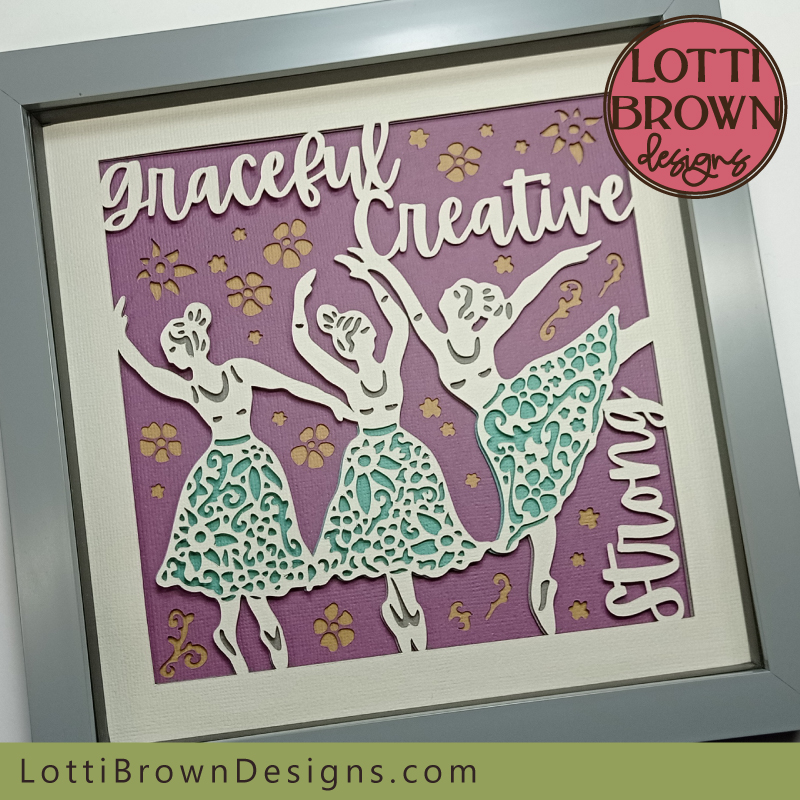 Pretty purple and green - ballerinas shadow box project