Wolf SVG Template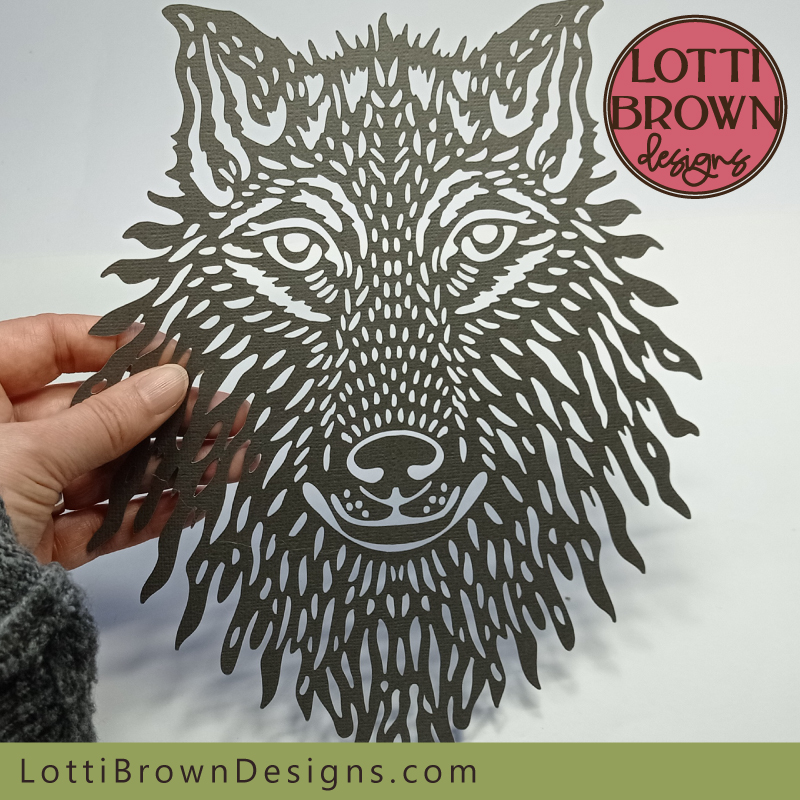 Beautiful wolf SVG template for cutting machines
I wanted to create an SVG design of a beautiful wolf face - a stunning wild creature of courage, wisdom, and intelligence as well as an incredible loyalty to its family.
The idea of the lone wolf is a popular one, but we more often see wolves as part of a pack where they are fiercely protective of those they love. A wolf pack leader, in particular, either male or female, is a very strong figure that can feel inspirational to us.
But wolves are also gentle and playful with their own - these beautiful wild animals call to our instincts of nature and freedom - that wild part of us that longs to roam the forests and plains and that feels protective of our own selves and those we love.
Wolves are certainly special animals which is why I wanted to be sure to try and do justice to this magnificent creature with my hand-drawn design...
I've tried to make a wolf face that's full of personality and expression and that also looks artistic and beautiful - I hope you like it!
I've created a detailed design that looks really intricate and beautiful but that's still easy to cut!
If you use the wolf face SVG as-is in Cricut, you can create a wolf that's around 20 x 24.5 cm in size (that's approximately 8 x 9.5 inches). 
You can also resize the SVG file (also the DXF and EPS) as you wish. You can see photos on this page where I've also cut my wolf face SVG a little smaller (around 15 x 19cm or 6 x 7.5 inches). You could probably go a little smaller still, depending on your machine and equipment and your chosen craft material.
The PNG file is great for printing - I've included hi-resolution files that give you a print-quality (300 dpi) design up to a maximum of about 32 x 40 inches (around 83 x 102 cm).
Wolf face papercut template - for Cricut and other cutting machines or cutting by hand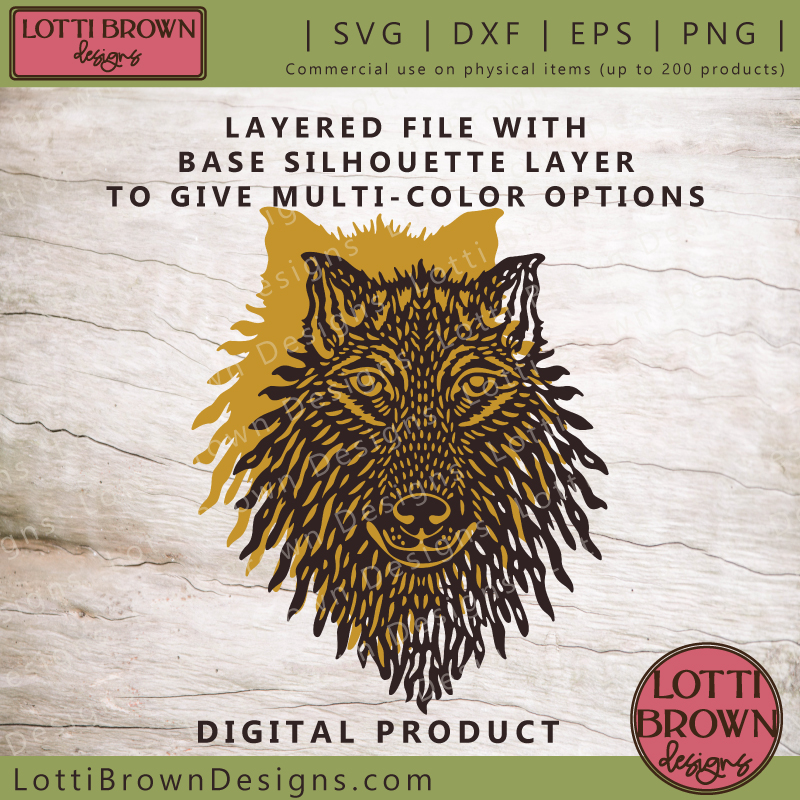 Wolf cut file with two layers
The file has two layers - an intricate top layer that's got all the design and detail in, that you can use on its own - there's also a plain base silhouette layer that can act as a background and give you a two-colour design, if you choose.
Wolf face design cut file - two layers
Wolf cut file template
I cut these wolf face designs with my Cricut Maker using Sizzix 'Surfacez' textured cardstock and the 'Cardstock for intricate cuts' setting in Cricut Design Space.
Tones of grey seem ideal for the wolf theme - I also included a tan colour - but do try and get some good contrast between the two layers to let the design stand out really nicely.
Papercut wolf face template
As well as cardstock and paper, you could use vinyl or HTV to use on fabrics and clothing, create a stencil to use with paint, or use etching solution or pyrography gel to create the wolf design with your craft materials.
I think that my wolf face design would look really great on a T-shirt or sweatshirt - my husband has already asked for one with this design on it!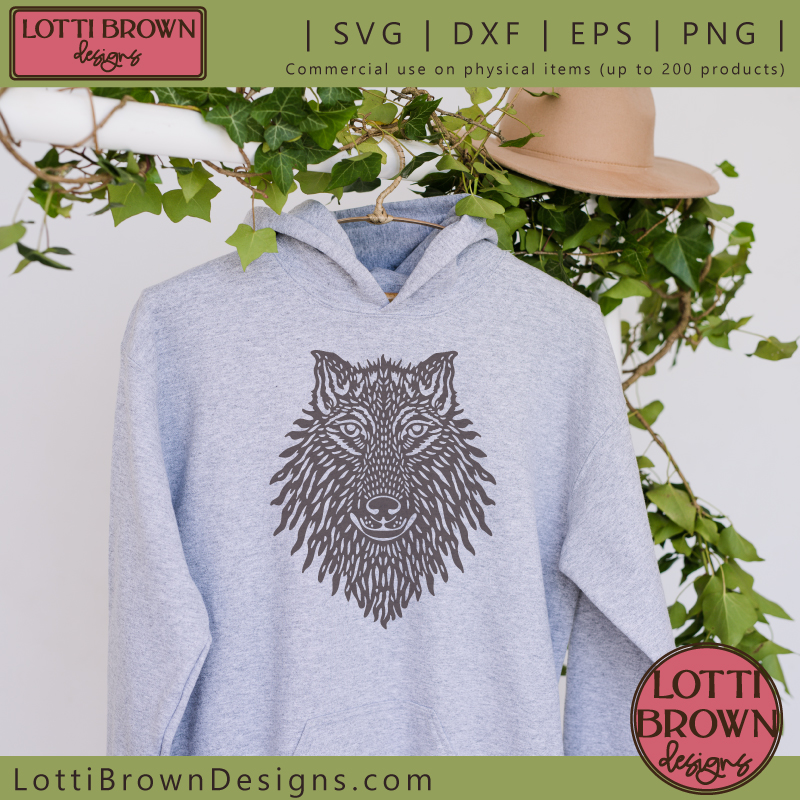 Wolf sweatshirt crafting idea
If you feel inspired to create and craft with my wolf face SVG file, you can get the cut files from my Etsy store at the link below - with instant download worldwide...
How to Get the Wolf Face SVG, DXF, EPS, & PNG Files
A closer look!
Get the wolf face cut files from my Etsy store here...
SVG, DXF, EPS and PNG file formats included
For personal use and small-business commercial use (up to 200 products)
For physical (craft) products only - no digital products, use, or sharing
If you need help with accessing or using your files click here
You might also like: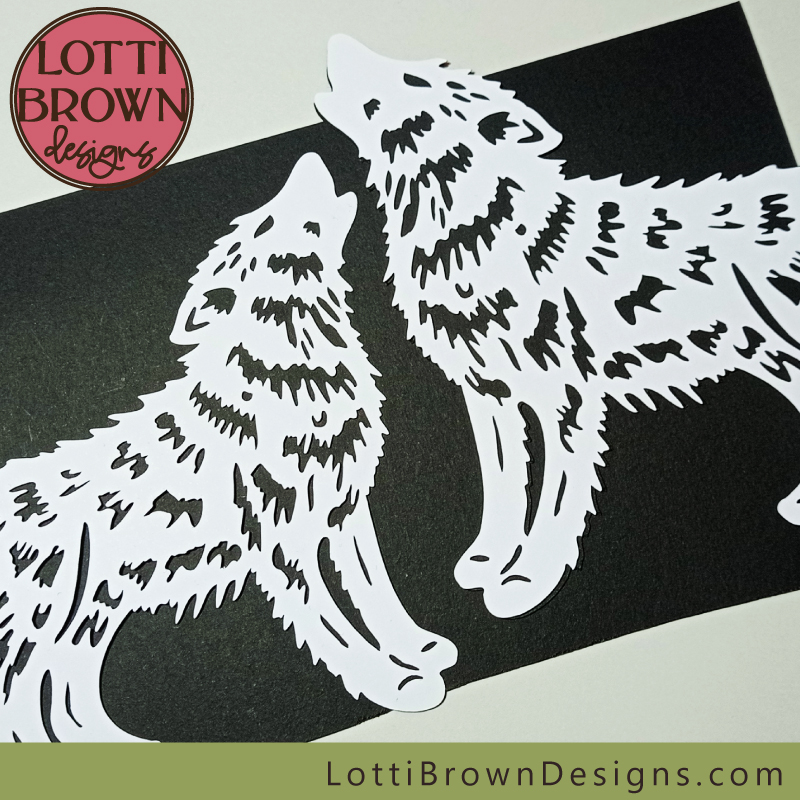 Howling wolf SVG design
If you like wolves, you might also like my little howling wolf SVG design - take a look at him here...
I've also got more animal SVG files for you on this page...