Valentine Card SVG Templates
My Cricut Valentine card ideas are easy-to-make and beautiful designs that give you different choices and styles to suit your personality - all of the hearts, cats & elephants were all hand-drawn by me, as I believe that this gives your cards a unique hand-crafted look that's noticed and appreciated by the recipient...
The cards all are made with the same basic process and the same basic template idea with just the design changed for each actual template...
The cards are made from three sheets of A4 or Letter-sized cardstock per card and envelope - (includes inner and outer card and envelope) and they cut flat on the standard Cricut mat (not the newer specialist card mat) using the 'cut and score' function...
This means that as well as the cutting, we need to make the score lines where the card and envelope will fold. The Cricut will do this for you if you have a simple scoring tool, or you can easily do it manually (without the cutting machine) using a knitting needle, scissors tip, or other blunt implement...
I discuss choosing your Cricut scoring tool, scoring manually, and (all-importantly) how to set everything up on Cricut so that the lines score correctly - on this page here - you may also find it useful to help you set things up if you're using another kind of cutting machine, too...
Valentines Day card template - SVG, DXF, EPS, PNG - 'cut and score' project
Once the card is cut and scored, I have a craft tutorial here to help you fold and assemble the card and envelope...
When you use the SVG as-is in Cricut Design Space, it will make a finished card that's approximately 12 x 12 cm (around 4.75 4.75 inches (with an envelope that's a little larger).
Each of the Valentine card SVG templates shares the same colours, with a red outer card (with the design cut-out), white inner card, and pink envelope. Red, white, and pink are the standard Valentine card colours, and give the feeling of romance and passion, just right for this most romantic occasion!
Usually, I try and experiment a little with colours to give you some ideas and alternatives - I have done an alternative colour idea for each of the templates, but they're very similar with the red and pink ideas used just the same, but I hope you can get some Valentine card making ideas for how to mix the colours about a little for your card to suit which cardstock colours you have or which colours you personally prefer.
To make your card look its most effective, make sure you choose colours with some good contrast between them for the inner and outer cards - this makes the design stand out well. By this, I mean a contrast between light and dark (light and mid-tone, or dark and mid-tone can also work) - the two colours you choose for the inner and outer cards should look quite different from each other, whilst still complementing each other (such as red and pale pink, red and white, pink and white, etc - for example, don't choose two different tones of red or similar pinks against each other unless they really look quite different).
Valentine card alternative colour ideas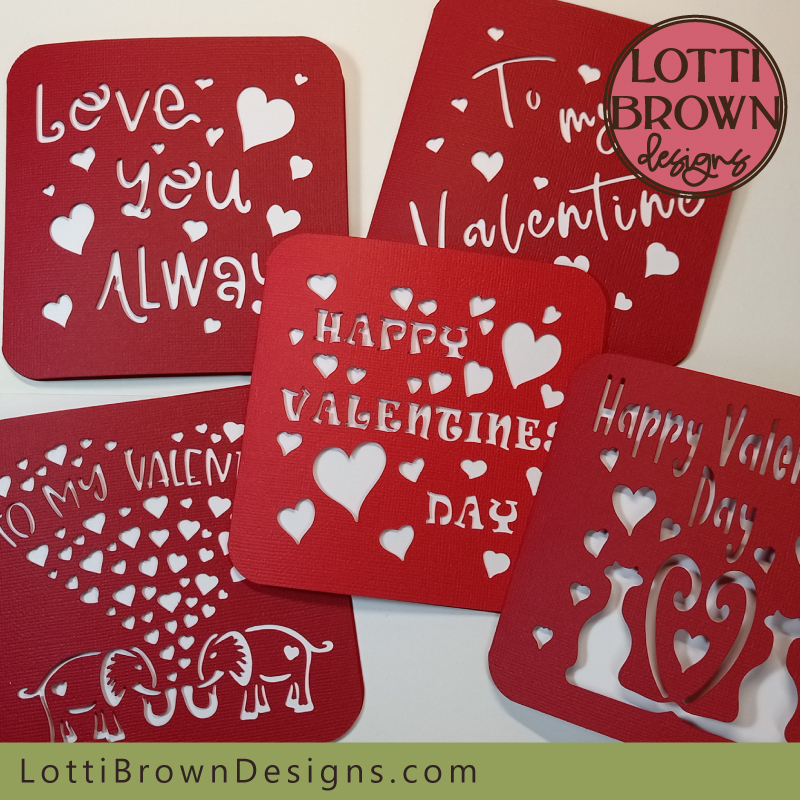 Red and white is a favourite for Valentines cards and is the colour combination included in the templates
Cardstock used for the Valentine cards - 
White inner card - Eastlight 'High' smooth white cardstock (160 gsm)
Red inner card & envelope - Natnip red cardstock (160 gsm)
Pink envelope - Dalton Manor coloured crafting cardstock (160 gsm)
The cards were all cut with my Cricut Maker cutting machine.
I think that's everything you need to know about how to make the Cricut Valentine card ideas - now on to some lovely photos to inspire you with your Valentine card making and help you choose which card is the right one for you!