Retirement card template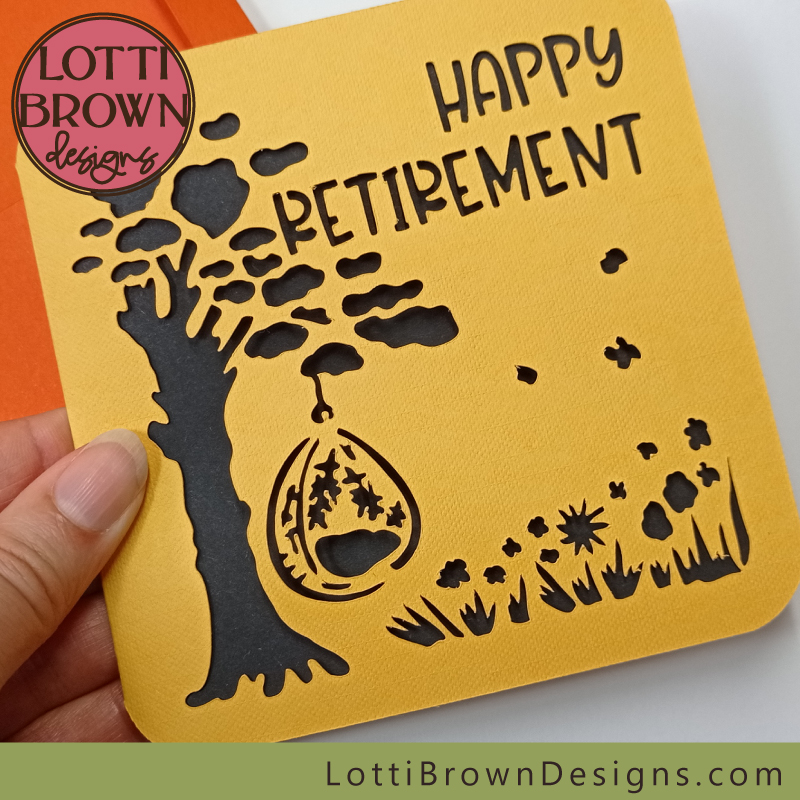 SVG template for a retirement card
I've spent a long time thinking about making a retirement card and how to create the design, so when I was asked for one, recently, I knew that I had to gather my ideas together and actually come up with a retirement card design for you...
I wanted to create a retirement card template that felt like happiness, peace and relaxation and was able to tell a story of retirement in one simple scene, without being geared particularly towards either a man or woman and suitable for both - and this is the idea I came up with...
A tranquil garden with a comfortable hanging chair attached to a tree, with flowers and butterflies - and hours and hours to just relax and daydream in the sun, or read, or chat, or garden - or whatever activities the new retiree enjoys the most!
Gosh! I think I just described my ideal retirement!
So if you know someone about to retire who would find this the ideal retirement, too, then this is the card for them!
Retirement card SVG file - 'cut and score' project
The retirement card template is a 'cut and score' project for you to make on your Cricut or similar cutting machine. You will need to cut the design with your cutting machine (or manually) and also score the fold lines (can be done with your cutting machine or manually)...
I have a full step-by-step tutorial with information about setting the card template up properly in Cricut Design Space to get the lines to score correctly - you can find that here - it's also got information about choosing a scoring tool and scoring without a machine and you may even find it helpful, too, if you're using a cutting machine other than Cricut - take a look here!
Once the card is cut and scored, I also have a craft tutorial to show you how to fold and assemble the card (and envelope) - you can find the tutorial right here...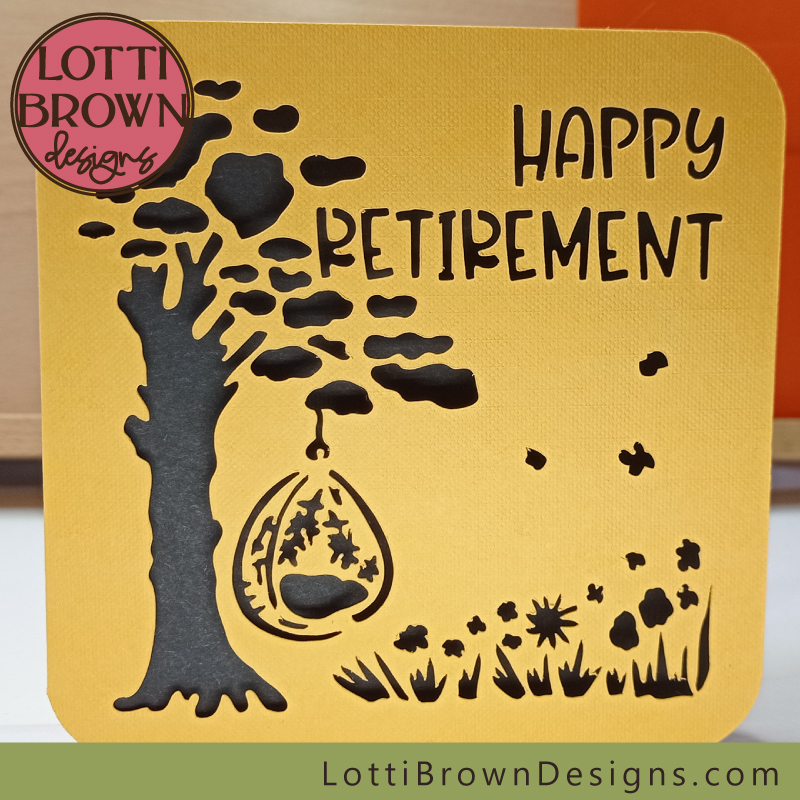 Retirement card SVG cut file
The retirement card template:
cuts using the standard Cricut mat (not the specialist card mat)
uses three A4 or Letter-sized sheets of cardstock
creates a finished card approximately 12 x 12 cm (around 4.7 x 4.7 inches) with the envelope a little larger (when loading the SVG as-is into Cricut)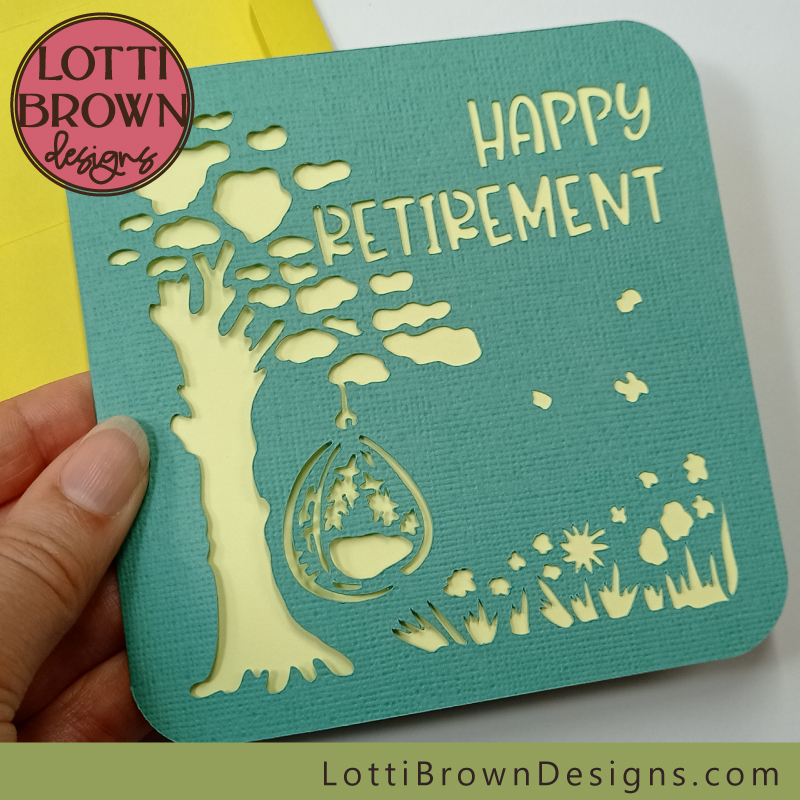 Alternate colour idea for the Happy Retirement card
I cut the retirement card template in two different colour ideas using my Cricut Maker - first to make sure that everything works as it should and cuts well for you...
And secondly, to have a little play around with colours and give you another colour idea to inspire you for your own retirement card make!
The main template colour is a bright yellow outer card, with a black inner card and a nice dark orange envelope (see below)...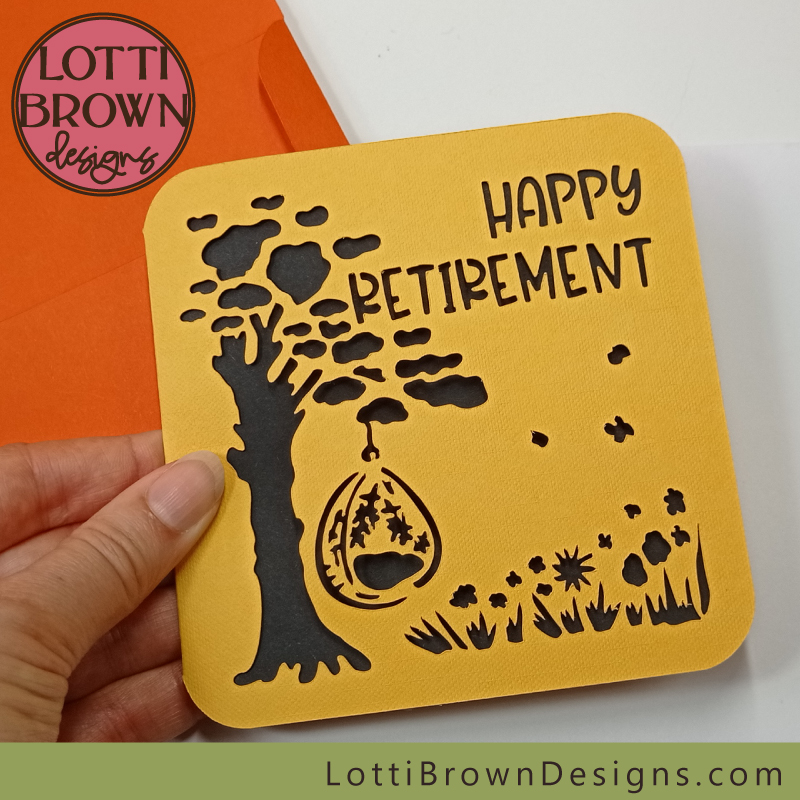 Yellow and black retirement card with orange envelope
I think this gives a lovely contemporary look and is full of cheerfulness and happiness with the bright colours!
My alternate colour idea for the retirement card template is a dark teal with a lemon interior and a bright yellow envelope (see below)...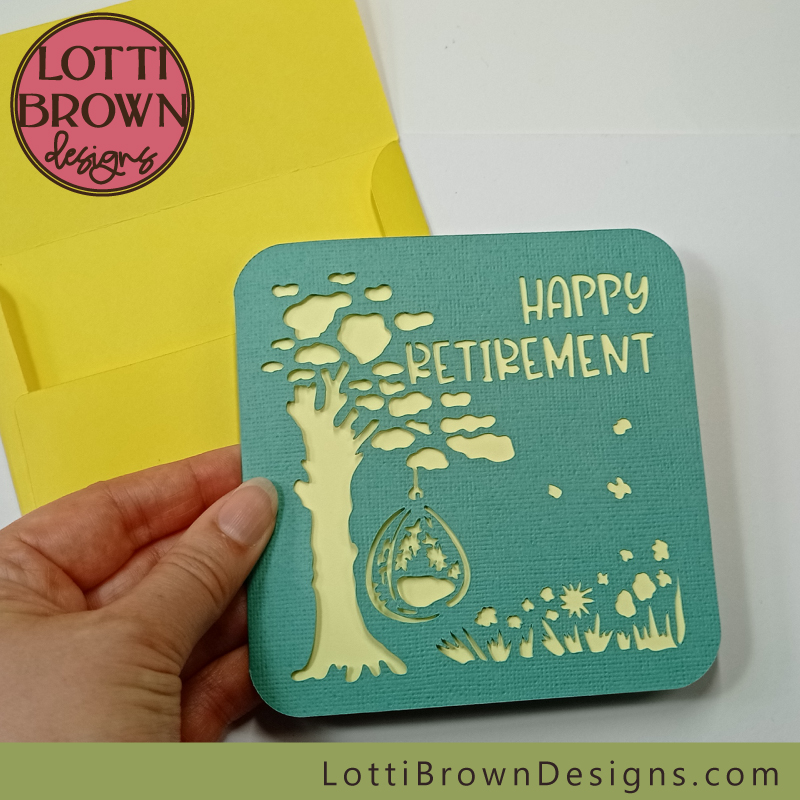 Retirement card idea in teal, lemon and yellow
I think this is a slightly softer and more classic style for the card - but I do like the bright yellow envelope for a zingy contemporary punch! If you wanted to keep the whole look more classic, you could choose a softer colour for the envelope as well.
I used:
Cricut cardstock - bright yellow from the Jewel tone pack - for the yellow outer card
Sizzix Surfacez textured cardstock - teal from the Festive pack - for the teal outer card
Generic coloured crafting cardstock (160 gsm) for the inner card and envelope for both cards - this should be smooth enough to write on. If you choose a dark colour (like the black inner card I chose) you will need to use a white or silver gel pen to write with
I cut the outer cards with the 'intricate cardstock' setting in Cricut
I cut the inner cards and envelopes with the 'lightweight cardstock' setting in Cricut
Template for Happy Retirement card
Get the retirement card template from my Etsy store here
Digital download card template for cutting machines
SVG, DXF, EPS & PNG file formats
For personal craft use and small-business commercial use (up to 200 products)
For physical (craft) products only - no digital products, use, or sharing
Read the full instructions for setting the lines to score in Cricut here...
And get the craft tutorial to help you fold and assemble the card here...
You might also like: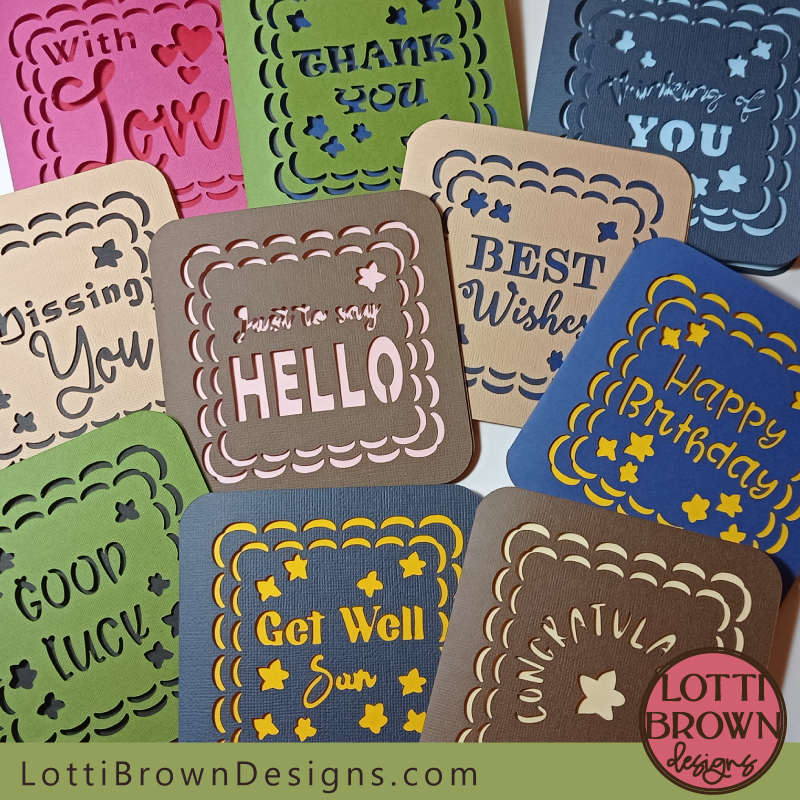 Greetings card templates for Cricut
If you like my way of making a card, do take a look at all my card templates right here (I currently have over 50 for all different occasions!)...