Crafting with the Nutcracker SVG File
When I was a little girl, we didn't have many records (I'm talking vinyl - yes! I that old!) but we did have the music to The Nutcracker ballet by Tchaikovsky which was my favourite and I listened to it all the time, enchanted by the story of all the toys that come to life at night to dance in a magical dreamland of sweets and candy - and, of course, the gallant Nutcracker Prince who protects the little girl, Clara, and saves the day...
The Nutcracker has become a beloved Christmas tradition with the Nutcracker himself a symbol of the fairy tale - and children (of all ages) have fallen in love with the beautiful and magical story.
So if you'd like your own Nutcracker Prince to craft, whether in paper or cardstock, vinyl, HTV or other materials, I've got my hand-drawn nutcracker SVG file to get you started with your ideas...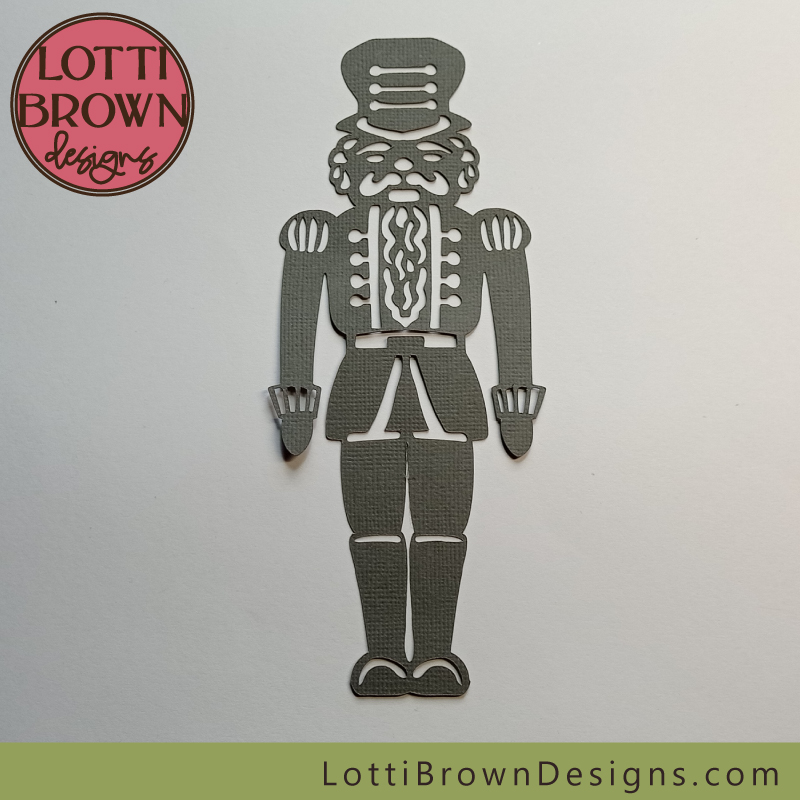 Hand-drawn nutcracker template - using the top layer only
My nutcracker SVG design is easy to cut and comes with two layers - the intricate top layer with the nutcracker design, and the base silhouette layer which is optional that you can use to add another layer of colour, if you wish...
Use just the top layer on its own for simple craft projects - and you can also add the bottom layer to add extra colour to the design.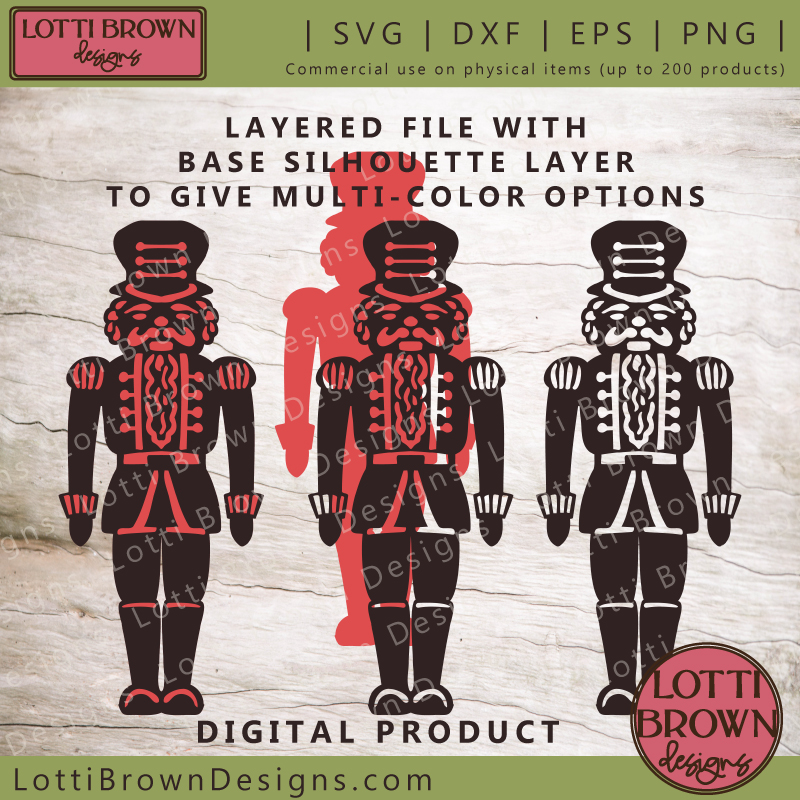 Nutcracker layered SVG design - use the top layer only or use top and bottom layers for a multicolor effect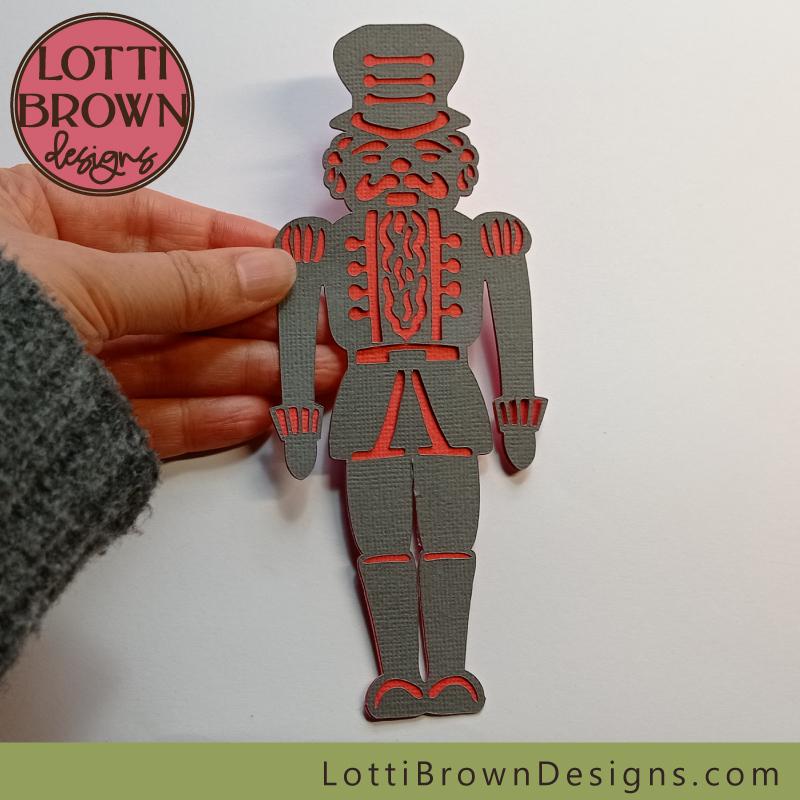 Papercut nutcracker - cut with grey and red cardstock
I tried to give my nutcracker lots of personality, a kindly face, and a certain humanity.
I loved drawing him out and getting to play with that lovely big moustache and all the buttons and ornamentation on the smart uniform - so I do hope you like him!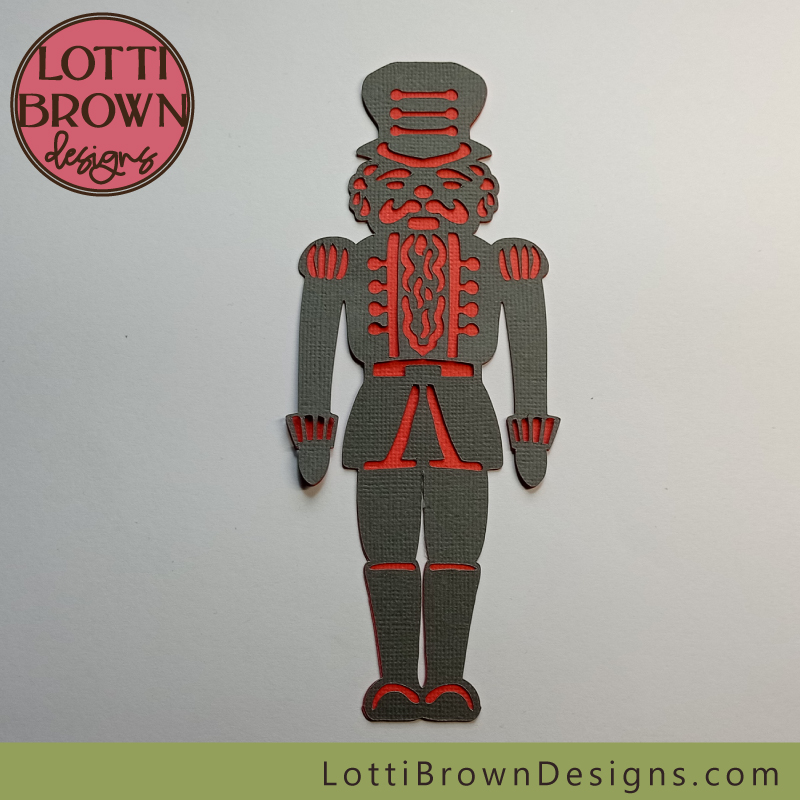 Cute nutcracker cut in cardstock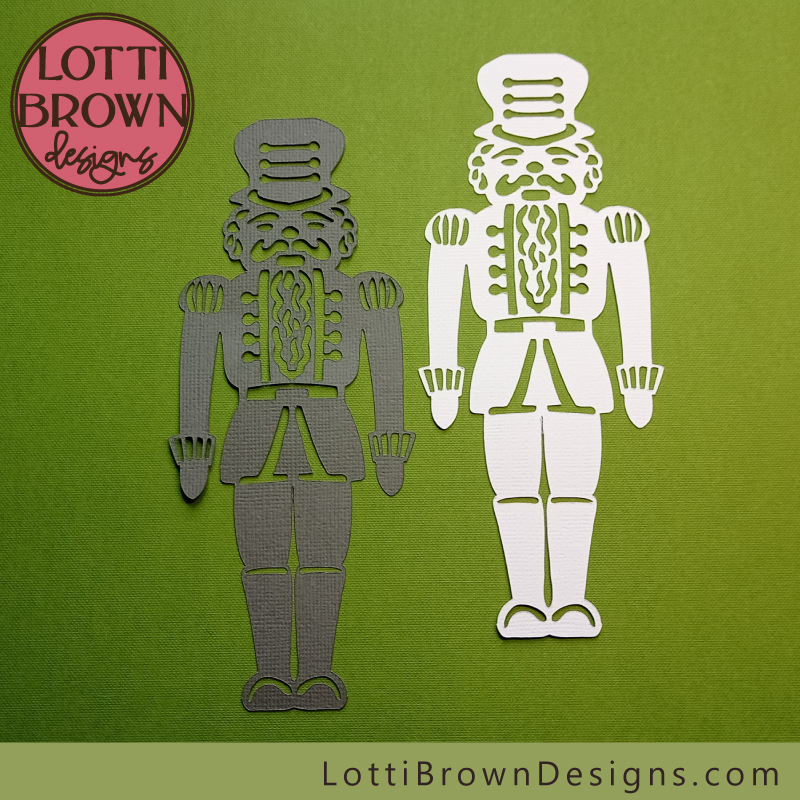 Nutcracker papercuts stand to attention
I've cut my nutcracker SVG design in Sizzix 'Surfacez' textured cardstock (all images on this page) with my Cricut Maker using the 'intricate cardstock' setting on my machine.
I've cut him in dark grey and a festive red as the main template - I also tried him out in white cardstock with an optional teal background layer (see photo towards the top of the page for the white and teal), which I thought was also very striking and quite Christmassy if you're opting for those cool winter tones.
You could also make him from paper, vinyl, HTV for ironing onto fabrics, cut in light woods if applicable for your machine - you could cut the design into a stencil and paint on the nutcracker design or use etching solution or pyrographic gel - lots of creative crafting ideas for Christmas decor and Christmas gifts!
If you want to papercut by hand, you can print the PNG file included and cut the design carefully with a craft knife.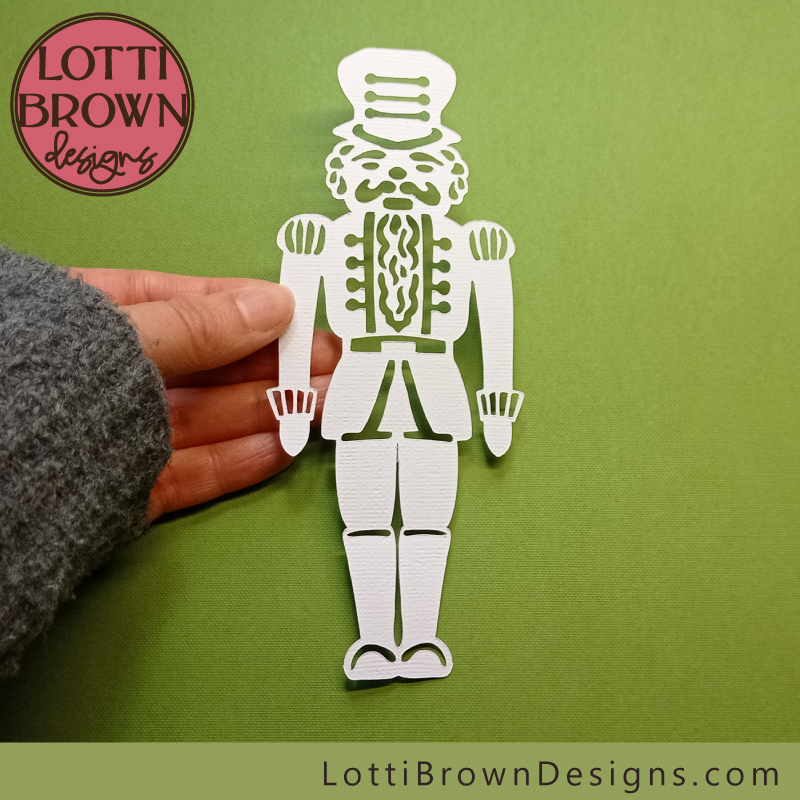 Nutcracker Prince SVG - papercut from white cardstock with my Cricut Maker cutting machine
If The Nutcracker is one of your favourites, too, and you'd like to use my nutcracker SVG file to make your own Christmas crafts and gifts, you can download the nutcracker cut file from my Etsy store - link right below - with instant download worldwide...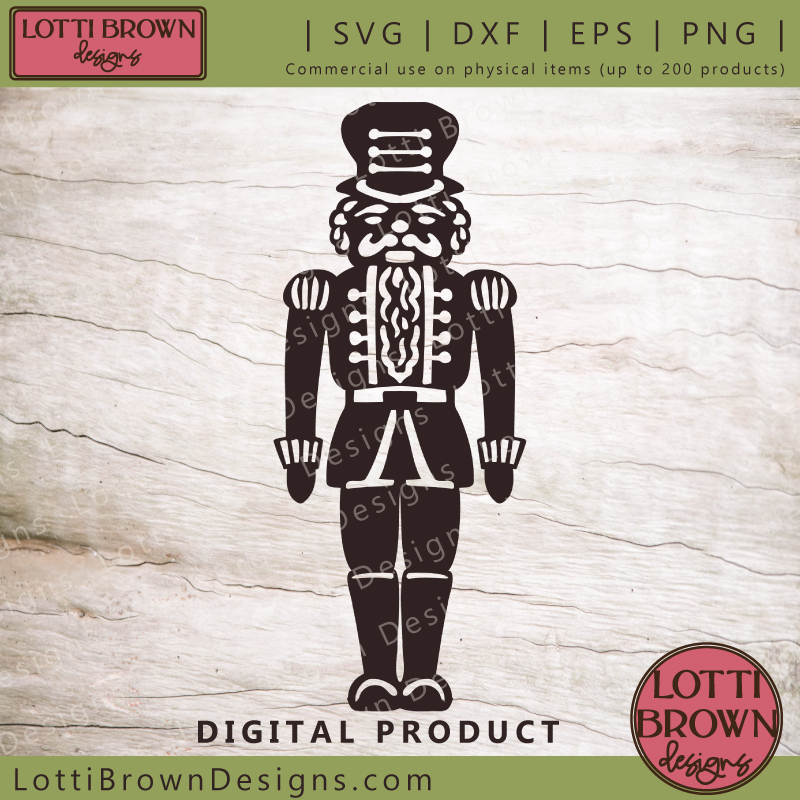 Nutcracker SVG, PNG, DXF, EPS
Download the nutcracker SVG file from my Etsy store right here
Cut file for Cricut and other cutting machines
Digital download - SVG, EPS, DXF, and PNG file formats all included
For personal crafting and small-business commercial use (up to 200 products)
For physical/craft products only - no digital products/use or sharing