Simple Nativity Scene SVG File
When you're crafting for Christmas, a nativity scene is a must! So I created my simple, hand-drawn nativity scene SVG design so that it would be beautiful, with a genuine hand-crafted style - but also easy to cut and make...
There's Mary and Joseph with the Baby Jesus in a manger, the stable and star, shepherds and their animals (donkey, cow, sheep & lamb), three kings, and angels, all contained in an encircling design that echoes the shape of a church window to keep it very traditional-looking.
I've made my nativity SVG in cardstock, but you could make it in vinyl, HTV for adding to fabrics and clothing, light woods or other materials compatible with your cutting machine...
You could cut it as a stencil, and use paint, etching solution or pyrographic gel to create the design on walls, fabrics, glass, wood, ceramics or other materials (as appropriate) to create home decor, gifts and Christmas crafts for your home, friends and family...
Used as is in Cricut, the SVG file cuts at approximately 20 cm wide and 19.6 cm tall (approx. 8 x 7 and 3/4 inches)
You are able to resize the SVG, EPS & DXF files to suit your needs
The PNG file can be printed and sizes up to a maximum of approximately 32 x 32 inches (83 x 82 cm) at 300 dpi (high-resolution)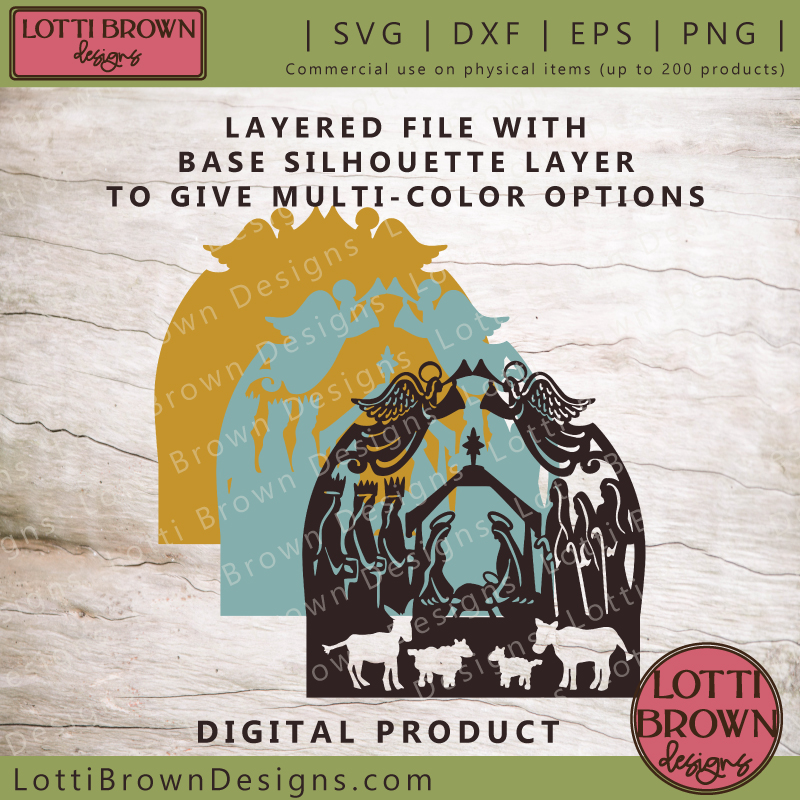 Showing the three separate layers in the nativity scene SVG
The intricate cut design is all one layer, so if you want to go really simple and keep it all in one colour or material, then this is perfect!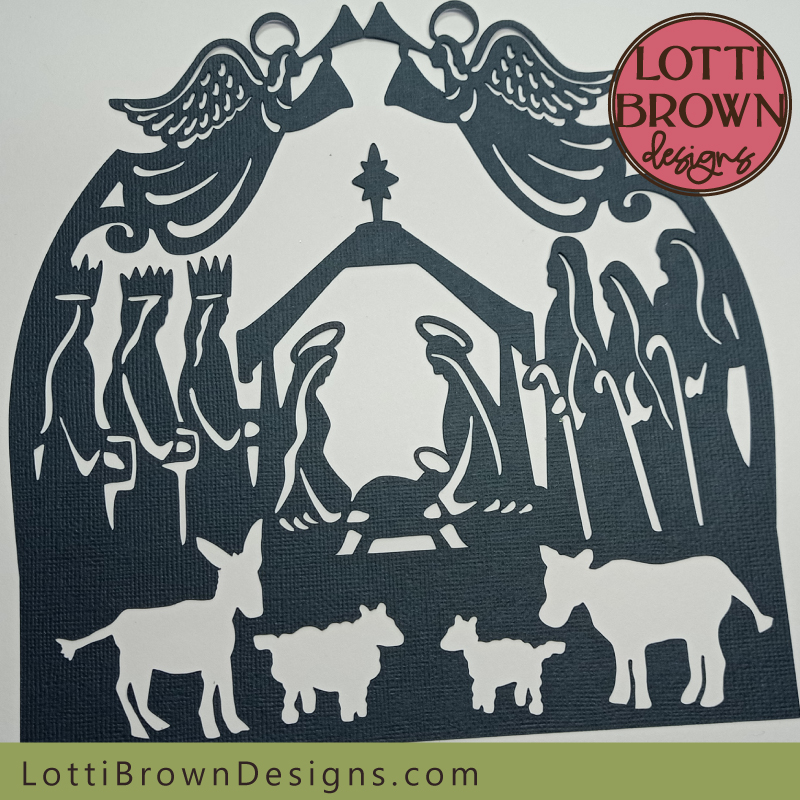 Nativity scene SVG - showing the single (top) layer only
I then added two background layers to the design, so that it gives it lots of colour and also allows you to add a background piece to the whole design, if you want...
I think the pale blue gives a great contrast between the dark grey/black of the main design and the details (in real life it does show a little bluer than in the photos) - so that those details really stand out - it also gives a feeling of calm and peace to the scene, I feel.
The gold colour is the colour for the whole background (the bottom layer) and I think that it provides a really warming light to the scene - like the whole nativity scene is lit with a golden light - perfect for Christmas celebrations!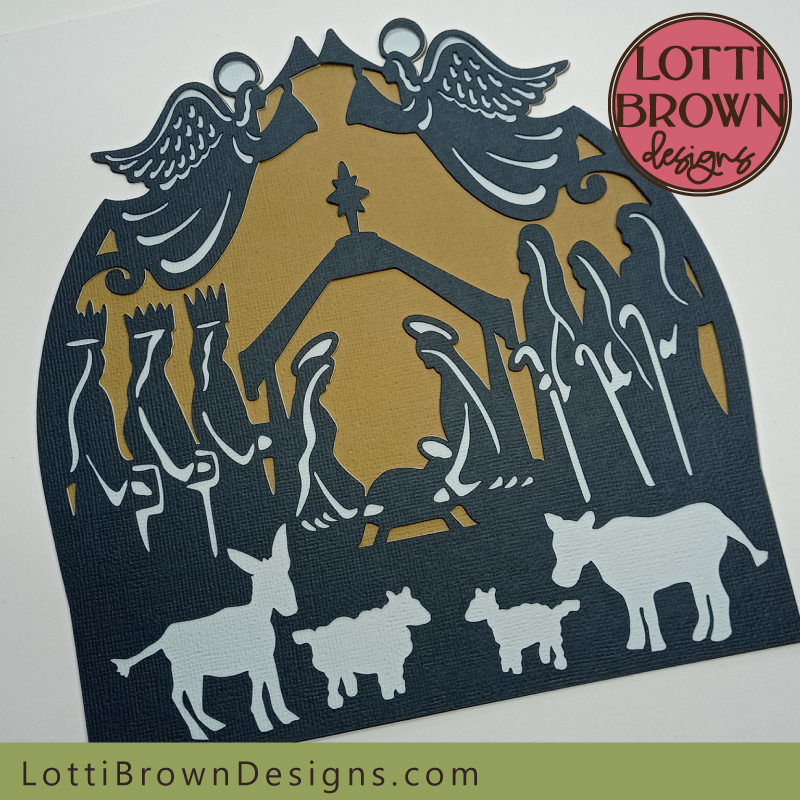 Three colours of cardstock for the layered nativity scene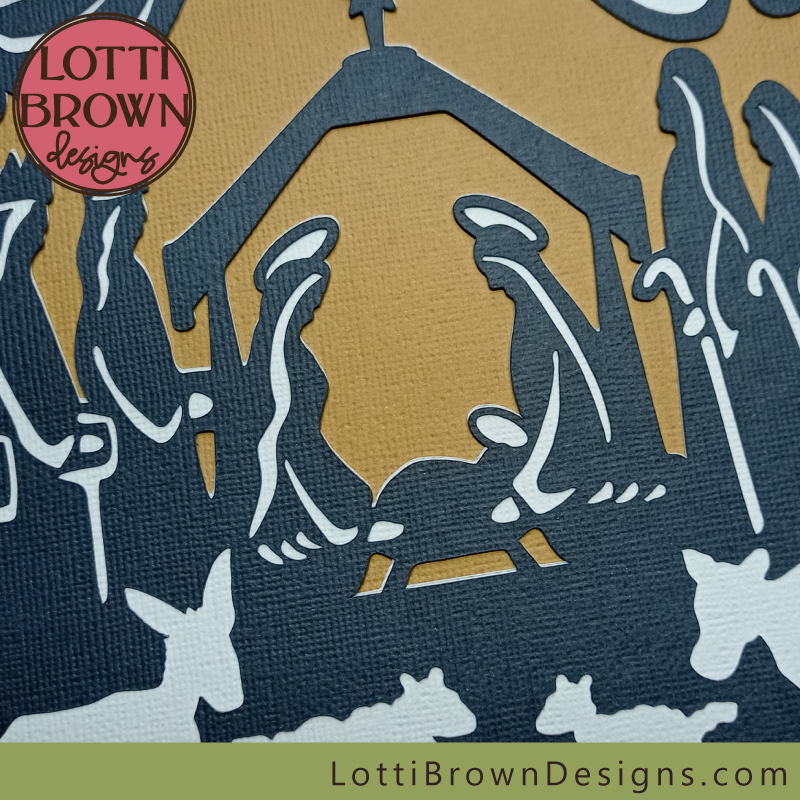 Close-up look at the manger scene with Mary, Joseph, and the Baby Jesus
Close-up look - the herald of nativity angels with trumpets
You could also choose to use just two of the layers if you prefer - see the black and light blue version and black and gold versions just below (I'll show you some other colour versions in just a minute)...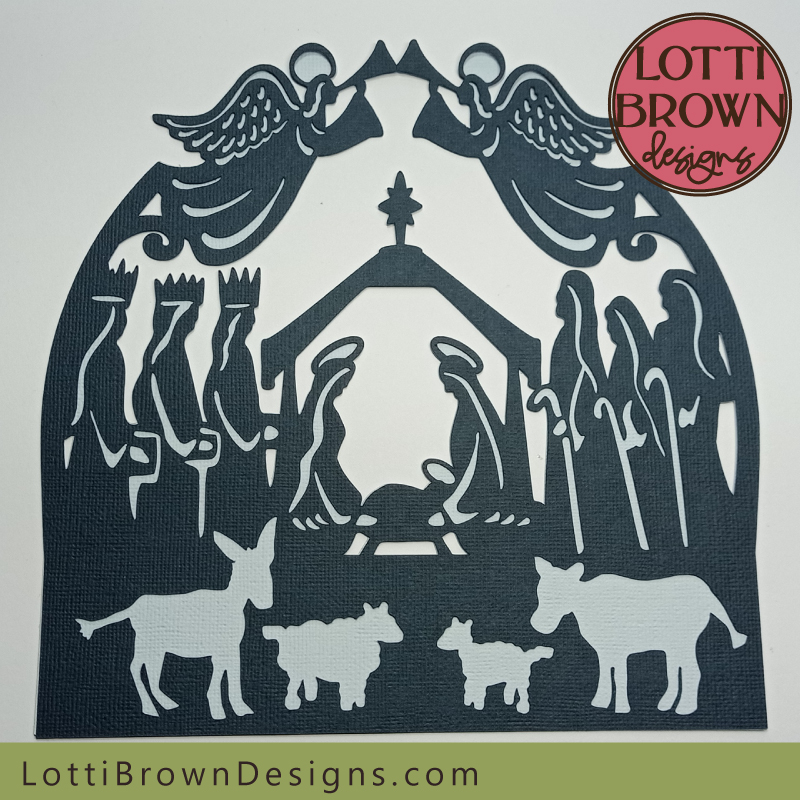 Nativity scene - top and middle layers only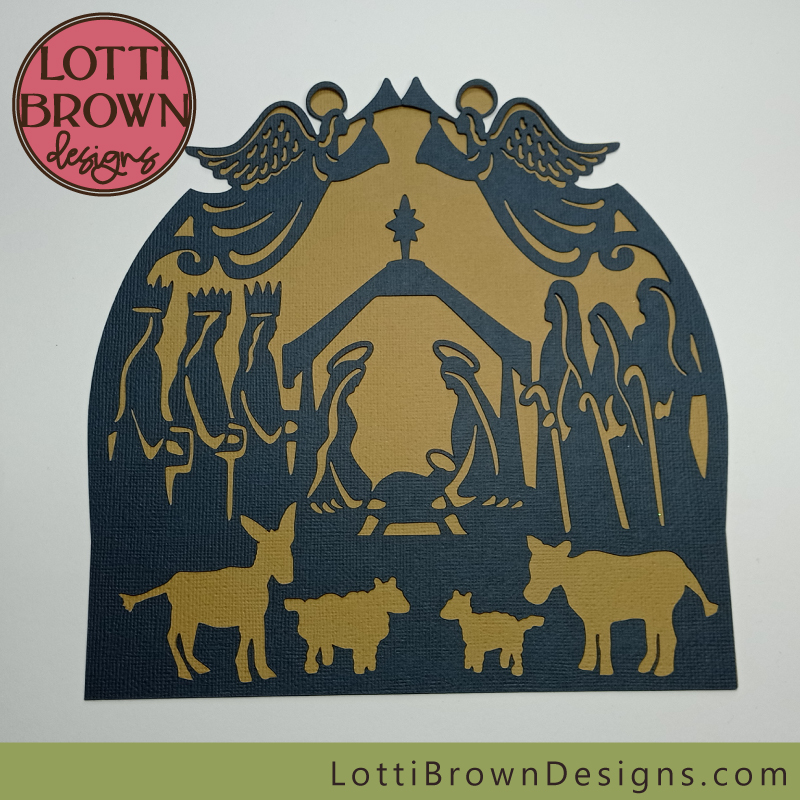 Nativity scene - top and bottom layers only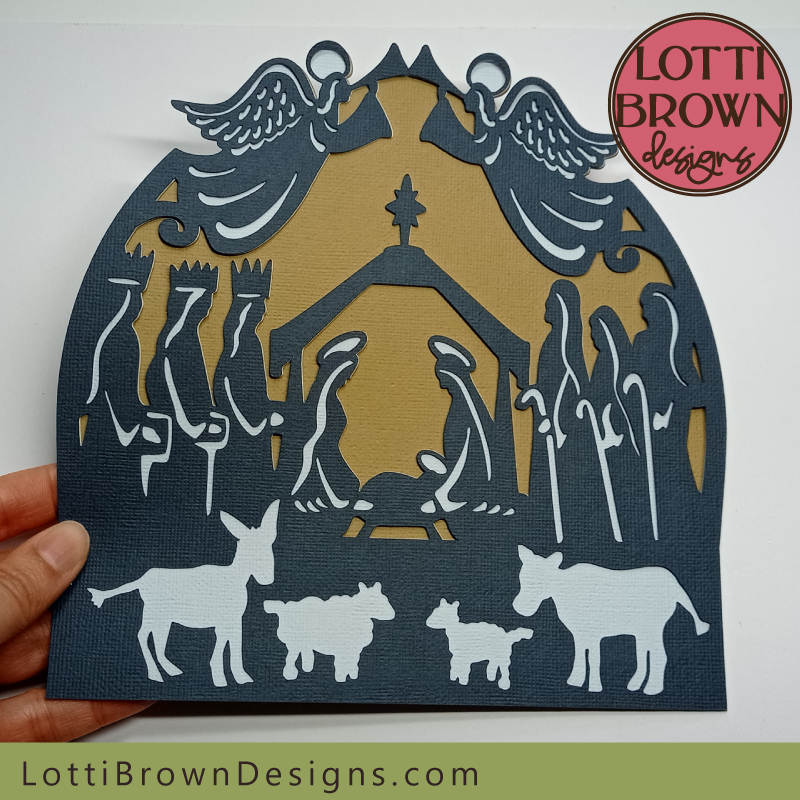 Simple nativity cut file - using Sizzix 'Surfacez' cardstock
I've cut the above nativity scene SVG from Sizzix 'Surfacez' cardstock in dark grey, light blue, and gold (dark yellow) cardstock - I used the 'medium cardstock' setting in Cricut for the two background layers and the 'intricate cardstock' setting for the top layer.
You can stick the layers together with paper glue, glue dots, or if you want a more 3D look, you could use double-sided sticky foam pads. (The photos on this page aren't glued so that I can photograph different layer combinations for you.)
I also cut this design in an alternate colour idea to inspire you - so take a look right below to see that, too...