Green Man SVG Template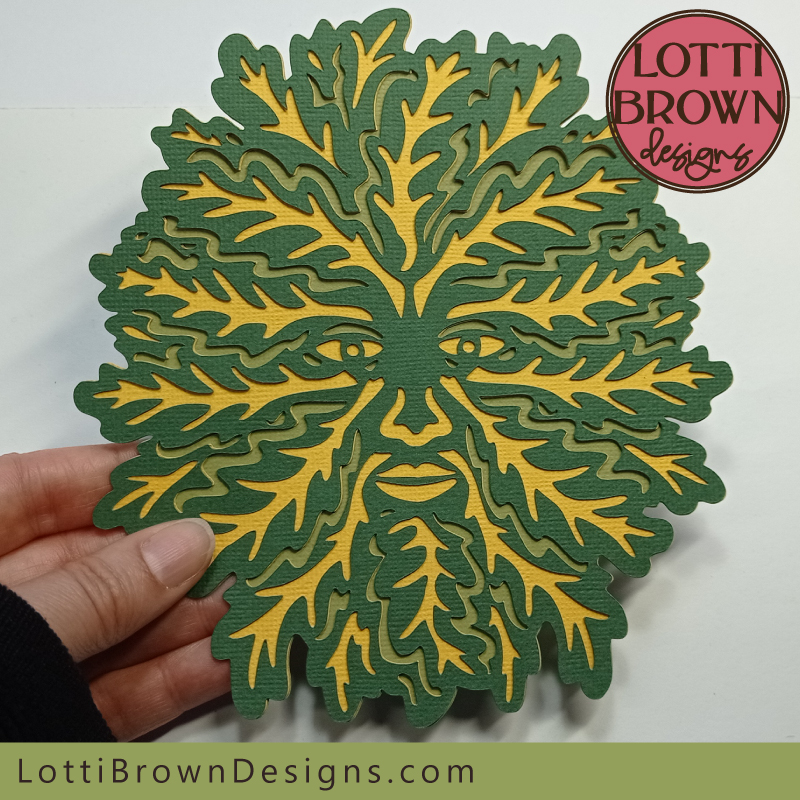 Green Man digital craft template for cutting machines
I've always been fascinated by the symbol of the Green Man - an icon of nature and the wild - so I've loved this project!
I made my Green Man design from my own pencil and pen drawing, on paper, which I scanned into the computer, and adapted using Adobe Illustrator so that it's suitable for cutting - I think the fact that I originally drew him by hand gives an authentic hand-crafted feel to the design that will carry over to enhance your own craft projects and be perfect for the Green Man theme too!
Have you come across the Green Man before? He's a figure from folklore - a symbol of the green of our world, nature, fertility, life and death, the wildness of life, the environment...

And also he's a bit of a mystery - the image of the Green Man is seen in British and European Medieval churches, carved faces in stone and wood surrounded by leaves or made of leaves. But the Green Man also appears in temples in Nepal, Indonesia, Lebanon and more. He appears in Africa, South and North America, including in New York and Canada.
The archetypal image is thought to be that of the 'Wildman'. And even though, the Green Man is often seen as a figure of history or legend, there are current-day community events across Britain, Europe and beyond where these green or foliage figures play a part on the proceedings, often events to welcome in the Spring or Summer.
So it seems the Green Man speaks to that wild part of our selves, that wants to connect with nature and the natural world - and is still a symbol of this part of our world that we cherish!
Green Man cut file template - showing top layer only
I made my Green Man SVG file so that you can use just the top layer (see photo above) or you can use all three layers for a multi-colour project - or just two if you prefer (two- and three-layer examples shown in the image below). It's up to you and what suits your project.
I've made my Green Man from cardstock - I used Sizzix 'Surfacez' textured cardstock for all the layers - and cut using the 'Cardstock for Intricate Cuts' setting in Cricut Design Space with my Cricut Maker...
You could also use vinyl or HTV if you wanted to make a vinyl project, make a Green Man stencil for paint, engraving or pyrography solution, or cut in other materials suitable for your own cutting machine, such as light woods.
You can also use the PNG file for printed projects, or handmade papercut crafts.
Green Man craft template - showing two- and three-layer versions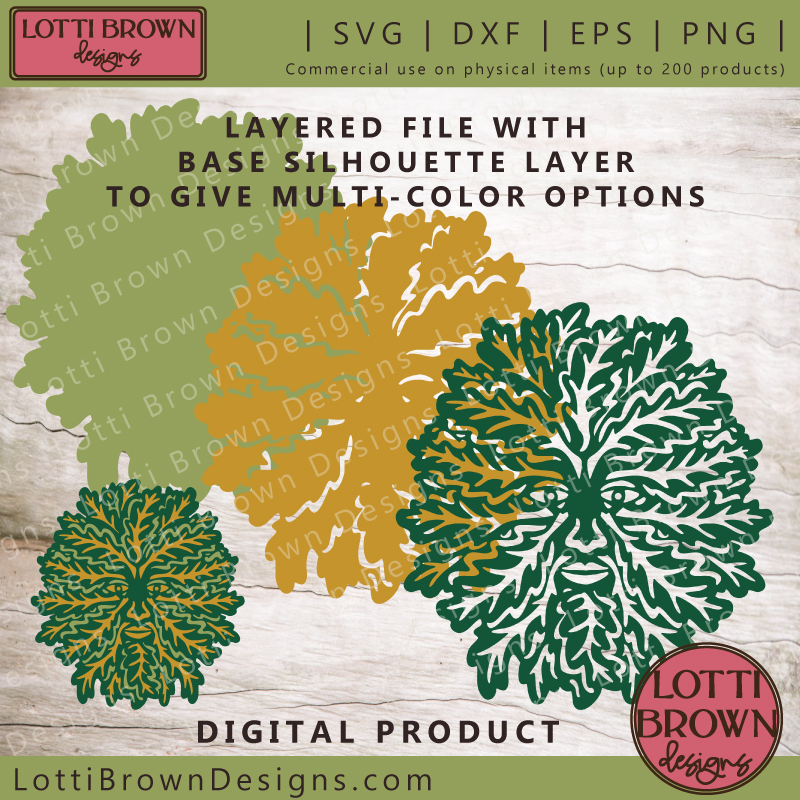 3 different layers give you three different options for your Green Man project - use just the top layer, two layers, or all three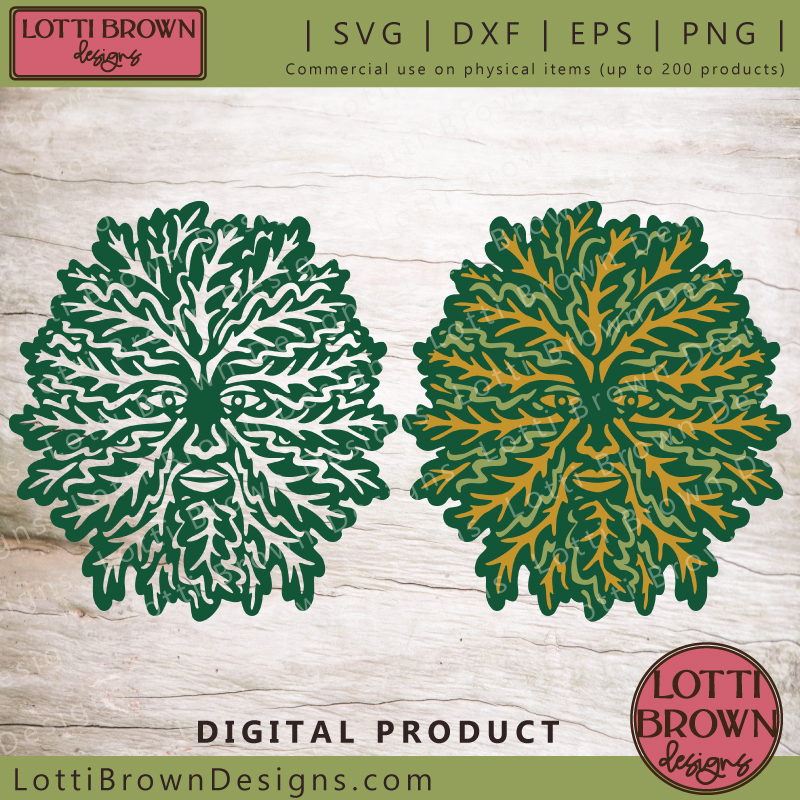 Two different looks in one file!
If you're using colours for your Green Man crafts, I think it's safe to say that it's got to be green! Create some contrast with darker and lighter green shades - and perhaps a nice yellow, like I've used (a tan or light brown would also work well in place of the yellow).
I also wanted to try with a teal colour instead of the yellow but I didn't have any cardstock left of that colour! I think it would look nice, though, so if you try it out, do let me know how it works out!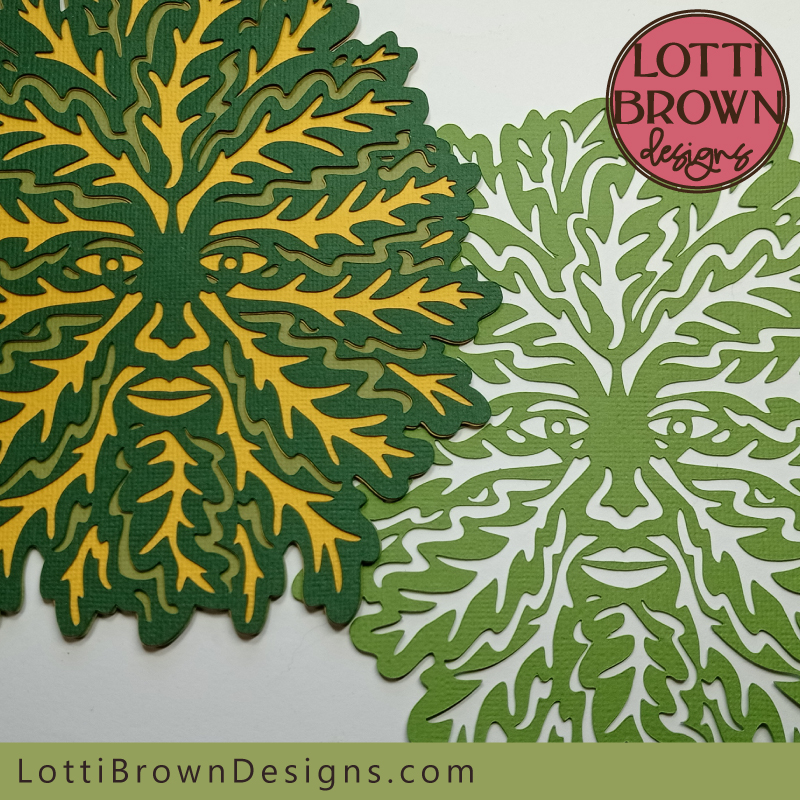 Beautiful Green Man craft template
Look the Green Man straight in the eye and let him take you to a journey of nature and the wild!