Football Birthday Card SVG File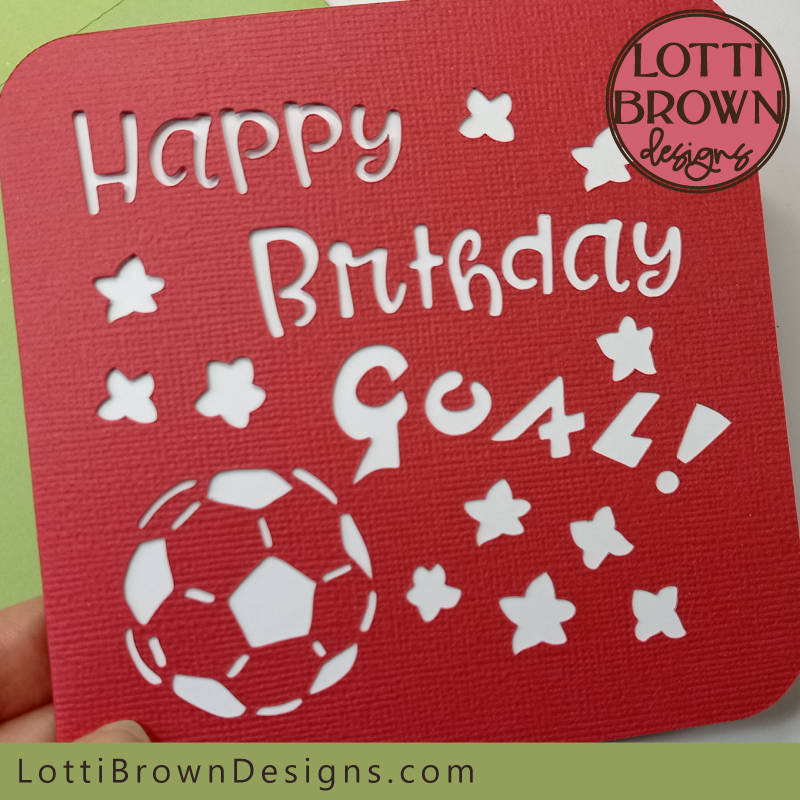 Soccer birthday card template
This fun football card template is ideal to make and send to sons, brothers, dads, grandsons, or uncles who are keen football fans - and perhaps you have a sister, mum, or daughter who loves football too, it's for them as well!
Soccer fans just love to have their passion reflected in their cards and gifts, and this design is perfect as you can change up the colours to reflect their team and make it even more personal and meaningful!
My design features a football and 'GOAL!' wording alongside a 'Happy Birthday' message and some fun stars - trying to capture the excitement of the football game for the recipient!
The football birthday card template is based on my main card template that I make most of my card designs from - it's easy to make and you can make it from sheets of cardstock you have in your craft stash - no need to buy a pre-made card blank for this...
It cuts using three A4 or Letter-sized sheets of cardstock (which includes the envelope, as well as the inner and outer card) and cuts flat on the standard Cricut mat. This means we need to add the score lines...
They (the score lines) are already on the card template but you need to set them up to score on Cricut Design Space - this is easy to do by following just a few steps which I outline in detail for you on this page - this will likely be useful even if you're using another brand of cutting machine - and also if you want to score by hand, it also has some tips for scoring manually with a blunt tip (like a knitting needle) as well as choosing a scoring tool for your Cricut machine.
Football card template - SVG, DXF, EPS, PNG - cut & score project - envelope included
Once the card has been cut and scored with your machine (or by hand), I have a short craft tutorial to help you fold and assemble the card and envelope here...
The folded finished card will measure around 12 x 12 cm (approximately 4.75 x 4.75 inches) - assuming you use the SVG as-is in your Cricut machine. The envelope comes out just a little larger.
I created the template for the football birthday card template in this bold red with a white inner card and green envelope - see below (and above)...
Papercut football card template - for red teams!
I thought the red colour would be perfect for fans of football teams who play in red - there's lots across the world! Of course, the card is really intended so that you can make it the right colour for the recipient's favourite team, whoever that might be (...make sure you don't make it the rival's colour!!)!
I made the inner card for this card in white - if the football team plays in just one colour, white is usually a good choice for the inner card as it doesn't clash and it gives a good contrast with the outer colour, whatever it is, to make sure the design stands out well...
If the soccer team plays in two colours, you might prefer to use the inner card to introduce that second colour into the colour scheme for your football card! You also have the envelope where you can add a second or third colour to suit your colour scheme.
For this card, I chose to make the envelope in a nice green - I thought it looked like the green of a football pitch so would suit the football theme very well.
You can also see another football card, below, that I made in an alternative colour scheme - this one's light blue!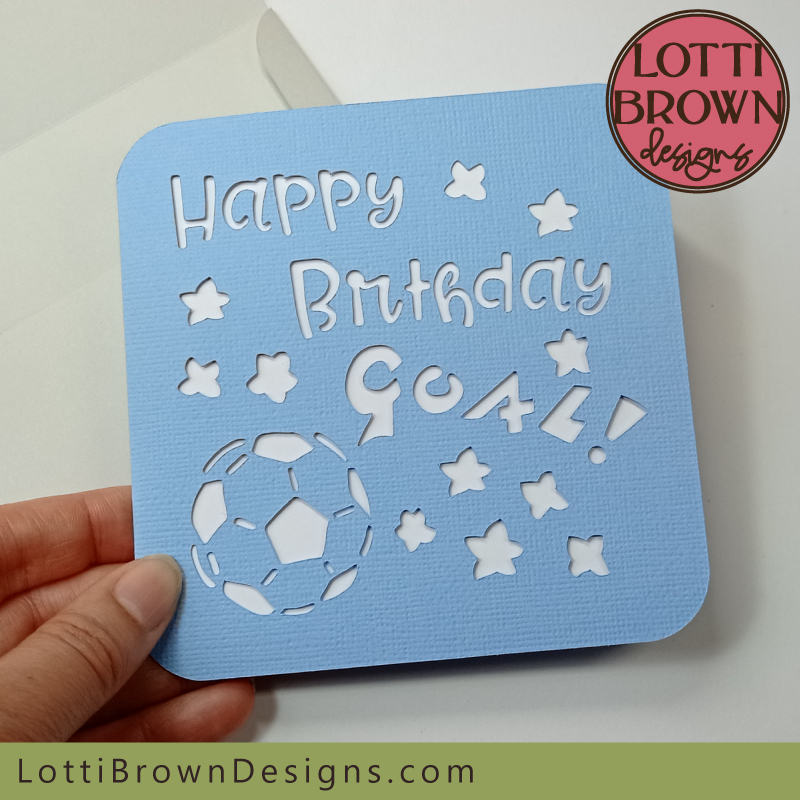 Blue papercut football card template
Blue is another popular football team colour - I chose pale blue for this example as I know several popular teams who play in pale blue - but also because I've already used the darker blue colours in my cardstock stash!!
If your recipient's team plays in blue, try to get the right shade of blue - pale or bright/dark - if possible. I teamed this one, as you can see, with a white inner card again and a grey envelope.
You can also make the outer card a more neutral colour such as white (even though some teams play in white, too) or grey and add a fun colour for the inner card to make up the design - if you're not sure of their team colour, try something like yellow, orange, purple, or green - that fewer teams use as their team colours!
I'm sure you can come up with lots of fun and creative ideas for your football birthday card SVG template!
Happy Birthday 'Goal!' footie card template
Materials used for the cards
For both of the cards I made for this page, I used my Cricut Maker and:
Sizzix 'Surfacez' textured cardstock for the outer cards (red and pale blue) - I used the 'Cardstock for intricate cuts' setting in Cricut Design Space
Eastlight Premium smooth white cardstock (lightweight - 160 gsm) for both the inner cards - I used the 'Light cardstock' setting to cut
Generic lightweight coloured crafting cardstock (160 gsm) for the grey envelope - and I cut with the 'Light cardstock' setting
Dovecraft Essentials green paper from the 'Colours Paper Pack' (120 gsm) for the green envelope - and I cut using the 'Copy paper' setting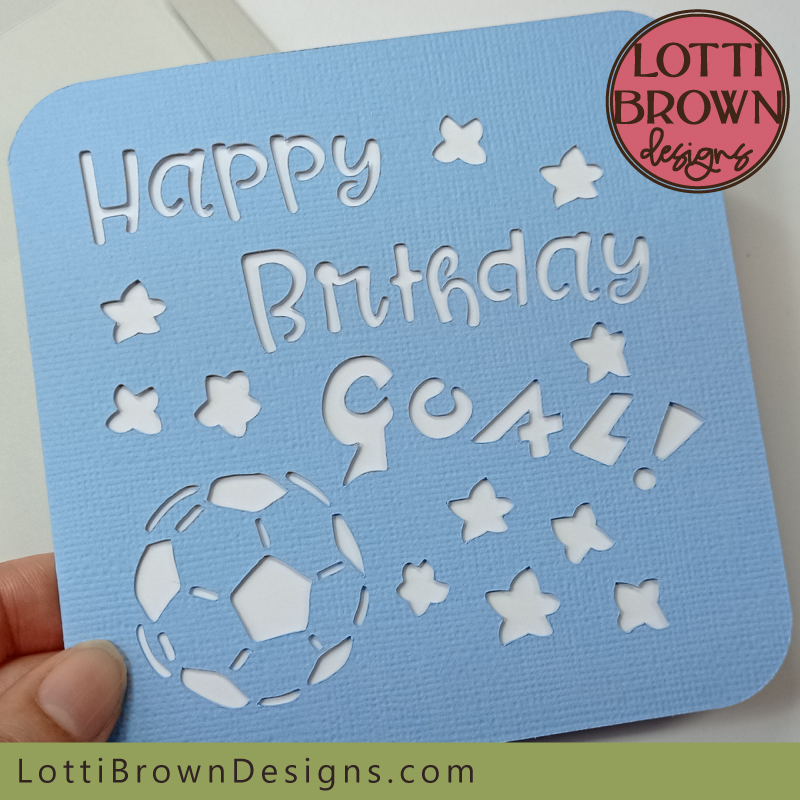 Football-themed papercut birthday card template
How to Buy the Football Card Template
You can buy my football birthday card SVG template from my Etsy store at the link just below - with instant download worldwide...
Football birthday card template
Get your football birthday card template from my Etsy store here
SVG, DXF, EPS, PNG file formats
For personal craft projects and small-business commercial use (up to 200 products)
For physical (craft) products only - no digital products, use, or sharing
The instructions for setting up the scorelines correctly for the card in Cricut Design Space are here...
The craft tutorial to help you fold and assemble the card is here...
Help for accessing, downloading and opening the SVG file and other file types and lots more helpful bits and pieces are all here...
You might also like: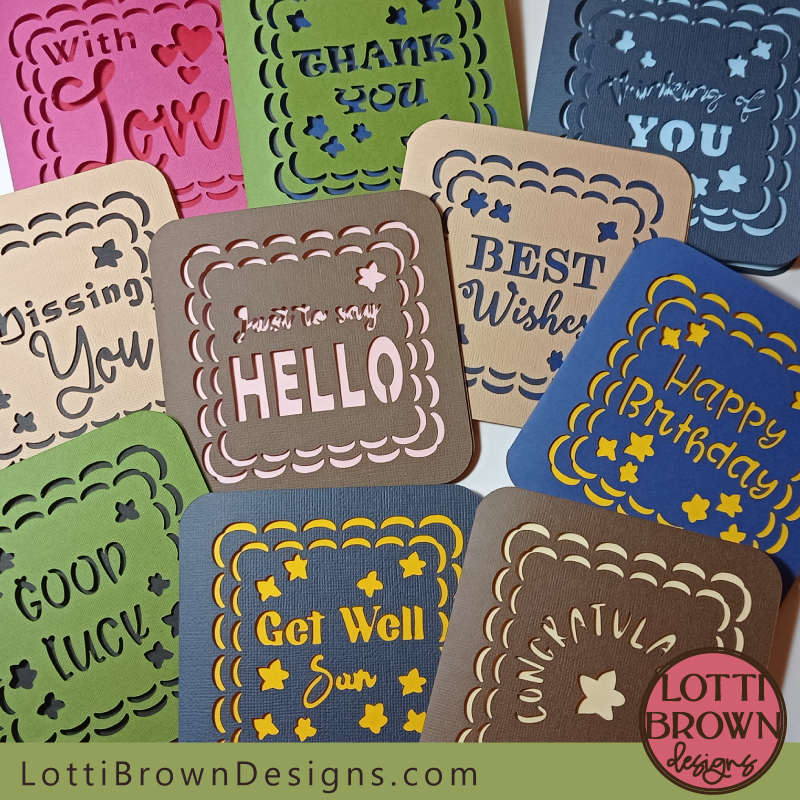 Papercut card templates for Cricut and other cutting machines
If you'd like to see my full range of papercut card templates for Cricut and other cutting machines, you can see them all here - at the time of writing this I have over 90 different cards for all different occasions - and I'm still adding new designs all the time - check them out here!