Colour Ideas for Your Handmade DIY Husband Card
The template for the 'Amazing Husband' card is in the orange and black/dark purple colour scheme below...
Template for a card 'For my Amazing Husband'
I paired this really nice pumpkin orange outer card with a rich purple inner card (you could use black if you don't have this lovely deep purple) and a bright green envelope - I think this is quite an unusual colour combination but I think it looks quite contemporary but still masculine.
You could also tone it down with a more neutral envelope, if you liked.
For my second colour idea, I went with a classic blue - see below...
Shades of blue - husband card template
I kept it simple with two tones of blue - look for a contrast between light and dark when choosing colours for the inner and outer card so that the design stands out well. 
This is a nice classic style - and also a bit of a calmer look than the orange card above - so that might suit your husband better.
You can include a bold green envelope, like I decided to, to add a bit of colour and liven it up, or you could easily select a pale blue, white, or another neutral tone for the envelope, if you preferred.
When I made this as a Valentines Day card for my husband, I made it in red for the outer card, with a white inner card, and a lighter-toned red envelope - I feel like there are certain colours that are expected for Valentine's Day and suit the feel better, and red or pink do convey that idea of love and passion that's the message of Valentine's Day.
You can get creative with the husband card template and include your own husband's favourite colours, or colours that have a personal meaning for you both - a handmade card is extra special and is the perfect opportunity to be able to do do things like this!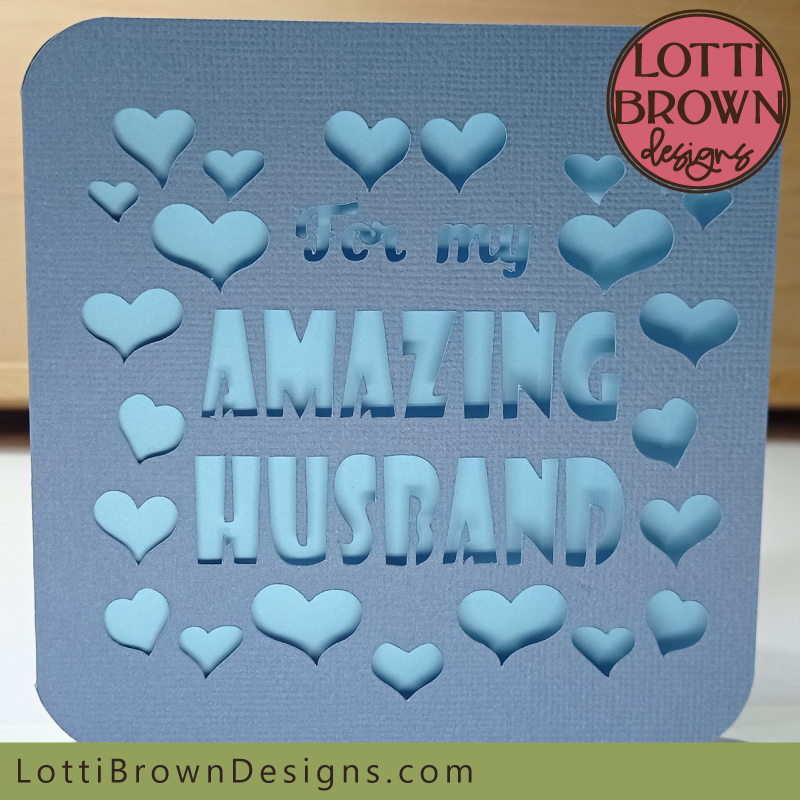 DIY papercut husband card