Graduation Card SVG Template
I designed and made this card to celebrate every new graduate's proudest day - Graduation Day - when all their hard work and achievements are publicly acknowledged and celebrated with those nearest and dearest.
I created the card with my hand-drawn degree scroll design, and message 'Congratulations, New Graduate' - so that you can hand-make it and send it to show your new graduate how proud you are of what they've achieved.
New Graduate card for Cricut and similar cutting machines
I always cut and test my designs with my own Cricut Maker to make sure everything works well for you - so I made these in two different colour combinations, to inspire you to get creative with your colours.
I think that it's a great design that will work well with all kinds of colours, so that you can choose colours to suit your new graduate's own preferences.
The graduation card SVG design is based on my own basic card template that's used by many of my card designs, so you can find the instructions for making the card here (it's a different design, but uses the same techniques so you will be able to follow along quite easily) - together with the all-important instructions for how to set the line to score in Cricut Design Space here (along with a discussion of scoring tools and how to score manually).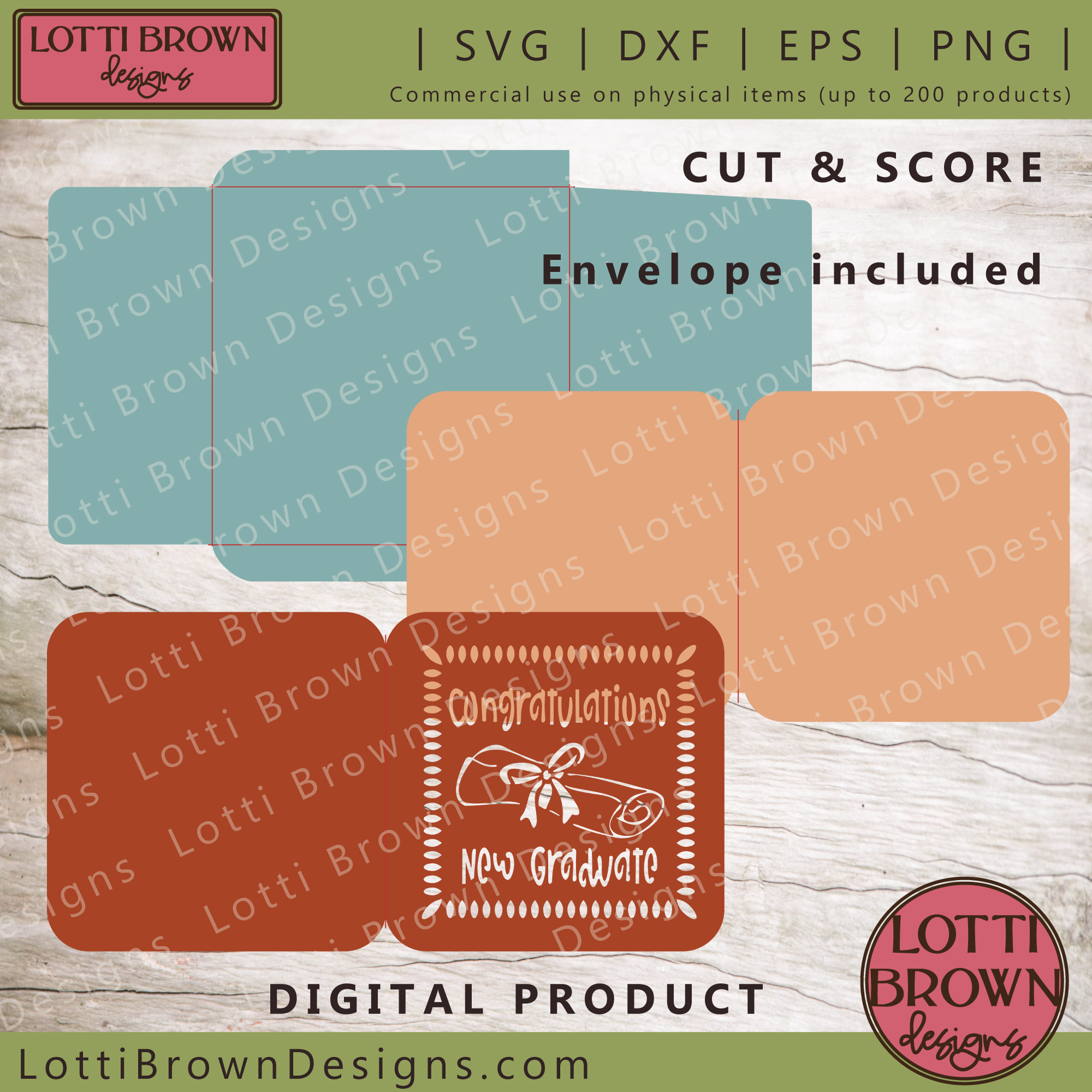 Graduation card 'cut & score' project for Cricut and similar machines
For the rust/orange card, I've used Cricut cardstock for the outer card (rust/orange card from the Jewel pack) and lightweight inner craft card (160gsm) for the inner card and envelope - soft peach and blue-green. This is a great look, quite classic in feel.
For the pink card, I've used Sizzix textured cardstock for the outer card (bright pink) with a lime-green inner card - (again, just a generic lightweight craft card). This gives a very colourful, almost tropical look, which is very striking. I kept the envelope a plain cream for this one.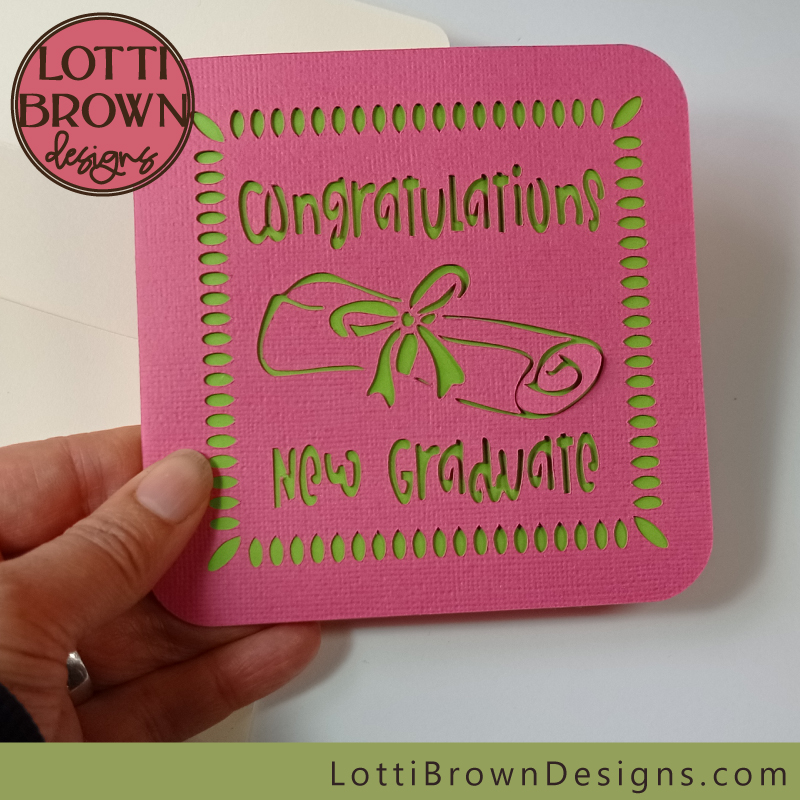 Have fun with your cardmaking!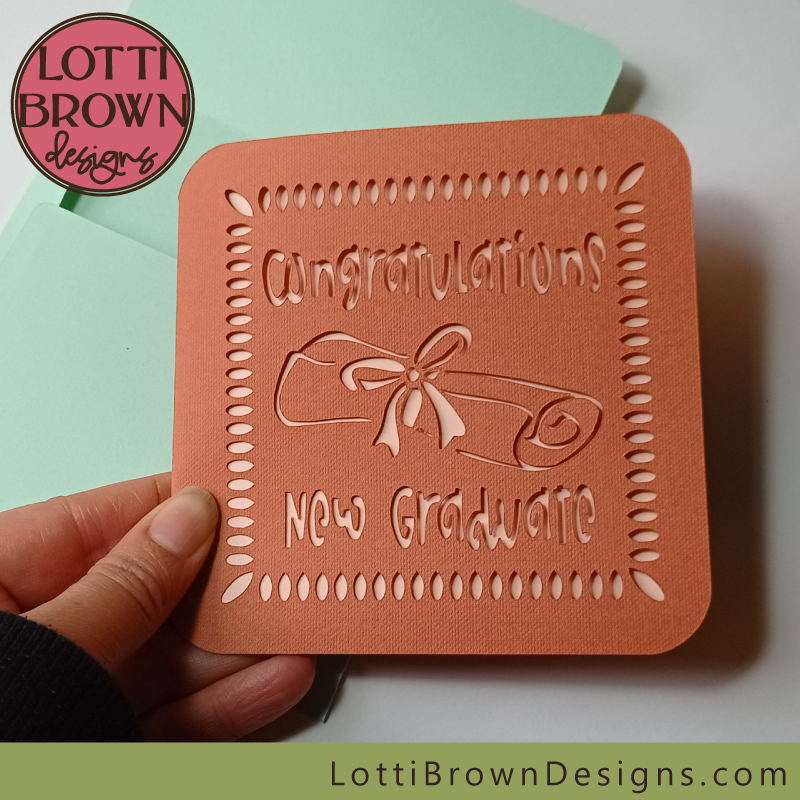 'Congratulations, New Graduate' card template
When you're choosing your own colours, just look out for a bit of contrast between the inner and outer card so that the design really shows up well!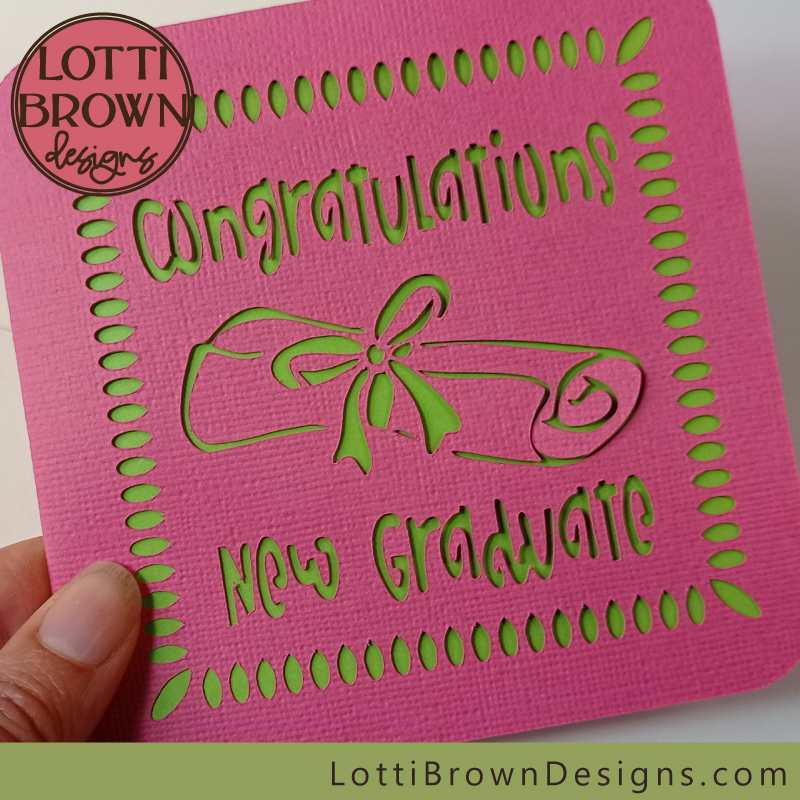 Very vibrant! Hot pink & luscious lime-green give a fun and celebratory feel to your graduation card!
Papercut graduation card to make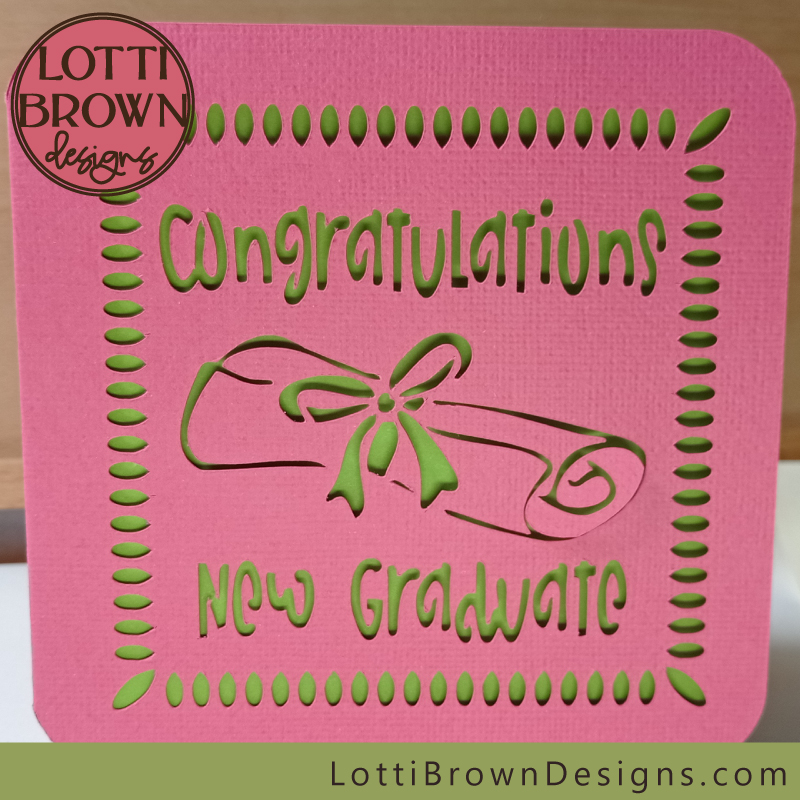 I love the way that the shadows give a 3D look to the papercut card design
If you'd like to make your own graduation card from my design, you can find the link to the SVG template (also comes as DXF/EPS/PNG) in my Etsy store, below...
You can get the instructions for setting the lines in the card & envelope to score in Cricut Design Space here...
You can get the instructions for how to make and fold the card here...
You can see my other card template designs here...
You might also like: