A shadow box is a really lovely art idea to make with your Cricut or other cutting machine - you can even do the papercutting by hand!
It might look complex, but it's actually a lot simpler than you think!
My fox shadow box SVG file is made up of just four layers, and one of those layers is the plain square to fit the back, so there's actually just three intricate layers to cut to get this fantastic effect.
Layered file to create the shadow box art
My file comes in SVG, DXF, EPS, and PNG formats, so that it can be used for Cricut, Silhouette, ScanNCut and other popular cutting machines, as well as hand-cut projects.
To make the shadow box art idea, you just need to layer up the layers - it can work just glued together, or even loose in a frame, but for the most beautiful shadow effects to your papercut wall art, the layers need separating a little to create the shadows - so foam pads between the layers are added and this gives more of a 3D effect.
Just then pop the finished artwork into a box frame that has a little more depth than an ordinary frame.
You can make your shadow box papercut art into a light box, by adding battery fairy lights or LED strip lights at the back of the frame.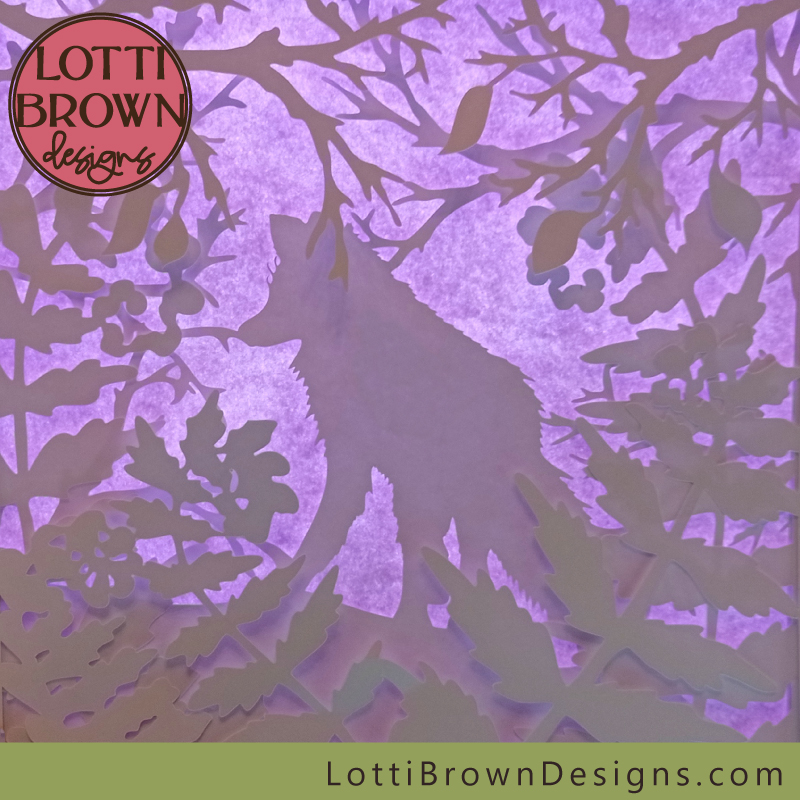 Woodland fox light box papercut art project - white card and lilac card background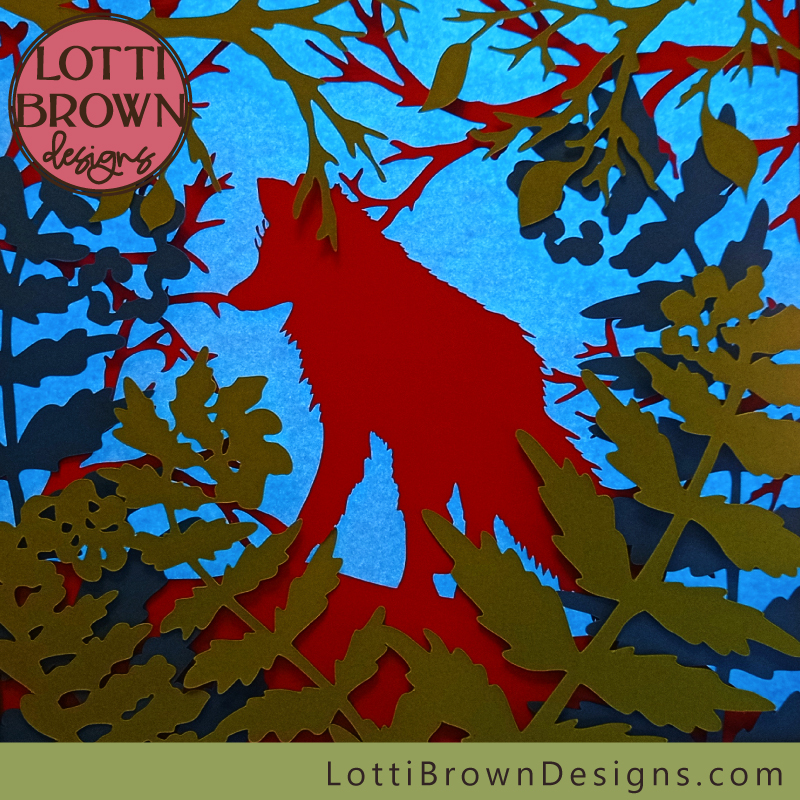 Woodland Fox light box papercut art idea with coloured card
Try adding the lights around the edge (where the layers of card art thicker) if you don't want the lights themselves to show through, just the glow...
If you like the idea of fairy lights showing through like little stars, just weave them around the back of the artwork.
I did create the artwork so that it would look effective whether you choose to use lights or not - I choose not to use lights when I display my own shadow box papercut wall art, not because I don't like the effect (I love it) but just because it's easier not to have battery packs hanging about and remember to switch them on and off...
That's specifically why I design my shadow box designs to look beautiful unlit as well as lit, and just to be able to appreciate the beauty created by the 3D nature of the papercut and the shadows it creates within itself...
So if you're feeling inspired, here's how you make the shadow box art...