Fish & Fishing Birthday Card SVG Files
Ideal for fishing enthusiasts - fish & fishing card templates
These are two lovely card templates for your fishing-enthusiast friends and family - because I know that it's nice to be able to make a birthday card that feels really personal to your loved one and reflects their passion.
So I've got two different fish and fishing birthday card templates for you - one with a fisherman with a rod, fishing in a river and the other a fun fish pattern that I've been thinking about creating for quite a while.
I think the fish pattern card would make a lovely card even for someone who wasn't necessarily a fishing enthusiast - but I bet a fishing enthusiast would think it was really fantastic!
So you just need to choose which one you like best!
I'll share more photos of each of the card designs so that you can have a proper look - but first, some information about the cards and how to make them with your cutting machine...
The cards are easy to make with your Cricut or similar cutting machine - and can also be made by hand if you prefer.
The card cuts flat on the standard Cricut sticky mat (not the specialist card mat) - using three A4 or Letter-sized sheets of cardstock (including the envelope).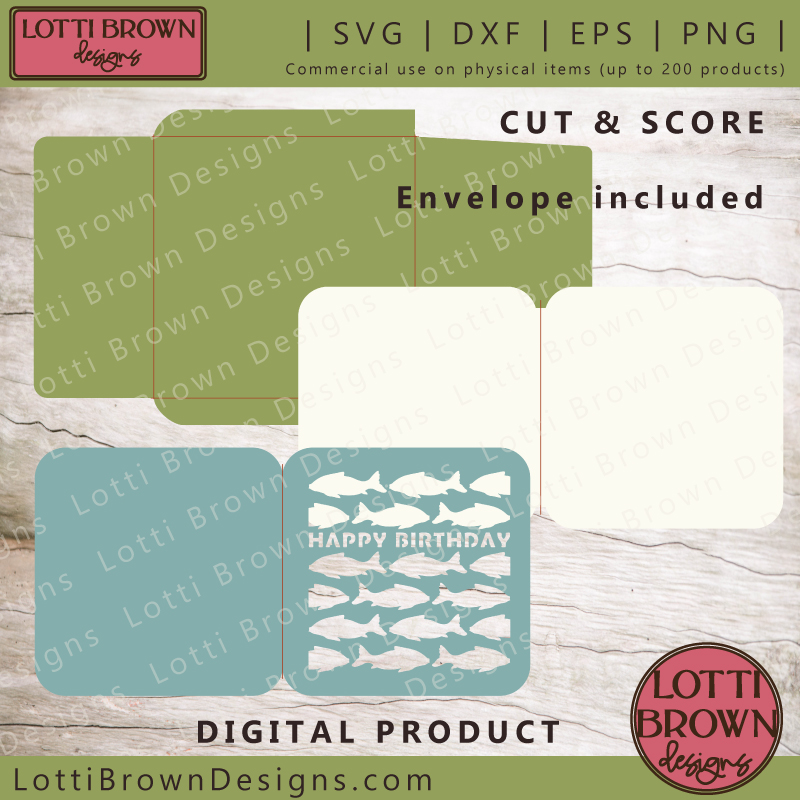 Fish birthday card template - SVG, DXF, EPS, PNG
I hope you'll like the cards and find them useful to add to your own design library - I'll share photos of each fishing birthday card template below...
For each of the cards I made:
I've used Sizzix 'Surfacez' textured cardstock for the outer card (the bit with the design)
I cut the outer card using the 'Cardstock for intricate cuts' setting in Cricut Design Space
I used a generic lightweight white cardstock (160 gsm) for the inner card (plus Clairefontaine 'Maya' smooth card in Midnight Blue (185 gsm) for the fish card with a blue inner)
I used a generic lightweight coloured cardstock (160gsm) for the envelope
I cut the inner card and envelope using the 'Lightweight cardstock' setting in Cricut Design Space