Elephant Cut Files
I've made you this tiny herd of lovely elephant SVG files for you to craft with - there's two elephant face designs and two full elephant body designs - there's one realistic elephant design each and one patterned elephant design each...
That's so that you've got lots of options for whichever style and project you want to go for - and also just because I was really enjoying creating these elephant cut file templates and wanted to keep going with more ideas for the designs!
Each of my elephant designs is created from my own hand-drawn artwork, which provides you with the perfect hand-crafted style!
I've cut my elephant designs in cardstock but you can equally use the cut files for HTV and vinyl, creating stencils, engraving or using pyrography gel, or other crafting materials suitable for your own cutting machine.
Each of the designs has two layers -
the first is the main design layer with all the detail
the second is the base silhouette layer that allows you to use it beneath the main (top) layer if you want to add a second colour to your design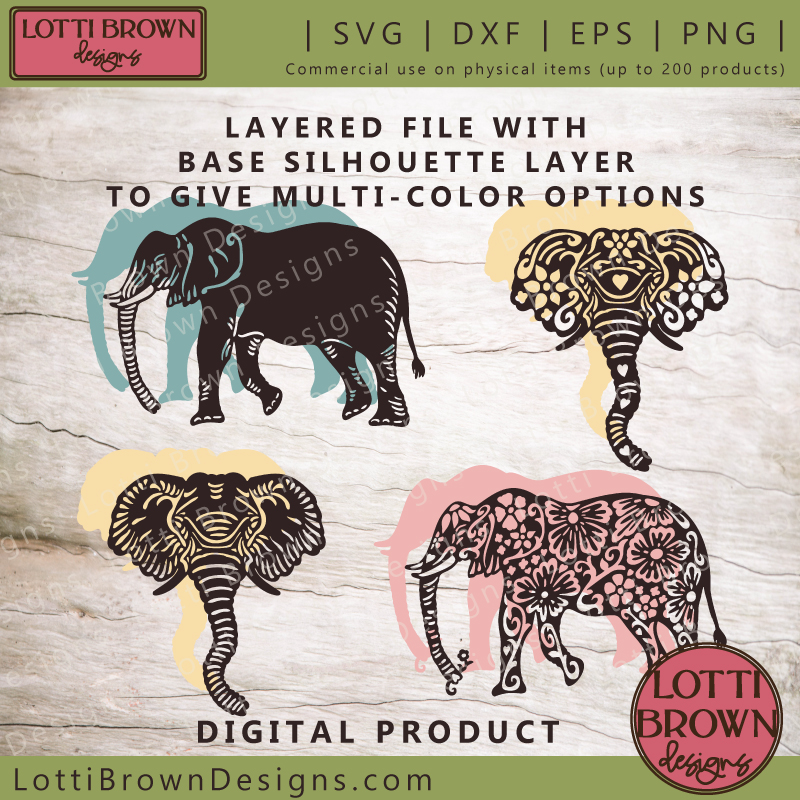 Elephants layered SVG files
My elephant SVG files are specially designed to be easy to cut - so they look very intricate and detailed but the detail isn't too tiny, awkward or flimsy.
Used as-is in Cricut Design Space, the SVG produces an elephant that measures approximately:
24.75 x 16 cm (9.75 x 6.25 inches) for the large (full) elephant
16.8 x 18.77 cm (6.6 x 7.4 inches) for the elephant face
You can, of course, resize the SVG, DXF, and EPS files with no loss of clarity.
You'll be able to see in the photos below that I've cut each of the designs a little smaller than the size provided to test them and to show you that they can be cut smaller. The smallest size you can cut will depend on your particular cutting machine and equipment and your materials.
The PNG files supplied are high-resolution files (300ppi) that can be used for printing and that will resize up to a maximum of - 
up to approximately 40 x 26 inches maximum (103 x 67 cm) to print - for the full elephant
up to approximately 27 x 30 inches maximum (70 x 78 cm) to print - for the elephant face
If you need help with using your files, you can look here - I also have a little extra help for Cricut users,
I'll share each of the elephant SVG designs below so that you can take a closer look and decide which one(s) suit your project best - I've cut each of them in cardstock with my Cricut Maker - including a lightweight generic coloured cardstock and Sizzix 'Surfacez' textured cardstock....
I cut each of the top layers (the layer with the main design) using the 'Cardstock for intricate cuts' setting in Cricut Design Space.