Donkey SVG Files
Donkeys are probably my very favourite animal so I was very excited to make cut file designs of a donkey - I was a bit nervous, too, wanting to do this very beautiful animal justice in my designs...
Donkeys are beautiful and gentle, but they're steadfast, strong, and stubborn too! And very cheeky!
I think they hold a lot of wisdom in those big, beautiful eyes, too!
Fluffy donkey face papercut template
I wanted to make a sweet, fluffy donkey face SVG design that's pretty and full of personality, too - I think my donkey looks very cute but a bit mischievous too!
As well as the donkey face design, I created a donkey in side profile with lots of lovely floral patterns to decorate her...
Pretty floral donkey papercut template
I hope you like them both!
I'll share some more photos of both the designs in a minute. First, I want to tell you a little bit about the cut files...
The files are layered - with just two layers. One is the intricate top layer that includes the main design. You can use that on its own or together with the simple silhouette base layer to make a two-colour design, if you choose.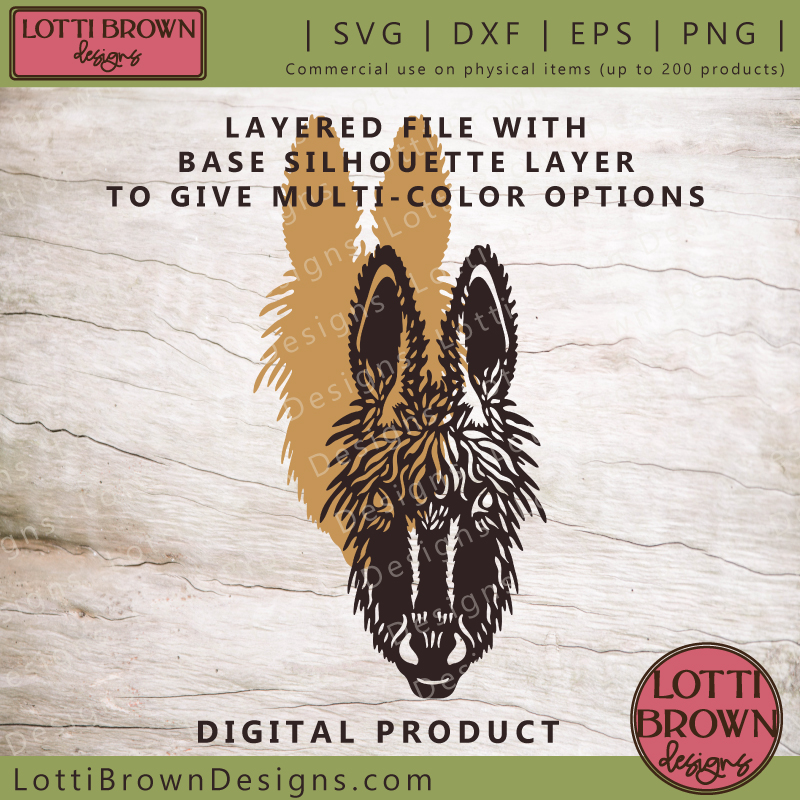 Donkey face layered SVG with two layers
Floral donkey layered SVG with two layers
I designed the files to be easy to cut - they look intricate but they're actually not too complex - I've cut the files with my Cricut Maker using cardstock - I've cut them using the 'Cardstock for intricate cuts' setting or the 'Light card' setting.
Sizes for the SVG used as-is in Cricut Design Space are:
Floral donkey - around 23 x 18 cm (approx. 9 x 7 inches)
Donkey face - around 10 x 20 cm (approx. 4 x 8 inches)
You can resize the SVG, DXF and EPS files to whichever size you choose - you will see in the photos below that I've cut each design at the size supplied (as above) plus a little smaller. The size you resize smaller to will depend on your cutting machine and equipment and your crafting materials.
The PNG can be used at high-resolution to a maximum of:
Floral donkey - around 95 x 75 cm (approx. 37.5 x 29.5 inches)
Donkey face - around 43 x 86 cm (approx. 16 x 33 inches)
You will be able to cut the donkey designs in cardstock or paper, HTV and vinyl, to create a stencil, and with other crafting materials suitable for your cutting machine.
Now, let's just enjoy some photos so you can see more of each of the two donkey SVG file designs...