Grandma Card Template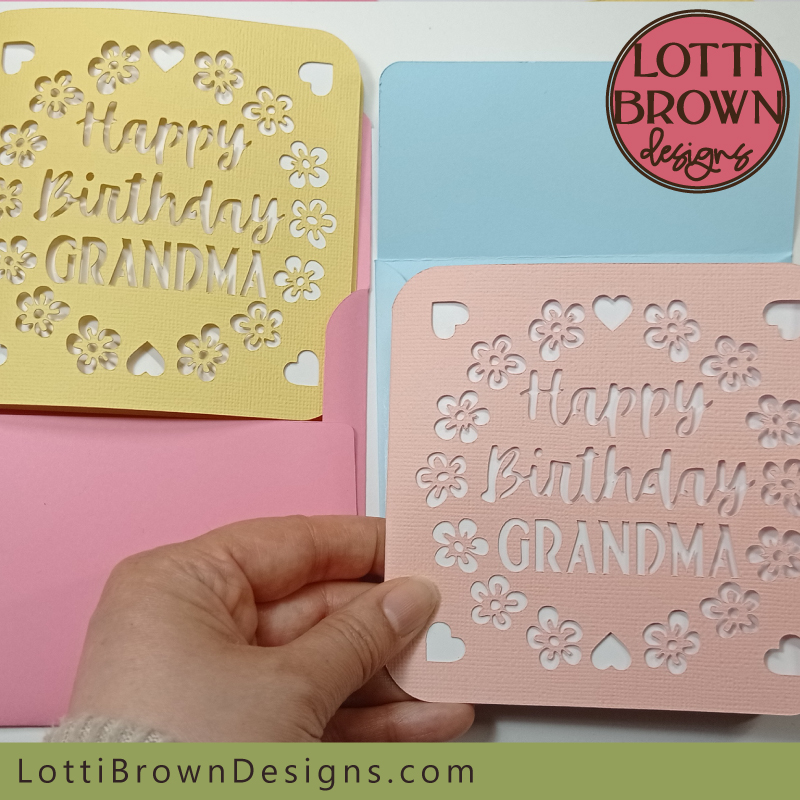 Grandma birthday card template for Cricut and other cutting machines
I designed this really pretty papercut DIY birthday card for Grandma, so that you can make it with your Cricut or similar cutting machine. It's also possible to cut by hand with a craft knife, using the PNG file format.
I know Grandmas really appreciate it when you make a bit of a fuss of them on their birthday - and they love it even more when they receive a hand-made birthday card! So I'm hoping this one is perfect for your Grandma to make her smile on her birthday!
Papercut card template for Grandma's birthday
My Grandma birthday card template is easy to make with your Cricut machine - it uses three sheets of A4 or Letter-sized cardstock (including for the envelope) and cuts flat on the standard Cricut sticky mat (not the specialist card mat)...
It's a 'cut and score' project, which means that you will need to score a line in the card and envelope to help you fold it easily. Your Cricut machine can do this for you if you have a scoring tool - if you don't have a scoring tool, you can delete the score lines in Cricut Design Space and score manually with a knitting needle or blunt scissor point or similar.
This page has a brief discussion about choosing your scoring tool and also discusses scoring manually plus full instructions for setting up the file to score correctly in Cricut Design Space - do also take a look at this if you're using another type of cutting machine, as the process will likely help you with your own machine, even if the actual steps aren't identical. Check it out here...
Grandma birthday card digital cut file in SVG, DXF, EPS & PNG formats
If you use the SVG file as-is in Cricut Design Space, the finished card will be around 12 x 12 cm (approximately 4.75 4.75 inches) with an envelope that's a little larger.
I have a full craft tutorial here on this page that will help you to fold and assemble your Grandma card once you've got it cut and scored.
The template for the card is in the pretty pink and blue colours - pink for the outer card, a white inner card, and a pale blue envelope (see the photo below)...
Pretty pink and blue DIY birthday card for Grandma - template to make with Cricut
You can, of course, make your card in any colours you think your own Grandma will love - I chose this soft pink as it's really beautiful, suggesting floral colours and a gentle tenderness of feeling (pink = tender love). I paired it with a pale blue but really any pretty pastel colour would work well with the pink...
You can also mix and match with pretty pastel or floral colours for the outer card and envelope to get a similar 'pretty' and 'floral' feel for your card and also use colours you have in your craft stash or that you know your Grandma loves - I always think a white inner card works best with these softer colours, as it provides a really good contrast so that the design stands out well. Using the white inner card also allows you to easily mix any two pastel shades together for outer card and envelope - they'll work well!
If your Grandma likes bright colours or neutrals, though, go for that!
I also created an alternative colour idea for the DIY birthday card for Grandma, which you can see below - it's yellow and pink - slightly stronger colours than the soft pink - just as pretty but it does give a slightly different look!
Gorgeous yellow and pink for a pretty birthday card for Grandma!
For both these cards, I've used:
Sizzix 'Surfacez' textured cardstock for the outer card
Lightweight white cardstock (160 gsm) for the inner card
Generic coloured crafting cardstock (160 gsm) for the outer card
I cut the outer card using the 'Cardstock for Intricate Cuts' setting on Cricut Design Space
I cut the envelope and inner card using the 'Lightweight Cardstock' setting on Cricut Design Space
I made the cards using my Cricut Maker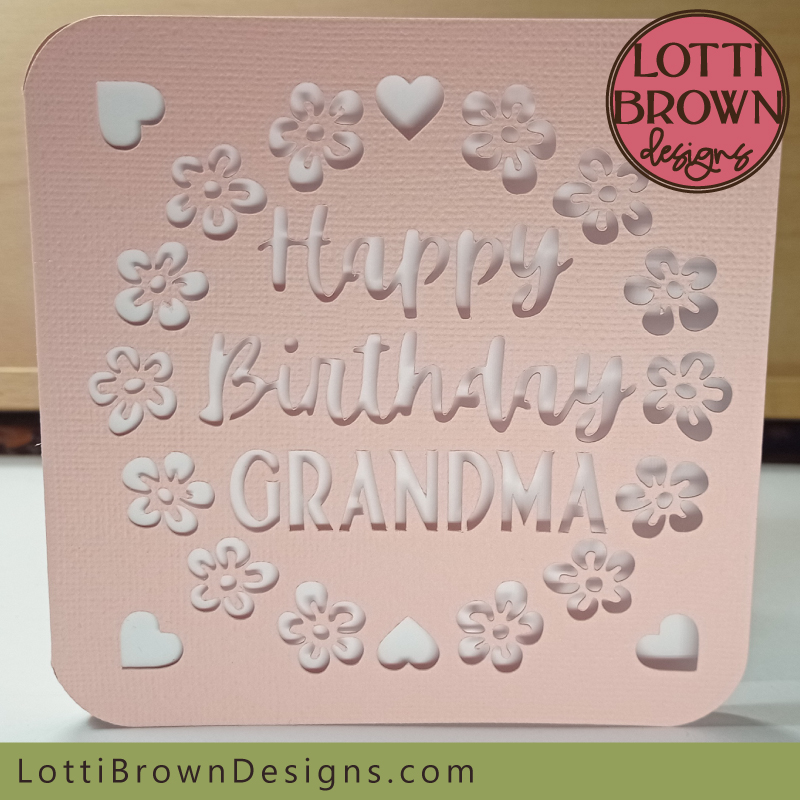 'Happy Birthday Grandma' card template
Grandma birthday card cut file template
How to get your Grandma Card Template
You can get your Grandma birthday card template to make with your Cricut or other cutting machine from my Etsy store with instant download worldwide - see the link right below...
Grandma birthday card template to make - digital download
Get your Grandma card template from my Etsy store here...
SVG, DXF, EPS, PNG file formats
For personal craft projects and small-business commercial use (up to 200 products)
For physical (craft) products only - no digital products, use, or sharing
The instructions for setting up the line to score correctly in Cricut Design Space are here - also useful even if you're using a different cutting machine...
The craft tutorial for how to fold and assemble the card is here...
If you need help with accessing, opening or downloading the files, that's here...
You might also like:
If you like my way of making cards with your cutting machine, do take a look at all my other card templates for all kinds of different occasions (and still adding more!) - you can see them all here...