Horse & Cowgirl SVG
Cowgirl on horse SVG (with guitar)
I wanted to share my horse & cowgirl SVG design with you - I actually created it as part of a Western themed artwork (see below) that was to celebrate a feeling of freedom and connection with nature, the Great Outdoors, and Western music.
I really loved creating the horse and woman (cowgirl) part of the artwork, with the jaunty horse, and the feel of wind in your hair and music and nature in your heart - and I made it in this papercut silhouette style, especially so that I could share it with you as an SVG file for your Cricut...
Westerncore artwork 'Desert Dreams' by Lotti Brown - featuring the cowgirl on a horse SVG
Hopefully, that gives you an idea of the picture that was in my head as I was creating the cowgirl silhouette SVG design...
I've made the SVG design in two layers - there's the top layer that has the cut out for the guitar - and a second layer to fit beneath (as required) which doesn't have the cut out for the guitar, so that you can layer them up and have a second colour for the guitar details, if you want...
Western horse SVG with two layers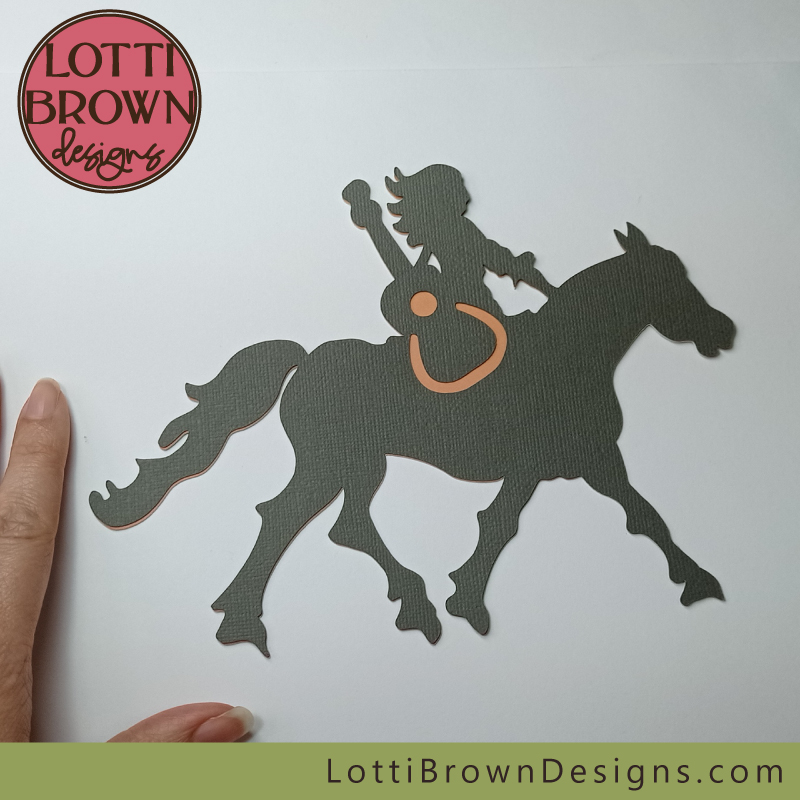 Girl riding horse SVG
Horse and cowgirl cut file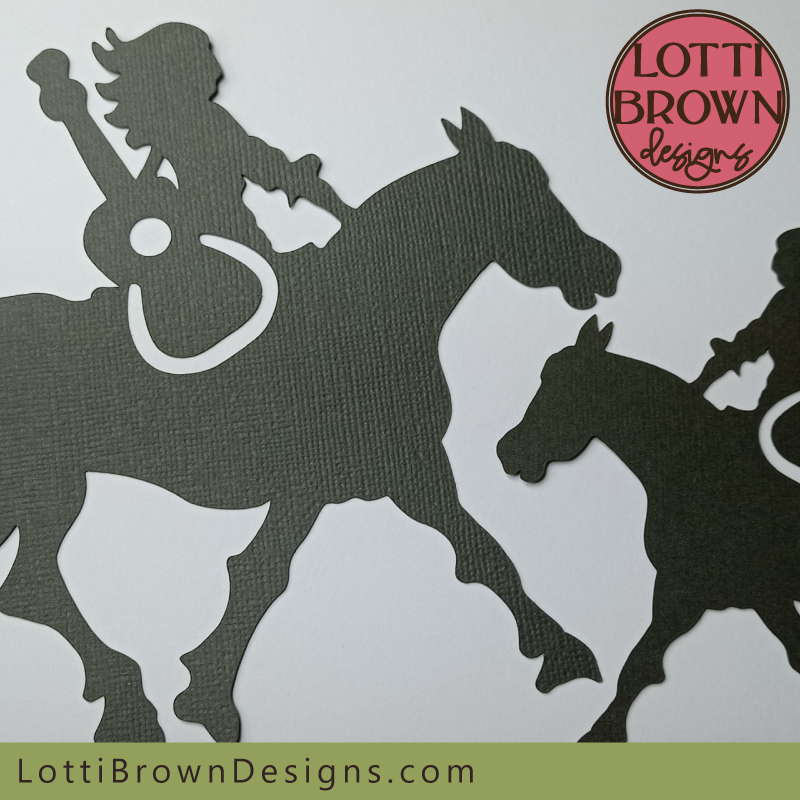 Western horse and girl SVG
The larger horse above is a little smaller than the SVG supplied. I also cut the design a little smaller again, to make sure it still cut well at the smaller size - so that's the smaller horse in the image above and the horse in the image below...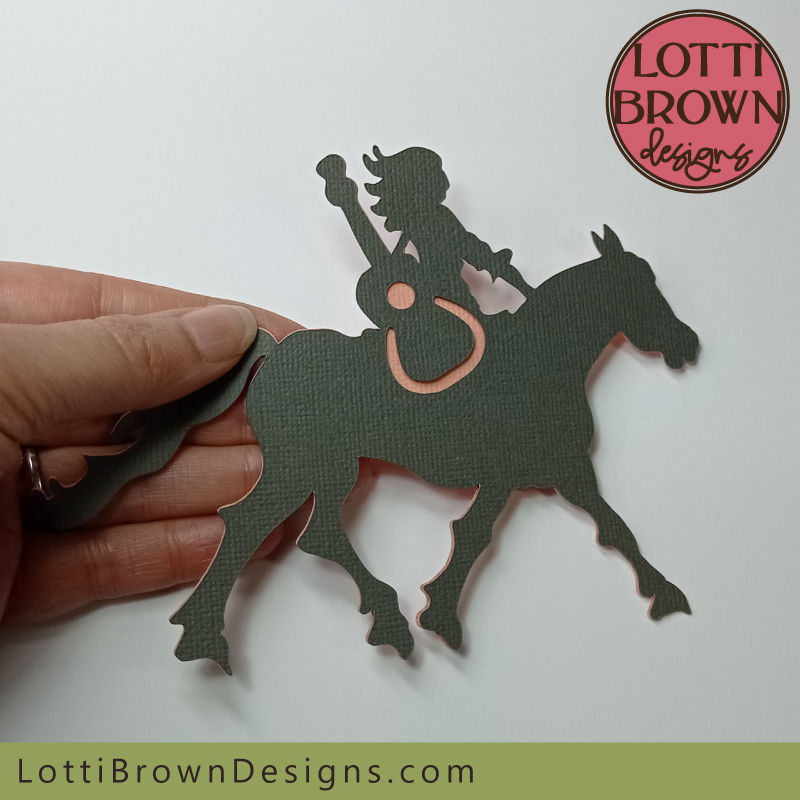 Small cowgirl silhouette SVG on horse with guitar
I've cut the cowgirls on this page from Sizzix 'Surfacez' cardstock using the 'Medium Cardstock' setting with my Cricut Maker.
The orange background cardstock (on the black/dark grey horse) is an 'ombre' effect cardstock from Craft Sensations (also cut with 'Medium Cardstock' setting.
As well as cutting from paper or cardstock for your papercrafting projects, you could cut her from vinyl or HTV, create as a stencil, make etched or pyrography items (with a stencil), or use her for other cutting machine crafts. You can also use the PNG file to print, if you choose.
Western rider with guitar - SVG file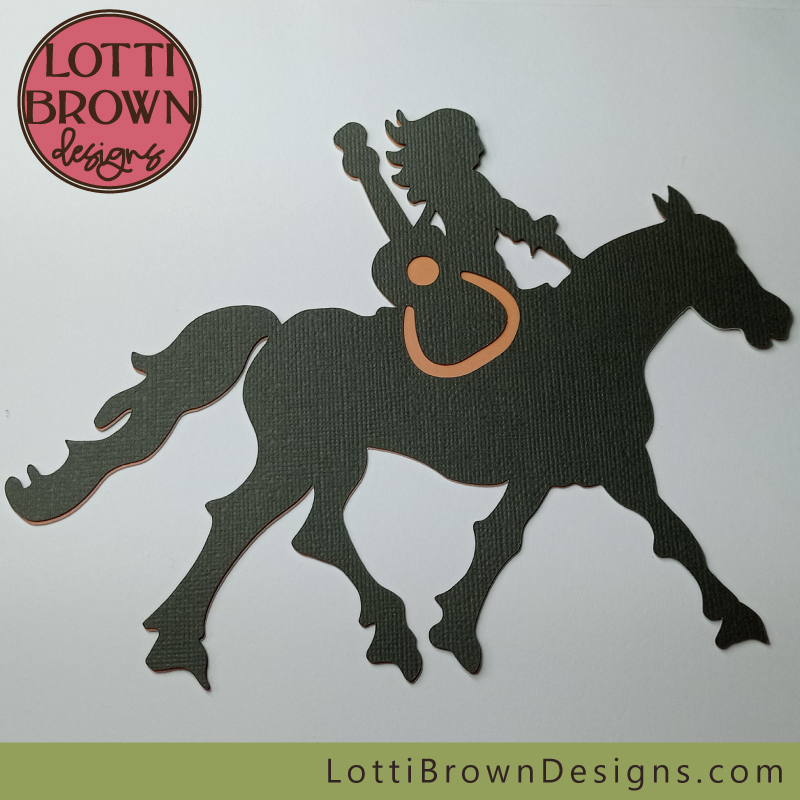 Western girl on horse SVG
If you like my Western cowgirl SVG design, you can get the files from my Etsy store here...
Digital download cut file for Cricut and similar cutting machines or cutting by hand
SVG, DXF, EPS & PNG file formats
For personal use and small-business commercial use (up to 200 products)
For physical (craft) items only - no digital products/items, use, or sharing
Take a look at more horse and animal SVG designs here...
Take a look at more 'miscellaneous' SVG designs here (including more 'people')...
You might also like: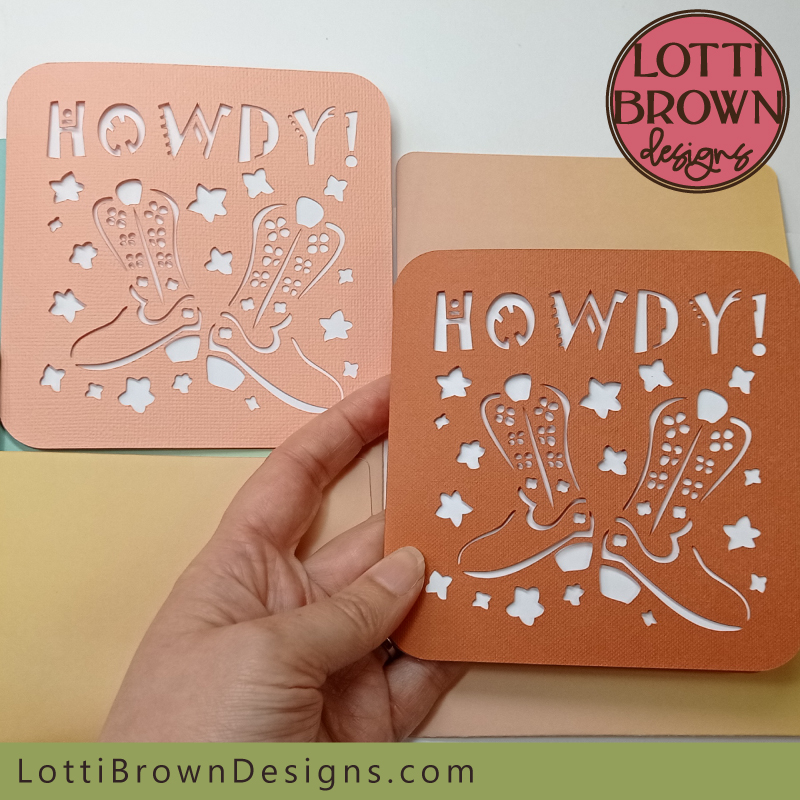 'Howdy!' greeting card template
You might like my fun 'Howdy!' card template, just to say hello! See it here...