Let's Make Santa Claus in Cardstock
So let's go - once you've got everything cut out via your chosen method, gather all your cut Santa pieces together - I like to try and keep them in some semblance of order and the right way up, else it can make everything a lot trickier than it needs to be (...speaking from experience)!
If you need any help with using your file, look here...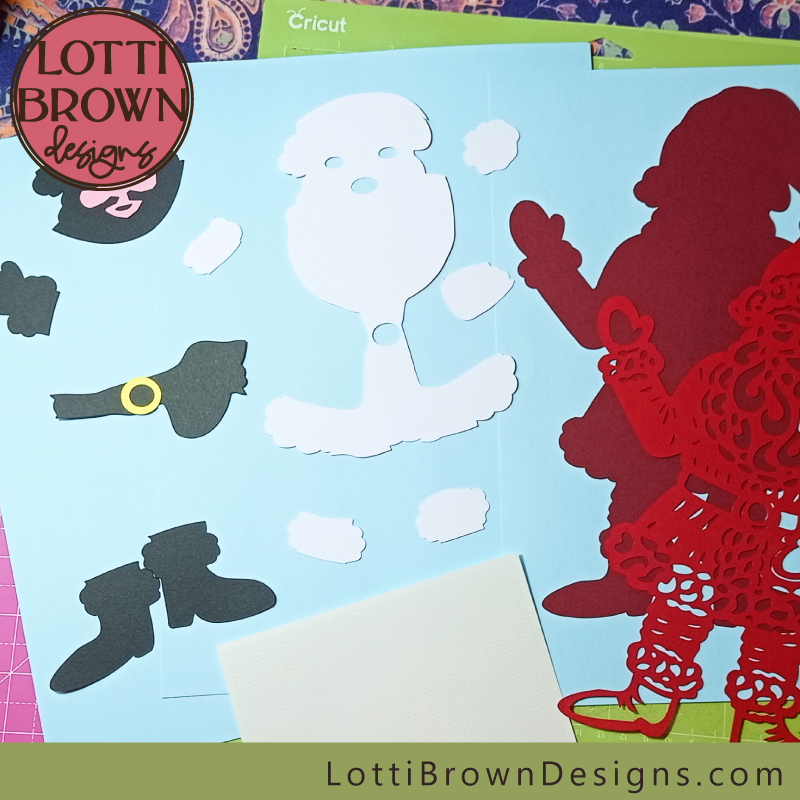 Everything is cut out and ready to go!
First, let's attach the belt buckle - we're attaching it to the top layer, the intricate cut Santa shape. It's easy to attach - to the back of the red top layer... I've used glue micro-dots to attach it, you might be able to see them in the photo below - I've stuck them onto the reverse of the red Santa layer in the central belt-buckle area...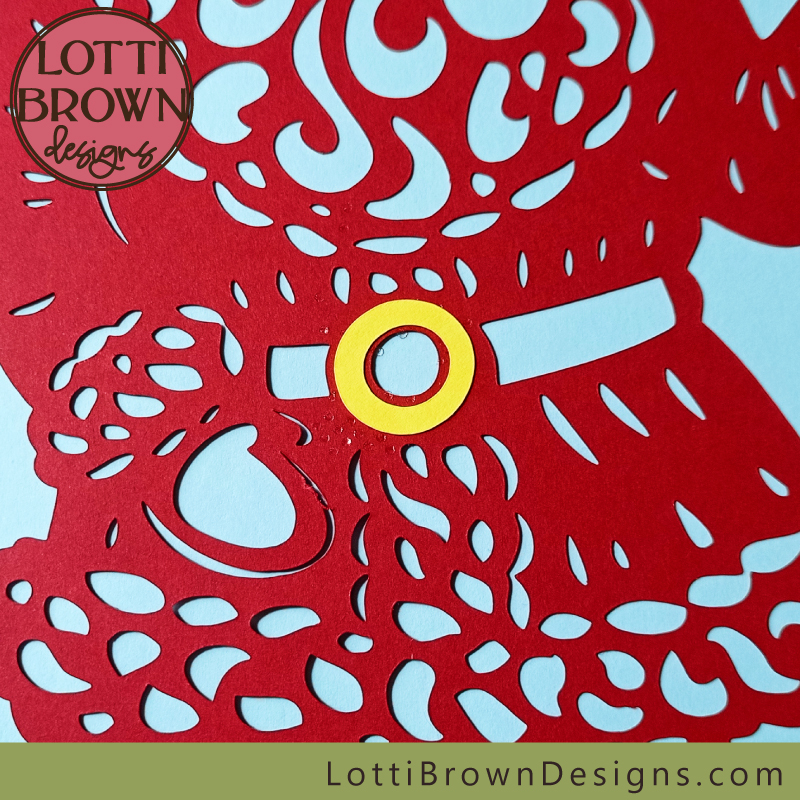 Stick the yellow belt buckle to the back of the Santa top layer
Turn Santa over and check him from his front - he should look something like this, see the image below...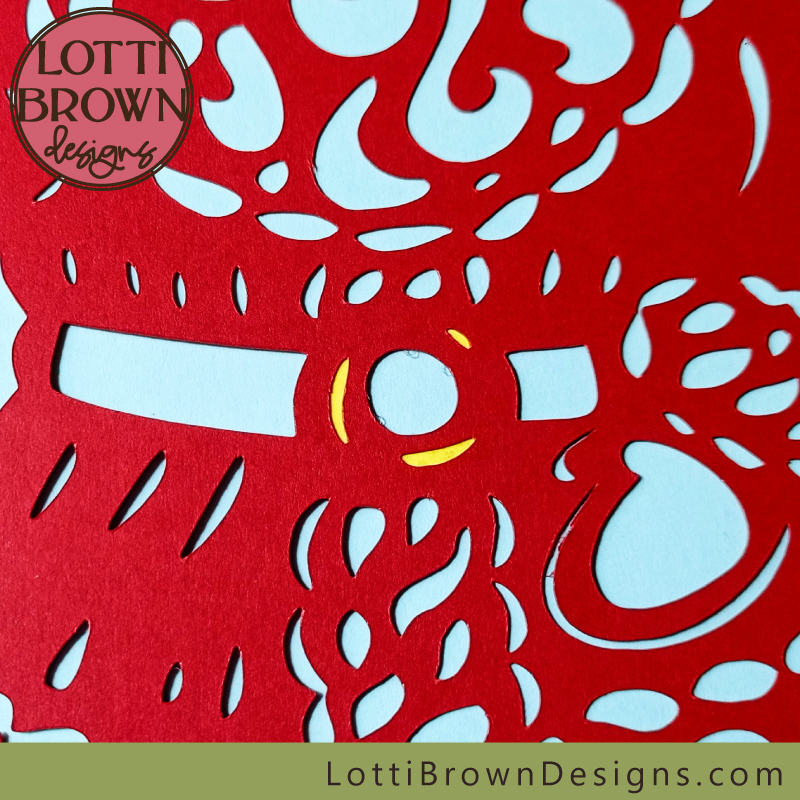 Santa's belt buckle seen from the front
Next, we're going to do Santa's face - this is his nose, cheeks and mouth - but note that his eyes need to be left clear as they're going to show through black from a lower layer. The cuts for his moustache should be left clear, too, as these will show through white, from the beard layer. Again, do this from the back, with micro-dots or another adhesive method of your choice...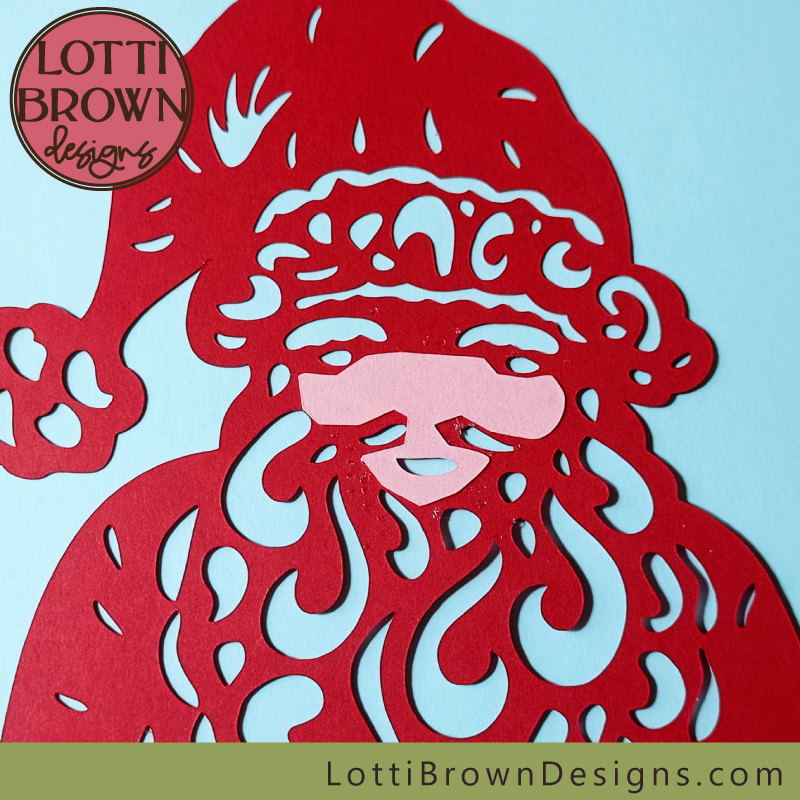 Adding Santa's face to the reverse of the intricate cut top layer
Turn Santa back to face the front and check he looks something like the photo below...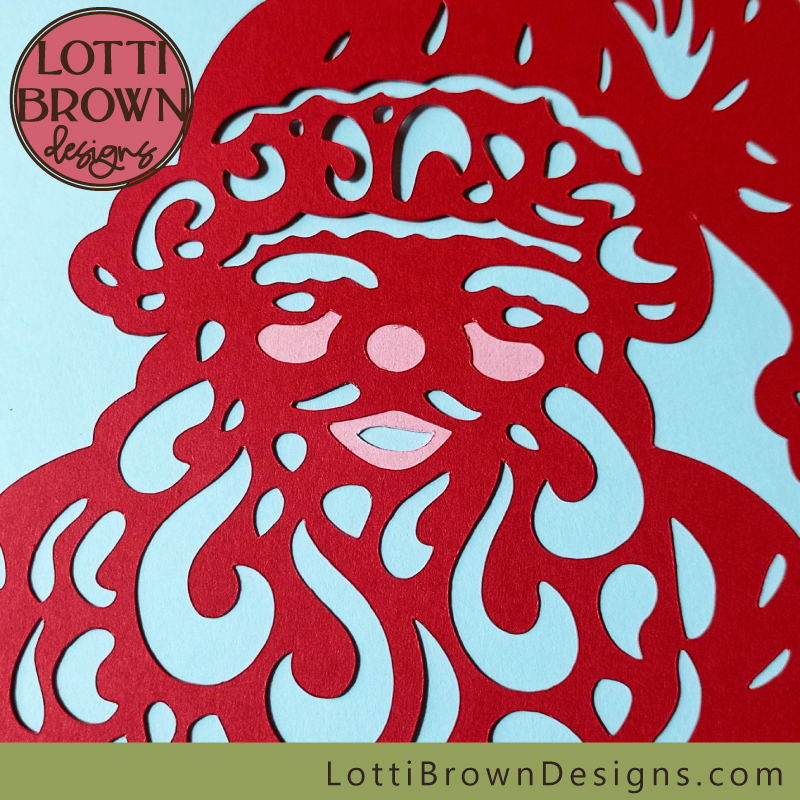 Santa's face is now in place!
Our next step is the white layer - this forms Santa's beard, moustache, eyebrows, the trim on his hat and the trim on his coat and trousers. Once again, let's work from the back to stick it down... 
Here, you just need to make sure that the outer edges of all the pieces line up with the outer edge of the red top layer and it should all fall into just the right place. The trickiest thing I found was getting the cuffs and trousers trim on the right way around! Here's what he looks like from the back...
Showing the reverse of the Santa Claus papercut with beard and fur trim added - seen from the back
Make sure you check Santa from the front too, to ensure nothing's creeping over where it shouldn't show, or leaving a gap...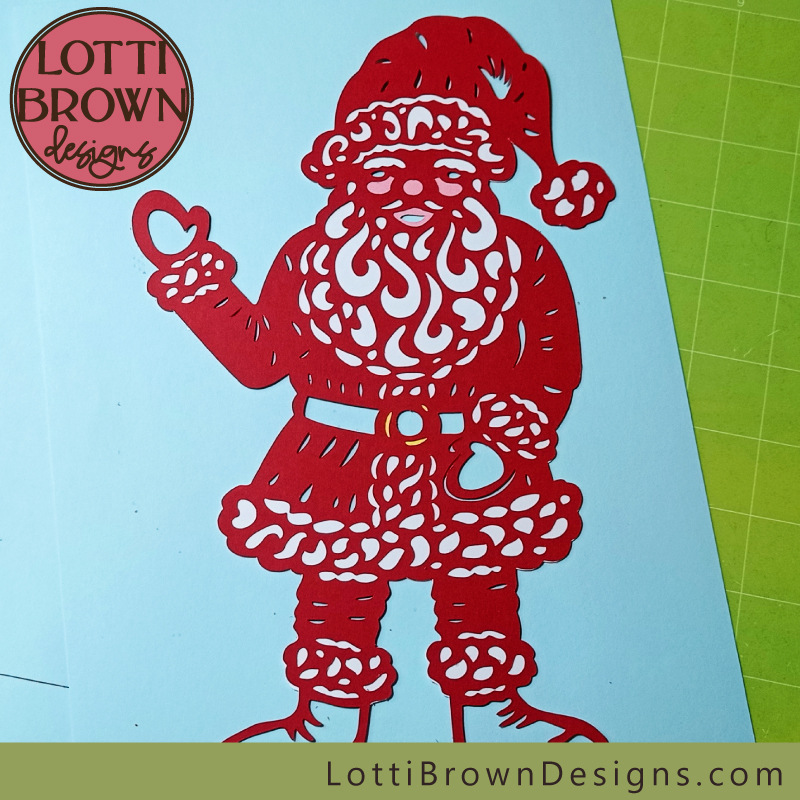 Santa with his beard and all his coat and hat trim in place
The black layer's coming next - once again, I worked from the back to stick the pieces on for his boots, gloves, belt and a piece that fits behind the face so that the eyes and mouth show through as features. And again, just fit the outer edges to the outer edges of the top red layer and everything should slot in place just fine.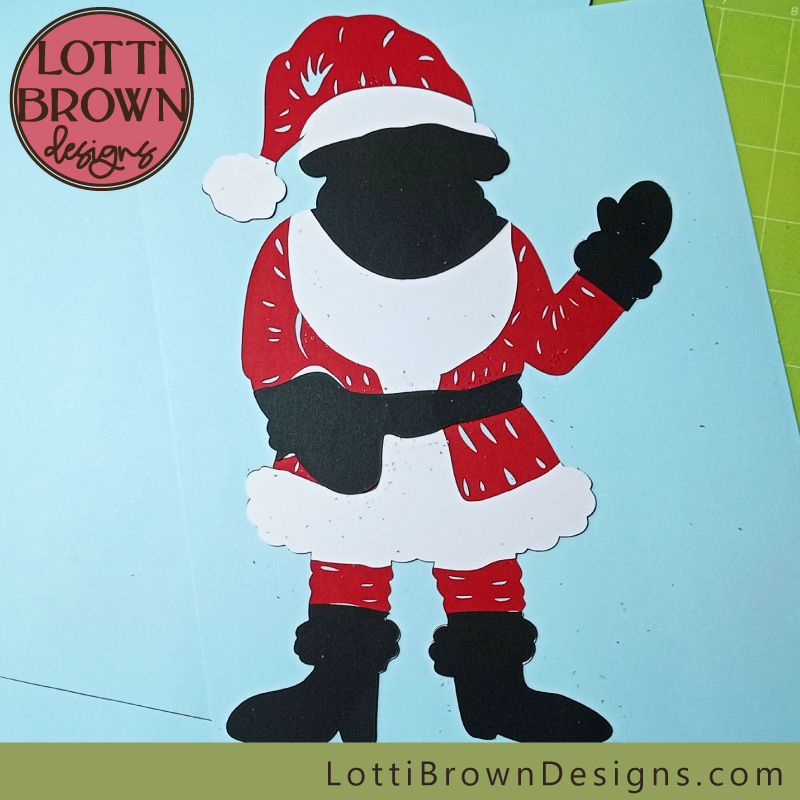 Adding the black layer - showing the reverse of the project
Remember to check Santa from the front too! This is how he should be looking (below)! Nearly done now!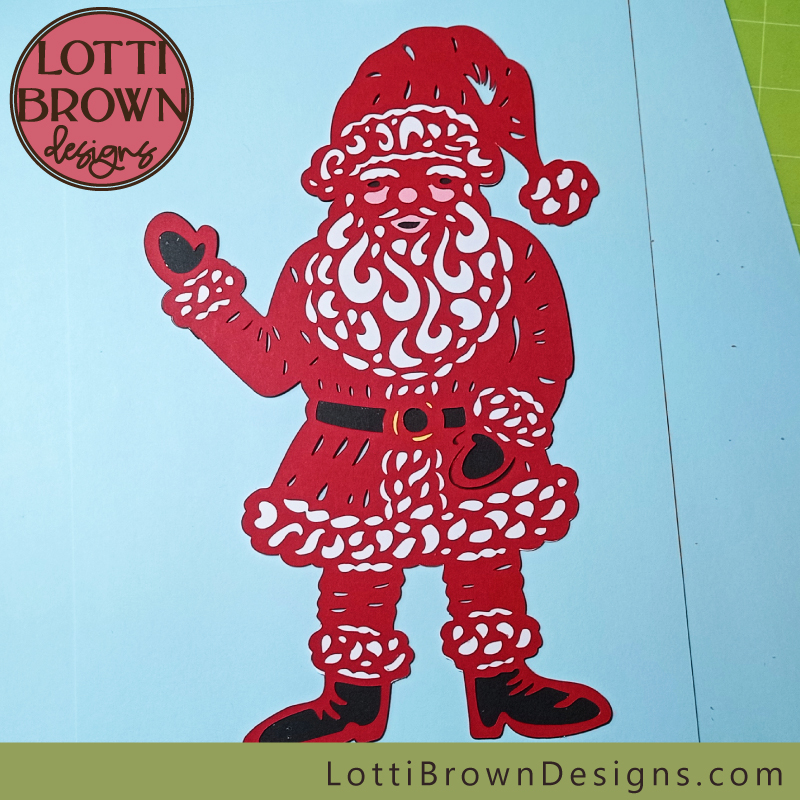 Santa now has eyes, mouth, boots, gloves and a belt!
The final step is just to add the dark red background silhouette layer to the back of the project - this allows the creases of Santa's outfit to show through to add some shape and detail to his coat, hat and trousers. Here's how he should look...
The completed Santa Claus layered cardstock project
Ho ho ho!
Santa's feeling festive and ready to go!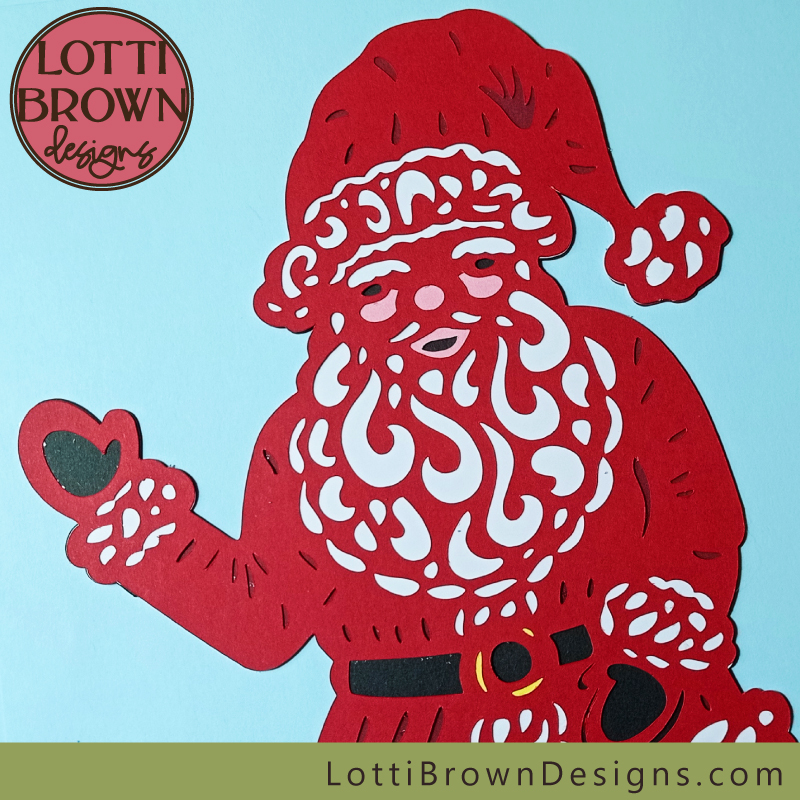 A closer look at my Santa Claus layered cardstock crafting project for your Cricut
I hope that my Santa Claus SVG cardstock crafting project inspired you! If you'd like to make your own Santa, you can get the file in my Etsy store here...
I made my Santa out of lightweight card, but you could make your Santa from light woods, acetates, vinyl or hand-cut him - whichever way you prefer to craft. Please note that if you're using vinyl for this project, you might prefer to 'slice' some of the layers in your design space, as an alternative to layering up.
Here are some more ideas for crafts you could make with my Santa Claus SVG file:
You could use iron-on vinyl (HTV) to add Santa to a bag or sack to hold all those Christmas gifts on Christmas morning.
You could use iron-on vinyl (HTV) to add the Santa Claus SVG design to fabrics, like the tote bag above - it could make a lovely (small-ish) sack for Santa's presents on Christmas morning...
If you'd like to make a doormat, like the one below, you will need specialist stencil-vinyl, then paint/stencil on the design in acrylic paint.
Please note, that no text is included with my Santa Claus SVG file.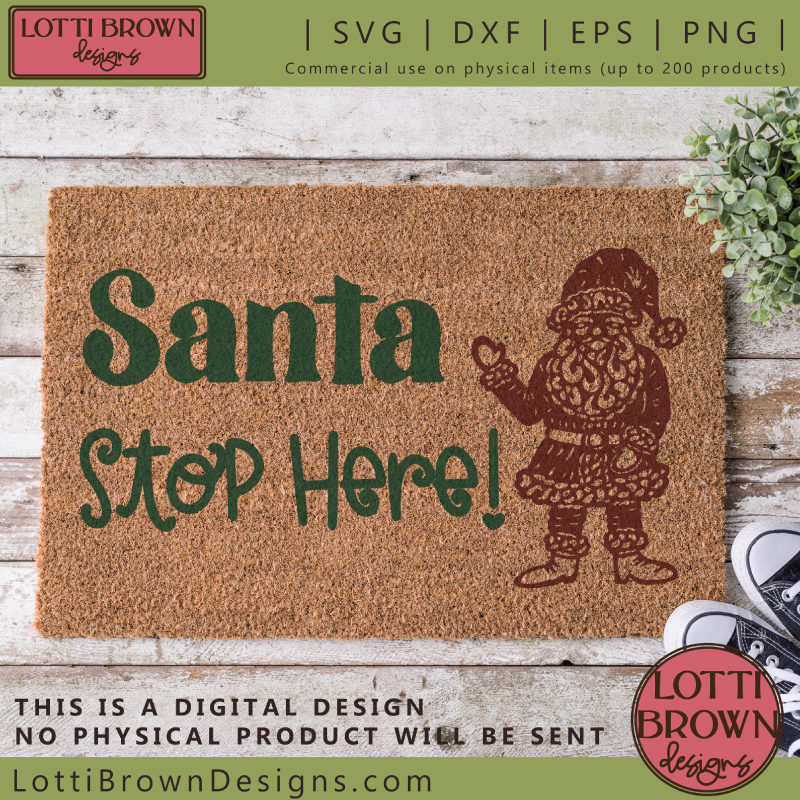 You could paint a Santa design onto a doormat using stencil-vinyl to mask off areas to keep clear of paint
You might also like: